founded in 1997 and led by ico migliore and mara servetto, migliore + servetto architects is a milan-based studio with an international team of architects and designers. the team conceives, on different scales, projects characterized by an expressive use of light and new technologies. pupils of achille castiglione, their work is characterized by their strong identities and for using design as a way of communication.
to learn more about migliore + servetto, and the practice's approach, we visited their studio in milan and discussed with the duo their relationship with castiglioni, the idea of architect's being directors and their past and current projects. furthermore, the architects' studio has been documented in the above video — offering a glimpse inside their workplace.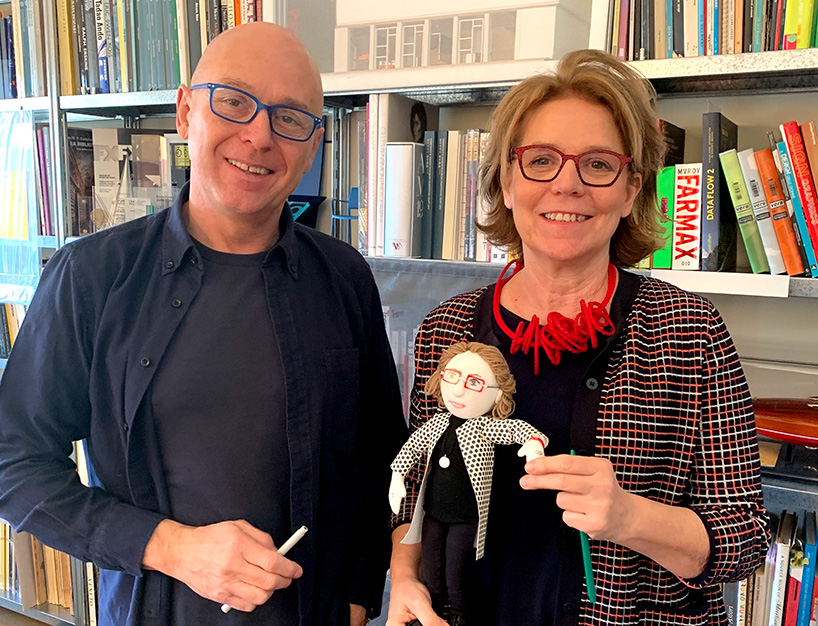 mara servetto and ico migliore at their studio in milan
image © designboom
designboom (DB): when did you start working together as a team? as an office?
ico migliore (IM): we started right after university, after meeting achille castiglioni in torino, then we moved to milan.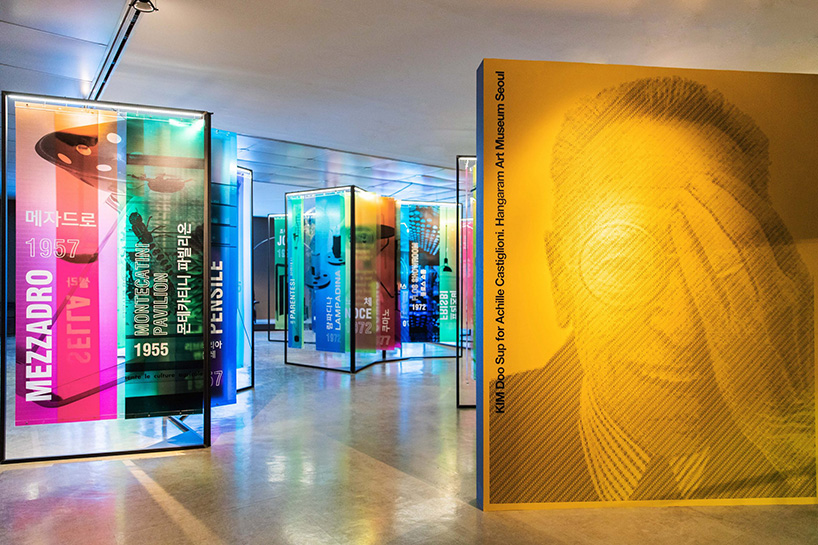 achille castiglioni and brothers. master of italian design. milan
seoul arts center / hangaram art museum 2F. seoul /january 2020
DB: was castiglioni important in your journey?
mara servetto (MS): fundamental, because we were his students in torino — he was teaching there at that time — and we took the degree with him. and then we moved to milan.
IM: castiglioni was our mentor. in my family there were not architects but mostly engineers. my grandfather had nothing to do with architecture, but a lot to do with with art. after we finished our studies, castiglioni asked us if we wanted to move to milan and then we came to milan.
MS: let's say that the legacy of castiglioni for us was really great, because it was opening our point of view to another completely different one.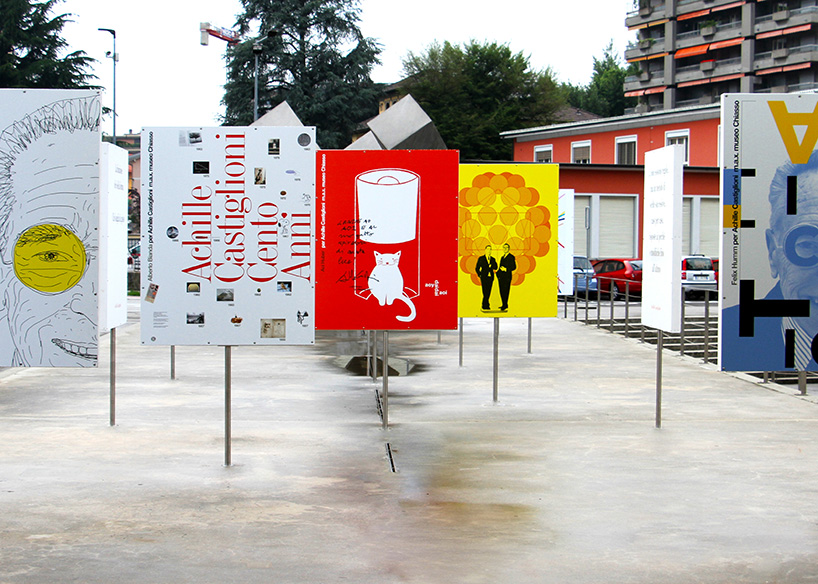 retrospective of achille castiglioni's work in chiasso by migliore + servetto
DB: now I understand why you're so interested in doing exhibitions… so you collaborated with castiglioni here in milano?
IM: yes, we started collaborating with him in turin and then we moved to milan. he was a professor in torino and then he was called to teach also in milan and that's when we help him both in university and in his office.
MS: we would spend hours and hours and hours talking about the projects, about what is the essence of a project, what could you teach the young generation, what is interesting in this project, etc.
IM: so, going back to the question, we started working together in 1985. but this office was founded in 1997.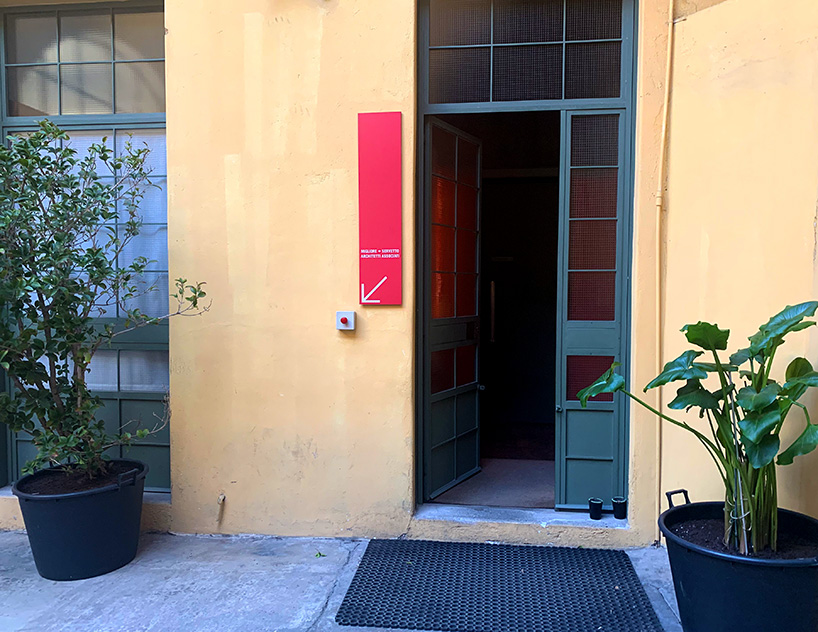 entrance to migliore + servetto's office in milan
image © designboom
DB: how many people work at migliore+servetto?
IM: we are about 25. and we also have a certain amount of people freelancing for us continuously. so we have one in genova, one in seoul, one in rome…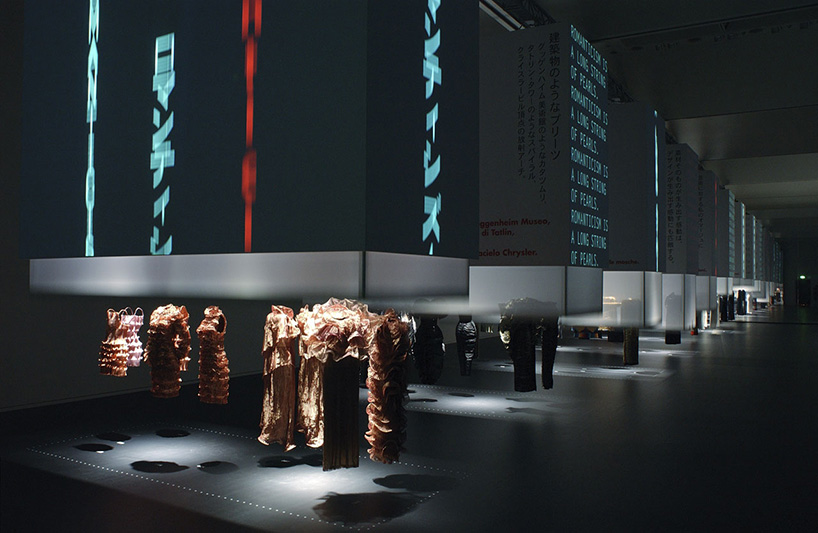 krizia moving shapes. tokyo, 2001
DB: which has been one of your biggest projects and what did it teach you?
IM: it was a design project. we did something for alessi and also a private collection of one-off pieces that we designed ourselves in the 80s for inter nos gallery. so, at the beginning we were designing objects, then we move to more environmental projects – environmentally meaning space design, interior design space.
from the beginning, we were very much interested in designing spaces, interior design and again, moving more to museums, exhibition design, and all that is involved in interior design. and those were the important projects. one very important project for us was the krizia exhibition in tokyo, in 2000, it was quite an innovative exhibition. and also mariuccia mandelli (owner of krizia) she was a very interesting person. she called us to do something in the spazio krizia space and then after that we became family.
MS: it was also nice meeting italo lupi, the graphic designer for the krizia exhibition, so we spent that week together in tokyo and our friendship was born.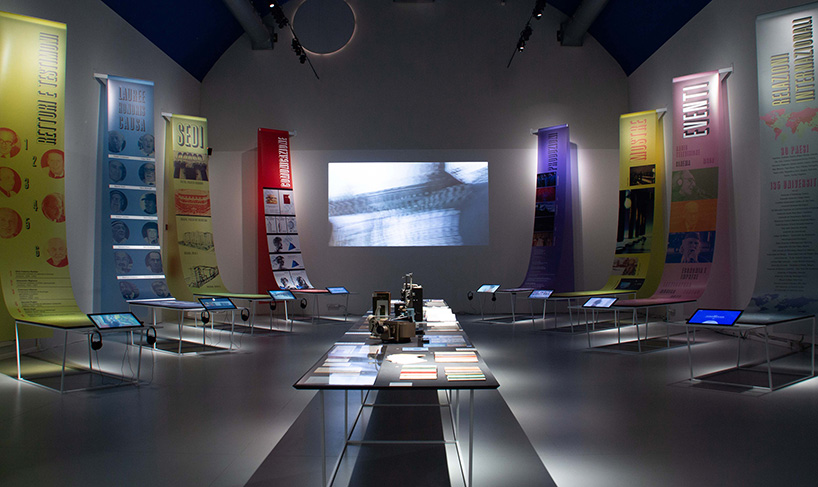 IULM 50. legacy and future. milan
IULM / IULM 6, contemporary exhibition hall. milan / may 2019 / IULM
DB: are you still working with lupi?
MS: a lot. we try to involve him in our projects.
DB: compared to the beginning, your interests have shifted more to institutions?
IM: yes, museums, cities… of course one very important project was called called 'look of the city', which was an urban installation for the torino 2006 olympics. we redesigned the old city image for the 2006 olympics. it was important because we understood that we wanted to work with the city's open spaces, transform the relationship among people and also work on the genealogy of the place. and that was also a very important aspect to move towards cities and also to move towards institutions. so from temporary to permanent. now we work with many museums. we're very much interested in this kind of work. also at the same time, we understood that there is a sort of overlapping between culture and commercial. so the idea that we have is very much part of the storytelling of the communication of spaces. it's quite interesting because now commercial spaces are more related to culture so they want to work on their heritage. so even brands, they like to communicate their heritage. why and how they started producing things. today cultural places need to be more commercial, they need to understand how to deal with people not in the old fashioned way with like, you know, museums or places which are dusty, where you walk around with your hands in your pockets without understanding anything. nowadays it should be more engaging so I think those two things are the fields in which we can really work and we can develop our research.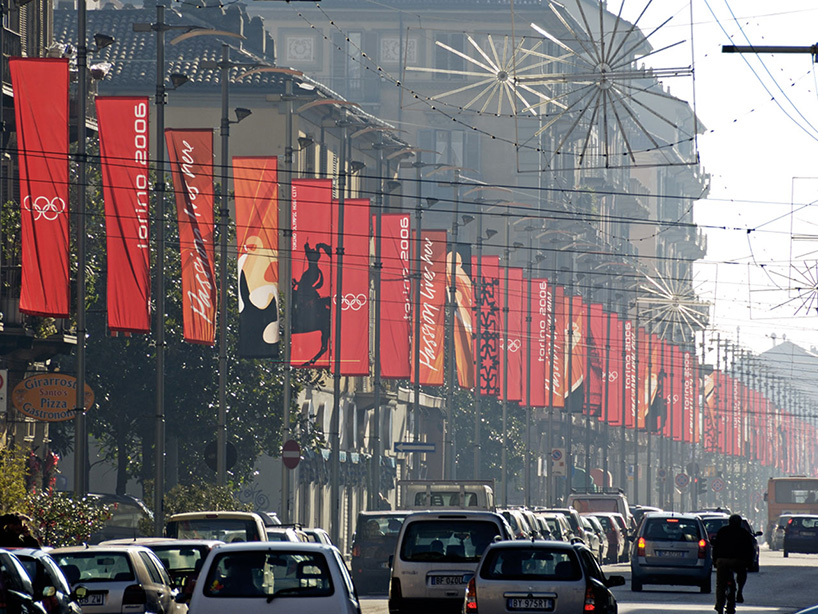 look of the city. torino XX olympic winter games. turin
DB: how did it all happen? were there competitions and you participated or you got known for works you have previously done and then people contacted you?
MS: both of them. we did an international competition for the chopin museum, which was very interesting because it was an italian project made by us, the construction company was from belgium, the software came from england and then the other firm was from poland. so it was a very nice interesting mix of people, because we think that nowadays the architect's role is more and more becoming like a director role. we don't believe in being very sectorial because more and more you have to overview all the different competencies that are required on a project to be competent in all of them because as a director you define the results of your narration, of your living spaces.
IM: we won the competition for the chopin museum, which was very interesting because it was a completely new permanent museum and also the subject was very interesting: the music and a person like chopin. and also the energy that polish people had for this… which brings me to another important aspect of course: the clients.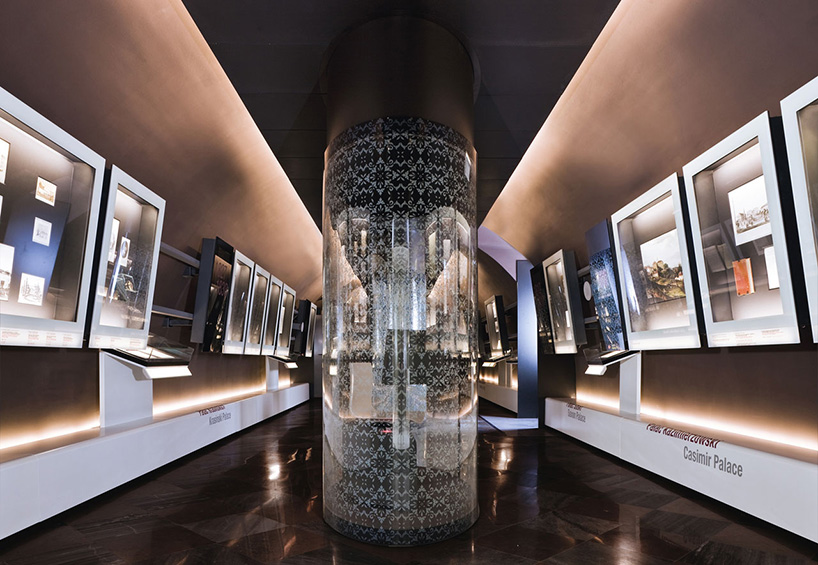 chopin muzeum. warsaw
DB: do you have a direct relationship with your clients?
IM: it's fundamental to establish a good relationship between us and the client. especially because we do not have the formal shape or formal idea of an architect. we are like the directors and we have to manage the lighting, the graphics, the physical relationship, etc., so we have to establish with the client a relationship that is sometimes almost like a psychologist.
MS: we work in the end on identities. and now our projects are to define places. at the end, the finalized space, which becomes the identity of that cultural commercial company, also becomes the medium for the company to meet their clients. we think that to be sustainable is also to add a new step for our clients so that they can go ahead with their identity into something else that they can use for a longer time.
IM: I think identity is the main subject nowadays. and also I think that identity was the main subject in relation to castiglioni. we try to establish an identity in this kind of relationships between spaces, communication, and storytelling. and this is our main goal. I think that also when you work with clients in a commercial or cultural field, identity is the part that we need to really develop… also for cities, this is the most interesting aspect.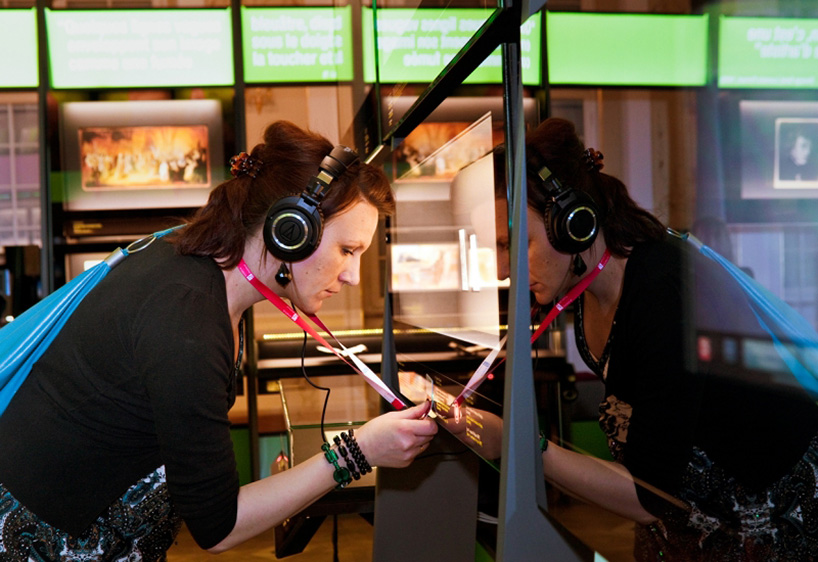 chopin museum. warsaw
DB: mainly your work was in italy and europe and then you started working in asia…
IM: from italy to poland to asia. our move into asia was planned, it was well organized and now even more as iI'm a professor in korea. mara is a professor in tokyo… so korea and japan are the places where we have more projects.
MS: also people working here are quite international, of course depending on the period, but we have had people from all over the world. we like to cultivate diversity in the group. since we are teachers, the group of people here is always very young. so the average age in our studio is around 30 years old. we are a very young group of people and this gives a lot of energy to the office.
IM: since we started with castiglioni in university and teaching, I think that education is has been fundamental for the development of the office. here we enjoy doing research and experimentation.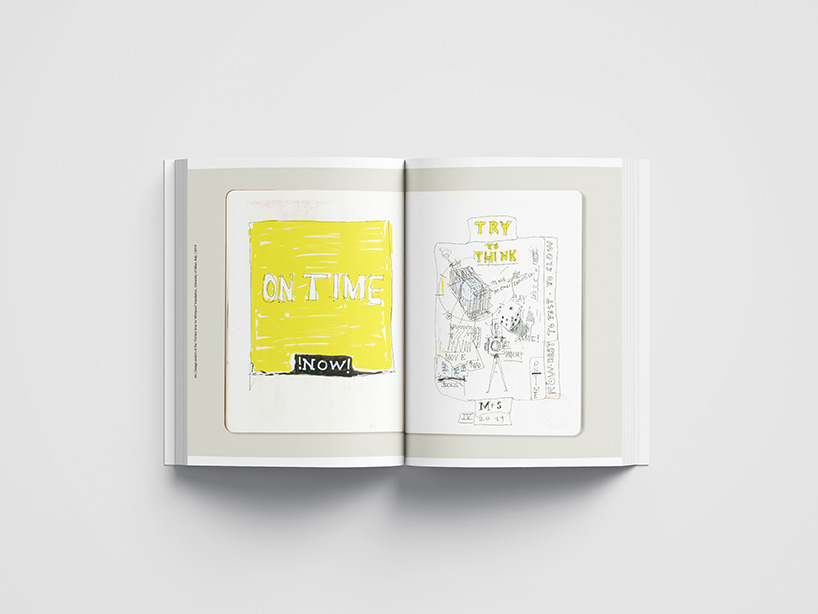 drawings by ico migliore. sketches, sceneries, maps. milan
A&C publishing co. ltd / seoul. south korea / july 2019
DB: so you don't hire specialists but you collaborate with them. but in your office, do you practice a sort of workshop/internship?
IM: yes, but people stay! so for example, my assistant has been here for 9 years and previously was one of my students. and he's very much interested in the field of communication and is a designer. so we have architects and designers. and we collaborate with people outside. we also have a graphic team in our office.
MS: we produce things inside the office. I mean, the fact that people are quite young means that there are young people here but what we like is to keep in touch with what's happening nowadays with the new generations, their view of the world, and contrasting it with our thoughts and then discussing everything together.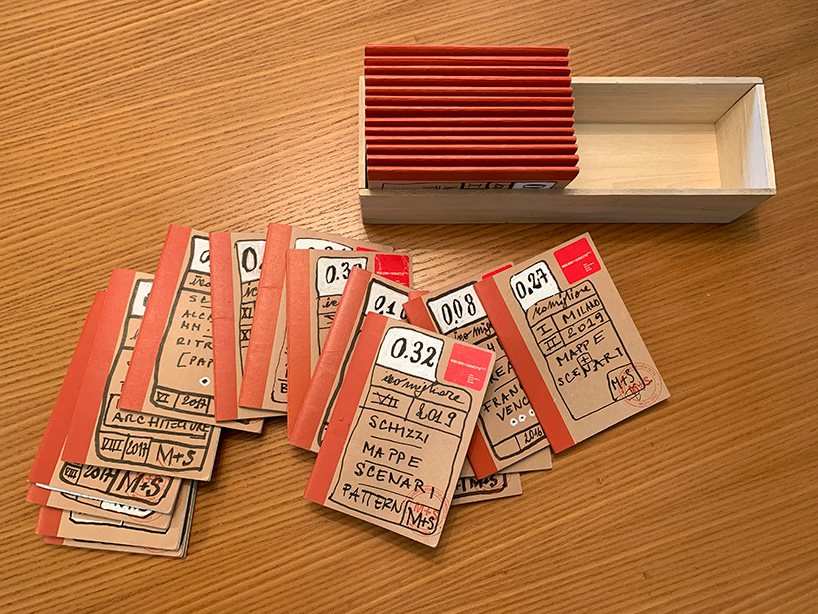 ico migliore's sketchbooks
image © designboom
DB: do you personally use computers for drawings?
IM: I use the ipad and I use paper.
MS: ico has a very beautiful drawing hand, so often during discussions of a project he's usually taking notes and drawing out ideas. so it is a communication tool among the office. I also draw but do it in a simple way for communicating. ico does it in a deeper way so we use a mix of drawings and renders to help us communicate with our clients.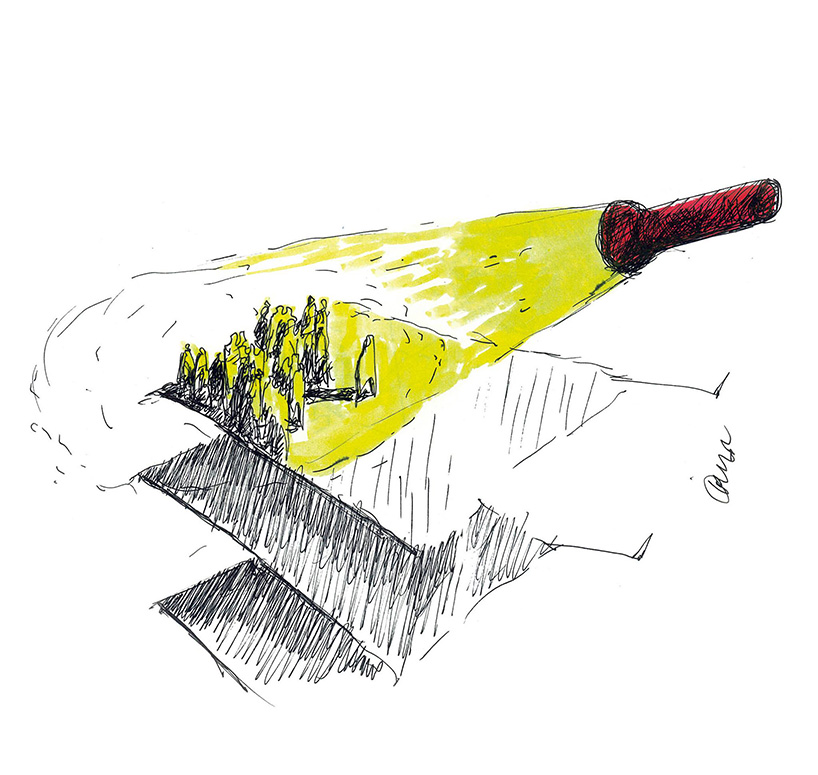 drawing by ico migliore
DB: how many projects are you currently working on?
IM: we have an average of, I would say, 20 to 25 active projects projects right now. we have a project going on in busan. it's sort of a 'highline', it's an almost 400-kilometre promenade facing the sea and it's currently under construction. it will be sort of a pedestrian park allowing people to experience the sea.
MS: and I made some acoustic installation that involves people in relation with the natural context and the other visitors at the same time.
IM: we are also working with a design museum here in milan, called the ADI design museum.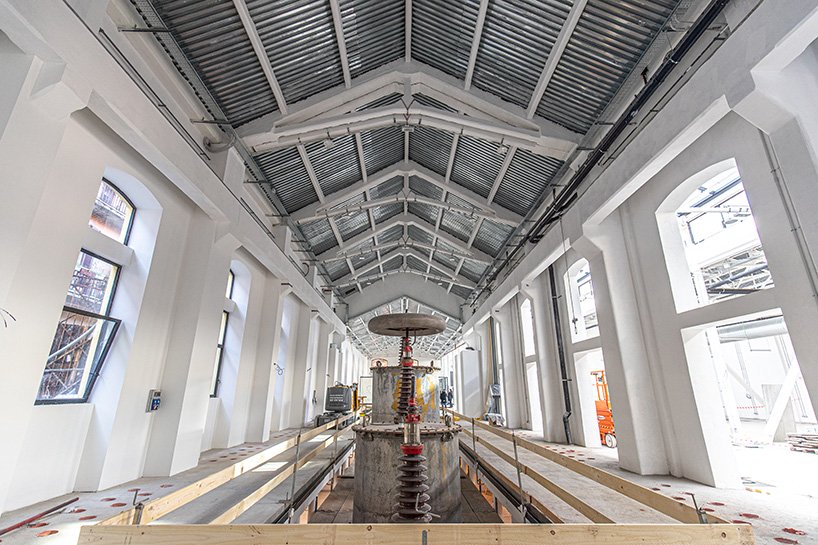 ADI design museum. milan
read more on designboom here
DB: how were you involved in the ADI design museum project?
IM: there was a competition six years ago, and we were lucky to win. now we have to redesign the permanent exhibition inside, the branding with italo lupi who is also in the group, and we have also the graphic identity of everything.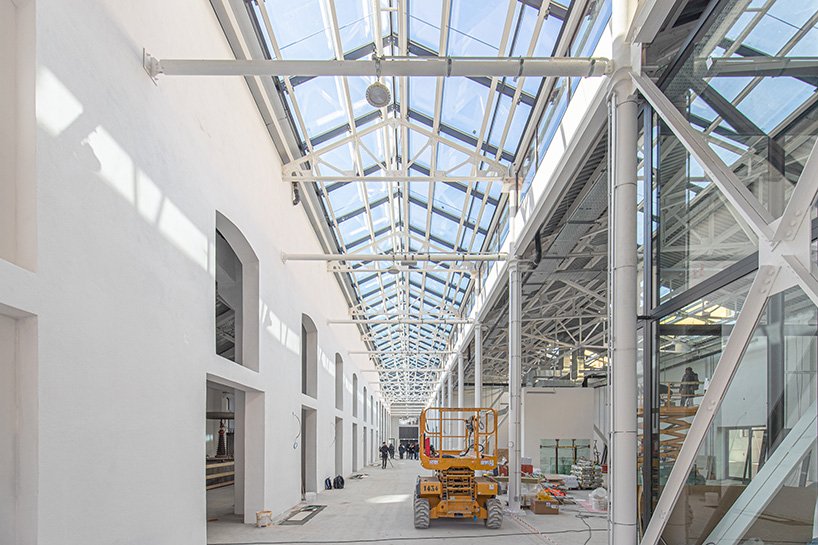 ADI design museum. milan
read more on designboom here
DB: so the exhibition design will be also yours?
MS: yes. the exhibition design is conceived as a flexible space and we're trying to bring it to a point where it feels alive.
IM: on the other hand, we have worked on different retail projects including the mondadori store, and now we're very proud to be working with this brand called dmail.
MS: the underline of dmail is 'idee utili e introvabili', which in english means useful and nowhere to be found ideas.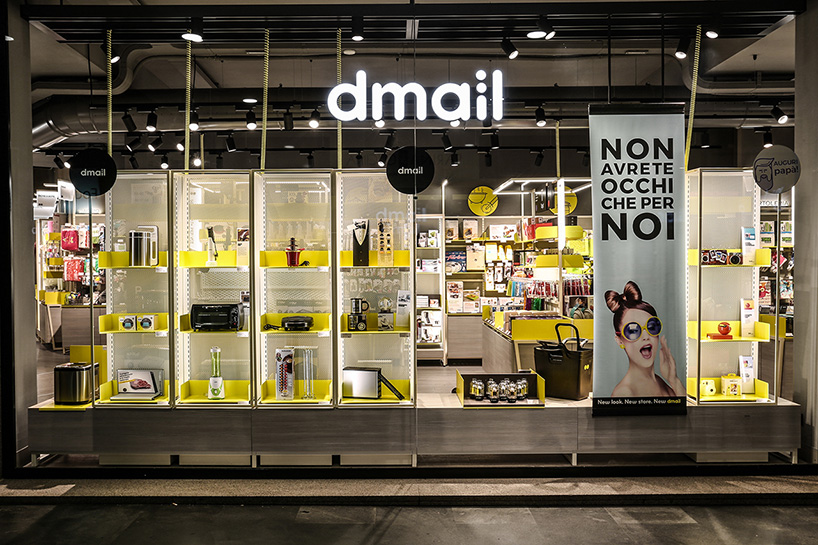 dmail new format store in milan
DB: what did you do for them?
IM: everything. from the logo to the store to the rebranding. during the last two years that we have been working with them, we have developed 30 stores and now they're going abroad so we're designed a store in paris. it is quite an interesting project because it was an old brand that used to sell via catalogue and they wanted to keep the idea of the 'utili introvabile' into something more contemporary. so this is a 360 degree project around their identity.
with them we developed everything, from the branding to how to deal with clients. so it's a very interesting project and they have a very strong capability of collecting objects.
MS: what is interesting is the relationship we have created with the people that enter the shop — we used graphics to communicate without words. we wanted to highlight the concept of hospitality. so to make a store where you can move on your own, and be guided by your interests. and the interior design was made in order to conceive a rhythm of the exhibition of products because when you enter a new shop, you should have some elements pointed out, you should have some help to look at the things.
IM: so this is different from, for example, tiger, because the pathway is completely different and also the presentation of ideas is different but I think we're very proud of this project.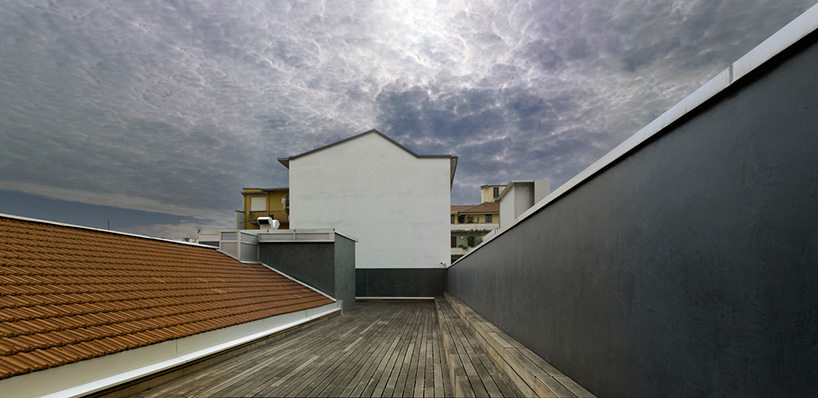 residence desuite
milan / may 2006 / trasporti italia 90
DB: have you done hotels?
IM: we worked on this residence called desuite. it was an interesting project because it was an old factory that we rebuilt, and converted in a sort of residence with small duplex apartments. we rebranded everything. we designed everything, from the architecture to the interior design to the branding to the logo.
MS: the idea was that it should be your home away from home. residences are for people who are staying long term — they don't need a hotel room, they need a home. the place has been designed in order for people to live there but also for hosting other people because when you have a long term rent, you will probably invite people over, or even have a guest overnight.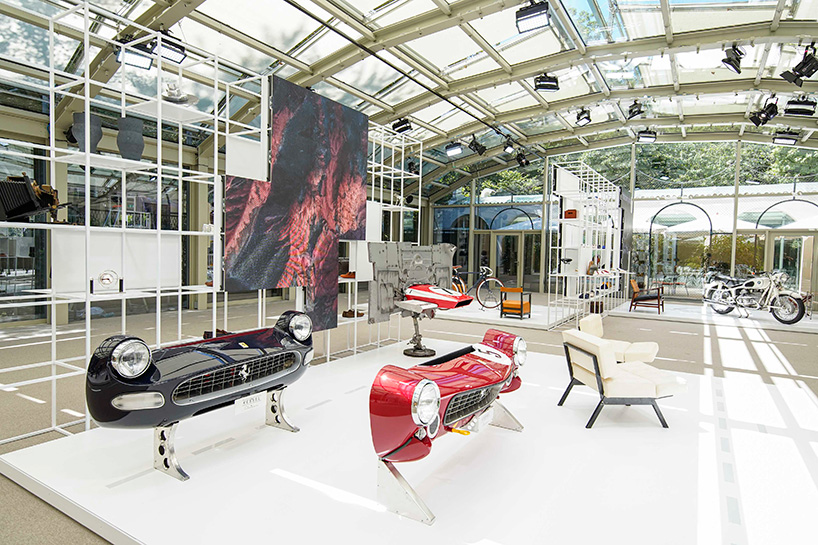 tod's the ride. milan
villa necchi campiglio / via mozart, 14. milan / june 2019 / tod's
DB: so you said that for you it's interesting the fact that there is a cultural path and a commercial path and that they overlap and will do so more and more in the future. that's something you understood. and you may be also have provoked it a bit. there is also a problem of generations now of old ways of showing things in museums and a new generation, the younger generation, who has completely different habits and technology is taking its part…
IM: it is the method of identity, everything goes back to identity because they need to have an identity instead of being just a museum, those museums they need the identity, that's how you sell things.
DB: now you're injecting also a new way of communication into the museums, it's not that you only do the installations, but you also work on the way how they relate to the visitors.
IM: I think that these two parts — the new technologies and the sort of dynamic actions inside spaces — are the key factors for us. that's why we need to redesign. and that's why we also work with time. so time is also a material we use to design. so when we design, we don't think only about the light, the void and the connection with light and void in space. but we also add time to this equation. time is fundamental in terms of the relationships we want to generate, because nowadays everything is fast, people are waiting for something more, and you have to understand how to engage. and how to engage is not only technology, but it's how to measure spaces as time. how much time do we spend around the table? how much time do we spend in a store? if you're not able to understand this as part of the design, you're not able to design nowadays. you need to know for example how fast people read. people usually read, let's say, 140 words per minute. but when you really want to learn, when you're reading something dense in information, it goes down to 70 words per minute. so if there's a lot of writing, people will spend more time reading. so how to establish this kind of relationship. that's why hosting is an established, empathic relationship between people and spaces and we like to work on this kind of a new vision of empathy. empathy is also to have a good time to get right into it. and this goes to the idea of designing spaces as if they were sequences in a movie – the rhythm is important. and technology is very important for this, but it should be used not as the final goal, but as an instrument that you need to have.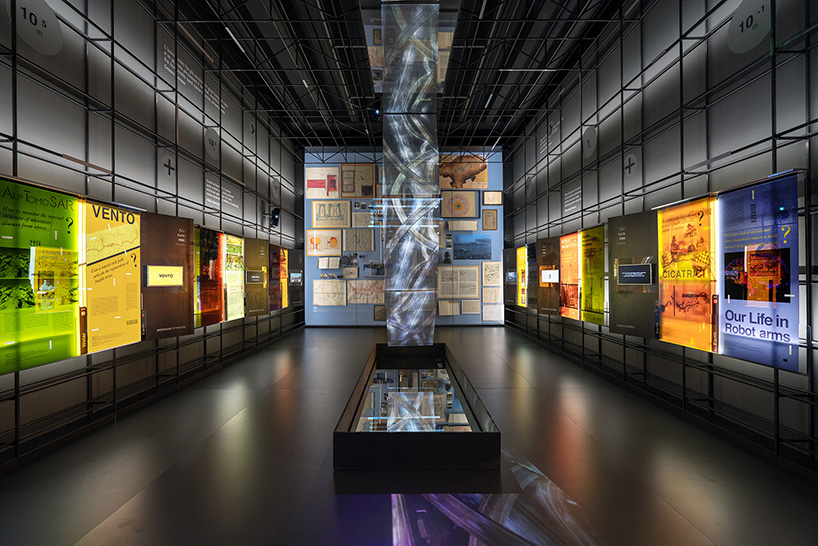 italian pavilion. XXII international exhibition. milan
triennale di milano. milan / march 2019 / politecnico di milano
DB: what are the main obstacles in your work?
MS: the process is part of the project, let's say there is a part which is creative. and there is a big part which is from the idea to the realization. we always want to achieve the realization and we have great respect for realization. because to finalize a project, as you know, is very difficult. there are many different problems that could impact the project and you always need to be open to dialogue, not just your ideas. because sometimes the client wants you to do different things. it's like a buffet, you may have a lot of great things but sometimes they don't go well together so you have to choose.
IM: sometimes clients want to have the buffet because they don't know how to select things and in this way we have to respect the clients and learn from them, but not to go along with them much. it's funny, but every time we had problems in the beginning, the project turned out to be very good at the end. sometimes, when the project started perfectly, at the end something went wrong.
MS: we really try to understand what the client is looking for. if they have an idea, that's why we're here, to help them develop this idea. if not, they would do it on their own.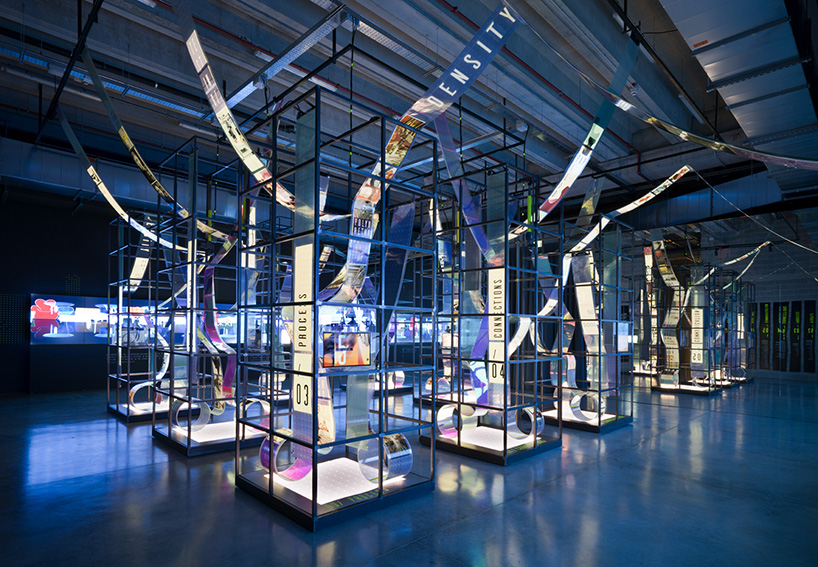 B&B italia / the perfect density. B&B italia's headquarter
B&B italia's headquarter. novedrate (CO) / october 2017 / B&B italia
DB: as for your organization, how do you handle projects? do you lead together or sometimes one takes the handle and the other follows?
MS: we are very, let's say, complementary to each other. each one has their clients and each one directs their own work, but we share everything among us.
IM: we believe that sharing ideas is very important. sometimes clients ask us who's idea was it and we can't even remember. I don't remember because I don't care. was it a student? I don't care. who cares who's idea was it? I care about the problem when it comes. this is an old fashioned question. we also like to work under the 'no excuses' flag. if something goes wrong, I will tell my team there's no excuse. we really believe in this attitude that we have in our office. there are no excuses.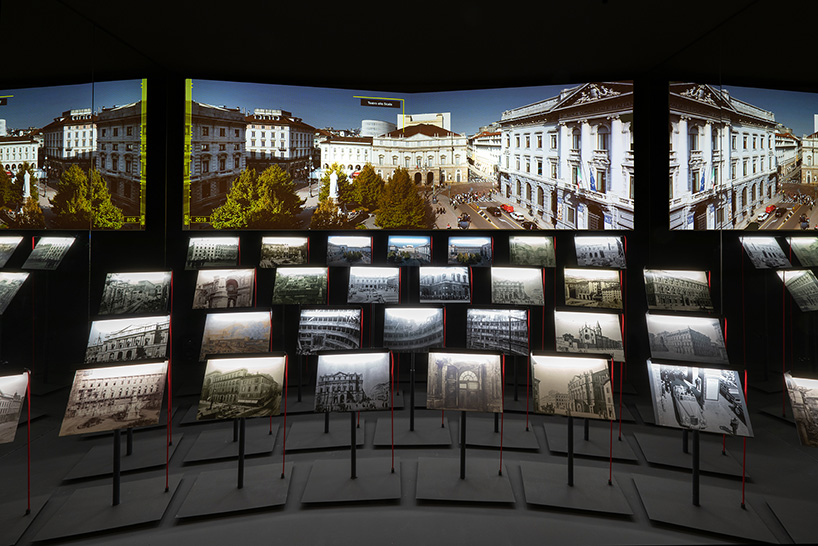 la magnifica fabbrica. 240 years of teatro alla scala, from piermarini to botta. milan
see more of this project on designboom here
DB: I remember your exhibition two years ago at la scala di milano. for example, with that one, I think it's difficult to visualize the history of this famous theatre. you introduced new technologies which are not of the heritage of la scala, you injected something new to an old institution…
MS: when you talk about a museum you think about an artwork on the wall, which is the old concept of museums. the new museum concept resembles more to that of a luna park because of how technology is being injected.
IM: yes, we don't like these kind of fun fair places in which you have projections all over the place and you are immersed in dream-like experiences…
MS: we like to use technology within the relationship that we build among people visiting in the space. technology helps you to see the exhibition in a clearer way. you don't see technology as the main thing because technology can become very old in a very short time. for example, at the chopin museum we created 54 interactions. and we had a meeting recently with the museum's director and he said he was very proud of meeting with other museum directors and showing them this because the technology in our museum is still creating value because of the relationships it's generating. so it doesn't matter if there are new technological systems, because what we care for is how technology creates these relations. we use technology in relation to the contents, with the identity, with the storytelling, and this is our defense.
IM: yes, also because technology for us is conceived as something we like to call on/off, like a switch. as you enter you activate it or not, it depends on what you want to see. the other aspect that is very important for us is light of course, the use of light.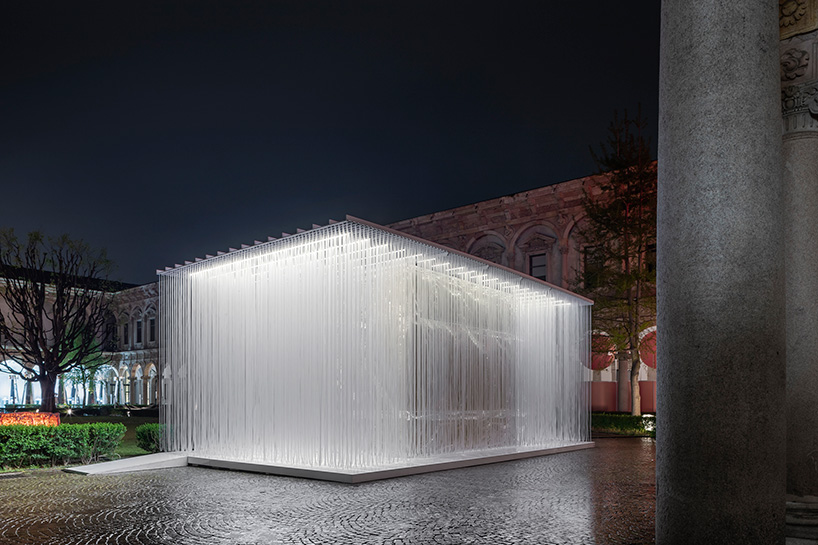 the perfect time for whirlpool. milan
università degli studi di milano / via festa del perdono, 7. milan / april 2019 / whirlpool
DB: can you elaborate more on light?
IM: for us, light is fundamental because is sort of like in the movies. when you have a dark light it's more emotional. so when you have to read, you should be more emotional. I think the pathway is defined by light. we try to design the lighting and the pathway at the same time. as you can see, all of our scale models have the light inside so that we can try to understand better how it will work.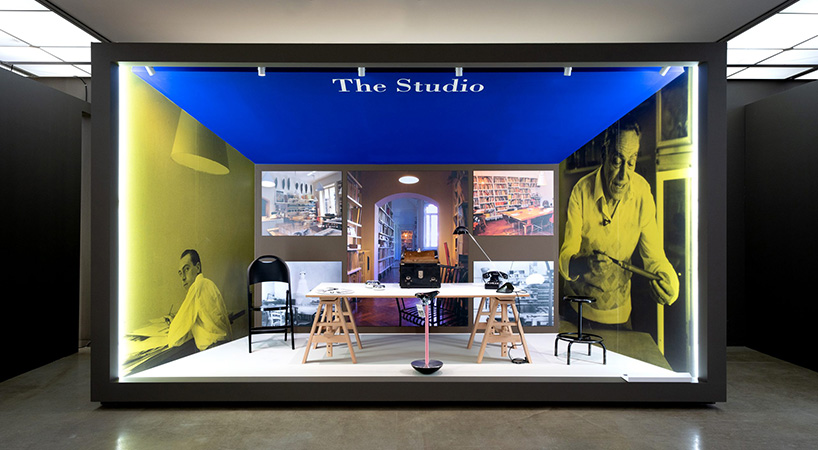 achille castiglioni and brothers. master of italian design. milan
seoul arts center / hangaram art museum 2f. seoul /january 2020 / project collective
DB: can you tell us about the castiglioni exhibition in korea?
MS: we're very happy with this experience because it was interesting to communicate to the korean and to the people in asia the legacy of castiglioni. we also curated this huge exhibition over there featuring over 1000 square meters and there is one room which is called milan le grand milan, which showcases the cultural atmosphere that was surrounding the castiglioni brothers in the 60s. we wanted to show the milan of that time, what castiglioni's studio was like. the production of drawings for an object was different from the one we have now. now we have a lot of tools to see our projects on paper before we go ahead: drawings, renders, 3D models, etc. but at that time it was different.
IM: I think it's interesting for the asian people to understand that long lasting projects like castiglioni's have a creative process. and that means that creativity is just stealing, matching, squeezing and having a new idea because creativity is not myself and the white page. creativity is matching. we wanted to show to the korean visitors how castiglioni's creative process was just about looking around with curiosity, stealing and transforming these into new objects. or the readymade as a concept that transforms objects or bringing the object from one field to another. but the subject here is to be an architect. architecture is more than design because design to me is very important. but now the word design is overly-used: food design, garden design… design is a very important word and sometimes it's misunderstood, it's communication, it's the project.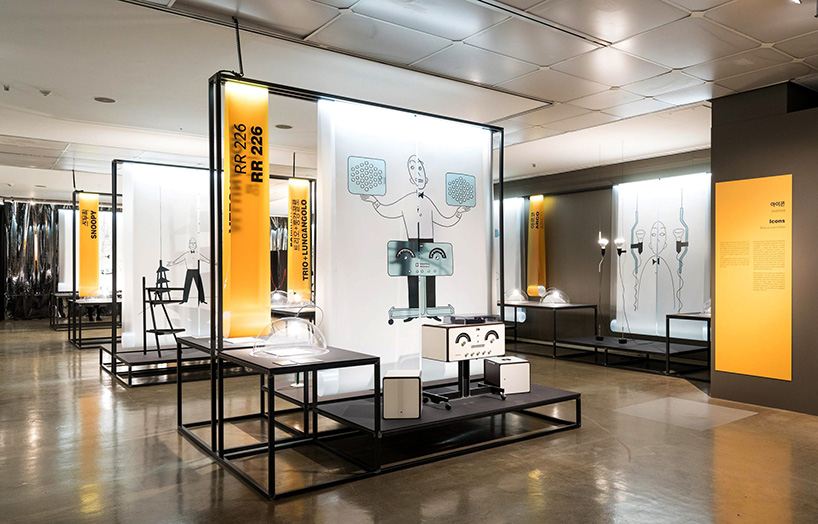 achille castiglioni and brothers. master of italian design. milan
seoul arts center / hangaram art museum 2f. seoul /january 2020 / project collective
DB: where did the pieces on show come from?
IM: they came mostly from the castiglioni foundation, sketches that we had and that they had, with data and also objects on production.
DB: you proposed the concept of the exhibition?
MS: yes and it was a quite popular exhibition not only for the design expert but also for ordinary people. we had sketches, part of the anonymous objects collection, graphics made by castiglioni in collaboration with other graphic designers. he also designed many museums so our exhibition included his architecture. so it was a very general overview of this kind of creative moment in the 60s, 70s, and 80s. we also invited 10 korean designers to design their own graphic for the exhibition.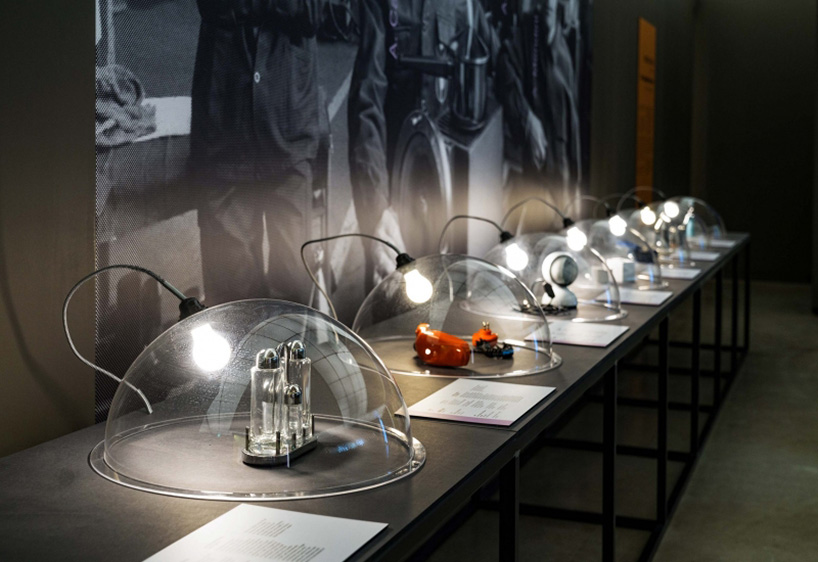 achille castiglioni and brothers. master of italian design. milan
seoul arts center / hangaram art museum 2f. seoul /january 2020 / project collective
DB: in terms of size and pieces on show, is this the biggest castiglioni exhibition so far?
IM: the triennale one was also very big but I think it was a bit different. so we had five rooms, each room is one for the creative process, one is for the numbers, one is for milan, one is for the icons that he designed, one is for this kind of graphic contribution, one is for his architecture… every room has a certain link to the idea castiglioni had of interior design.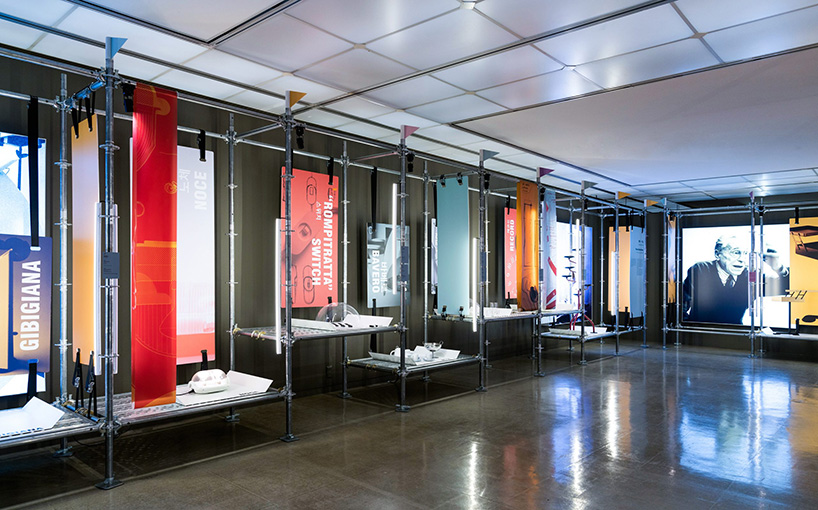 achille castiglioni and brothers. master of italian design. milan
seoul arts center / hangaram art museum 2f. seoul /january 2020 / project collective
DB: will this exhibition travel? how long will it be open?
MS: it will be open until the 26th of april. and then the korean group is thinking about moving it to other places in korea and asia. we are talking about it.
DB: what's next for migliore+servetto? something you would really like to do in the future?
IM: we want to continue expressing the relationship of objects in correlation to space. we would also like to go more into hospitality and cities, hosting spaces for cities. to me the city should be a place that gives people something, people should be using public spaces more. we are interested in this kind of sharing hospitality, or the new hospitality of the city. to design social spaces for everyone and have people really use them.
juliana neira
I designboom
mar 17, 2020
KEEP UP WITH OUR DAILY AND WEEKLY NEWSLETTERS
happening now! discover how effe perfect wellness merges tradition with modern design to bring the total relaxation experience of saunas and hammams into use in private homes.
a diverse digital database that acts as a valuable guide in gaining insight and information about a product directly from the manufacturer, and serves as a rich reference point in developing a project or scheme.
designboom will always be there for you
milan, new york, beijing, tokyo

,
since 1999