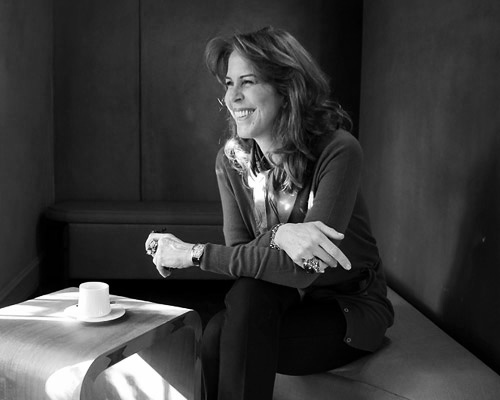 dec 03, 2014
interview with zeynep fadillioglu, first woman to design a mosque in turkey
interview with zeynep fadillioglu, first woman to design a mosque in turkey
all images courtesy of zeynep fadillioglu
alongside her numerous awards, honors and international recognition, turkish creative zeynep fadillioglu has claimed another monumental title: she is the first female designer of a mosque. fadillioglu's masterful union of east and west, traditional and contemporary, and translation of heritage through color, texture and textile has resulted in varied architectural, interior and product design projects — from nightclub schemes and office spaces to the realization of religious sites of worship. however, her open approach and modern understanding of cultural values sees an overarching continuity and visual identity throughout her diverse field of work.
following the resignation of architect husrev tayla — initially appointed to the site — 'sakirin' in istanbul became one of three mosques for which fadillioglu has been responsible for design and construction. with this completion of this project, fadillioglu became the first female to design a mosque, a crucial, and undoubtedly controversial, part of her career that prompted both pressure and praise. we spoke with the multifaceted creative about the circumstances surrounding her unique projects, the overall religious and social design requirements that need to be taken into account and the aspects her upbringing which have shaped her core principles and philosophies.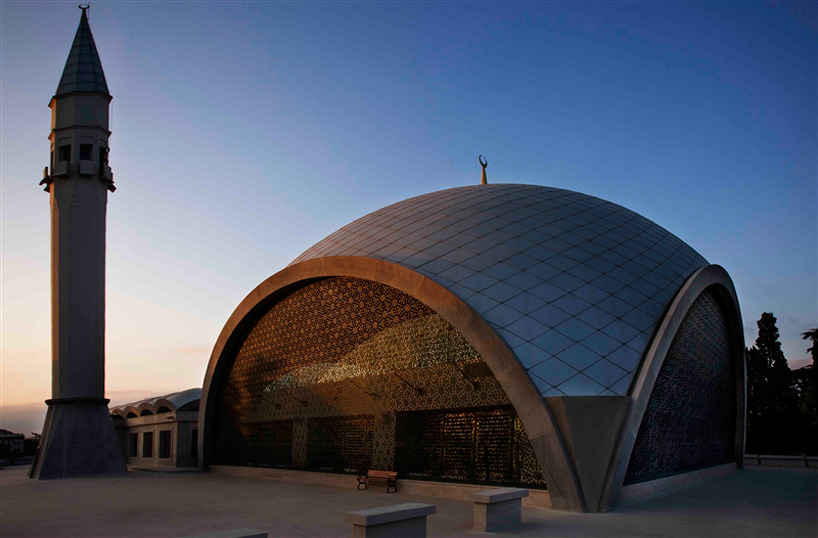 the 'sakirin mosque' in istanbul features an aluminum composite dome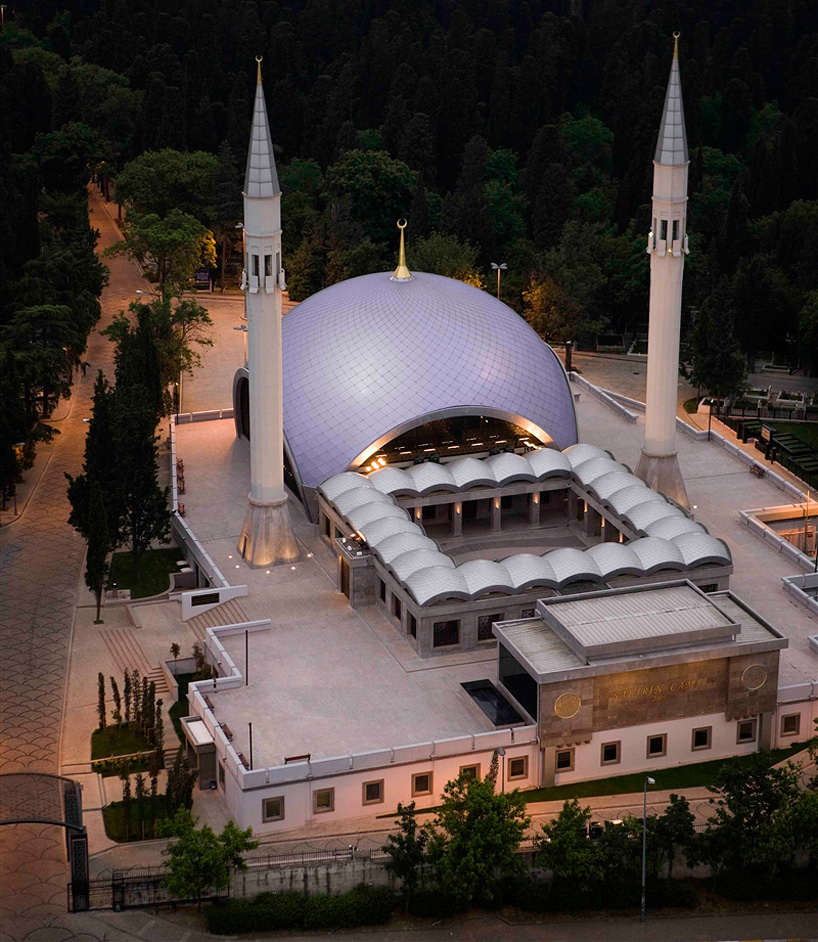 the complex that comprises 'sakirin mosque'
designboom: what originally made you want to become an architect?
zeynep fadillioglu: I am not an architect by education, but through practice — so to say. I, myself, am a graduate of history of art and design at the inchbald school of design. I have a team of 12 architects and 13 designers who are translating my design into an architectural language. I was always interested in art and design; I was designing my own jewellery when I was 12.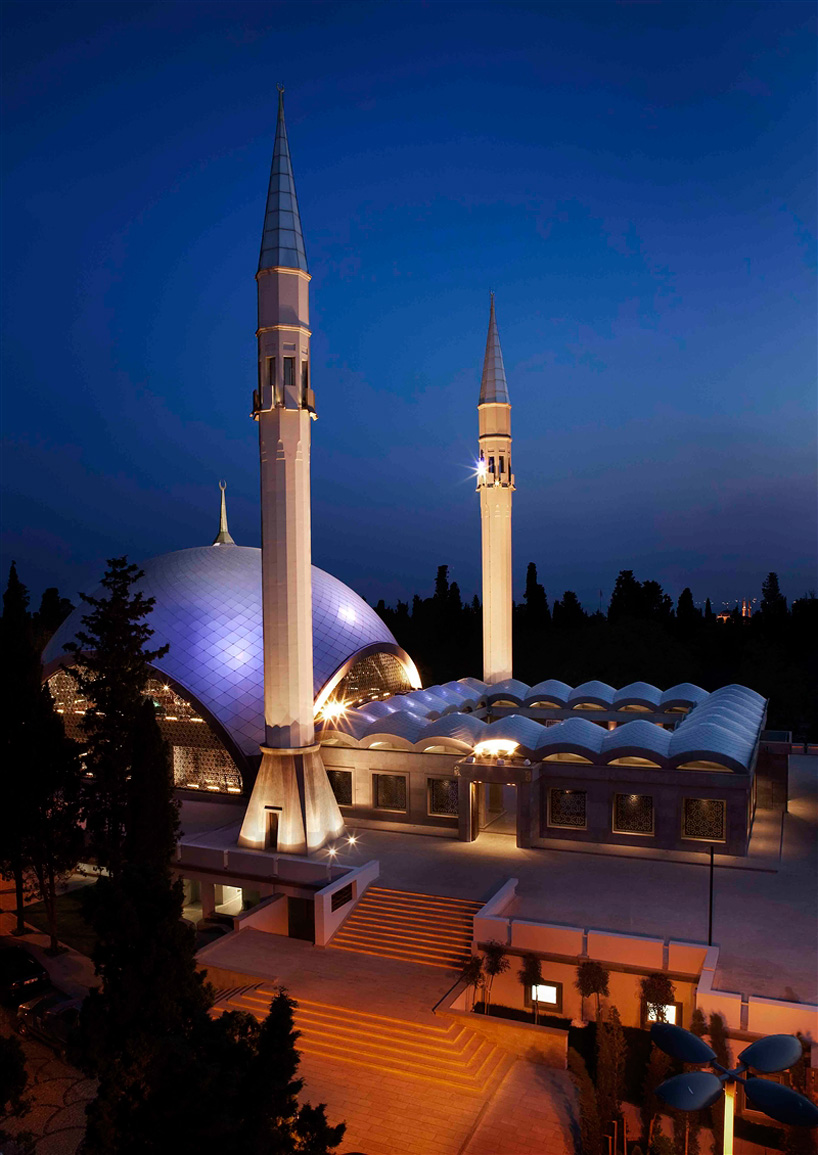 the religious institution is one istanbul's 'must-sees'
DB: what particular aspects of your background and upbringing have shaped your design principles and philosophies?
ZF: both of my grandfathers were in the textile business, from whom I inherited my passion for fabrics, and also collectors of antiques. I grew up in a waterfront mansion built by garabet balyan, in an environment where arts and design were highly appreciated and integrated to the daily living. I started collecting art when I was 14 — of course with the guidance and support of my father, who pushed me to study art history and design at the inchbald school of design in london, which changed my life. being a descendent of an ottoman family, I had the chance of discovering the colorful and magical interior world of the ottomans. being educated in the republican era of turkey, during which period turkey turned its face totally to the west, I had the opportunity and luck to interpret the ottoman culture and art with a westernized eye.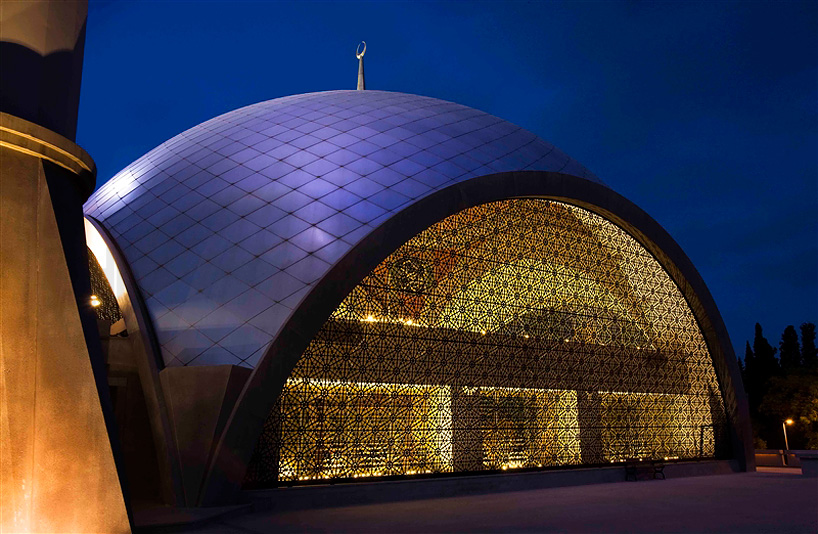 the exterior of 'sakirin mosque' features an ornately patterned wall which reveals inner light
DB: who, or what, has been the biggest influence on your work to date?
ZF: who — my husband who encouraged me to found my own design office. what — my husband's business, which gave me the opportunity to practice my architectural and interior design abilities in restaurants, clubs and beaches.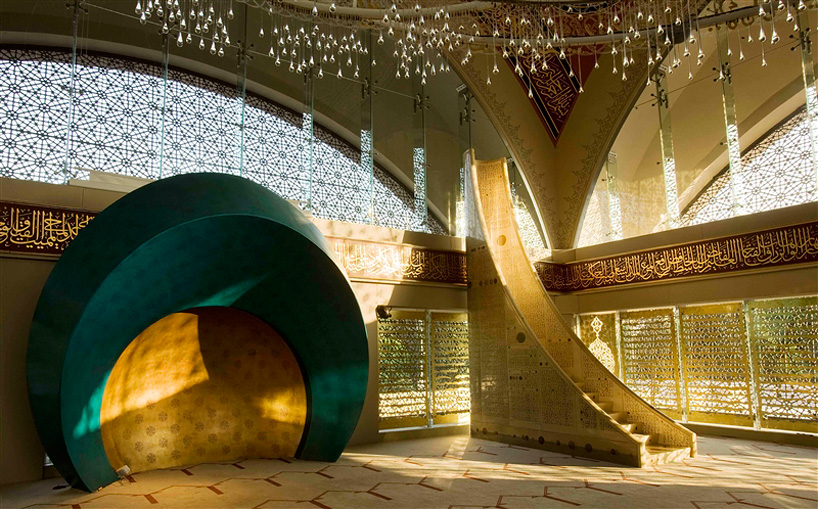 the interior of 'sakirin mosque' includes gold, textural details
DB: you work across a broad spectrum of projects, from nightclubs to mosques, what kinds of challenges does this present in maintaining an architectural identity?
ZF: the founding stones of my approach to any project remains the same: timelessness, open-mindedness, love of color, layers of textures and architectural features. my work reflects a modern understanding of traditional values. using my hometown istanbul as the main part of my inspiration, in my designs I am trying to combine eastern and western aesthetics and embrace the rich heritage of the ottomans to produce works that have a local feel and a universal appeal. I work with top most craftsmen and artists from all over the world.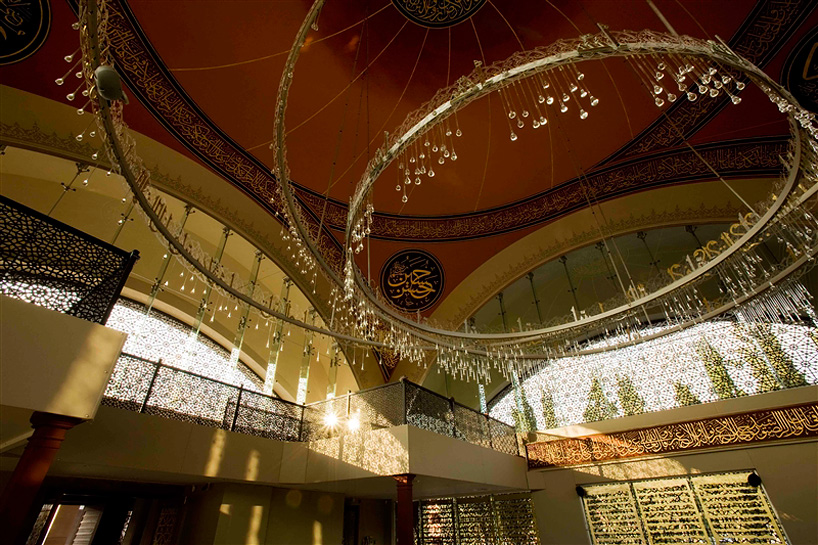 tiered glass chandeliers are suspended from the domed ceiling
DB: what specific religious or social design requirements need to be taken into account when designing a mosque?
ZF: my designs are always serving to the client's requests and needs. each of them is bespoke, designed with respect to the environment and to the architecture of the building. when designing a mosque, the religious regulations define the frame of the design. within this frame, I am trying to fulfill my client's wishes whilst being conscious of the needs of the believers, who will pray in the mosque. a mosque should provide a serene atmosphere to the worshiper. one has to be very careful not to offend the believers' traditions.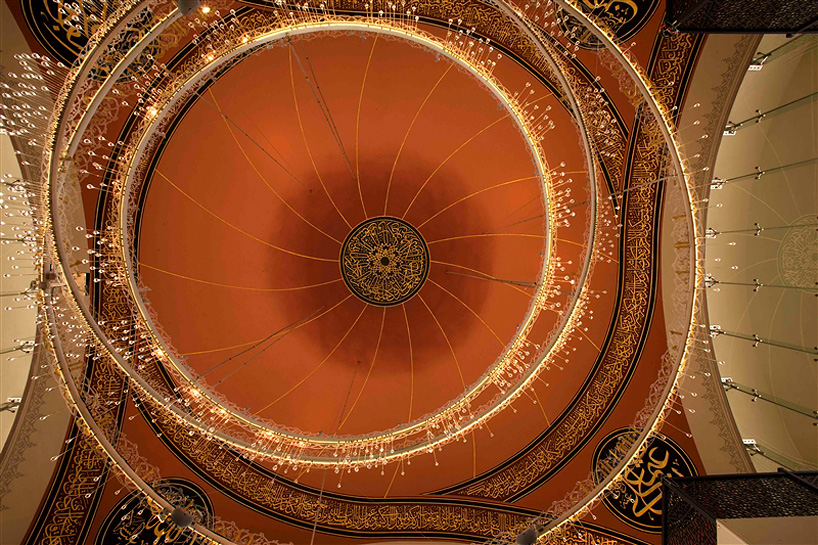 looking upwards provides the viewer with a richly layered landscape of color and reflective light
DB: you have been referred to as 'the first woman to design a mosque'. what kinds of pressure or praise does this title carry with it?
ZF: I was criticized by some turkish people who believed that they could have done better, and I believe were jealous that this project wasn't commissioned to them. the praise came from worshipers from all over the country, international visitors and the press from all around the world. today, the 'sakirin mosque' belongs to the 'must sees' of istanbul.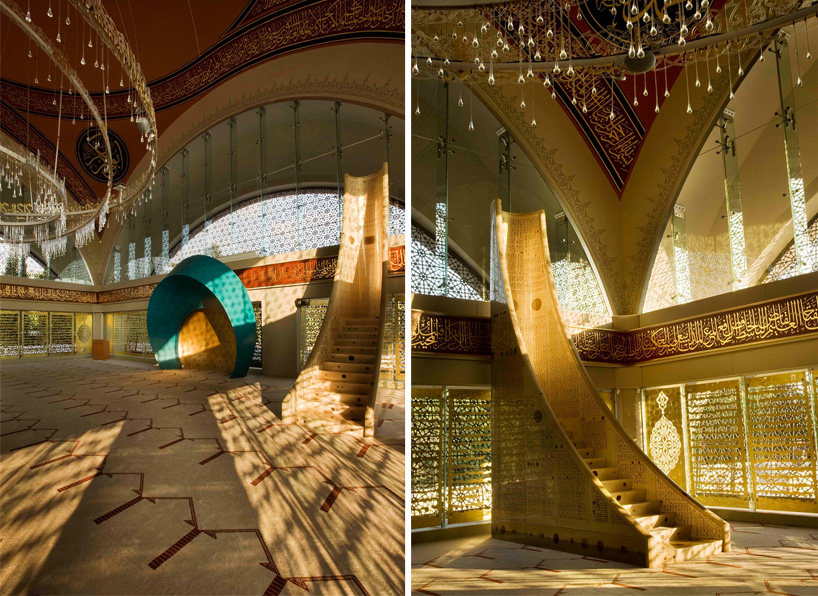 interior views show the pattered apertures inscribed in windows and doors
DB: do you believe there an encompassing theme that unites religious buildings of all faiths?
ZF: all religious buildings have a common goal — opening the path to the believers to connect wıth their divine.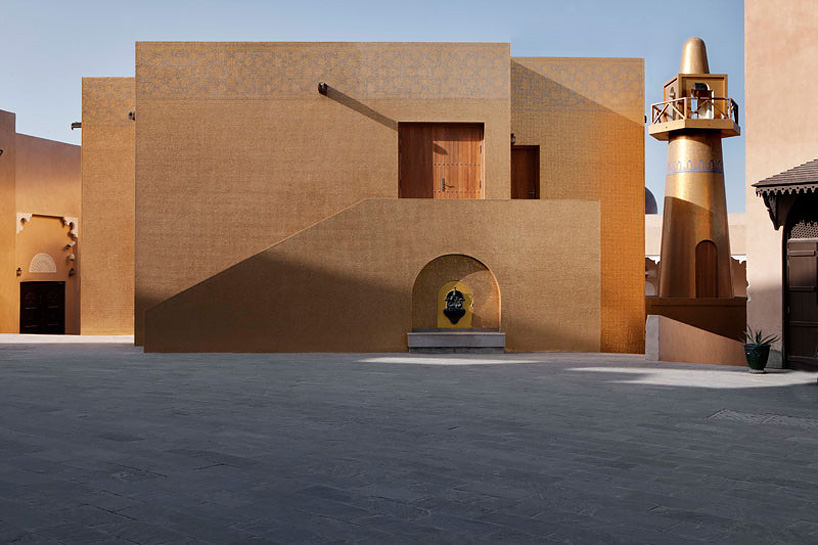 'golden mosque' in doha, qatar
DB: what are you currently interested in and how does it feed into your creative thinking?
ZF: the world of art and nature keeps me charging my batteries.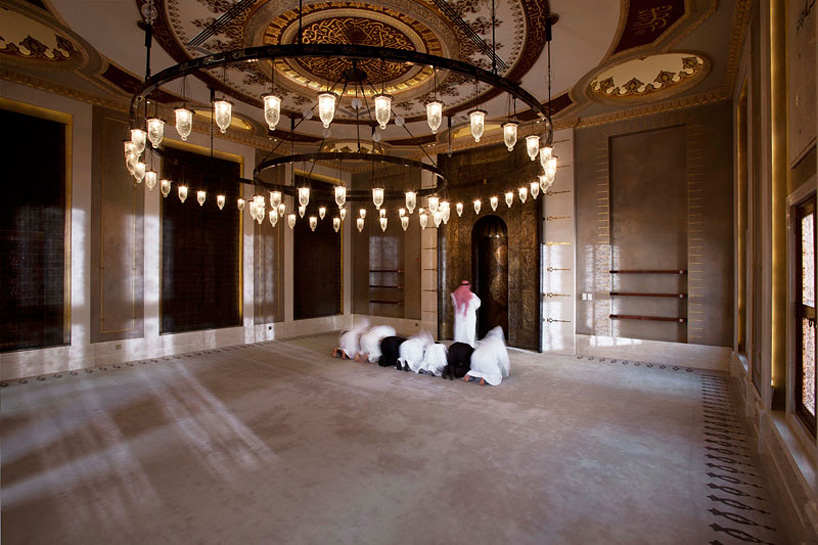 the interior scheme of the 'golden mosque' features calligraphic detailing and a lighting centerpiece
DB: which architects, artists, or designers working today do you most admire?
ZF: jean nouvel, i.m.pei, richard serra, anish kapoor, frankgehry…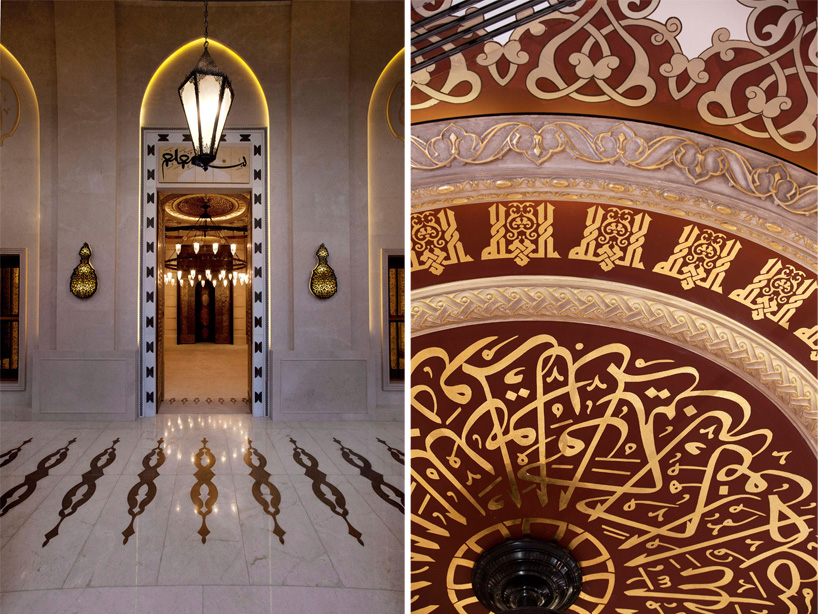 inscriptions on the ceiling are detailed in deep red and golden hues
DB: can you tell us about any upcoming projects that you are especially excited about?
ZF: we have ongoing projects from all around the world; palaces, hotels, shops…all are very exciting. we have launched our furniture and accessories line in september 2013. it is getting great attention both locally and internationally. in january, our products will be shown at the exclusive event of meet my project at christofle's salon in paris, together with selected designers from the world, which is also very exciting.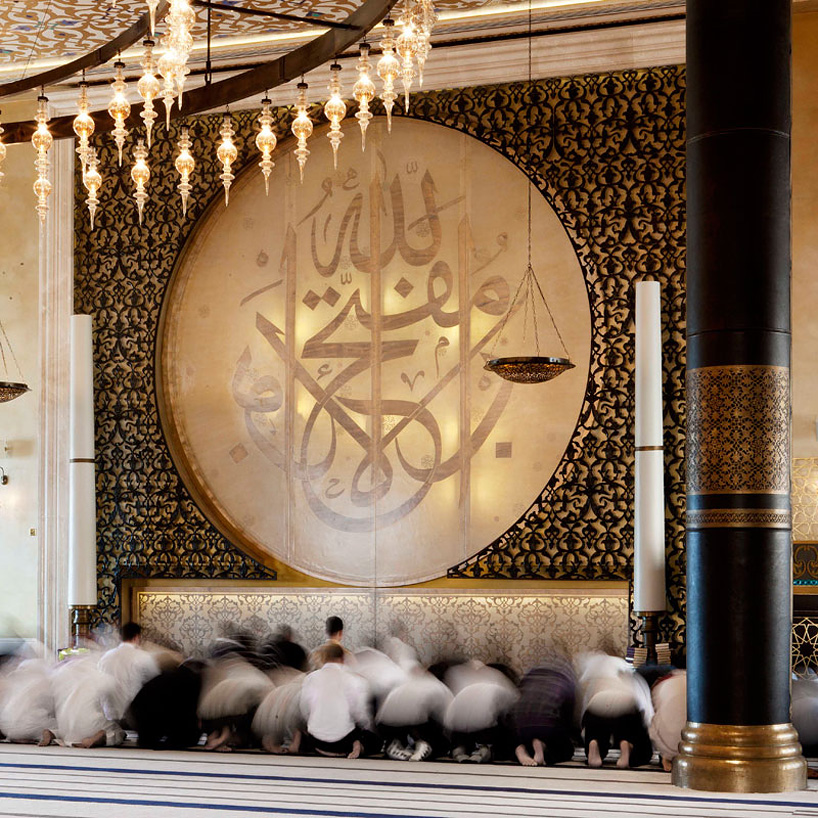 worshipers gather in 'friday mosque' in qatar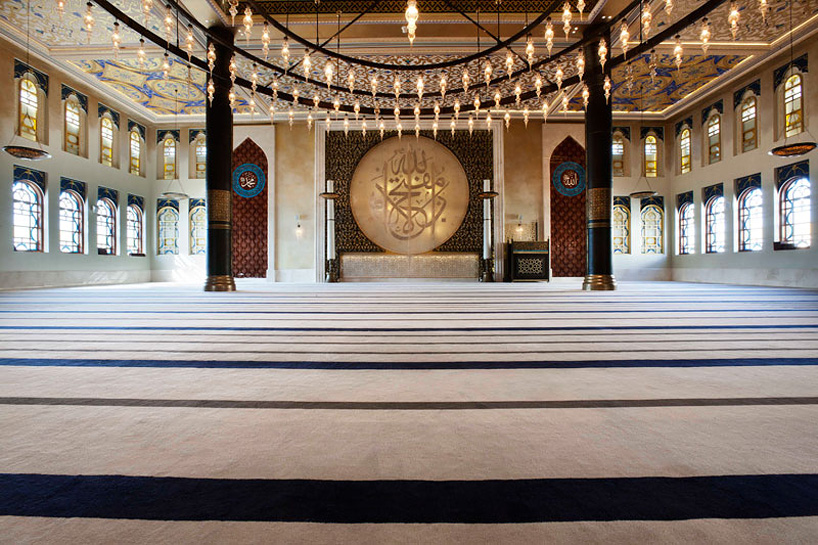 a striped carpet lines the floor at 'friday mosque'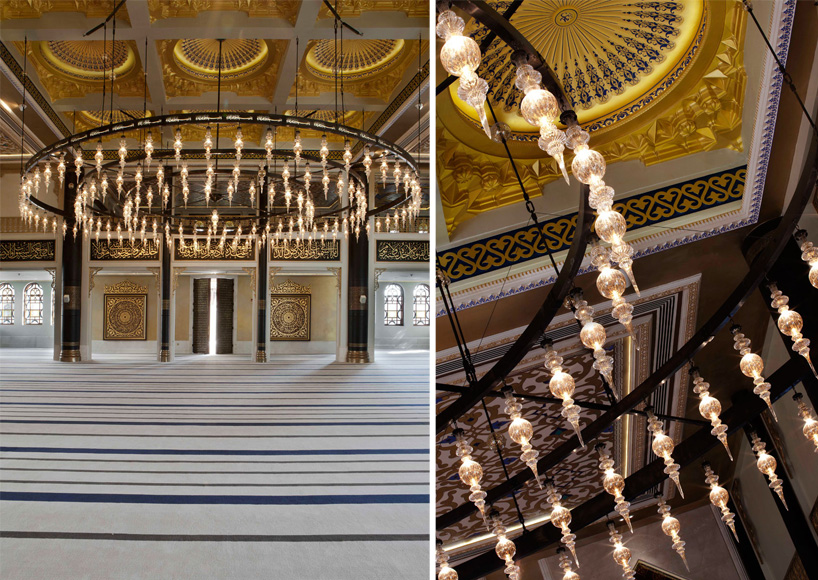 delicate glass lights line a circular centerpiece
aug 06, 2020
aug 06, 2020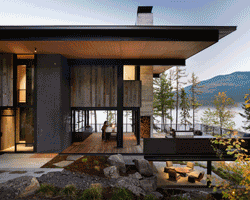 jun 23, 2020
jun 23, 2020
jun 10, 2020
jun 10, 2020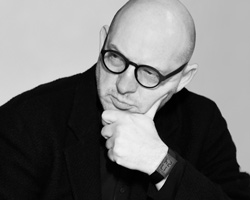 may 07, 2020
may 07, 2020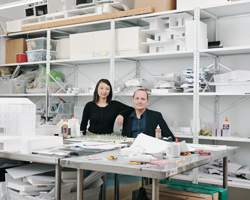 apr 19, 2020
apr 19, 2020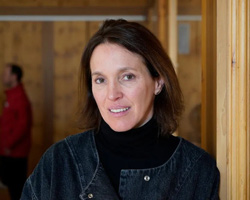 mar 13, 2020
mar 13, 2020
oct 30, 2019
oct 30, 2019
oct 29, 2019
oct 29, 2019
sep 23, 2019
sep 23, 2019
a diverse digital database that acts as a valuable guide in gaining insight and information about a product directly from the manufacturer, and serves as a rich reference point in developing a project or scheme.