english practice invisible studio in collaboration with the architectural association of london and design & make students have recently completed the hooke park big shed workshop in england. the angular timber structure serves as a workshop space for the design & make program providing a space for prototyping, assembly, and research of construction methods and projects carried out by the program. the name is derived from the structure's location in hooke park where the native materials were also extracted, and itself serves as a case study developing the use of tree trunks'in the round' to create complex structures, minimizing the need for the industrial milling process while using the raw planks efficiently and effectively.

image © valerie bennett (also first image)
the wood used in the structure was sustainably harvested from larch trees recently felled to help combat the spread of phytophthra, a crop-killing organism capable of destroying vast vegetated areas. a series of irregularly shaped trusses were prefabricated on site and erected into place using a variety of trunks each with their own unique characteristics. in developing this construction method, the engineers worked closely with the designers to calculate the structural potential of each trunk based on its diameter, taper, straightness, and quality so as to be positioned appropriately in the truss to withstand the required forces. long heco topix timber framing screws were used to connect the irregularly-shaped chords with special attention paid to the angel and depth for maximum structural capacity.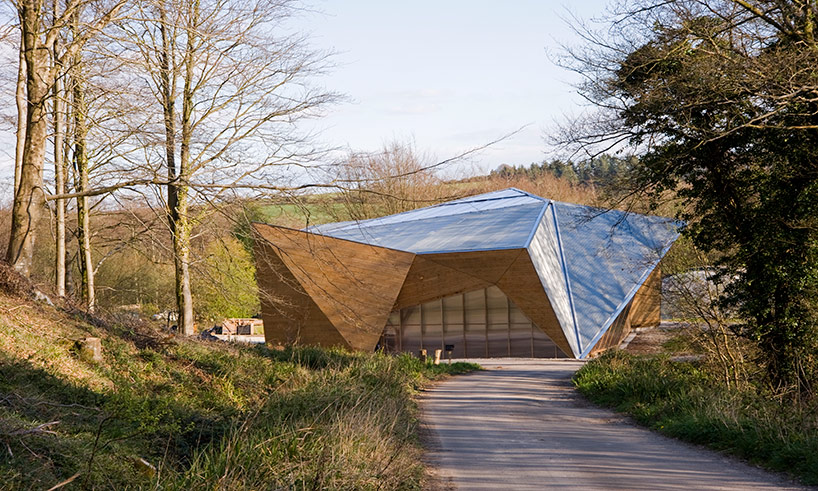 the angular form is located in hooke park, made from a variety of local timber
the exterior of the triangulated form is clad in western red cedar boards acquired from the felling of 30 local trees, picked for its durability and low maintenance properties. the dynamic form is in a state of constant change, made up of angled fragments that peel away from the ground exposing translucent polycarbonate walls that provide much of the structure's natural lighting. a large warehouse-style doorway allows for the construction of larger assemblies to be transported in and out, a multi-functional space that gives the flexibility to work on almost any project. the roof consists of corrugated steel sheets that provide adequate drainage and again require very little maintenance. at the center, a triangular skylight illuminates the interior.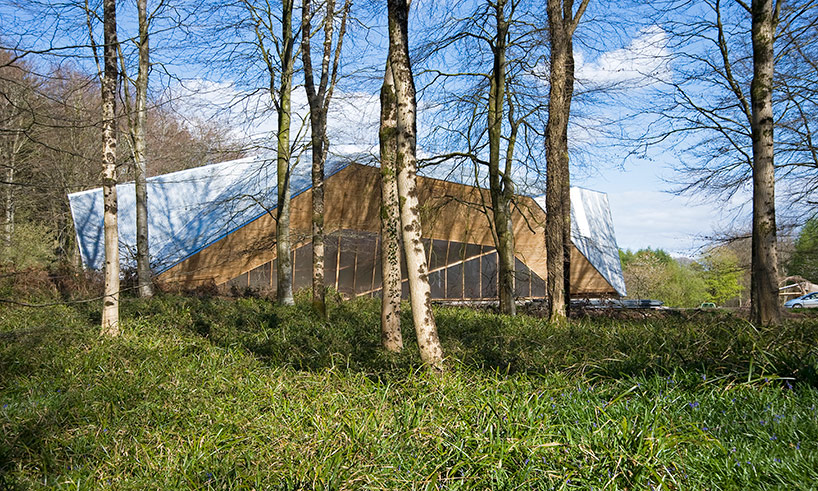 image © valerie bennett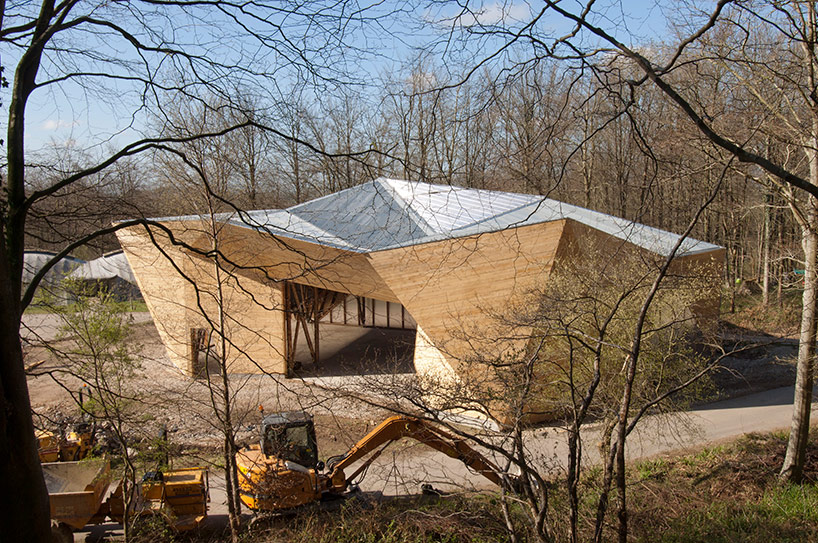 image © valerie bennett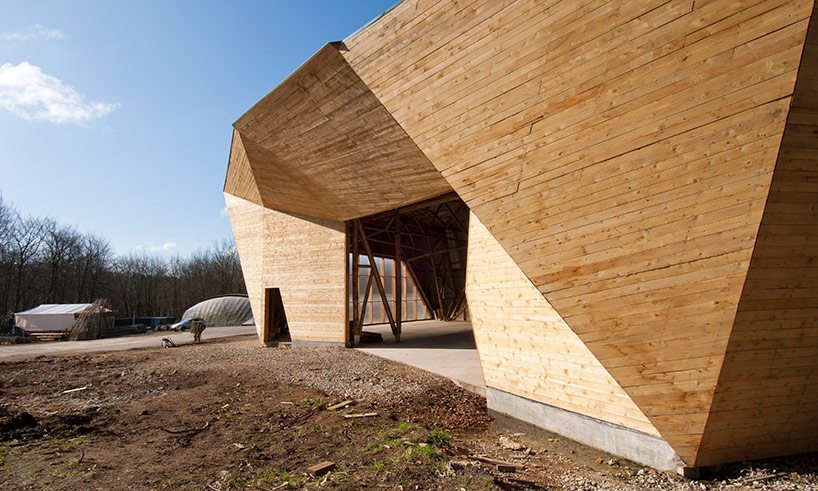 the structure sits on a concrete foundation that serves as the ideal floor for a multi-functional indoor/outdoor workshop
image © valerie bennett

a series of trusses developed with engineers uses felled natural tree trunks as research into the use of irregular planks for complex shapes
image © valerie bennett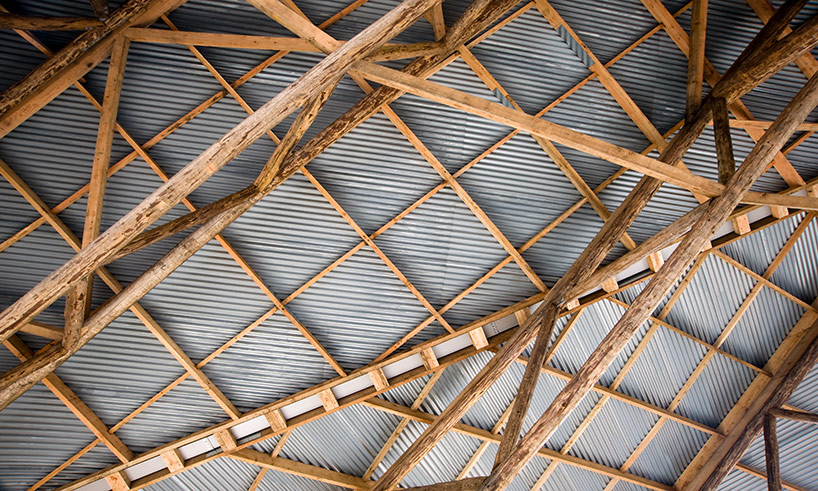 corrugated sheets provide a low maintenance roofing material capable of cladding the irregular form
image © valerie bennett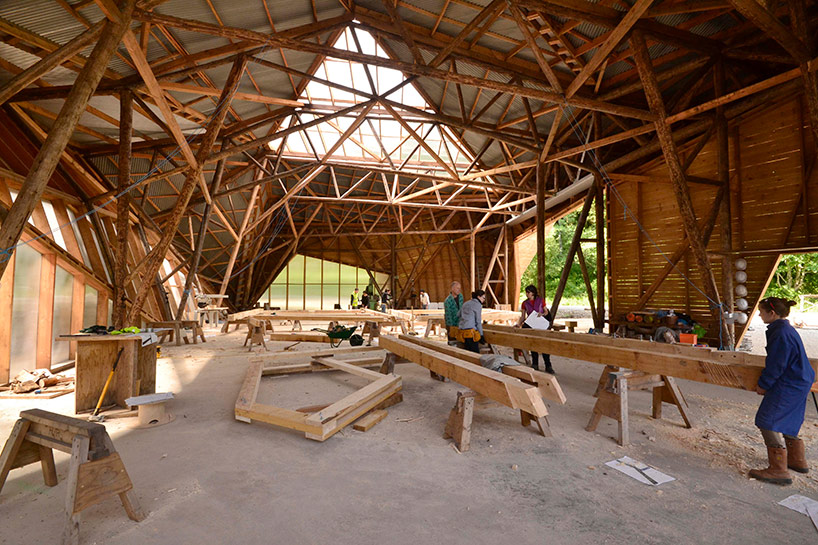 the structure was built with both students and volunteers
image © valerie bennett
jul 24, 2020
jul 24, 2020
jul 23, 2020
jul 23, 2020
jul 12, 2020
jul 12, 2020
jul 07, 2020
jul 07, 2020
jul 07, 2020
jul 07, 2020
jul 02, 2020
jul 02, 2020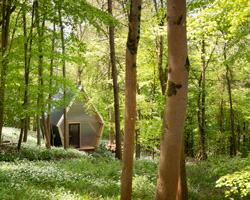 mar 22, 2020
mar 22, 2020
nov 03, 2019
nov 03, 2019
oct 13, 2018
oct 13, 2018
may 15, 2017
may 15, 2017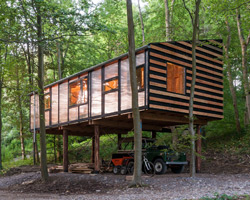 jul 09, 2014
jul 09, 2014
a diverse digital database that acts as a valuable guide in gaining insight and information about a product directly from the manufacturer, and serves as a rich reference point in developing a project or scheme.