spanish architect izaskun chinchilla has designed the auditorium for this year's edition of casa decor in madrid. titled 'fortuny', the venue's configuration and materials are inspired by the work of mariano fortuny — a renowned painter whose work is on display at the nearby prado museum. chinchilla pays homage to fortuny's work through the reinterpretation of improvised roofs and natural vegetation found in his famed paintings.

all images by miguel de guzmán / imagen subliminal
izaskun chinchilla's design seeks to bring new life to the building hosting casa decor 2017 — a historic residence that dates back to the early 1900s. 'the aesthetic fascination for ruinous places, inhabited with provisional means, has today a new sense and a new validity,' says the architect. 'the work of an architect or contemporary architect in europe is fundamentally oriented to the transformation of existing buildings: we already have the infrastructure, but our needs evolve daily.'

the venue's configuration and materials are inspired by the work of painter mariano fortuny
the design exposes the numerous layers of material that had previously been concealed by recent plastering — allowing the new elements of the scheme to coexist with the historic structure. this boundary is further blurred by the tiling that extends from the floor onto the lower part of the auditorium's walls. conceived as a 'wild garden in an abandoned ruin', the design combines flowers, fabrics, and furniture to create an unashamedly eclectic setting.

tiling extends from the floor onto the lower part of the auditorium's walls

a distinctive ceiling canopy encloses the space

the design exposes the layers of material that had previously been concealed by plastering

the project has been conceived as a 'wild garden in an abandoned ruin'

the latticed ceiling incorporates a variety of patterns and textures

elements of greenery are interspersed throughout the design

a range of different fabrics are presented

the scheme seeks to bring new life to the building hosting the event
project info:
name: auditorio fortuny
studio: izaskun chinchilla architects
author: izaskun chinchilla
collaborators: alejandro espallargas, guillermo sanchez, jesús valer, mercedes zapico, josé vidal
student collaborators: santiago isaac rodriguez, ismael fernandez.
client: casa decor
location: calle antonio maura 8, madrid, spain
surface area: 60 sqm
manufacturing and assembly: viuda de ramirez
Save
Save
Save
Save
Save
Save
Save
Save
Save
Save
Save
Save
Save
Save
Save
nov 01, 2017
nov 01, 2017
oct 29, 2017
oct 29, 2017
oct 25, 2017
oct 25, 2017
oct 22, 2017
oct 22, 2017
oct 17, 2017
oct 17, 2017
oct 12, 2017
oct 12, 2017
jan 10, 2017
jan 10, 2017
jun 23, 2015
jun 23, 2015
mar 20, 2015
mar 20, 2015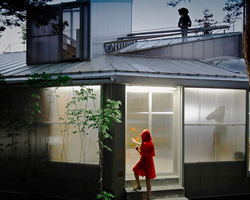 nov 02, 2017
nov 02, 2017
oct 22, 2017
oct 22, 2017
oct 17, 2017
oct 17, 2017