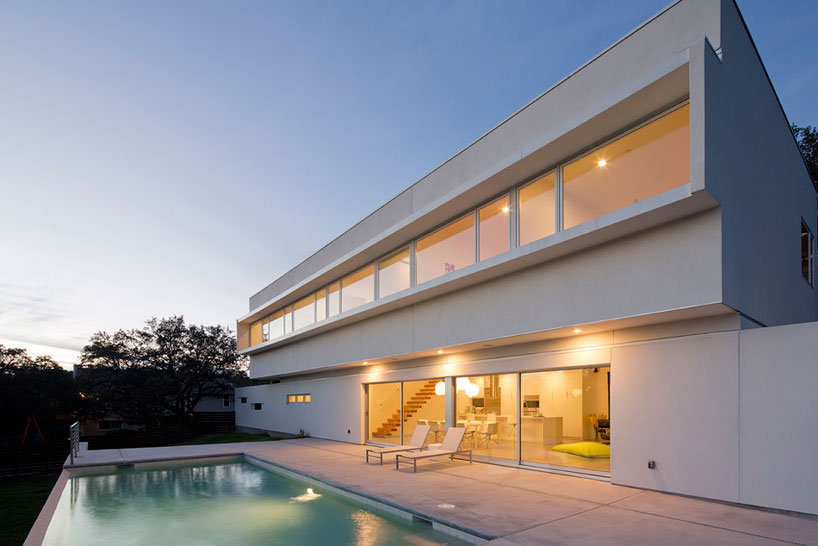 feb 11, 2014
jadric architektur orients house in austin around infinity pool
jadric architektur orients house in austin around infinity pool
photo by paul bardagjy
all images courtesy of jadric architektur
while some construction projects can take years to be completed, 'house in austin' by vienna-based practice jadric architektur was built in only eight months. located in a suburban neighborhood of texas, the family home presents a range of different atmospheric conditions, achieved through various lighting and spatial organization.
private and secluded areas of the home are contrasted by shared communal volumes. consequently a matrix is formed, where the north-south axis features indoor and outdoor volumes that align themselves with a terraced slope toward the south. perpendicularly, the east-west axis is oriented with the movement of the sun, providing light for daily activities.
the dwelling is articulated around the pool at the rear of the property, positioned to amplify the light and views reflected from the water's surface. the large provision of glazing at ground floor level blurs divisions of internal and external space allowing a fluid and smooth transition across the property.

the dwelling was constructed in only eight months
photo by paul bardagjy

the infinity pool at the rear of the property
photo by paul bardagjy

the design offers views across the texan landscape
photo by paul bardagjy

a secluded and shaded outdoor dining area
photos by paul bardagjy

the large provision of glazing blurs divisions between internal and external space
photo by paul bardagjy

open-plan living accommodation opens out onto the pool
photo by paul bardagjy

photo by paul bardagjy

'house in austin' gently illuminated at night
photo by paul bardagjy
project info:
site area: 2,558 sqm (0.632 acre)
total floor area: 320 sqm (3,206 sqf)
location: westlake, austin, TX, USA
program: private residence

planning: 2012
construction: 2012-2013

photography: paul bardagjy
project team

planning: jadric architektur ZT GMBH, vienna, austria

design principal: mladen jadric

design team: li jie, edin velic, max krankl
structural advisor-concept: DI igor budai ZT GMBH
client: vesna & dragan jadric, austin, TX, USA
partner architects: erik gonzales, sago international, austin, TX, USA

construction survey: james m. grant, manchaca, TX, USA
builder: skywest-builders, austin, TX, USA
graphic design: asakura kazuma