the studio of jakob + macfarlane was started by french and new zealand architects; dominique jakob and brendan macfarlane in 1997. more than twenty years later, their studio in the heart of paris is busy with architects and designers working simultaneously on projects of different scales that evolve around their focus: to create purposeful architecture that has specific meaning and a reason to exist. the studio has been recognized for interiors and architecture including the restaurant georges at the pompidou center, the docks of paris, the orange cube in lyon and their frederic malle perfume store. recently, they opened their first retrospective exhibition titled 'augmenting the invisible' inside the aedes architecture forum in berlin.
on a trip to the french capital, designboom spoke to the founding architects and discussed their creative processes, changes they've seen in french architecture and the reason for their vivid use of color.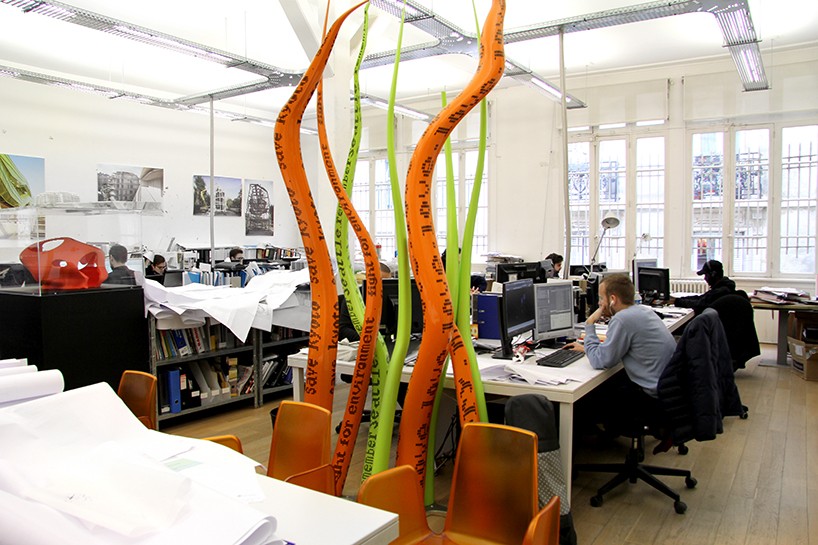 the jakob+mcfarlane main studio space in paris
image © designboom
designboom: can you describe your architectural language?
brendan macfarlane: with each project, we put everything into question. we are very interested in skeletons and skins, there is a whole thing of that in the office. I think the emergence of this came about from our very first project at 'georges' (restaurant on the sixth floor of the centre georges pompidou). the structure we created at the restaurant since has moved through into other projects (i.e bookcases and buildings). we also began working in transparency and with light; this became extremely interesting and left us with the ability to visualize like an X-ray into the building. I think that this had a huge impact on our work and the kind of language we've been developing since.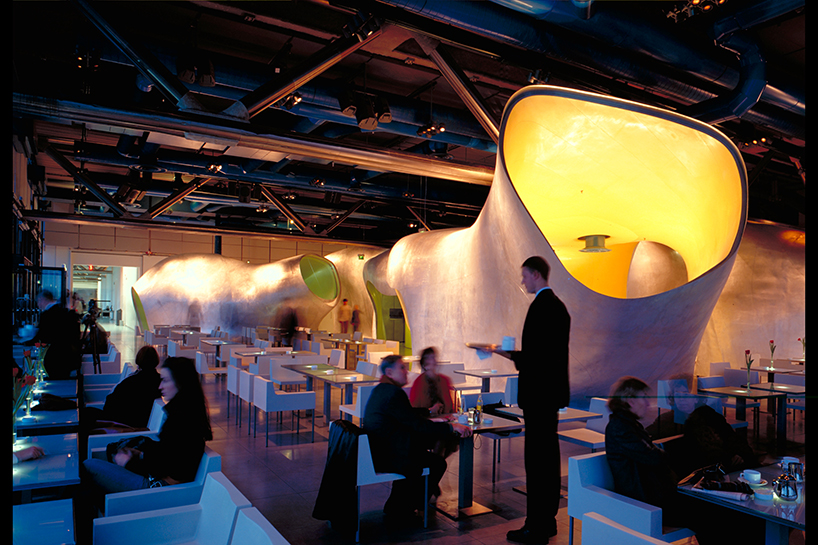 georges, restaurant on the sixth floor of the centre georges pompidou, paris, 2000
image © nicolas borel
designboom: what changes have you seen in french architecture over the years?
BM: I think architectural language has changed. the french people have become more open and have developed a broader vision of architecture seen in the move from beaux art architecture to more interesting plastic languages. when I first started as an architect, I thought the french were much more focused on beaux art work, very two-dimensional, very modern. but then, generations of architects came and saw different possibilities going on around the world and france came in and worked with much more conceptual questions about architecture that weren't necessarily just issues about social housing.
designboom: how was technology introduced into your projects and do you think it will appear more in your future projects?
dominique jakob: technology was clearly for us introduced with the numeric revolution, it gave us the ability to be a lot more sophisticated in the way we make and conceptualize projects. on the other hand, culture is changing and with these changes will come new ways of using technology, I think some of the most important aspects recently seen are with the whole greening revolution and its impact on architecture. yes I do think technology will appear more and more on our future projects, like our 'connected house' project which is an interconnected system within the house as well as connected to the whole city, it is a very good example of how technology will appear more in our future projects.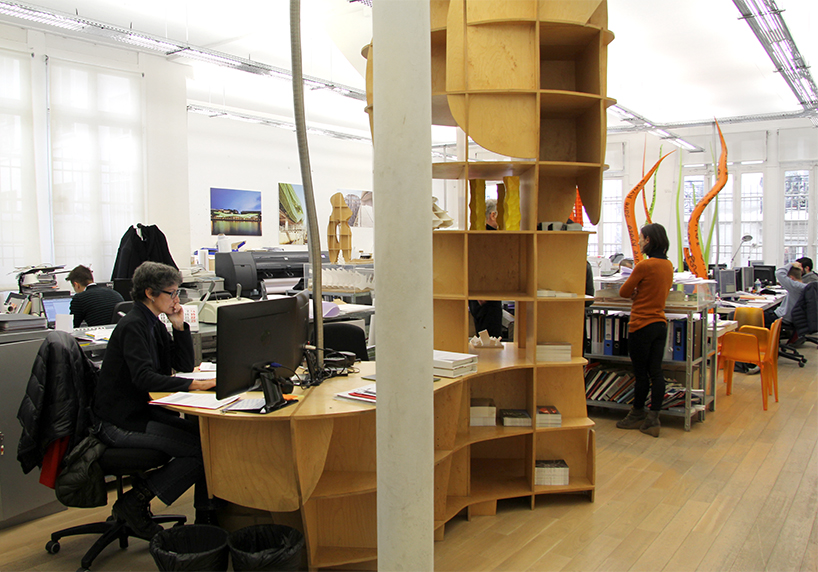 image © designboom
designboom: where do you think architecture sits in terms of social interests? does it have a voice and where is technology in relationship to that?
BM: dominique and I both have backgrounds that've given us a critical relationship with these. for example, I was born in new zealand, we have a culture that is extremely aware of ecology, the environment, and how important these issues are in the world today. we've always been dubious about technology and how to keep a critical point of view. dominique lived outside the french culture for quite a while, in africa, america and think this gave her a good taste in reality. we come from backgrounds that have been conscious in a social and environment level! – so these issues aren't new to us. we've done enough projects to understand this.
DJ: social interests in architecture now have returned and should return to the center of architectural debate because of all of the combined issues that we have to deal with currently in the world. the good side of technology is that it can work with social issues to bring benefit. but at the same time one needs to work with it creatively and not to be used as a panacea.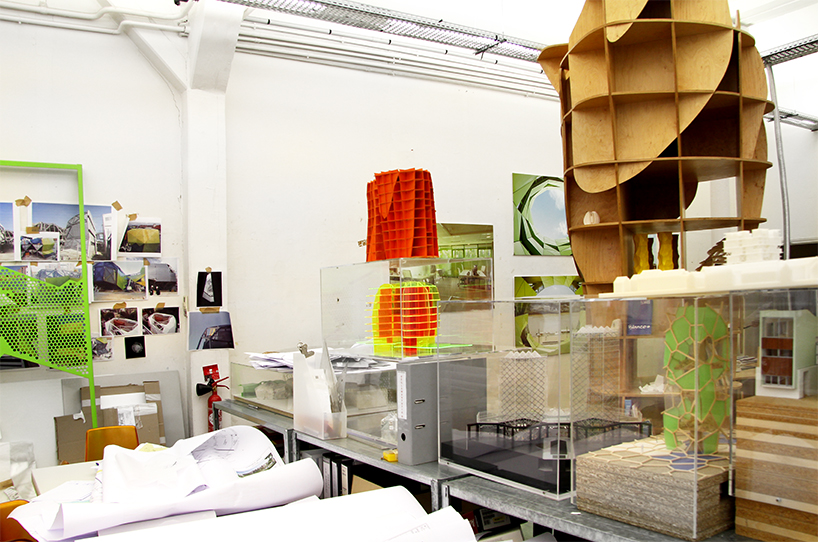 assorted models and materials from their projects are on display
image © designboom
designboom: can you explain the use of strong and vivid colors in your projects, why is this?
BM: for our project in lyon, it's interesting in the sense that it was on an industrial and tough site. it was part of the city that was never loved, it contained all the things the city rejected. lyon re-found this area and saw it as potential part of the city that could be extended from the old. when we did the competition, we were very much aware of this industrial past. the orange and the green comes from the contexts of the two sites. the color orange comes from industrial waterway architecture for example.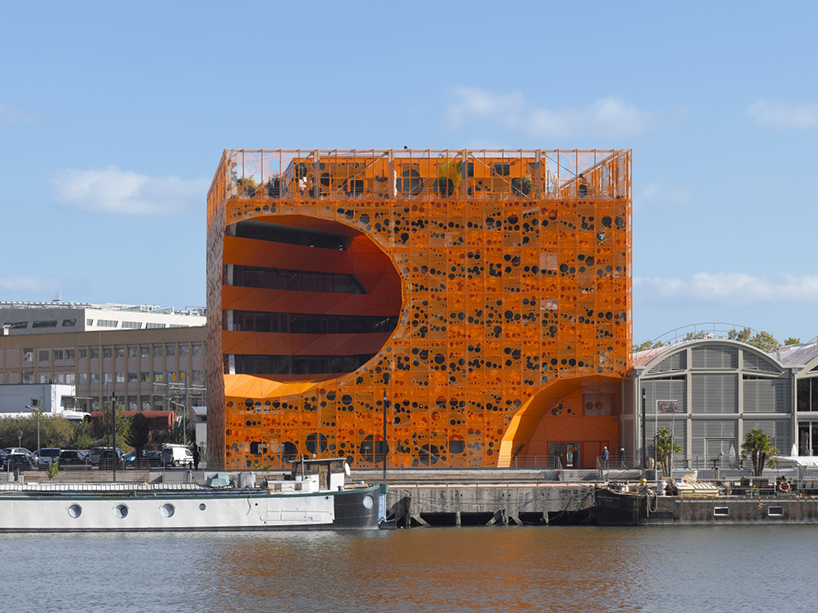 the orange cube, lyon
image © roland halbe
BM (continued): in the orange cube, we proposed a program themed arround gastronomic culture (i.e. a food school. a library of food books). the green themed around body health; this dichotomy between the two buildings, on warmth, and one more about relaxation and repose.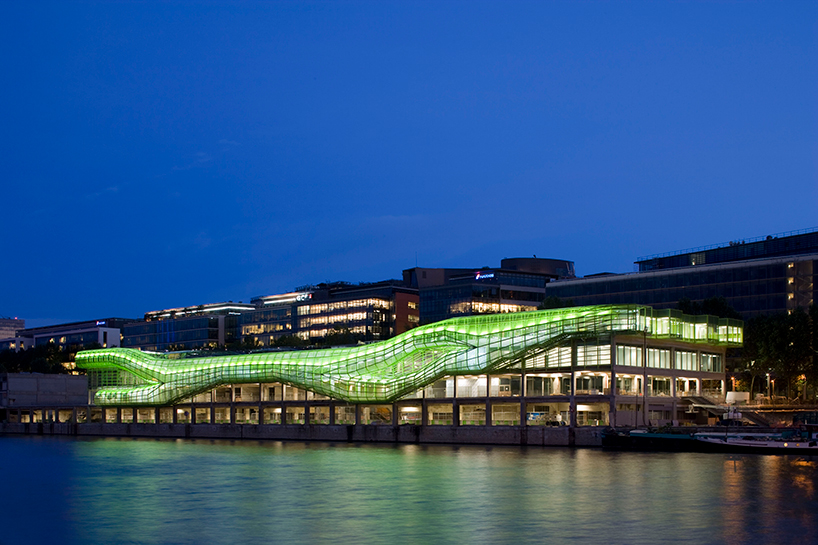 les DOCKS – cité de la mode et du design, paris, 2012
DJ (continued): when we developed the docks of paris as a project, we tried to create a project that would become part of its site and be in dialogue with the river seine. the more we looked at the river, the more we realized that the seine in all of its colors is green, and we worked with that. the green of course is not the color of the seine, it's a lot more murky in a way. the green we chose is exaggerated – a green with a yellow.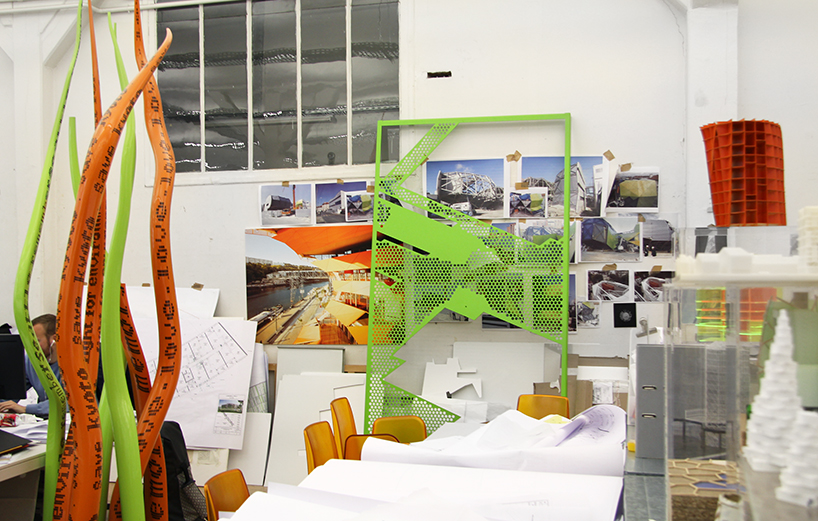 image © designboom
designboom: how would you want someone to describe your projects?
BM: conceptual, resonant, poetic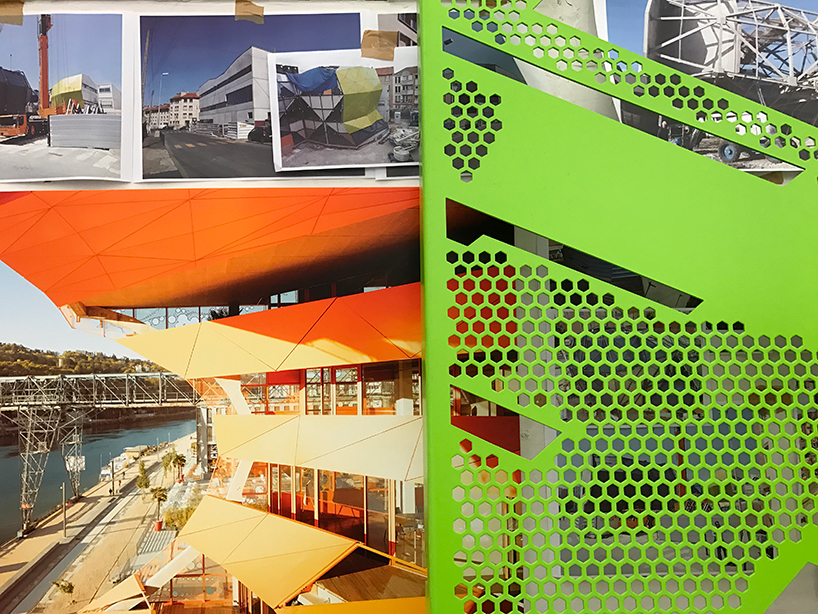 green and orange; both colors that have been persistent in the studio's recognized projects
image © designboom
designboom: can you describe your creative processes and how you approach a project?
DJ: we never like the idea of establishing limits on a project's site – for example, the FRAC gives the idea that it can continue throughout the city. the limits are not determined and I think that has led to our interest in territory. in general we always try to do a research to find the conceptual reason behind things, the larger reason behind the existence of something and therefore we find it hard to 'parachute' into a site, except in rare circumstances.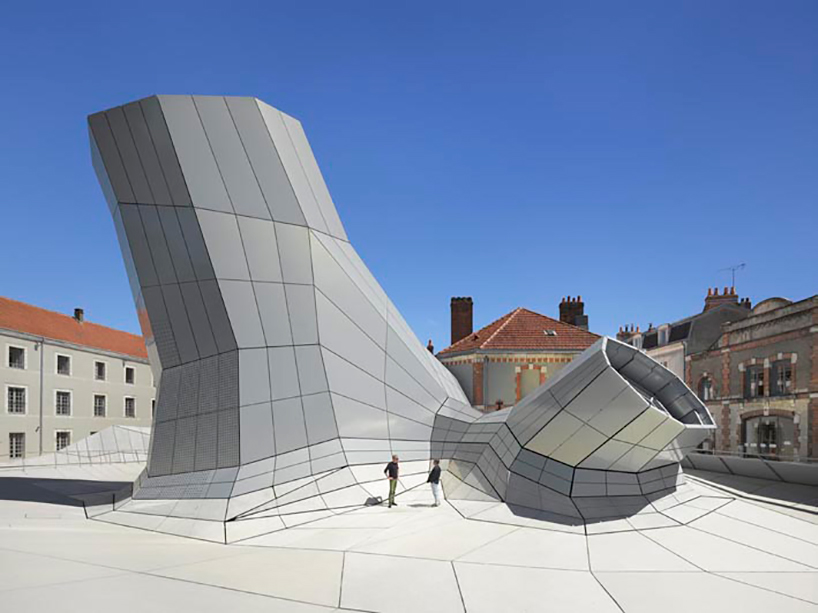 the FRAC centre, paris, 2013
BM (continued): we think there are too many objects being produced in the world today, we are saturated. as designers we need to think, are we useful? are there places that we shouldn't be doing architecture? the answer- yes. if I have one criticism about my profession is that we're always filling but sometimes, there isn't a place for architecture. this is contradictory because as an architect, you need to live, work and do projects. however, I am very much aware of that in the world today and I think there is a lot of humility we can use in this profession.
designboom: what is your firm working on now?
BM: there is the conservatory of music and dance in noisy-le-sec, just outside of paris, and it reflects the radical urban changes in paris right now. the periphery of the city was, today we are working beyond this limit. dominique and I always thought that greater paris is where you can find the most extraordinary of atmospheres. we are very proud to be delivering this project because it has taken 8-9 years and three mayors! we've managed to hang on to it and see it out. we're hopefully bringing some beauty into this tough neighborhood in the lives of the kids living here.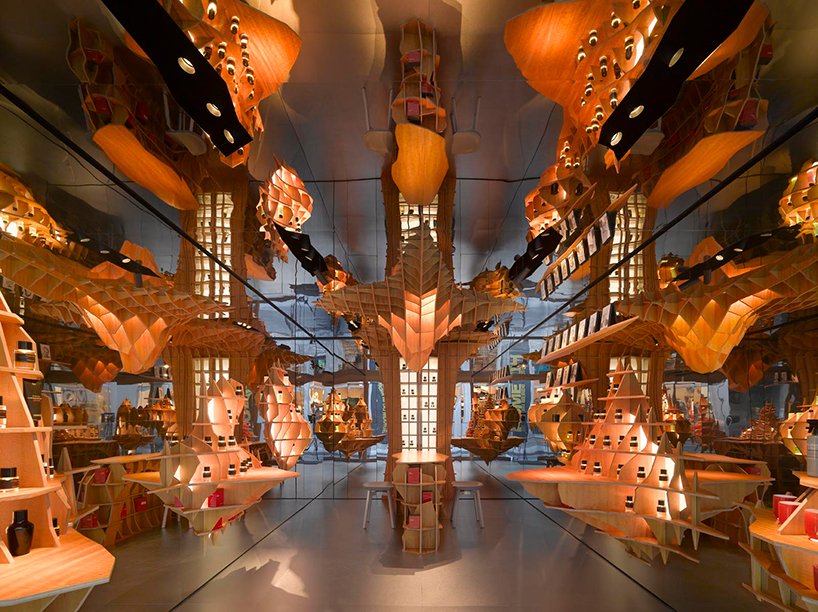 boutique editions de parfums frédéric malle, 2016 (see project here)
image © roland halbe
designboom: what advice would you give to young architects and designers?
DJ: to see the world, different environments, to open their ideas and see world issues. it is important to have different point of views, sometimes your environment tells you what should be, but maybe you need a different point of view. sometimes I see too many clichés and similarities when students come from a certain school and I know they will produce this kind of work. the students which stand out to me are the ones that have been in different environments and have been able to position themselves to see differently. stay open minded!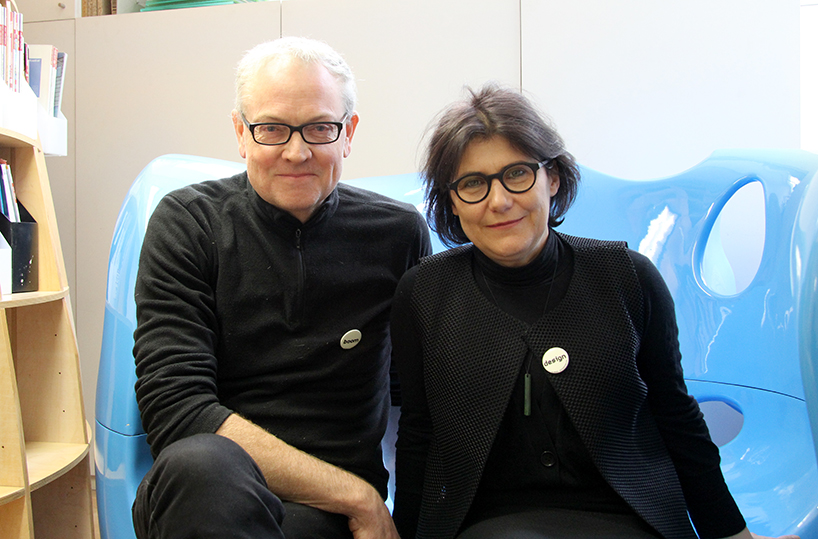 architects brendan macfarlane and dominique jakob pictured at their studio
image © designboom
Save
Save
Save
Save
Save
Save
Save
Save
Save
Save
Save
Save
Save
Save
Save
Save
Save
Save
Save
Save
natasha kwok
I designboom
apr 17, 2017
a diverse digital database that acts as a valuable guide in gaining insight and information about a product directly from the manufacturer, and serves as a rich reference point in developing a project or scheme.
designboom will always be there for you
milan, new york, beijing, tokyo

,
since 1999