oct 12, 2016
jakob + macfarlane's parisian perfume store for frédéric malle features latticed displays
jakob + macfarlane has completed the interior design of a boutique perfume store for frédéric malle in france. located on paris' trendy rue des francs-bourgeois, the retail outlet — which has been photographed by roland halbe — features interlocking timber elements, which have been slotted together to form sculptural shelves, tables, and display cases. in addition, the flooring, walls, and ceiling, have all been clad with a mirrored surface that creates a series of reflections, while giving the impression that units hung from the wall are levitating above the ground.

the boutique perfume store has been designed for 'perfume editor' frédéric malle
image © roland halbe (also main image) / all images courtesy of jakob + macfarlane
conceived for les editions de parfums frédéric malle, jakob + macfarlane collaborated directly with frédéric malle himself during the scheme's development. malle, who is particularly fond of the firm's design of the restaurant at centre pompidou, called for a setting where 'the soul's relationship with the imagination can expand, filling every corner in infinite reflection'.

jakob + macfarlane collaborated directly with malle during the scheme's development
image © roland halbe
'as someone who loves working with perfumers, like an editor at a publishing house, I immediately sensed — with the help of these great architects — that together we'd invent a new way to display our collections,' explains frédéric malle. 'jakob + macfarlane understood this perfectly. their project envisioned a sort of box, slipped within the existing shell of a historic building in the marais. its interior resembles a carefully sculpted, three-dimensional grid, from which a series of mysterious islands — elements that become shelves, tables and refrigerated cabinets — emerge.'

the shop is located on paris' trendy rue des francs-bourgeois
image © roland halbe

the retail outlet features interlocking timber elements
image © roland halbe

components have been slotted together to form sculptural shelves, tables, and display cases
image © roland halbe

the flooring, walls, and ceiling, have all been clad with a mirrored surface
image © roland halbe

units hung from the wall appear to levitate above the ground
image © roland halbe
Save
Save
Save
Save
Save
Save
Save
Save
Save
Save
Save
Save
Save
Save
Save
Save
Save
Save
oct 26, 2017
oct 26, 2017
oct 25, 2017
oct 25, 2017
oct 11, 2017
oct 11, 2017
oct 03, 2017
oct 03, 2017
sep 30, 2017
sep 30, 2017
sep 29, 2017
sep 29, 2017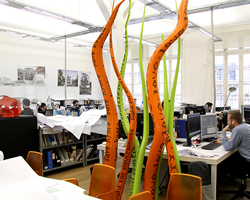 apr 17, 2017
apr 17, 2017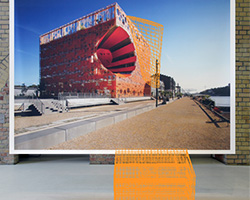 apr 14, 2017
apr 14, 2017
oct 16, 2015
oct 16, 2015
oct 20, 2017
oct 20, 2017
oct 15, 2017
oct 15, 2017
oct 10, 2017
oct 10, 2017
oct 14, 2016
oct 14, 2016
jul 29, 2015
jul 29, 2015
feb 02, 2015
feb 02, 2015