dec 29, 2011
james corner field operations: queen elizabeth olympic park
'queen elizabeth olympic park' by james corner field operations, london, UK the south park hub and legacy attractions all images courtesy of the olympic park legacy company
new york-based james corner field operations has created the winning proposal for the south hub of the 'queen elizabeth olympic park', a masterplan which integrates the athletic facilities with events spaces into an extensive parkland for the summer 2012 olympics in london, united kingdom. the south park will be transformed into a leisure destination for the transient international visitors along as well as for residents after the games. the site will accommodate a wide range of programming to appeal to a broad spectrum of the public even on ordinary days along with pleasure gardens for ordinary days.
labyrinth
with a visual connection to the river and surrounding park, points of interest will include an arc promenade, planting ribbon and hedgerow, event rooms and generous lawns and gardens. the rectilinear hub building will take the form of an open pavilion stitched into the landscape with views of the nearby orbit sculpture.
enclosed with a series of horizontal and vertical planes, the public and private spaces are divided with spine walls which become connection points for the lines of plants to meet the structure. projecting through the shell of the building, the same spine walls become surfaces for art and media projections for public engagement. an open cafe is placed in the center along with external covered seating and a roof terrace with panoramic views of the encompassing grounds.
playground
south park hub, LED canvas and arc promenade
the gateway
arc promenade
ticketing and cafe plaza
cafe and plaza entry
winter festival in the event plaza
overview of the site
site plan
floor plan / level 0
section
(left) landscape framework (center) south park places (right) event platforms
(left) arc promenade (right) planting ribbon + hedgerow
(left) event rooms (right) lawns + gardens
axon of site elements
hub building design diagram
concept sketch of the hub building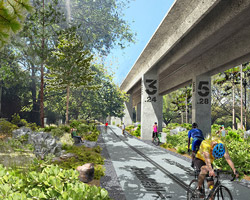 aug 07, 2017
aug 07, 2017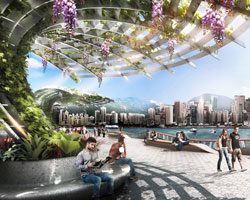 may 19, 2017
may 19, 2017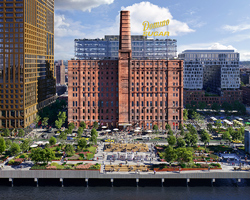 apr 21, 2017
apr 21, 2017
dec 30, 2015
dec 30, 2015
dec 10, 2014
dec 10, 2014
nov 14, 2013
nov 14, 2013
feb 26, 2014
feb 26, 2014
sep 11, 2012
sep 11, 2012
aug 13, 2012
aug 13, 2012