in midtown manhattan, at a pace of one floor every four days, a jean nouvel-designed skyscraper is beginning to rise above new york's museum of modern art. construction on the project — which began life nearly a decade ago as 'torre verre' — got underway in 2014 with the building taking on its new name, 53W53. now, with the development over halfway through its lengthy 55-month schedule, the supertall structure is on track to open in early 2019.
with construction at the 58th story (the completed building will contain 82 floors), designboom takes an exclusive look at the much-anticipated scheme. we toured the site with david penick, managing director of development firm hines, and architect bertram beissel von gymnich, director at ateliers jean nouvel, to understand more about the project and its complexities.

a new rendering has been unveiled, illustrating the full height of the tower for the first time
image by VUW studio (main image by giles ashford)
since its inception, 53W53 was developed by pritzker-laureate jean nouvel as a response to its complex site, which comprises three different zoning districts. architect bertram beissel von gymnich explains that the form of the scheme is an attempt to exploit the various constraints imposed upon the project. 'big idea number one is that the form of the building is derived from the zoning,' confirms david penick, managing director at hines, the real estate investment, development, and management firm behind the project. 'there are different setback requirements, so it drove jean's thinking from day one about how the building would be formed.'

construction is currently progressing at a pace of one floor every four days
image by giles ashford
'big idea number two is the diagrid system,' continues penick, who spoke with designboom to explain the project in more detail. this exposed structural system offers the tower an angular rhythm that remains evident within each of the scheme's 145 private apartments. 'jean's concept was that we would have a diagrid of elements on the exterior of the building that would brace the building for seismic and wind conditions. that is then overlaid with the grid of curtain wall elements,' penick adds.

the building's structural 'diagrid' is one of its defining features
image by giles ashford
standing inside the project's sales gallery on fifth avenue, potential residents are met with an array of scale models and interactive screens. 'we try to have as many tools as we can to help people visualize and understand the building,' says penick, who previously worked with nouvel on 40 mercer — a luxury condo building in soho. meanwhile, a fully furnished model apartment offers buyers a taste of what living inside 53W53 could be like. the project's interiors have been designed by thierry despont, the french architect and designer who has crafted the private residences of bill gates and calvin klein, among others.

construction is currently at the tower's 58th story
image by giles ashford
the collection of models also serves as an indication of the tower's scale, and the wealth of amenities it contains behind its distinctive façade. residents and guests will be able to come and go via entrances on both 53rd and 54th streets, both of which will be manned 24 hours a day by concierges. the centrally positioned elevators on the ground floor are flanked by a library and a 16-seat theater, while a public restaurant will also provide in-residence dining.

the residential tower will climb to a total height of 1,050 feet (320 meters)
image by hayes davidson
impressively, the building's 12th floor is dedicated entirely to amenities with a vertical garden — designed by acclaimed botanist patrick blanc — lining the walls of the naturally lit 65-foot lap pool. in addition to regular fitness equipment, the 15,000 square foot wellness center will also include sauna and steam rooms as well as a massage treatment room. if that's not enough, a squash court and programmable golf simulator are also included.

the skyscraper's interiors have been designed by thierry despont
image by hayes davidson
on the 13th and 14th floors, an octagonal double-height wine tasting room features a tasting area and adjacent catering pantry, surrounded by wine vaults where residents can store their private collection. meanwhile, a shared double-height lounge spans the 46th and 47th floors with an intimate 12-seat dining room that can be booked for private events. the lounge, which offers sweeping views across central park, can be readily reconfigured to suit a variety of needs, from quiet private socialization to larger scale entertaining. other benefits come via the building's relationship with MoMA, with benefactor membership — which includes curated benefits and the potential to host private events in the museum's sculpture garden — running with each residence. 

a vertical garden designed by patrick blanc overlooks the 65-foot lap pool
image by hayes davidson
behind the model apartment's full-height walnut front door, (complete with skyscraper-inspired door handles), the individual homes promise to be equally luxurious. solid oak floors extend throughout the residence, with ceiling heights typically 10-11 feet. as well as despont's typically grand finishes, the model apartment highlights a couple of features unique to 53W53.

an octagonal double-height wine tasting room is found on the 13th and 14th floors
image by hayes davidson
the entire building is triple-glazed with three pieces of glass and two air spaces — a high-performance coating that has been developed to both minimize exterior noise and maximize thermal comfort. meanwhile, a humidification system has been built into each residence meaning that precious art work remains undamaged throughout new york's notoriously dry winters.

the tower offers views of downtown manhattan as well as central park
image by hayes davidson
53W53's interior fit outs are now underway on its lower floors as the supertall skyscraper aims to complete by early 2019. see designboom's previous coverage of the project here, and stay tuned as we continue to document the tower ahead of its opening.

53W53 is on track to complete in 2019
image by hayes davidson
Save
Save
Save
Save
Save
Save
Save
Save
Save
Save
Save
Save
Save
Save
Save
Save
Save
Save
Save
Save
Save
Save
Save
Save
Save
Save
Save
Save
oct 30, 2017
oct 30, 2017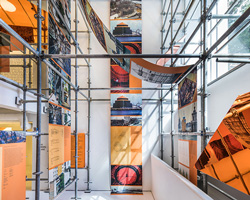 oct 27, 2017
oct 27, 2017
oct 22, 2017
oct 22, 2017
oct 21, 2017
oct 21, 2017
oct 19, 2017
oct 19, 2017
oct 17, 2017
oct 17, 2017
oct 30, 2017
oct 30, 2017
oct 30, 2017
oct 30, 2017
oct 30, 2017
oct 30, 2017
oct 18, 2017
oct 18, 2017
sep 07, 2017
sep 07, 2017
jun 02, 2017
jun 02, 2017
oct 22, 2017
oct 22, 2017
oct 19, 2017
oct 19, 2017
oct 13, 2017
oct 13, 2017