jan 02, 2013
jean nouvel: R4 plastic and visual arts portal on ile seguin, paris
artistic impression of the R4's main exhibition hall interiorimage © atelier jean nouvel
the île seguin, is a small island situated on the river seine which is currently undergoing a reinvention with new projects developing on the piece of land, forming a new 'small town' within the bustling city of paris. located at the tip of the isle will be jean nouvel's 'R4' complex projected to be the artistic district of the developing area.
set as a 'double-stage', the 'R4' structure will be comprised of two main volumes which span from the northern to southern banks of the river, connected by a steel beam bridge, allowing visitors to easily access the exhibition halls and galleries of the buildings. the steel and concrete construction will be almost devoid of any walls – a living matrix making hybrid use of the available space – and adaptable to its changing needs, offering an opportunity for encounters between artists and gallerists, collectors and art lovers, cultural institutions, providers of logistics services and exhibition organizers.
the programs include exhibition areas, galleries, art studios, salesroom sand storerooms, some of which will be open to visitors, digital platforms and multi-purpose stages. 'R4' is set to put an emphasis on experimentation, to encourage open-mindedness in its visitors and resident artists, to stimulate creativity. landscaped roof terraces will extend the exposition areas to the outdoors and offer views overlooking the island and surrounding city.the targeted completion date for the 'R4' is aimed for 2016.
alternative rendering of the main hallimage © atelier jean nouvel
the shared public area between the two main buildingsimage © atelier jean nouvel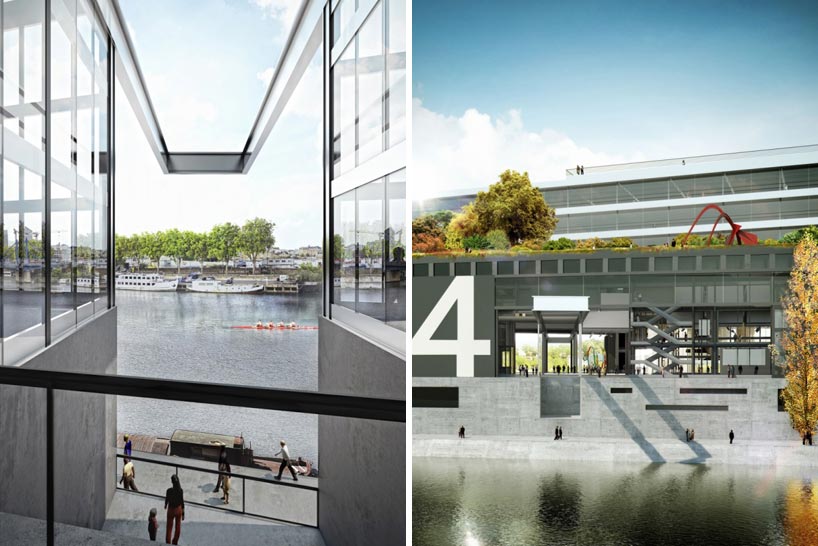 left: interplay of transparent planes on the R4 façade, with lookout to the boulogne-billancourt shoreright: detail of R4 façadeimage © atelier jean nouvel
initial artist's impression of the R4's façadeimage © atelier jean nouvel
art walk on the complex's landscaped roof terracesimage © atelier jean nouvel
coupe longitudinale AA' – hybrid utilization scenario for the exhibition spaces, single event (trade fair, retrospective, festival, congressimage © atelier jean nouvel
coupe transversale 22′ – hybrid utilization scenario for the exhibition spaces, single event (trade fair, retrospective, festival, congressimage © atelier jean nouvel
coupe longitudinale AA' – hybrid utilization scenario for exhibition spaces, segmented usage (gallerists' exhibition and hall, conferences, creativity areaimage © atelier jean nouvel
coupe transversale 22′ – hybrid utilization scenario for exhibition spaces, segmented usage (gallerists' exhibition and hall, conferences, creativity areaimage © atelier jean nouvel
coupe longitudinale AA' – hybrid utilization scenario for the exhibition spaces, conference areas and R4 artists' studiosimage © atelier jean nouvel
coupe transversale 22′ – hybrid utilization scenario for the exhibition spaces, conference areas and R4 artists' studiosimage © atelier jean nouvel
R4 artist's studioimage © atelier jean nouvel
an interview with jean nouvel on the concept of the R4 projectvideo courtesy of nelly wenger associates / © guérilla / R4
study of the R4's main axes, sightlines, public spaces, terracesimage © atelier jean nouvel
plan of the roof topsimage © atelier jean nouvel
plan of R4 river logisticsimage © atelier jean nouvel
programmatic breakdown of R4's different zonesimage © atelier jean nouvel
art galleries served by river transport systemimage © atelier jean nouvel
plan of the conference spaceimage © atelier jean nouvel
plan of the creative platformimage © atelier jean nouvel
main cross-sectionimage © atelier jean nouvel
cross-section of R4's storeroomsimage © atelier jean nouvel
structural breakdown of the compleximage © atelier jean nouvel
jun 02, 2017
jun 02, 2017
nov 30, 2016
nov 30, 2016
oct 17, 2016
oct 17, 2016