jean prouvé's restored maxéville office presented at design miami/ basel 2016
all images courtesy of galerie patrick seguin
on the occasion of design miami/ basel 2016, galerie patrick seguin presents the 'maxéville design office' originally conceived by jean prouvé in the 1940s. the historic structure had remained in north eastern france at ateliers jean prouvé until its restoration by the gallery in 2015. the model of this 10 x 12 meter demountable house, created for the noisy-le-sec experimental site, was successfully presented at the ministry of reconstruction's new house competition in early 1947. while originally intended as a demonstration, it proved an efficient method of prefabricated housing.

the building was originally conceived by by jean prouvé in the 1940s
production began in 1947, but never reached its intended success. one of its rare uses was as the design office of jean prouvé's atelier, where it was installed in 1952. strategically positioned at the entrance of the factory, the structure contained design prototypes before they were reviewed for production. in 1953, due to a disagreement with majority shareholders l'aluminum français, jean prouvé stepped down from his post at the maxéville factory, which remained active until 1983.

galerie patrick seguin restored the building in 2015
following prouvé's departure, the structures that bore his imprint were either destroyed or dismantled, with only the 'design office' left unharmed. preserved behind cladding, the building then became a plumber's office, a restaurant, and, in latter years, a swingers' club called 'le bounty'. the 'maxéville design office' was meticulously dismantled and restored by galerie patrick seguin in 2015. presented during design miami/ basel 2016, the building uses axial portal frames in order to create an open, fluid internal space that can incorporate interchangeable partitions and one-piece facing panels.

the original design proved an efficient method of prefabricated housing

the original building had a range of uses, including as a swingers' club called 'le bounty'

the structure being reassembled

the building employs axial portal frames in order to create an open, fluid internal space

the design can incorporate interchangeable partitions and one-piece facing panels

the original structure was preserved behind cladding

the office is presented during design miami/ basel 2016

the scheme was strategically positioned at the entrance of the factory, across from prouvé's office
image © fonds jean prouvé, bibliotheque kandinsky, centre pompidou, ADAGP 2016
jul 02, 2016
jul 02, 2016
jun 18, 2016
jun 18, 2016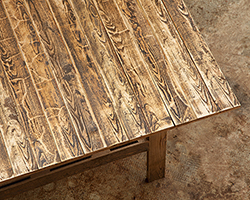 jun 15, 2016
jun 15, 2016
jun 14, 2016
jun 14, 2016
jun 14, 2016
jun 14, 2016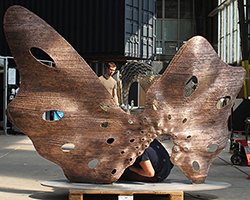 jun 14, 2016
jun 14, 2016
oct 03, 2017
oct 03, 2017
jun 12, 2015
jun 12, 2015
jun 09, 2014
jun 09, 2014
dec 24, 2013
dec 24, 2013
apr 13, 2013
apr 13, 2013
sep 07, 2011
sep 07, 2011