it's been another busy 12 months for architect jeanne gang — the founding principal of architecture and urbanism collective, studio gang. this year, the firm, who is headquartered in chicago, has participated in the 2018 venice architecture biennale, and unveiled a host of projects from toronto to hawaii.
at this year's world architecture festival, where designboom is an official media partner, studio gang has been shortlisted for three awards. to learn more about the projects nominated, we caught up with jeanne gang who also discussed her views on the current state of architecture and what a 'wall-umn' is. read the interview in full below, and see designboom's ongoing coverage of the 2018 world architecture festival here.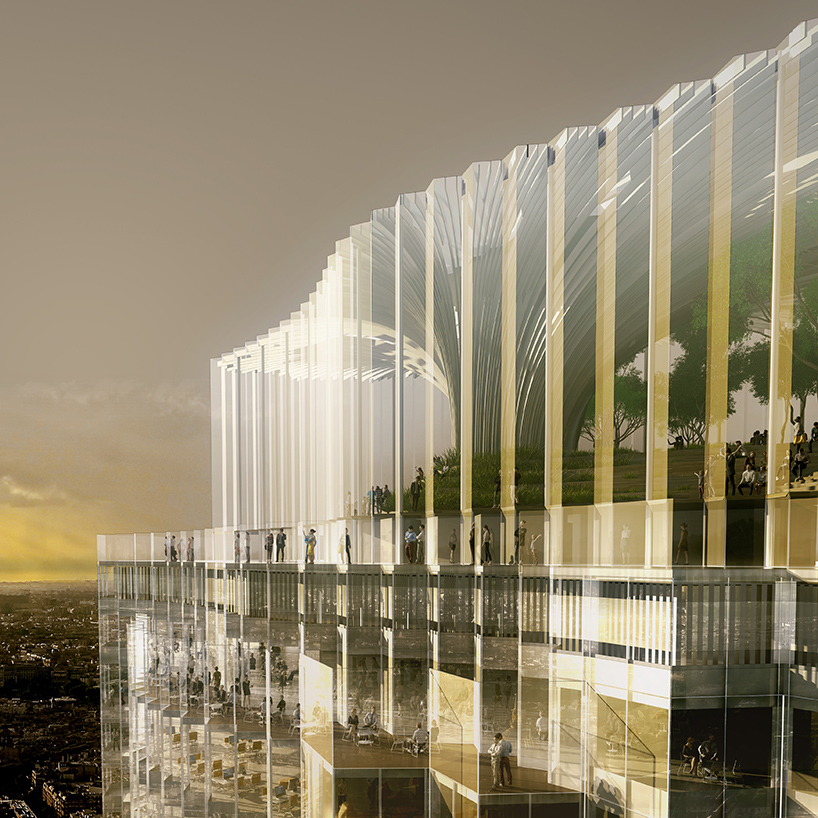 studio gang proposed to re-clad paris' tour montparnasse (also video) | read more on designboom here
image © studio gang and labtop | video by neoscape
designboom (DB): can you start by telling us about your involvement with this year's world architecture festival?
jeanne gang (JG): we have three projects that were shortlisted, and we also won the WAFX prize with one of our projects. it's nice to be here to be able to both give a talk myself and also have our projects be talked about.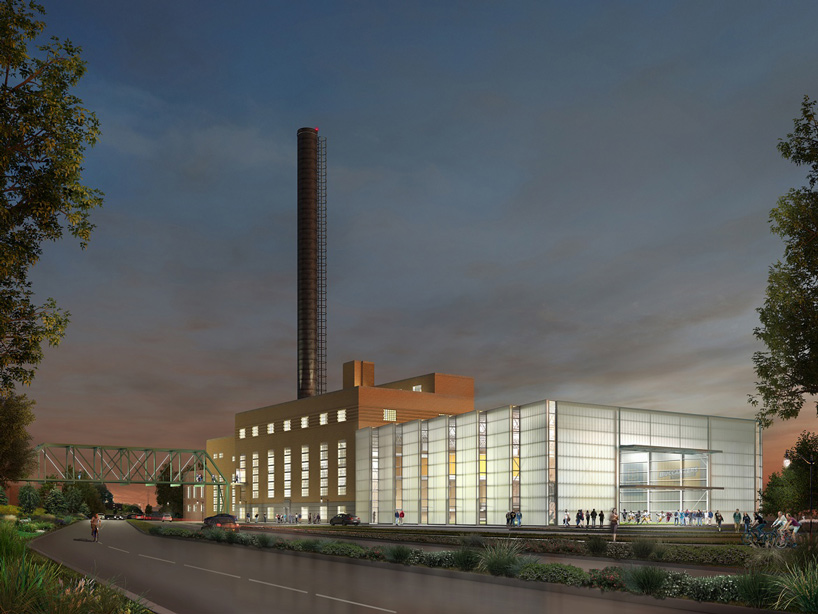 the planned conversion of the beloit powerhouse won the WAFX prize at the 2018 world architecture festival
image © studio gang
DB: can you tell us about the projects that were shortlisted?
JG: we have the 'beloit powerhouse' which involves converting an old coal burning power plant that was located along the river in beloit, wisconsin into a new student center and recreational and health facility — it is kind of an irony, but it works well actually. the whole inside of the building is this giant kind of gym with its equipment and we just converted it into a new kind of gym.
then with 'tour montparnasse', our project was a finalist in the actual competition — we were in second place. when we entered the project we were thinking about the innovation that it had for its environmental systems and social spaces, and also how to rethink a tower and how to reuse towers. this is very important because more and more towers are going to need to be refurbished if we want to keep them instead of tearing them down. it's much better to try to keep them, so how can we update them?
finally, we have the 'amsterdam tower' which is a residential high-rise and a mid-rise in the south part of amsterdam. the area is a ring around amsterdam that has mostly post-war twentieth century buildings. so the project was about how to connect to that fabric and at the same time project a new future for the growth that's needed with the current lack of housing.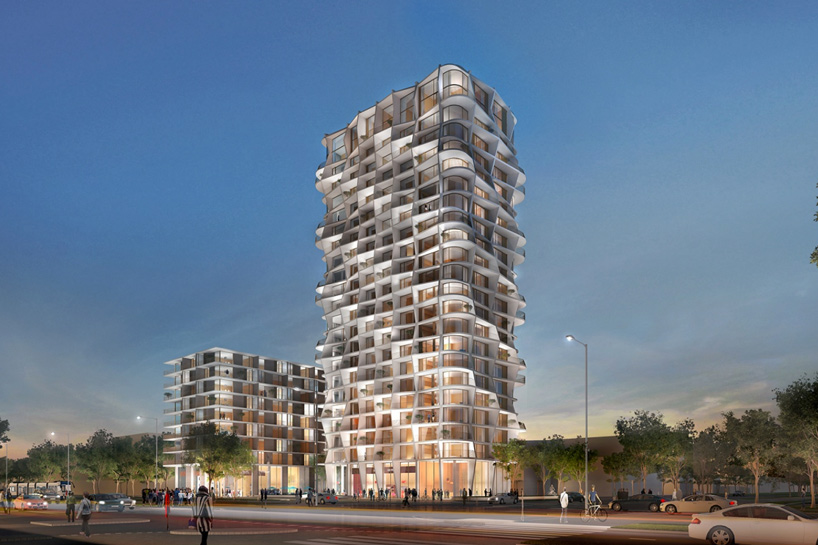 'amsterdam tower' was shortlisted in the 'residential – future project' category
image © studio gang
DB: you recently unveiled plans for the kō'ula tower — what are the differences between designing a high-rise building in hawaii compared to, for instance, one in new york or chicago?
JG: the climates are totally different in each place, and that's important for tall buildings because to reduce energy — you're either insulating them more or ventilating more. in hawaii it's all about providing fresh air and connecting to the outside. blurring the inside and outside. it's important to have a big lānai, the word for terrace in hawaii, for all the residential apartments, and keeping the breezes flowing and focusing on the beautiful views of the site.
something that's common to all buildings is the structure. it's such a primary part of designing tall buildings, so we like to express it somehow. in that project we used a combination of a wall and column, we call it a 'wall-umn'! to give both structure and shading for the lānai balconies. it has an almost three dimensional, concave appearance which gives it nice light and shadow in that context.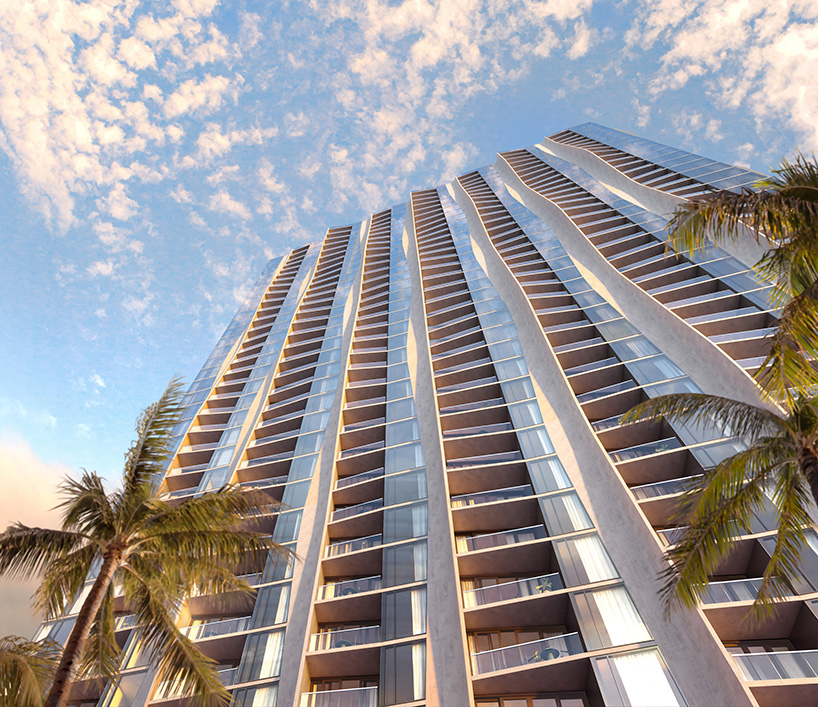 'kō'ula' is a 41-story tower to be built on the hawaii island of oahu
image © studio gang / howard hughes corporation
DB: are there many high-rise buildings in hawaii?
JG: there are a number, yes. the island that we're building on has a major city, but the interesting thing is that a lot of the contemporary buildings don't connect the inside to the outside. the other thing is that the island developed in the 1960s and 70s when cars were the main mode of transportation. now it's time to rethink the areas that are all about the car and make it better for walking to bring it back to a pedestrian environment.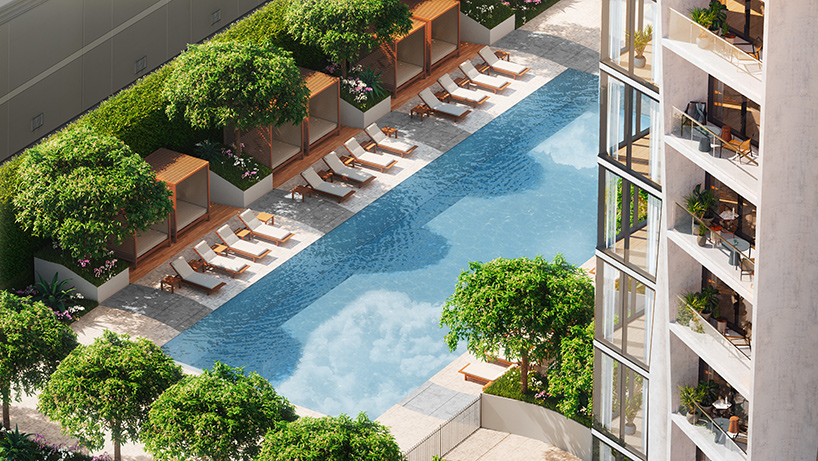 read more about the project in hawaii on designboom here
image © studio gang / howard hughes corporation
DB: what is the scale of the island?
JG: you can't walk from one side of the island to the other, it takes about an hour to cross by car with a mountain in between. so you need cars and transportation, but in the cities it's important to make the streets more friendly for walking and biking in that nice climate. it's just hard because there are so many roads.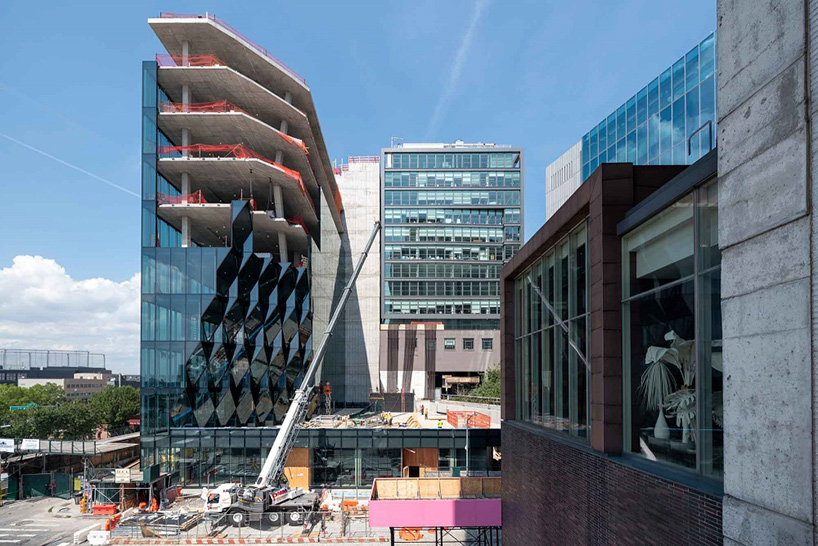 '40 tenth avenue' is currently under construction in new york | read more on designboom here
image by timothy schenck
DB: 40 tenth avenue is nearing completion in new york, how exciting has it been to design a building in such a celebrated context?
JG: it's funny because that context was not celebrated not so long ago, it's been through a major transformation. but it is exciting because there are lots of new things happening there — the high line is bringing this element of nature into the city. it's a building that will have a high degree of visibility but we were also trying to pay attention to keeping the quality of space on the high line itself and not overcrowding it. so the building is actually designed to give space back to the high line. when you have something really good like the high line, people want to be next to it. but you have to be careful because you could kill it. once there is too much building right next to it, suddenly it's not the sunny place we like.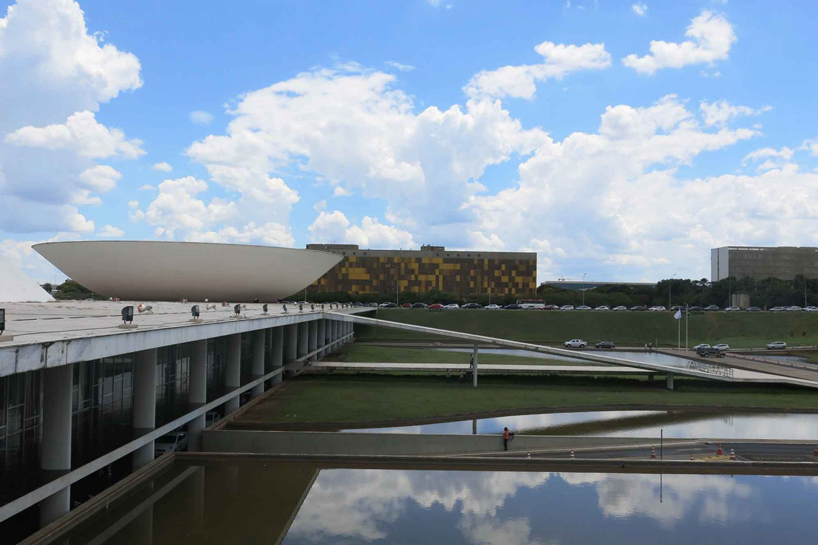 the firm is currently designing the new US embassy in brasilia | read more on designboom here
image courtesy of studio gang
DB: you're working on plans for the new US embassy in brasilia. can you share any details about the project at the moment?
JG: we're in the middle of design development right now. it's nice to be working in brasilia among all the amazing architecture. I noticed that brasilia is 'growing up' in a certain way. first it was a tabula rasa when it was built, but now the trees are mature, and the people that live in brasilia actually really like to live there.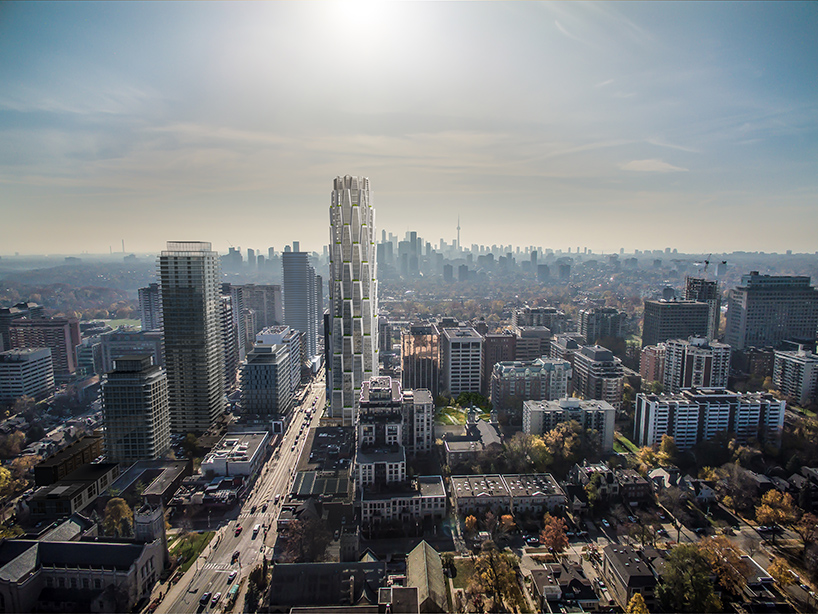 studio gang's first project in canada will be a residential tower in toronto | read more on designboom here
image © studio gang
DB: do you have a favorite country in which you have worked?
JG: I don't have a favorite country, but we really have enjoyed working in the americas. everything from north america to central to south america.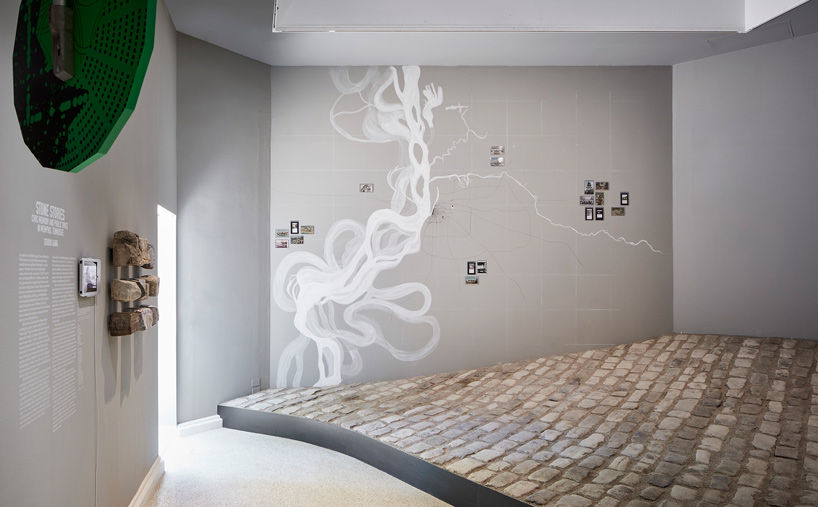 the practice also presented work at this year's venice biennale | read more on designboom here
image © tom harris, courtesy of SAIC and UChicago
DB: how do you assess the current state of architecture?
JG: the population is increasing rapidly, there is dangerous climate change happening, and increased inequity between people — the 'haves and have nots.' all of this is brewing to create very difficult conditions. architects are trying to address these issues through designing more radically, and more sustainably. we have projects where we are doing microgrids, and we are doing carbon-neutral buildings, trying everything to bring the energy use and carbon production down.
overall, I see that most architecture is done without architects. it's being developed at such a rapid rate. these are serious urban problems that everyone needs to think about. how can we use fewer resources and live in smaller footprints, and produce less pollution? we can think about reusing buildings in different ways instead of tearing them down and starting from scratch. we need to extend their lifespan and make projects more adaptable to uses that we can't image right now. a lot of cities could use a high degree of density — you don't have to use the car all the time like we'd talked about — but then some cities are overcrowded and it's creating very harsh living conditions.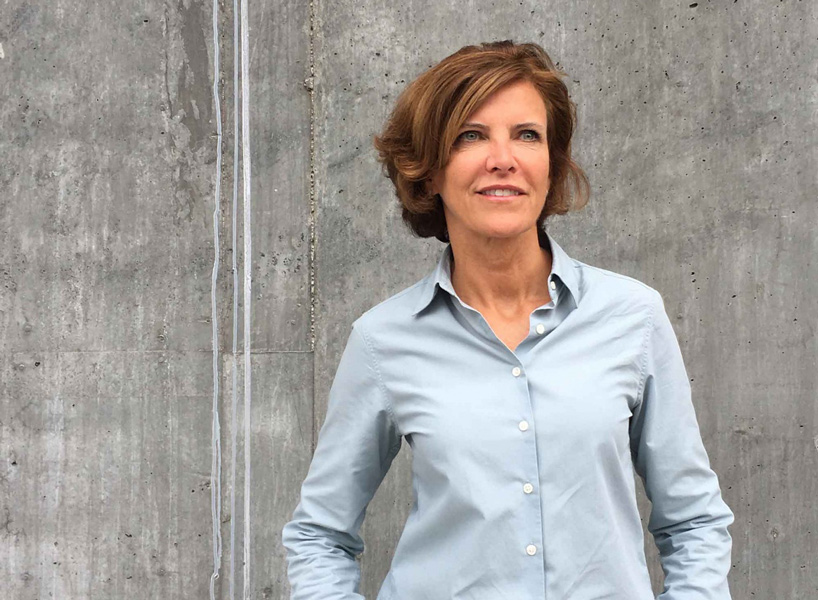 jeanne gang | image © studio gang
DB: can you speak about your role as a female in a male-dominated field?
DB: I think that architecture will become more interesting when there are more diverse architects practicing. not only women but also people of color, from different backgrounds. at harvard, for example, they found that if you have a group made up of the same type of people trying to solve a problem, it is less successful than when you have people with different backgrounds. my firm is relatively diverse and has diversity in gender, and I see it as a huge asset and as my secret sauce.

world architecture festival (WAF) is the largest, annual, international, live architectural event. it includes the biggest architectural awards programme in the world, dedicated to celebrating excellence via live presentations to an audience of high-profile delegates and international juries. WAF is a three-day event for architects and interior design professionals to celebrate, learn, exchange, and be inspired. the 2018 world architecture festival is held in amsterdam and comprises 5 key elements: the WAF awards; a thematic conference programme; an exhibition of award entries; sponsor and exhibitor stands; a series of networking/social events, as well as WAF fringe activities. INSIDE world festival of interiors runs alongside WAF, with its own awards and conference programme.
KEEP UP WITH OUR DAILY AND WEEKLY NEWSLETTERS
a diverse digital database that acts as a valuable guide in gaining insight and information about a product directly from the manufacturer, and serves as a rich reference point in developing a project or scheme.
designboom will always be there for you
milan, new york, beijing, tokyo

,
since 1999