feb 16, 2016
studio gang clads writers theatre near chicago with timber lattice
studio gang clads writers theatre near chicago with timber lattice
all images by steve hall © hedrich blessing
in glencoe, a suburb 20 miles north of chicago, studio gang has completed the design of a performing arts center for a popular theater company. the building forms the new and expanded permanent home of writers theatre, an established organization that plays to an audience of 35,000 patrons each season. with its transparency and flexibility, the scheme is intended to energize daily life in the town, creating an open, welcoming space to bring the community together.

performance space throughout the design is intended to maximize a sense of intimacy
a public place of gathering anchors the theater, serving as a lobby, as well as an informal location for performances, rehearsals, and audience outreach programs. this central volume connects two venues, a 250-seat main stage and a 99-seat black box venue, as well as rehearsal rooms and other public amenities. above, a second-floor gallery is structured by timber vierendeel trusses and a lighter wood lattice hung in tension from the primary structure. this elevated walkway provides views toward glencoe's downtown district, an adjacent lake, and a nearby grove.

an elevated walkway provides views toward glencoe's downtown district
performance spaces throughout the design are intended to maximize the sense of intimacy between actors and audience. in the larger venue, tribune seating is liberated from the walls, allowing for a range of innovative staging opportunities enhanced by a fluid transition from theater floor to performance area. referencing the history of the company, bricks reclaimed from the woman's library club (the theater's original home) form a patterned back-of-house acoustic screen that diffuses and reflects sound. the smaller black box venue can be customized to host a wide variety of performances. meanwhile, a rooftop pavilion and a green roof offer additional event space.
see designboom's previous coverage of the project here, and read our recent interview with studio gang's founding principal jeanne gang.

the smaller black box venue can be customized to host a wide variety of performances

at night, the illuminated structure glows from within
project info:
location: glencoe, illinois, USA
completed: february, 2016
client: writers theatre
type: cultural, office
size: 36,000 sqf / 3,345 sqm
budget: $28 million USD
architect: studio gang architects
general contractor: w.e. o'neil construction
owner's counsel: AMS planning & research corporation and VMS LLC
theatre consultant: auerbach pollock friedlander
landscape architect: coen + partners
MEP/fire protection engineer: dbHMS
structural engineer: halvorson and partners
lighting consultant: lightswitch architectural
engineering specialist for grand gallery walk: peter heppel associates
civil engineer: SPACECO, inc.
graphic designer: thirst
acoustical consultant: threshold acoustics
timber specialist for grand gallery walk: trillium dell timberworks
cost consultant: venue
LEED/sustainability consultant: WMA sustainability solutions group
oct 30, 2017
oct 30, 2017
oct 30, 2017
oct 30, 2017
oct 30, 2017
oct 30, 2017
oct 29, 2017
oct 29, 2017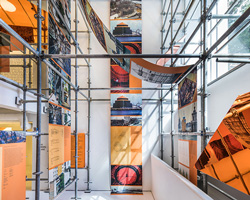 oct 27, 2017
oct 27, 2017
oct 26, 2017
oct 26, 2017
sep 26, 2017
sep 26, 2017
jul 10, 2017
jul 10, 2017
feb 27, 2017
feb 27, 2017