oct 15, 2014
jimenez lai expresses components of domestic life at venice biennale
jimenez lai expresses components of domestic life at venice biennale 2014
photo © iwan baan
all images courtesy of bureau spectacular / jimenez lai
as an investigation into the basic components of residential typologies, architect jimenez lai has conceived 'township of domestic parts', which isolates specific programs of the home into nine disparate structures. although idiosyncratic, the objects' compilation results in a cohesive miniature city-scape, or possibly a functional guest house for occupation.
the installation, exhibited for the taiwan pavilion at the 2014 venice architecture biennale, allows visitors to meander through a field of colorful and compositionally diverse mini-buildings, which include the 'house of sleep', 'house of social eating', 'house of shit', 'altar of appearance', and 'garden of earthly delights', among others.
the disparate and expressive mini-houses create a township of residential programs
photo © iwan baan
the project expands upon lai's explorations in the design of 'superfurnitures' – objects that are, 'not quite big enough to be architecture and too large to be furniture.' the structures pronounce themselves as idiosyncratic pieces, but also exist as a cohesive family through their similar sensibilities and formal efforts to express themselves.
a ceiling-mounted TV screen in the 'house of study' orients attention upward
photo © iwan baan
the pavilion's efforts are aimed at an investigation of stagnant definitions which bind architectural function and expression. jimenez lai, who leads the chicago-based design practice bureau spectacular, expands on these limitations:
'architectural program, particularly throughout the 20th century, has evolved into a highly specialized vocabulary in the composition of the interior, and at times it even impacts the exterior. through the institutionalization of architectural program, we have set standards for evaluation as well as enhancing privacy, our civilization seem to have adapted to a new norm in the domestic grammar over the last 150 years.'
the nine 'superfurniture' objects occupy venice's palazzo delle prigioni
photo © iwan baan
through their expressive nature, the installation's structures enliven standardized domestic programs, and reinterpret their spatial, functional, and experiential qualities. for example, the internalized 'house of shit' manifests the desire for being alone through an internalized space, while allowing an outward view via parascope.
the 'house of alchemy', at left
photo © iwan baan
in regards to the 2014 biennale's overall theme 'fundamentals' and the national pavilions' theme 'absorbing modernity', lai states, 'domesticity is possibly one of the most fundamental beginnings of architecture. in some ways, we are trying to make a direct correlation between privacy and the production of program. there is something very modern about the idea of programmatic specificity.' thus, the taiwan pavilion's efforts are aimed at breaking down programmatic norms through its overall 'township' layout. the exhibition format renders the residential parts, private in essence, as publicly accessible.
the 'altar of appearance' elevates an unoccupiable cube volume containing a small piano
photos © iwan baan
at right, an elevated gable-roof volume contains the 'house of sleep'
photo © iwan baan
the 'house of social dining' is exposed to its surroundings
photo © iwan baan
photos © iwan baan
photo © iwan baan
project info:
architect: jimenez lai
administered by: national taiwan museum of fine arts and ministry of culture
design team: joanna grant, felipe oropeza, kevin pazik, shun-ping liu, jacob comerci, manon brissaud-frenk, eugenia macchia
construction documents: aaron spiering, jay studer, alexander petrakos
consultants: wei tseng, nilton huang
fabricator: johnson liao
graphic design: pentagram / natasha jen
video production: matthew messner
supported by: graham foundation
sole sponsor: bank sinopac
photography: iwan baan
jun 11, 2017
jun 11, 2017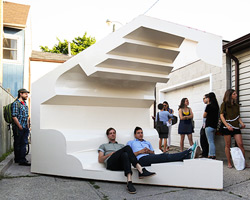 aug 12, 2014
aug 12, 2014
nov 08, 2010
nov 08, 2010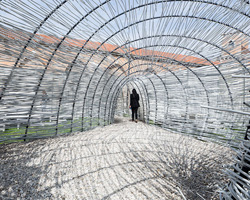 nov 19, 2014
nov 19, 2014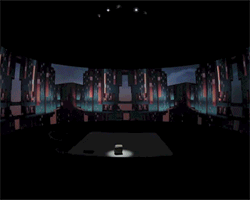 nov 17, 2014
nov 17, 2014
aug 07, 2014
aug 07, 2014