in the sonoran desert, near tucson, arizona, jiří příhoda has constructed another of his inhabitable micro dwellings. as its name suggests, the 'cacti cabin' — which is based on a concept from 2012 — has been erected on a large property among a grouping of tall cactus plants. clad with corrugated steel, the small structure allows its occupants to relax and contemplate life from a unique vantage point above the untouched landscape.

all images © jiří příhoda
sited on an area of decking, příhoda has elevated the design 125 centimeters (4 feet) above the ground to afford sweeping views of the desert. with a total floor area of just 4.125 square meters, (44.4 square feet), the sculptural interior has been shaped to ensure that occupants do not feel claustrophobic. the interior can be adjusted with a table-like multipurpose board, which can be lifted to provide a enough space for sleeping.

the dwelling is located in the sonoran desert, near tucson, arizona
the dwelling, which is enclosed with plexi-glass on its northern and southern façades, has been thermally insulated to ensure a degree of warmth on cold desert nights. 'it is crucial to the concept of the cacti cabin that it hovers a minimum of 4 to 5 feet over ground, and to be surrounded by saguaro cacti higher than the cabin,' explains příhoda, who presented an earlier version of the scheme in 2013.

the scheme is sited on an area of decking

příhoda has elevated the structure 125 cm (4 feet) above the ground

the sculptural interior has been shaped to ensure that occupants do not feel claustrophobic

the unit is enclosed with plexi-glass on its northern and southern façades

the 'cacti cabin' has been erected on a large property among a grouping of tall cactus plant

the small structure allows its occupants to relax and contemplate life

the building has been clad with corrugated steel

the design has a total floor area of just 4.125 sqm (44.4 sqf)

the structure is thermally insulated to ensure a degree of warmth on cold desert nights
Save
Save
Save
Save
Save
Save
Save
Save
Save
oct 30, 2017
oct 30, 2017
oct 30, 2017
oct 30, 2017
oct 30, 2017
oct 30, 2017
oct 29, 2017
oct 29, 2017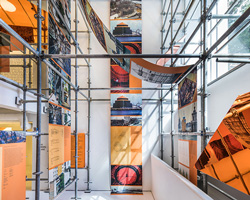 oct 27, 2017
oct 27, 2017
oct 26, 2017
oct 26, 2017
oct 01, 2016
oct 01, 2016
apr 18, 2016
apr 18, 2016
nov 06, 2015
nov 06, 2015
oct 11, 2014
oct 11, 2014
jan 06, 2014
jan 06, 2014
oct 17, 2013
oct 17, 2013
oct 29, 2017
oct 29, 2017
oct 16, 2017
oct 16, 2017
oct 11, 2017
oct 11, 2017
oct 10, 2017
oct 10, 2017
sep 26, 2017
sep 26, 2017
sep 15, 2017
sep 15, 2017