'jo nagasaka: on my mind' is many books in one. each page of text is divided down its center: one side contains the thoughts of clients, colleagues or close friends and the other the response of nagasaka himself. often, one's eye starts to wander while reading, jumping from one side to the other in a narrative game of call and response. the result of this fractured form is, conversely, one of cohesion. rather than falling into an academic account of the designer's various accomplishments, the book instead becomes a kind of collaborative diary entry. in the outside columns each contributor adds their voice to a progressively detailed documentation of nagasaka, his work, and that of his studio schemata architects. on the inside of the page, closer to the spine, the designer responds with his own comments, criticisms and insights.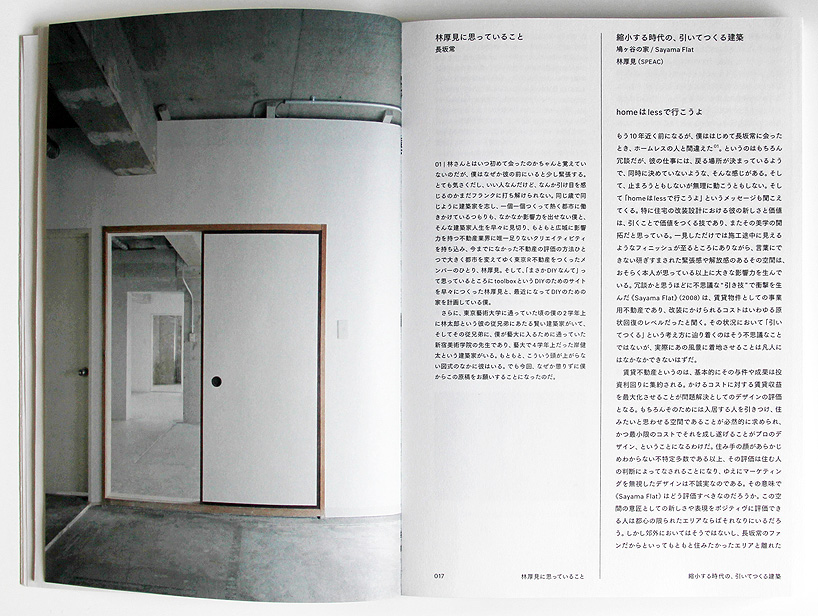 nagasaka's entries are close to the spine while those of the contributors take up the edges
image © designboom
the resulting dialogue takes a personal look at nagasaka's professional life. it's the outline of a designer whose work is constantly in flux, whose methodology is always open to interpretation and who, judging by the accounts of the contributors, leaves a lasting impression on those with whom he collaborates. what could have been another factually impressive but narratively tiresome chronicle of a designer's career is instead elaborated in an intimate series of anecdotes and experiences that breaks apart how and why nagasaka works the way he does.
email threads, essays, interviews and photographs are all employed as viable means of storytelling, often telling us as much about the writer as they do about nagasaka or schemata. for the uninitiated, it's a true-to-life insight into how designers, architects, producers, craftspeople and clients interact — how projects are considered, realized, received and, here, reflected upon.    

hanare house
photo by takumi ota
image courtesy of schemata architecture office
see more of the project on designboom here
touching on some of the studio's most well known undertakings — the sayama flat, hanare house, the ColoRing furniture series — the book is divided into chapters named for their contributors: 'atsumi hayashi on my mind', 'david glaettli on my mind' etc. nagasaka is refreshingly open to critique, even about works he has long since completed. the format allows for his response (and sometimes his defense) but criticisms are welcomed here as much as compliments. the interplay between the two often spawns conversations not just about nagasaka, but about the wider field of design, its overall function and obligation to society. the difference between craft and design, the boons of being inexperienced, the power of picasso — all of this and more is touched upon, and there are moments when one feels it unfortunate that these conversations aren't playing out in real time.
often concepts are broached that leave the reader wanting more, a deeper investigation into whatever topic the two speakers have wandered into. it's not possible of course — 'on my mind' is more a collection of correspondences than a forum for debate, but it paints no less vivid picture of a designer whose work continues to provoke conversation and invite interpretation. 
author: jo nagasaka
publisher: yoko stake / lixil publishing co., ltd.
editor: speelplaats co.ltd.
direction: hiroshi eguchi
design: so hashizume
translation: kazuko sakamoto
proofreading: terence legeté
year: 2016
format: 14.8 × 21 cm
features: full color, 160 pages
language: japanese, english
ISBN: 978-4-86480-025-9
designboom rating:
(must read)

sayama flat
images courtesy of schemata architects
see more of the project on designboom here

'today's special jiyugaoka' 
image © takumi ota
image courtesy of schemata architecture office
see more of the project on designboom here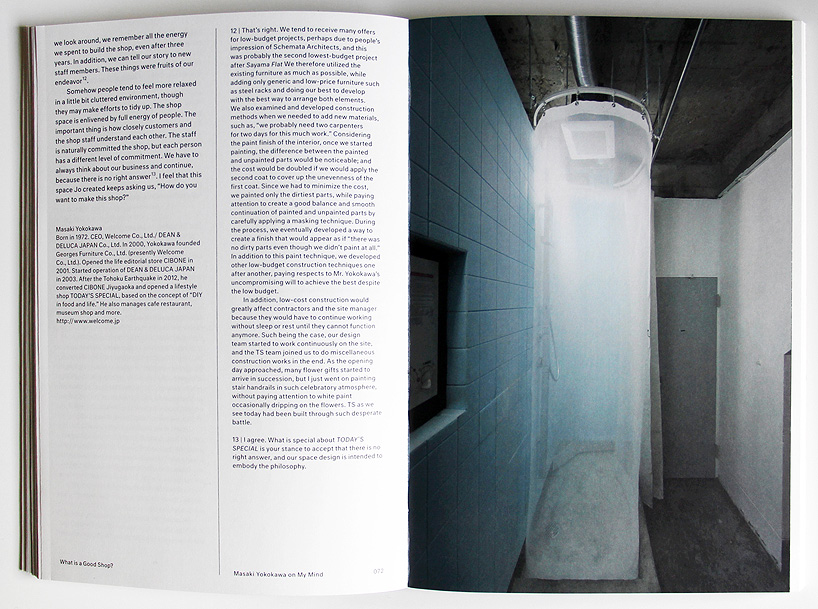 the book takes a personal look at nagasaka's professional life
image © designboom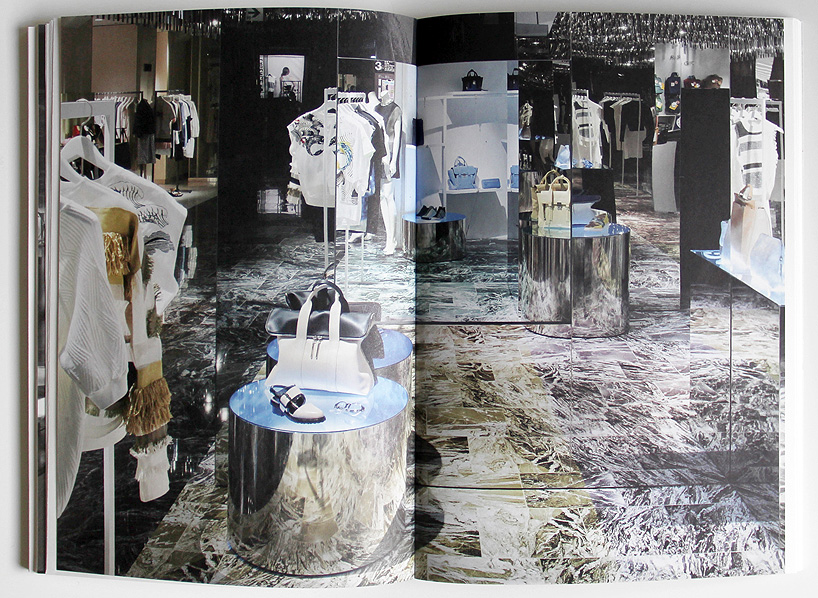 an intimate series of anecdotes and experiences break apart how and why nagasaka works the way he does
image © designboom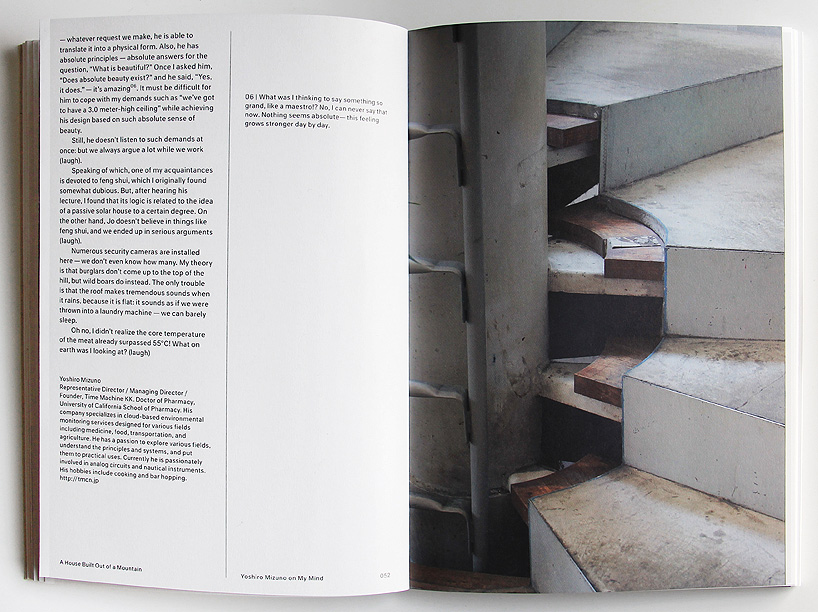 one's eye starts to wander while reading, jumping from one side to the other in a narrative game of call and response
image © designboom 

'okomeya' rice store
photography by kenta hasegawa
see more of the project on designboom here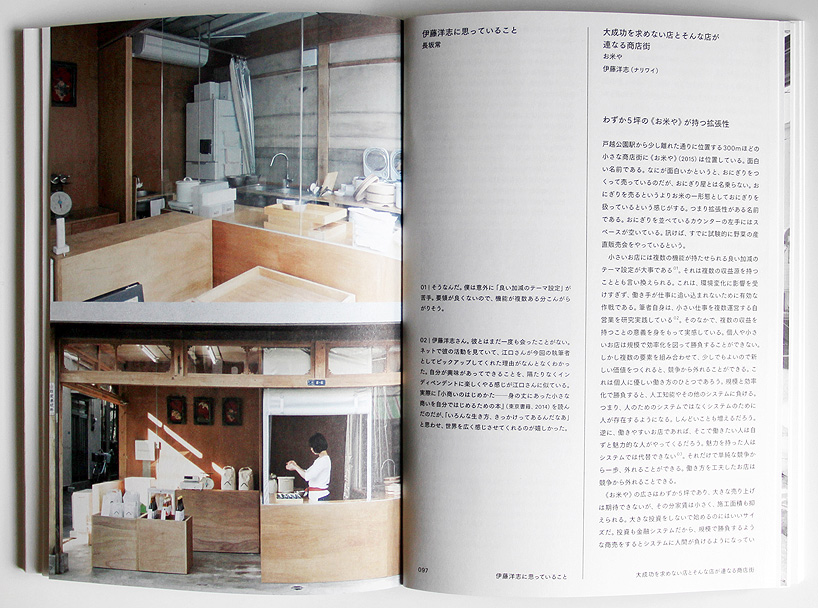 in the outside columns each contributor adds their voice to a progressively detailed documentation
image © designboom 

email threads, essays, interviews and photographs are all employed as viable means of storytelling
image © designboom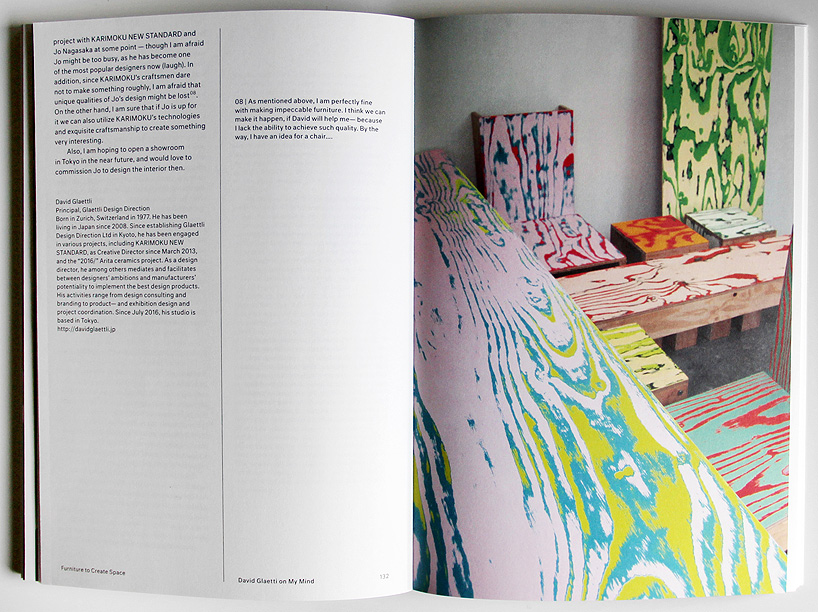 for the uninitiated, it's a true-to-life insight into how designers, architects, producers and craftspeople interact
image © designboom 

ColoRing furniture series 
image courtesy of jo nagasaka / schemata architects
see more of the project on designboom here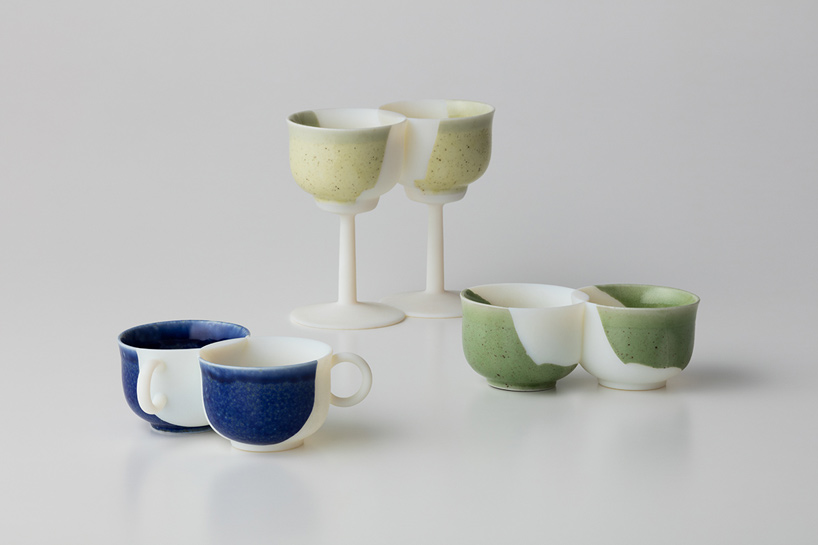 the cups use of method called 'kintsugi'- the japanese art of repairing broken pottery with lacquer
image © takashi mochizuki
see more of the project on designboom here

flat table peeled at spazio rossana orlandi
image courtesy of schemata architecture office
see more of the project on designboom here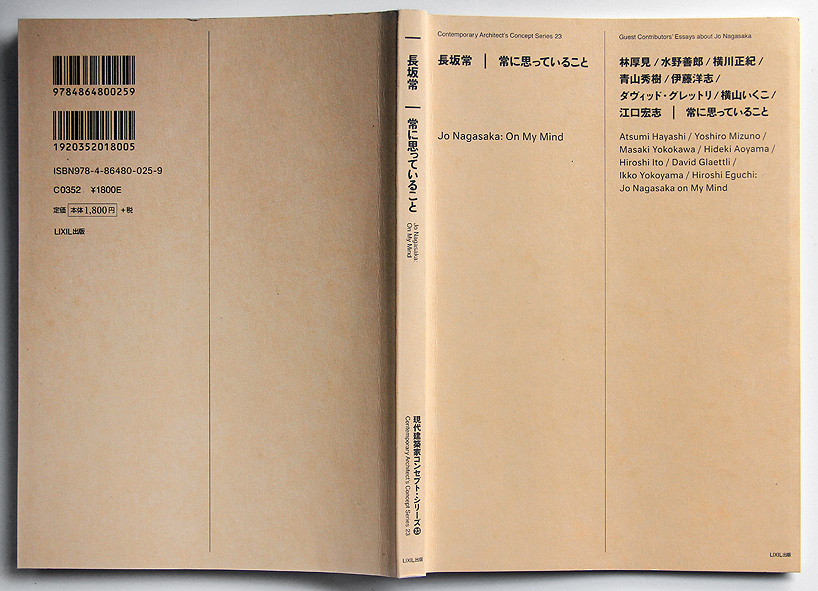 at times one feels it unfortunate that these conversations aren't playing out in real time
image © designboom
apr 29, 2017
apr 29, 2017
dec 12, 2016
dec 12, 2016
nov 09, 2016
nov 09, 2016
apr 29, 2016
apr 29, 2016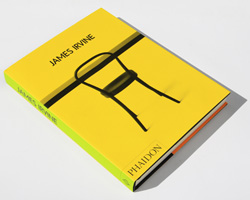 oct 11, 2015
oct 11, 2015
oct 10, 2015
oct 10, 2015
oct 07, 2017
oct 07, 2017
jun 26, 2017
jun 26, 2017
jun 20, 2017
jun 20, 2017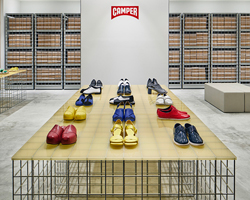 apr 02, 2017
apr 02, 2017
dec 05, 2016
dec 05, 2016
nov 04, 2016
nov 04, 2016