mar 16, 2012
john mcaslan + partners: king's cross station in london
completed in time for the 2012 summer olympics in london, the 'king's cross station' redevelopment by london-based practice john mcaslan + partners is opening to the public. the redeveloped 150 meter long concourse of this historical train station welcomes transient visitors toward the underground ticketing and entry points as well as retail. tripling the size of the previous space, the semi-circular ceiling structure emerges from sixteen sky tree columns which branch as is rises and tapers.
soaring 20 meters above ground level, the steel diagrid spans the entire length forming the largest single-span within currently constructed station buildings in europe covering an area of 7,500 square meters. the original three storey elevation of masonry and brickwork were restored and are displayed within the spacious interior. a mezzanine with shops wraps the perimeter offering a vantage point of the focal cluster of supports. links to the train platforms, bus and taxi connections. regenerating this quarter of the city, the masterplan has influenced the direction of infrastructural changes to the underground, nearby st. pancras and surrounding urban context. it is projected that 50 million passengers will pass through the updated premises each year.
images © phil adams (also main image) all images courtesy of john mcaslan + partners
comprised of five structures, the complex's biggest component is the western range, which provides working environments for the employees and rail companies. following a bombing in world war II, the previously destroyed northern wing has now been restored to its former glory. a main gate connection links the western concourse with the platforms. the 250 meter long train shed features a 22 meter high barrel-vaulted roof which spans 65 meters to encompass the 8 platforms. a new glass pedestrian footbridge provides access to the trains from the mezzanine. energy saving photovoltaic arrays surface the linear roof lanterns.
elevated perspective of station concourse image © hufton and crow
steel tree columns radiate upward into a single-span roof structure image © hufton and crow
diagrid structure image © hufton and crow
detail of ceiling image © hufton and crow
upward view from base of the main columns image © hufton and crow
entry point to underground platforms image © hufton and crow
descent to platforms image © hufton and crow
train platform image © hufton and crow
train platform image © hufton and crow
vaulted glass roof image © hufton and crow
image © hufton and crow
image © hufton and crow
image © hufton and crow
detail of original half-round window
image © hufton and crow
aerial view image © john sturrock
floor plan / level 0 image © john mcaslan and partners
floor plan / level 1 image © john mcaslan and partners
roof plan image © john mcaslan and partners
section image © john mcaslan and partners
section image © john mcaslan and partners
program diagram image © john mcaslan + partners
Save
sep 17, 2017
sep 17, 2017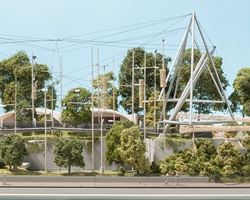 sep 13, 2017
sep 13, 2017
sep 12, 2017
sep 12, 2017
nov 21, 2016
nov 21, 2016