feb 23, 2016
jun igarashi organizes artist-studio home within connected wooden blocks in japan
jun igarashi organizes artist-studio home within connected wooden blocks in japan
all images © sergio pirrone
called the 'bending house in oasa', the artist studio-cum-residence is a project by japanese architect jun igarashi. located in ebetsu – a suburb of sapporo – the geometric property is visualized as a series of wooden panel clad boxes. set at different angles, the volumes have been orientated to receive optimum daylight, privacy, while giving private and communal spaces a clear sense of hierarchy.

the house is situated on a incline of 0.6 meters
the house sits on a slight incline of 0.6 meters; the folding and positioning of the three blocks have effected the organization of the internal programs. the large artist studio receives north light and along with the living room, both situated in the larger volumes separated by small box serving as the main entrance. inside, concrete floors and timber-beamed ceilings continue all the way through. the double-height room features a mezzanine hosting the office space connected by a wooden bridge structure.

the artist studio receives north-facing daylight

communal spaces have been grouped together

the large blocks have been installed with a mezzanine level

the boxes are placed at an angle to receive the views of the garden

a wooden bridge leads to a small office space
project info: bending house in oasa
location:engaru,hokkaido
site area:292.30㎡
building area:60.54㎡
total floor space:98.70㎡
design period:2013年9月〜2015年5月
construction period:2014年12月〜2015年5月
architects:jun igarashi architects
structural engineer:daisuke hasegawa &partners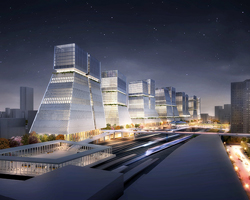 oct 12, 2017
oct 12, 2017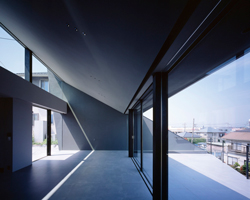 oct 08, 2017
oct 08, 2017
oct 07, 2017
oct 07, 2017
oct 01, 2017
oct 01, 2017
sep 30, 2017
sep 30, 2017
sep 27, 2017
sep 27, 2017
aug 02, 2016
aug 02, 2016
mar 07, 2016
mar 07, 2016
feb 18, 2016
feb 18, 2016