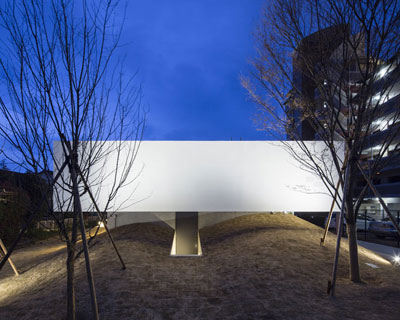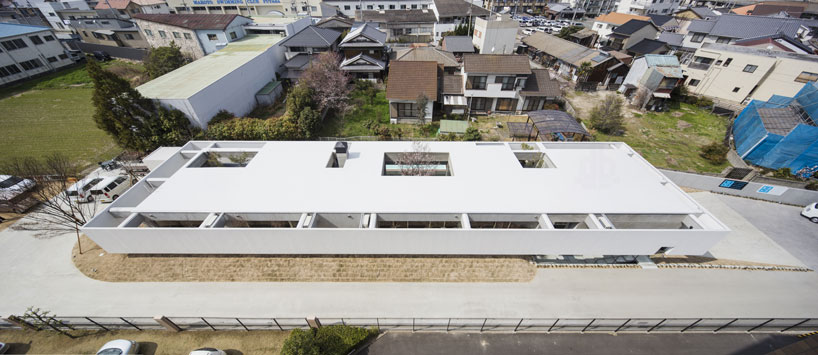 jun 03, 2013
K2-design's flat 40 in japan balances privacy and openness
K2-design's 'flat 40' in japan balances privacy and openness
photo © takahiro shimokawa
all images courtesy of keisuke kawaguchi+K2-design
this japanese house by keisuke kawaguchi+K2-design is named after the 40 meter-long ukikabe (a floating screen wall) designed to
provide privacy from the seven-story apartment building across the street. the concrete wall is offset 1.5 meters from the face of the building;
the support for this massive concrete structure was precisely calculated. its visual heaviness is balanced by a corridor of light and air at the perimeter.
the opaque wall contrasts with the transparent glass walls to the north and at the courtyards, providing practical harmony of privacy and openness.
raised off the ground plane, the family can see the feet of people approaching the house, while having privacy from the street.
fresh air enters the home from under the ukikabe, then flows down the corridor to the courtyard.
located in ehime prefecture, the elongated site is reminiscent of the shimanami kaido expressway that connects the imbari city to six islands in
the seto inland sea. the living spaces are organized off of a central hallway which divides the house into two parts. to the south,
the rooms are elevated on a skip floor, or mezzanine. underneath this level there is ample storage to encourage visual simplicity in daily living.
full height opaque partitions separate bed and bathrooms. in contrast, the primary living rooms remain open to one another without
walls in the east-west direction. to the north, high ceilings, expanses of glass, and skylights connect the indoors and outdoors,
allowing ample daylight to fill the space, and views of the outdoor pool and courtyard, trees and sky, to create a tranquil environment.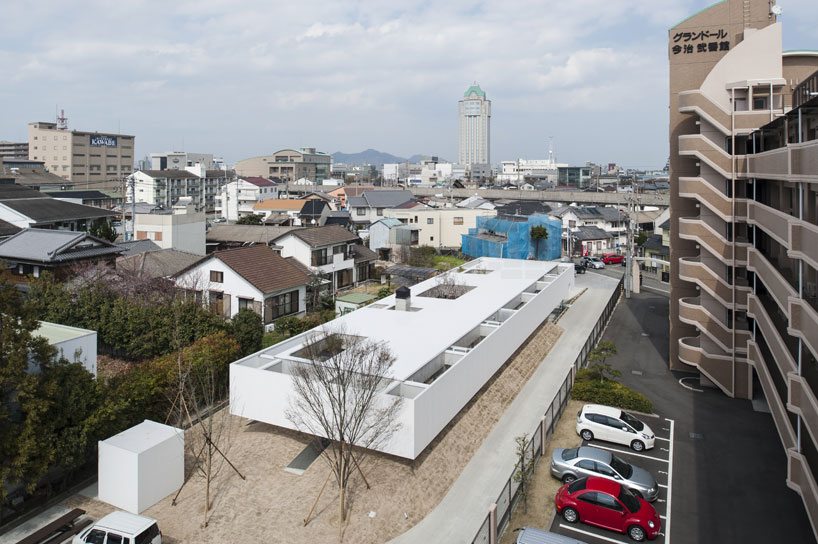 the ukikabe blocks views into the house from the neighboring apartment building
photo © takahiro shimokawa
 as one approaches the house their feet can be seen under the ukikabe
photo © takahiro shimokawa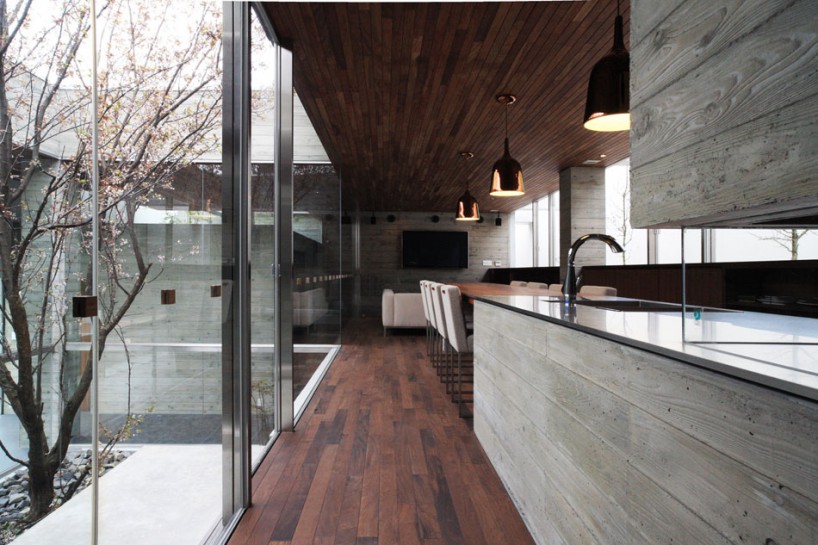 the house takes advantage of the long narrow site, organizing program linearly, as if it were an expressway
photo © toru kitamura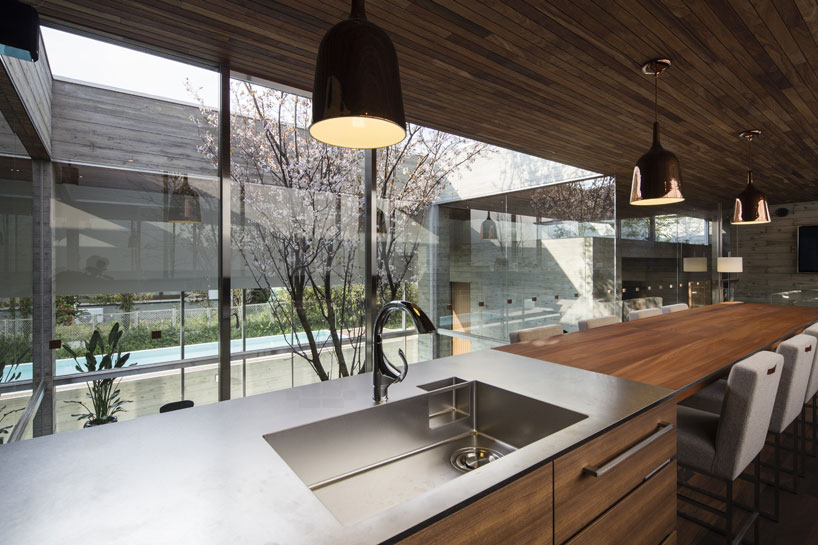 courtyards allow light and exterior views, while the ukikabe maintains privacy
photo © takahiro shimokawa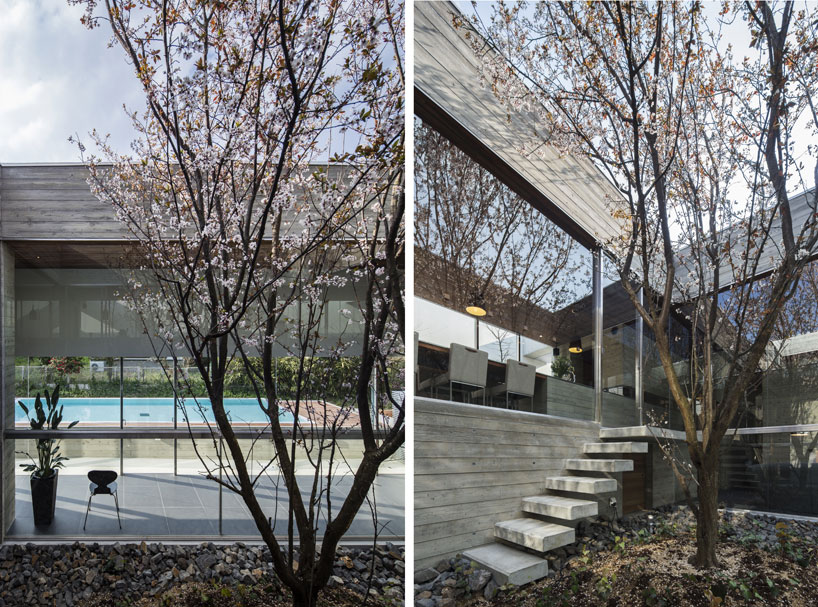 the house is build as a split-level. (left): the play room has a high ceiling (right): the kitchen and dining area are on the upper level
photo © takahiro shimokawa
detailing carries the idea of the split level through the house. (left): the courtyard (right): the play room
photo © takahiro shimokawa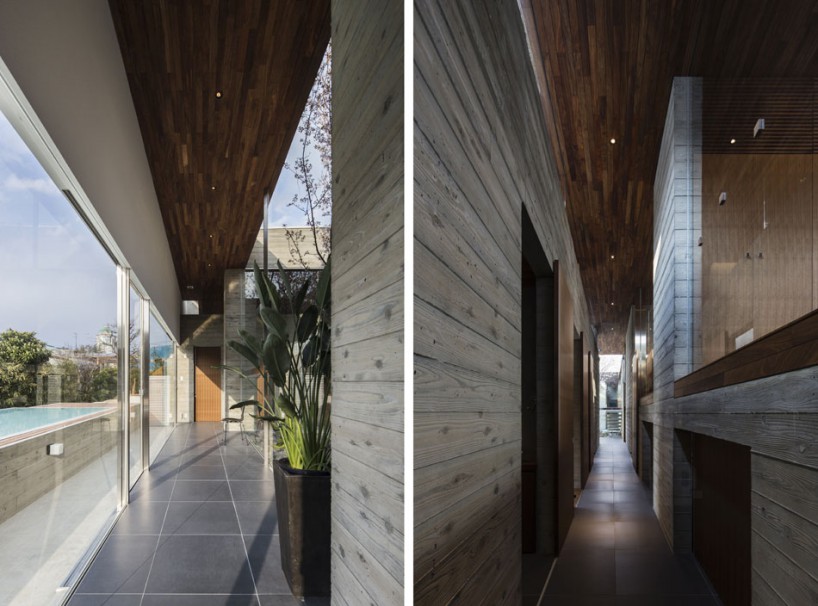 the continuous wooden ceiling unites all living spaces in the house
photo © takahiro shimokawa, toru kitamura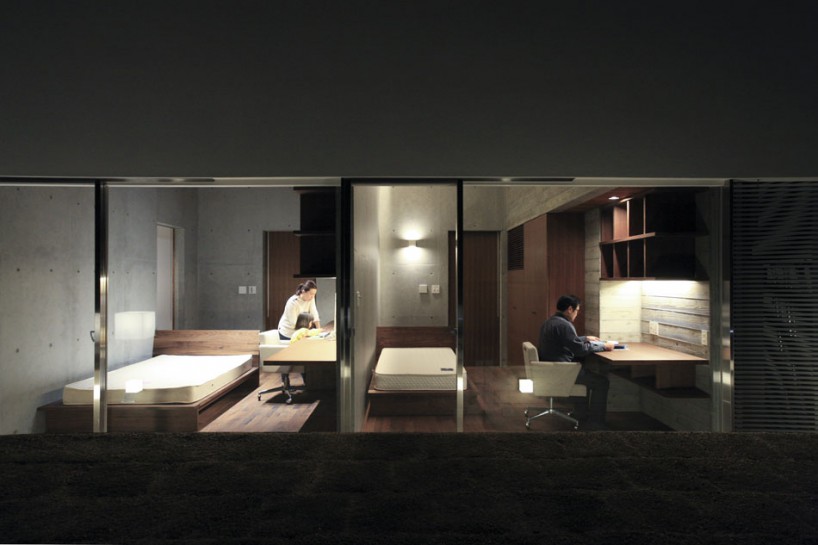 on the north side of the house, bedrooms open completely to the outdoors with glass walls
photo ©  toru kitamura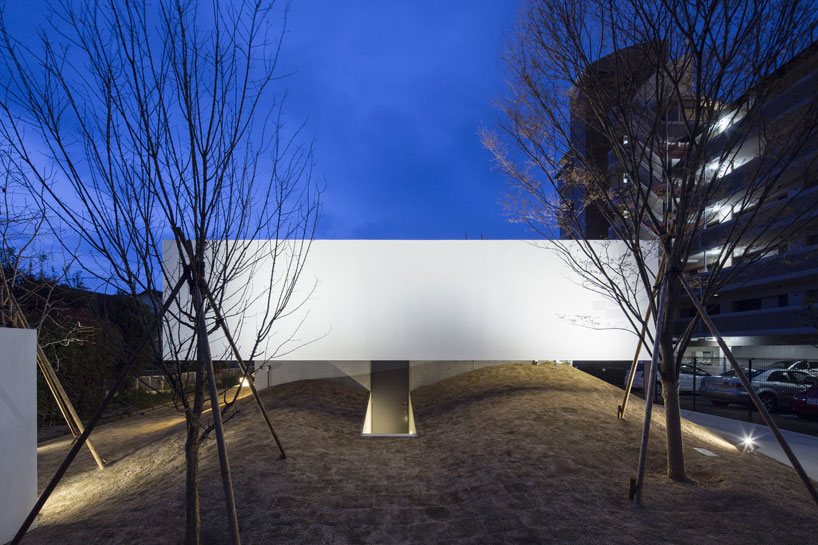 the ukikabe floats 1.5 meters off the face of the house
photo © takahiro shimokawa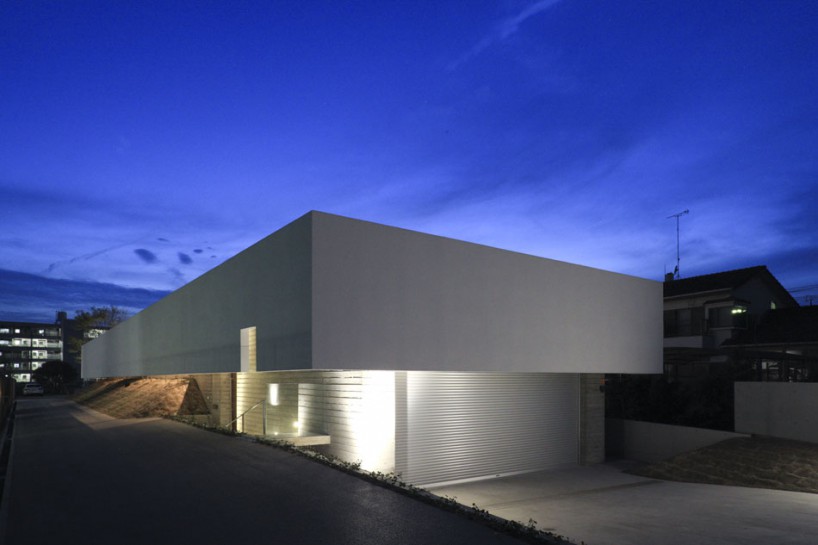 the heaviness of the wall is balanced by the mass of the house
photo ©  toru kitamura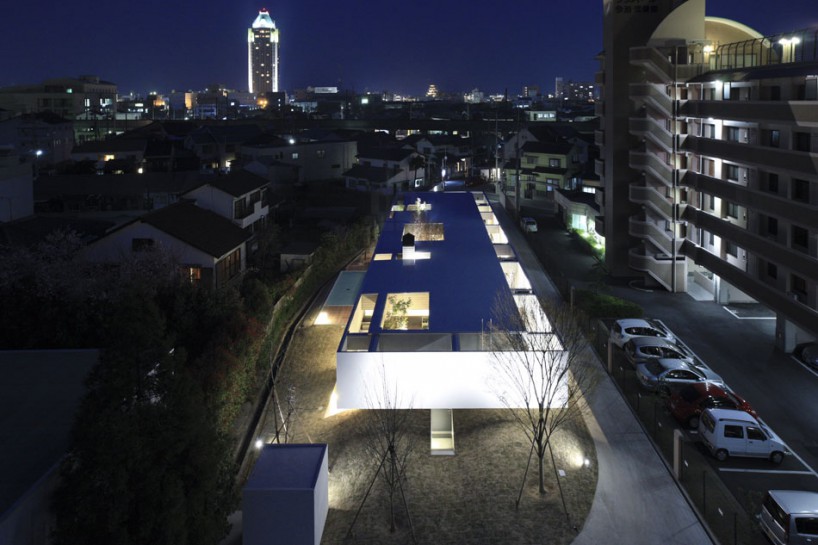 the white finish of the screen wall and roof reflect light, dramatically changing the house's appearance throughout the day
photo © toru kitamura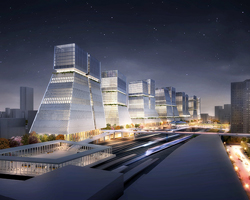 oct 12, 2017
oct 12, 2017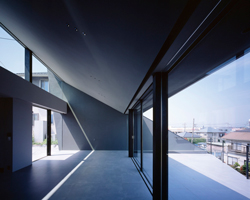 oct 08, 2017
oct 08, 2017
oct 07, 2017
oct 07, 2017
oct 01, 2017
oct 01, 2017
sep 30, 2017
sep 30, 2017
sep 27, 2017
sep 27, 2017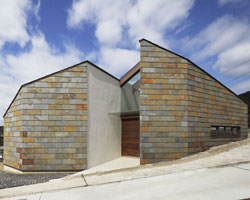 jun 23, 2013
jun 23, 2013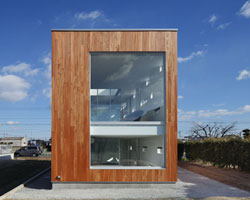 jun 04, 2013
jun 04, 2013