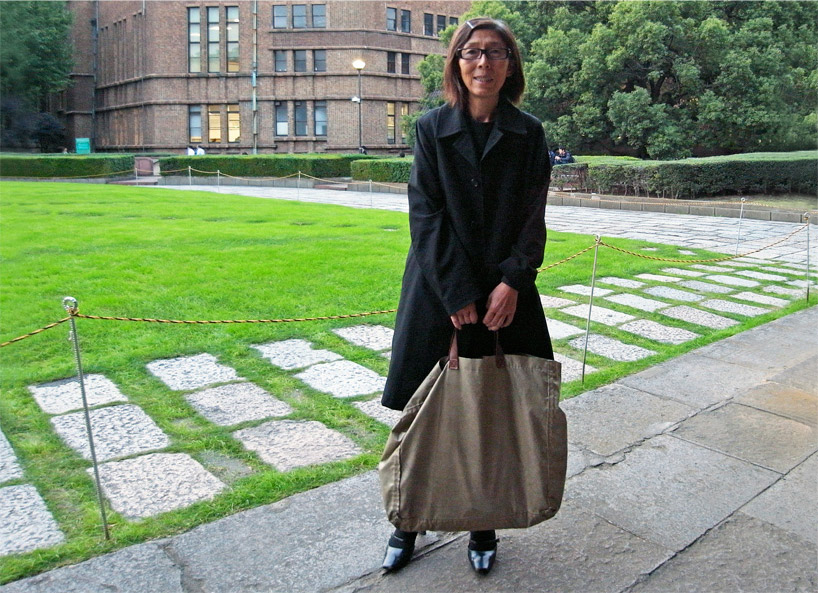 nov 29, 2012
kazuyo sejima interview: BODW 2012 preview
kazuyo sejima interview: BODW 2012 previewkazuyo sejimaportrait © designboom
japanese architect kazuyo sejima will present at BODW 2012 forum, the main event of hong kong's annual bussiness of design week. designboom spoke with sejima about the themes that she will discuss and the importance of humanitarian design practices and the relationship between private and public spaces.
designboom: can you give us a short intro to your presentation at BODW, which are the themes you will present?
kazuyo sejima: my lecture will explore the public spaces in architecture through various museums. by going through past projects such as kanazawa, new museum, louvre, etc, I will explore how museums could become future public spaces to provide a place for people.
'miyato-jima reconstruction project' by SANAA at venice architecture biennale 2012image © designboomsee our full coverage of this project here

designboom: the venice biennale brought forth some amazing projects, especially with the japanese pavilion winning the golden lion award. your exhibition as well as the japanese pavilion demonstrated that the earthquake rebuilding efforts are still continuing after almost 20 months after the event. do you see a major development of japanese architecture in becoming more 'humanitarian'. is humanitarian architecture something japan will be recognized for in the future?
kazuyo sejima: yes, I hope so. after the massive earthquake and tsunami affected the tohoku coast of eastern japan, five architects (toyo ito, riken yamamoto, hiroshi naito, kengo kuma, kazuyo sejima) formed 'kisyn-no-kai' to resolve the housing crisis in the region. as a part of the kisyn-no-kai's activity, 'home-for-all' project was launched. the project aims to build small but comfortable places for rest and relaxation where those who lost their homes in these regions can gather, keep them warm, eat and drink, and have discussions.
'shibaura house' by SANAAimage © iwan baansee our full coverage of this project here
designboom:what is your point of view of the rapport between public and private?
kazuyo sejima: the spatial qualities of public and private spaces are different. however, there are opportunities for private spaces to exist within a public space. though the function and the quality are quite different, there is a relationship and continuity between the two types of spaces.
designboom: the 'plan libre' (of mies van der rohe) is one of the basic concepts of modernism (and it is one of le corbusier's famous five points of modern architecture). you often design buildings with the transparency of the external walls and open space free from internal structural hindrances. glass outer walls are both reflective and transparent…in your shibaura building you position all vertical supports around the building's periphery, reducing their structural cross-section to the absolute minimum, but instead of an open plan you construct discrete volumes. from every floor they offer a view outside and interiors can be seen from the outside as well…
kazuyo sejima: in shibaura house, a small office building, the spaces are stacked so they have relationships with another. the structure is placed on the periphery of each space so it does not obstruct the function nor the relationship with the adjacent space. the users could enjoy their work on each floor while also having a relationship with their peers in another space. we could begin to imagine that spaces, which the many activities are happening in, actually compose one large space.
shibaura house in tokyo, japanimage © iwan baan
designboom: how does asian culture get reflected in your works?
kazuyo sejima: during our design process, we do not intend to incorporate asian or japanese architectural references. however, we do contemplate the relationship and continuity between inside and outside and that may be something that is often reflected in japanese architecture from long ago. for example, typical weather in japan is that it becomes very hot and humid during the summer, so it is always important to consider the climate. the perception of spaces is also dependent on the time of day (angle of the sun). this and factors like hot and humid weather do not apply to all of our international projects, but generally speaking the climate is always considered.
designboom: public space/architecture emphasizes on the communication and activity, what is the key element that is able to draw people to use the public space instead of staying at home or on internet today?
kazuyo sejima: it is difficult to determine the exact key element that could draw people to go out and use public spaces. I think what draws people to certain space or architecture is the overall atmosphere of a place. this is determined by the composition of the building, the location of it, the program function of it, etc and also how the people use and maintain it after completion. as for the building portion, we often think about how people would use a space, like an open plaza, and how the space relates to the other spaces so more people would feel that they would want to visit the place.
'21st century museum of contemporary art' in kawakawa by SANAAimage © kazuyo sejima + ryue nishizawa / SANAA
designboom: public space allows one to be alone and in company at the same time. it is a condition predicated in your 21st century museum of contemporary art in kawakawa, where you have celebrated the involvement of art in daily life. there is a (double) spatial logic of being secluded and exposed. how can buildings like that have an impact on our behavior?
kazuyo sejima: we imagined public spaces, as 21st century museum of contemporary art, to be a place similar to a park. people could come to spend time as they wish, either with a group of friends or family or even alone. in the space, the visitors could see artworks but also find a place that suits their comfort and need.

'river building' for grace farms by SANAAimage  courtesy of grace farmssee our full coverage of this project here
designboom: you state that your intention for the river building in grace farms was 'architecture as part of the landscape'.  how is this building creating a space that is inherently immersed in the site?
kazuyo sejima: the river scheme creates multiple courtyards, making sure that the key elements all have appropriate views. different adjacencies can be programmed to relate to the adjacent spaces: recreational, social and educational. the variety and number of outdoor spaces is successful. two forms of circulation – linear along the building and cross circulation through the courtyards – allows for cover from bad weather, and a more direct interaction with the landscape throughout the year.
'river building' entire project in the landscapeimage  courtesy of grace farms

designboom is an international media partner of the business of design week (BODW) first hosted by the hong kong design centre (HKDC) in 2002, business of design week (BODW) is a must-attend ideas exchange platform for asia's most innovative thinkers and business leaders. now in its 10th year, BODW – as the finale of 2012 design year – continues to inspire valuable dialogue through an unrivaled blend of forums, seminars, exhibitions and outreach programmes for designers, business leaders, educators, SMEs and the public to exchange ideas and address a wide array of 21st century challenges. if you want to stay on top of cutting edge opportunities in design, technology and brand management, this is one event you won't want to miss! this year, BODW is partnering with denmark. it is certain that it will bring about more positive changes in the people centered design and business communities.
BODW 2012hongkong convention and exhibition center 03-08.12.2012
mar 13, 2013
mar 13, 2013
jan 11, 2013
jan 11, 2013
jan 08, 2013
jan 08, 2013
dec 18, 2012
dec 18, 2012
dec 12, 2012
dec 12, 2012
dec 11, 2012
dec 11, 2012
SANAA
(69 articles)
dec 02, 2017
dec 02, 2017
nov 17, 2017
nov 17, 2017
aug 22, 2017
aug 22, 2017
a diverse digital database that acts as a valuable guide in gaining insight and information about a product directly from the manufacturer, and serves as a rich reference point in developing a project or scheme.