sep 05, 2011
kazuyo sejima: shibaura house office building, tokyo
kazuyo sejima: shibaura house office building, tokyo image © naoyafujii
japanese architect kazuyo sejima has completed 'shibaura house', a multistorey building containing flexible workshop spaces located in shibaura tokyo, japan. this bustling new center positioned within the business district and a short walking distance from main transportation lines provides diverse areas within the various levels. capable of supporting a wide range of functions and activities, individuals or groups may hold meetings, conferences, events, lectures and exhibitions within unique interior and terraced plan arrangements.
front elevation image © naoyafujii
the tensioned steel structure supports a glass curtain wall penetrated with intermittent setbacks containing open air terraces on the front and back elevations. upon entering the premises, visitors find the ground floor lounge is open to the public, furnished with chairs and tables for universal usage. upper study levels are connected to the primary focal patio with a curving staircase integrating an outdoor experience into regularly traveled circulation paths. the 'bird room' is perched at the highest story providing a versatile space for dance classes and communal gathering filled with ample daylight.
first level meeting space oen to the public image © naoyafujii
view of second and third level study lounges from curving staircase
focal curving staircase image © japantwo
view of street and curving staircase from third level study lounge
view of second level roof terrace from above
(left) terrace connecting study lounge levels (right) study lounge images © naoyafujii
study lounge image © naoyafujii
study lounge image © naoyafujii
interior stair within double story height space image © naoyafujii
workshop occurring within the 'bird room' image © shibaurahouse
(left) external stair to access roof terrace (right) roof terrace images © naoyafujii
upper level terrace overlooking the street image © japantwo
our friends over at JA+U documented kazuyo sejima's 'shibaura house' on video.take a look:
Office Building in Shibaura from JA+U on Vimeo.
kazuyo sejima's office building in shibauravideo courtesy of JA+U
section image © kazuyo sejima
illustration of various activities occurring within the building image © jody wong
SANAA
(67 articles)
aug 22, 2017
aug 22, 2017
jun 14, 2017
jun 14, 2017
jan 08, 2017
jan 08, 2017
nov 28, 2016
nov 28, 2016
oct 26, 2016
oct 26, 2016
mar 16, 2016
mar 16, 2016
feb 06, 2016
feb 06, 2016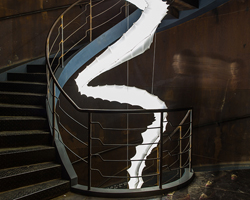 nov 16, 2015
nov 16, 2015
sep 04, 2015
sep 04, 2015
feb 06, 2016
feb 06, 2016
jan 14, 2016
jan 14, 2016
jan 12, 2016
jan 12, 2016