'tsuginote tea house' by kei atsumi and nicholas préaud
In April 2023, architects Kei Atsumi and Nicholas Préaud unveiled their 'Tsuginote Tea House' at the Kanazawa Shrine in Japan. This small pavilion crystalizes three years of research on 3D printing technology and its application in common-use architecture, particularly in ancestral Japanese wood joinery. The exhibition highlighted the finalized construction and the assembly process, whereby 900+ unique 3D-printed and double-curved pieces were assembled easily and with high precision thanks to an innovative patented joint system. Beyond optimizing a traditional technique, Atsumi and Préaud also looked to new sustainable uses for discarded wood materials through wood-based PLA filament found in all construction elements.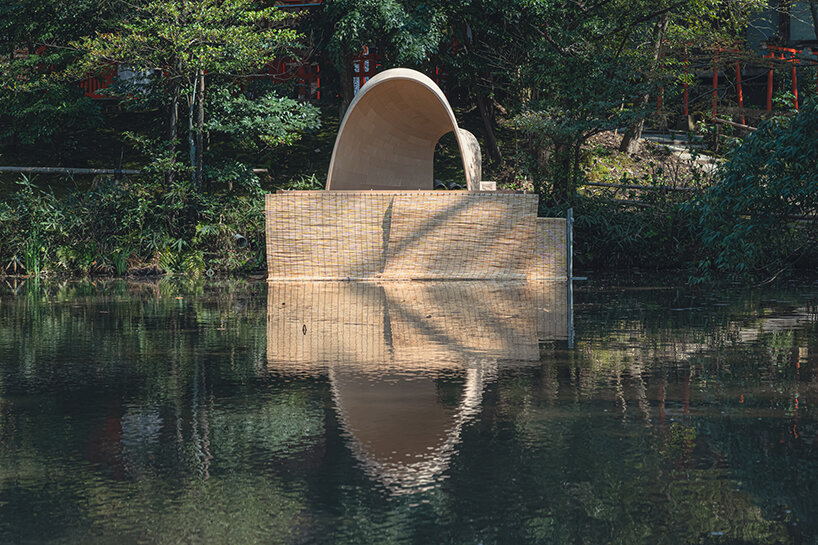 all images © Eiichi Yoshioka
'The first stage of research applied to architecture and constructive systems was largely inspired and fueled by traditional Japanese Tsugite and Shiguchi assembly systems for frame structures,' Kei Atsumi and Nicholas Préaud (see more here) share with designboom. 'This stage of research and geometric composition was supported by partial prototypes prior to prototyping a complete structure at a 1:1 scale, made possible by investment in 3D printers. The ability to translate digital models into physical objects, whose mechanical behavior could be directly evaluated, was a real asset from the outset and a considerable time saver.'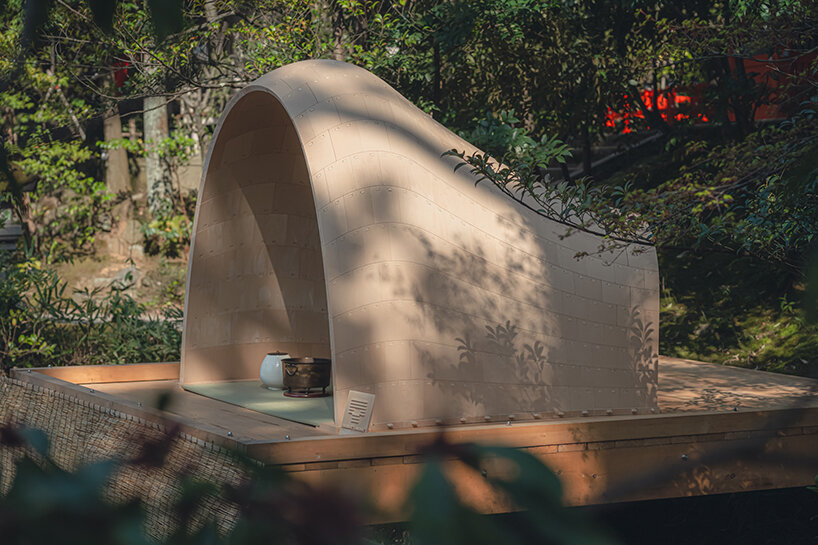 'Tsuginote Tea House' pavilion
when 3D printing and ancestral wood joining combine
Construction-wise, each of the 3D-printed pieces can be assembled by anyone without prior building knowledge and without any tools or additions. Indeed, the full-scale, self-build prototype of 'Tsuginote Tea House' is demonstrated without glue or metal fittings. Furthermore, rather than relying on digital fabrication machines to match the architectural scale, this study resorts to Fused Filament Fabrication (FFF) with desktop 3D printers, the most widespread and inexpensive printing technology.
By incorporating the perspectives of wood joinery and compact 3D printers, this study promotes a drastic change in 3D-printed architectural production from a massive structure-oriented system to a module-oriented one. In other words, this process exemplifies how artisanal knowledge integrates with 3D printing architectural production by reconfiguring joint geometry, parametric modeling, fabrication, and assembly processes.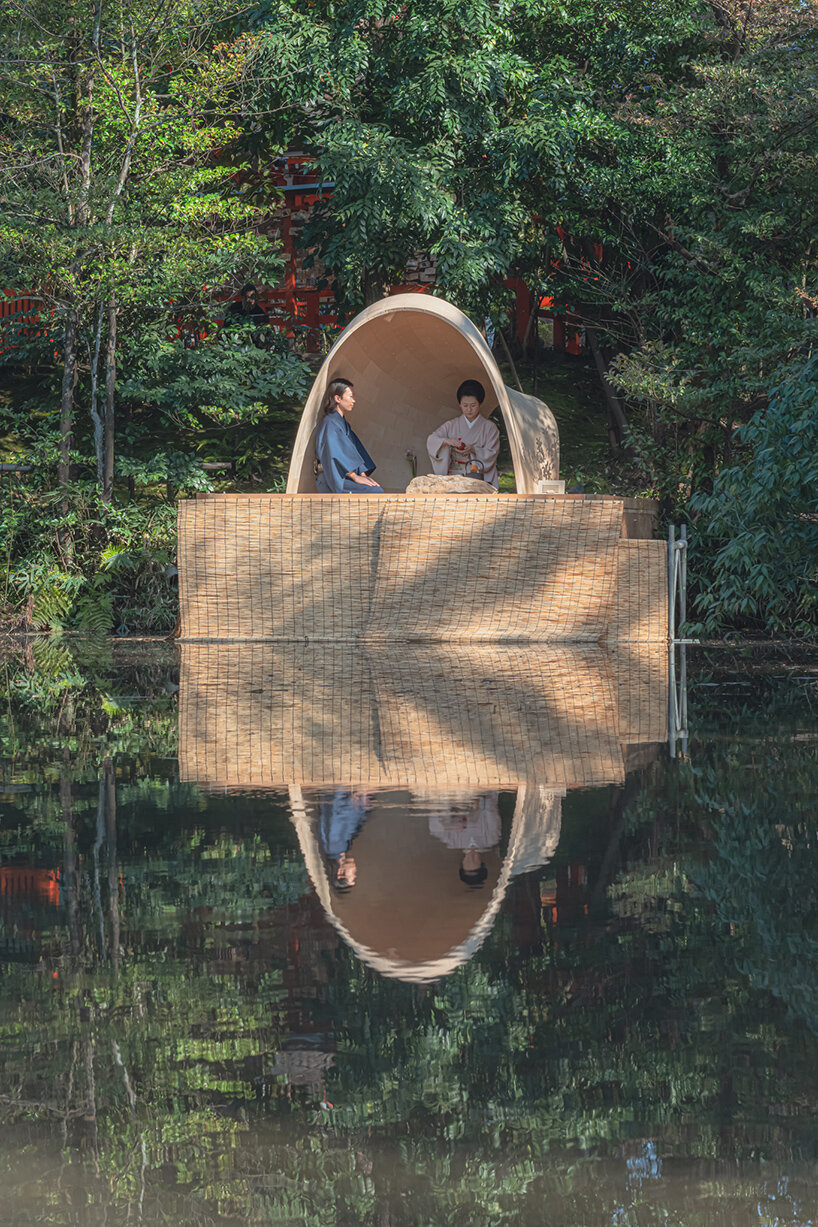 exhibiting the structure at the Kanazawa Shrine in Japan
Zooming back out, Kei Atsumi and Nicholas Préaud explain how, in architecture, new technologies are allowing for innovative designs and manufacturing methods that were once reserved for a select few. And digital fabrication is one exciting area of research enabling new forms of freeform modeling and joining techniques. Ultimately, this evolution in manufacturing introduced new construction methods that challenge our current ways of addressing structural issues.
These new methods include subtractive and additive manufacturing. While subtractive methods can produce large-scale freeform and detachable structures, they become increasingly costly and wasteful as the components become more complex. Meanwhile, additive manufacturing, driven by massive industrial 3D printers, has shown great potential for reducing costs and construction time. However, concerns about printing accuracy and structural variability remain, and this expensive equipment is not viable for an open construction system.
To overcome these challenges, the architectural duo resorts to desktop 3D printers for constructing architectural-scale volumes. While the printable build volume limit is a challenge for full-scale prototyping, using modularized architectural components and Japanese wood joints can provide a solution. These joints, designed by artisans for traditional wooden architectures, offer a simple and detachable assembly method without needing glue or metal fittings. In this context, the joints are fabricated using robotic technology, allowing for more intricate structures, previously impossible to achieve by hand, to unfold.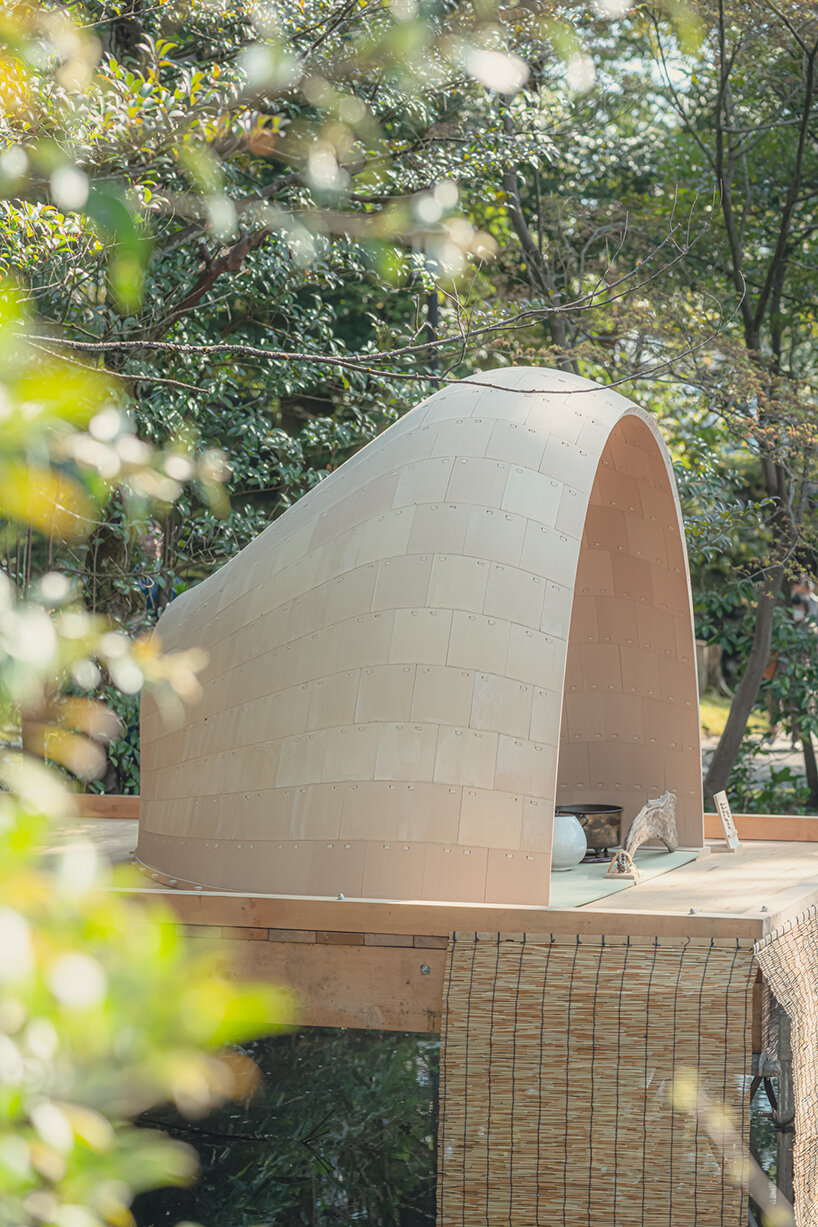 using unique 3D-printed and double-curved pieces to assemble the structure
One example is the lightweight timber plate system which uses robotic fabrication to create complex joints and wooden plate structures. At the same time, the FFF desktop 3D printer has the potential to fabricate components with complex geometries, including wood joints, with remarkable precision. Despite being the most affordable and widespread digital fabrication equipment, the FFF 3D printer has yet to be fully explored in architectural production. While these studies and artifacts feature components fabricated by FFF 3D printers, they have yet to be examined from the perspective of assembly using wood joints. By integrating the precision of FFF 3D printing with the elegance and durability of traditional wood joint techniques, this research aims to create structures that are beautiful, highly functional, and sustainable.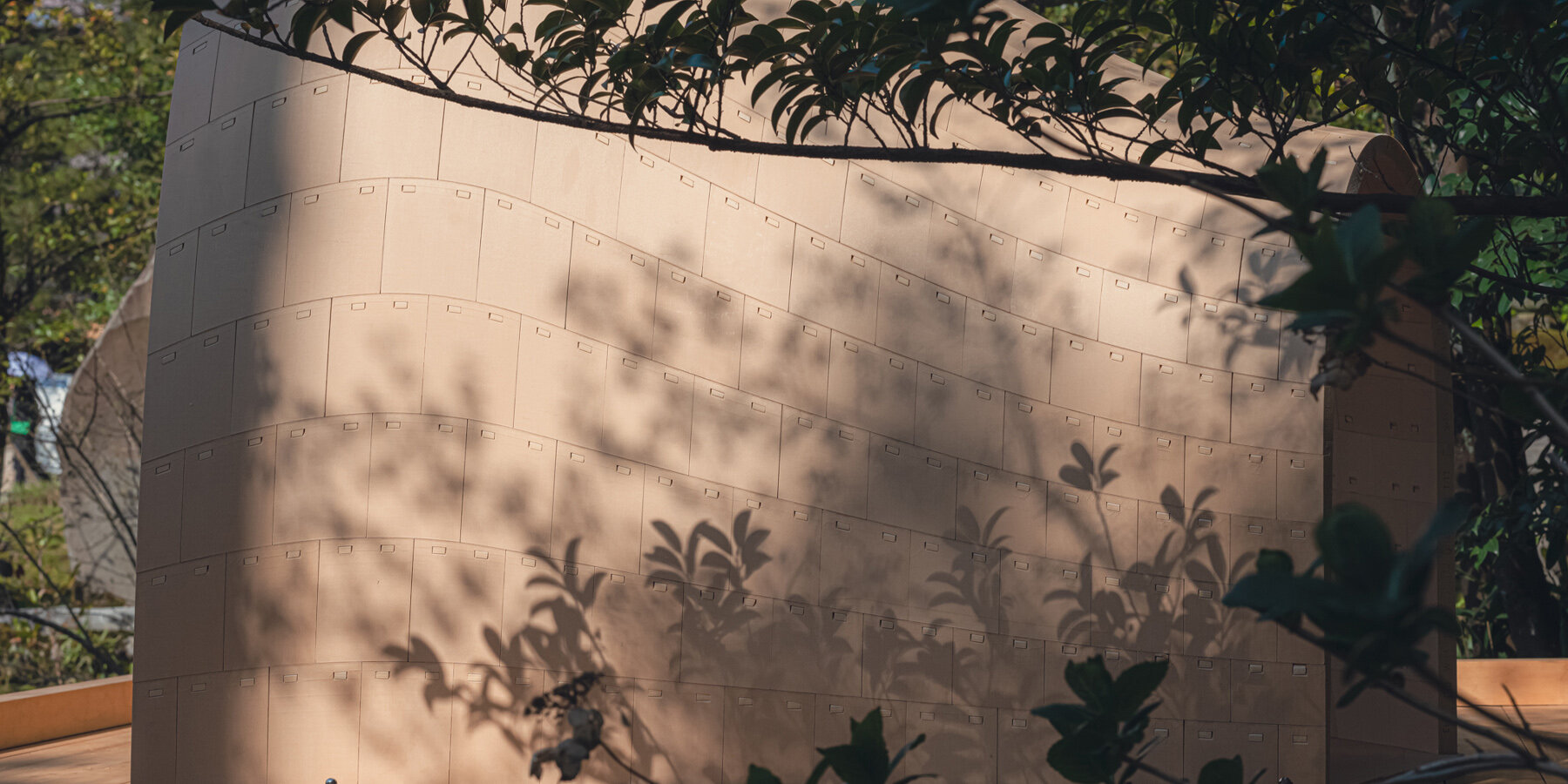 bringing in new technical and environmental dimensions
Overall, the potential of digital fabrication in architecture through 3D printed elements is vast and can revolutionize the construction industry. The technology enables architects to create unique and modular structures with reduced material and labor costs, lower environmental impact, and greater accessibility to non-experts. 'Our approach aimed to address several parameters that we had formulated beforehand; parameters that, if achieved, would confer an innovative technical and environmental character to the system,' the duo tells designboom.
'On the technical level, this assembly aims to eliminate the weakness inherent in all traditional wood frame structure assemblies in a given linear direction, which operates by locking by stop and friction. The solution that we have developed, and which can be applied to a panel system as well as to a frame, proposes a geometry that cancels this linear weakness while being mountable and dismountable without tools on a single joint system.'
On an environmental level, 'the versatility with respect to the construction material used makes it possible to achieve the desired geometry through 3D printing. In this regard, we are now conducting research on the ideal composition of 3D printing filaments made of wood fiber, which is currently considered an industrial waste product,' note Atsumi and Préaud. They clarify that this resource is theoretically recyclable and biodegradable but under specific industrial conditions that are not accessible to the general public. Privileging a larger proportion of wood in its composition would allow for capturing and valorizing a material lacking environmental virtues.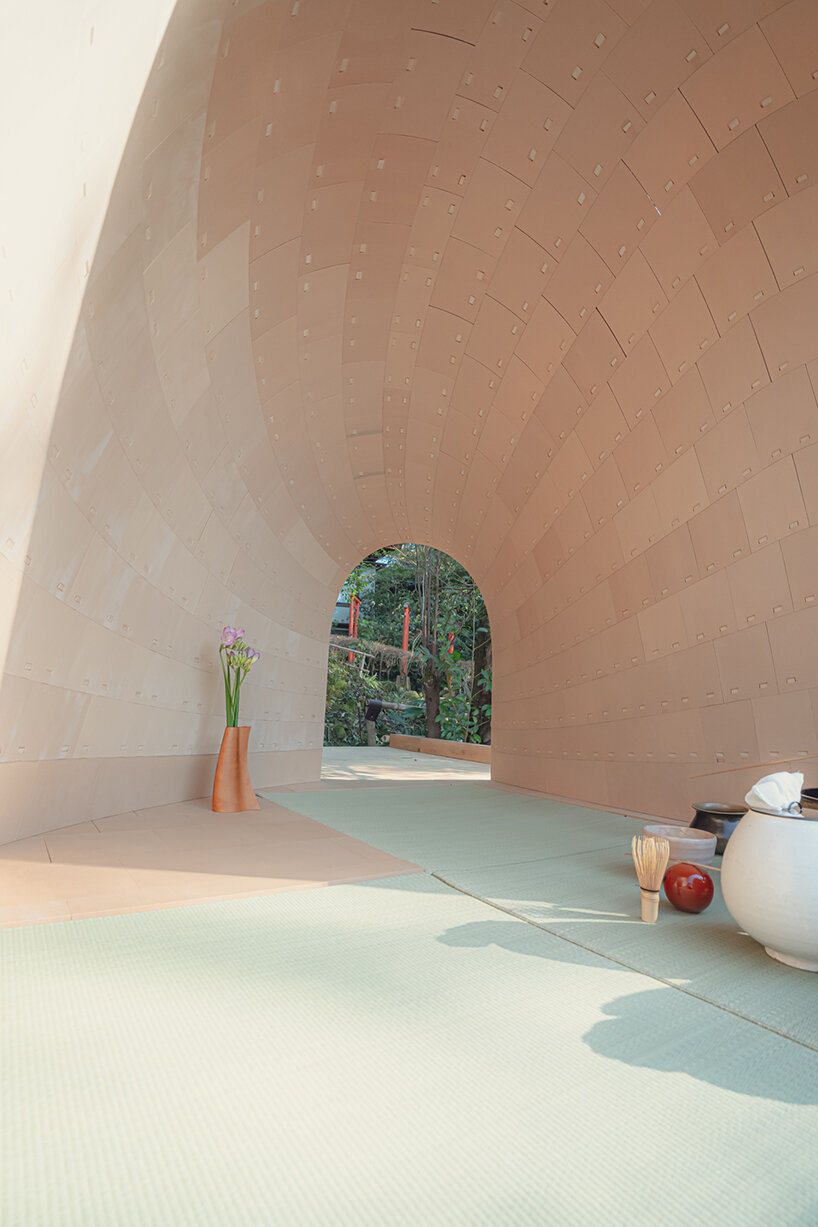 a look inside the pavilion
The technology is recent and promises significant advancements in the coming years. Moving forward, Kei Atsumi and Nicholas Préaud plan to extend their research to bigger-scale structural elements and have filed a patent for the joint system, approved in Japan — represents the first step in materializing this research into the construction market. Through the use of bigger printers in the years to come and by merging this technology with common construction techniques and products, the goal is to manufacture and assemble structures that can be fully functional housing units.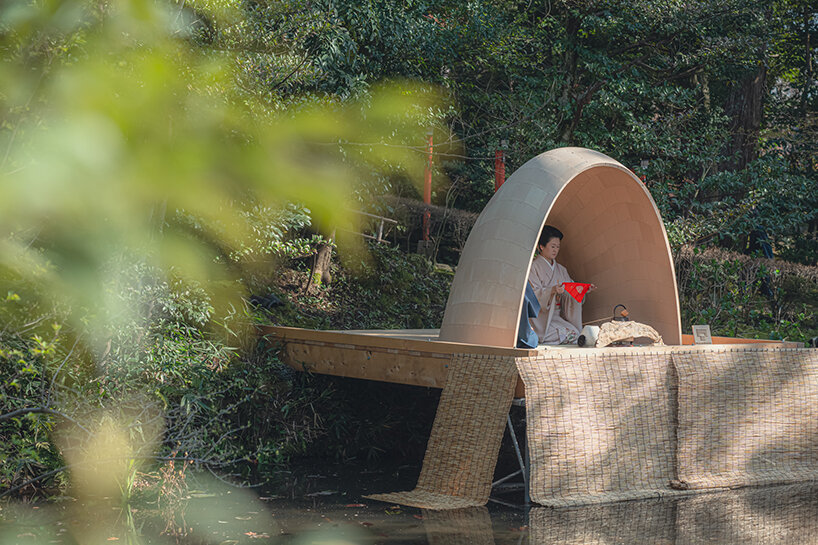 a project by Nicholas Préaud and Kei Atsumi
from 'tsuginote tea house' to full-scale architectural works
'From a statement of parameters translated into abstract geometry, physical parts, and then into architecture, we then had to translate it into legal terms with lawyers specialized in industrial property. This lengthy process of research, experimentation, and patenting that we have embarked upon, can potentially have a huge impact on the industrial processes that largely determine the aesthetics of architecture being produced today. Architects are very rarely concerned about R&D although we have through this means an unexplored power of influence over the industry, as well as a valuable lever for monetizing applied research through the revenue from industrial property.'
'The next step following the granting of the patent, is to make our research and achievements public by the integration of the system into a university curriculum, approaching industrial partners, and of course the most rewarding scenario that would represent a true achievement for our approach and for this assembly system: its implementation within the process of architectural design and construction,' conclude Atsumi and Préaud.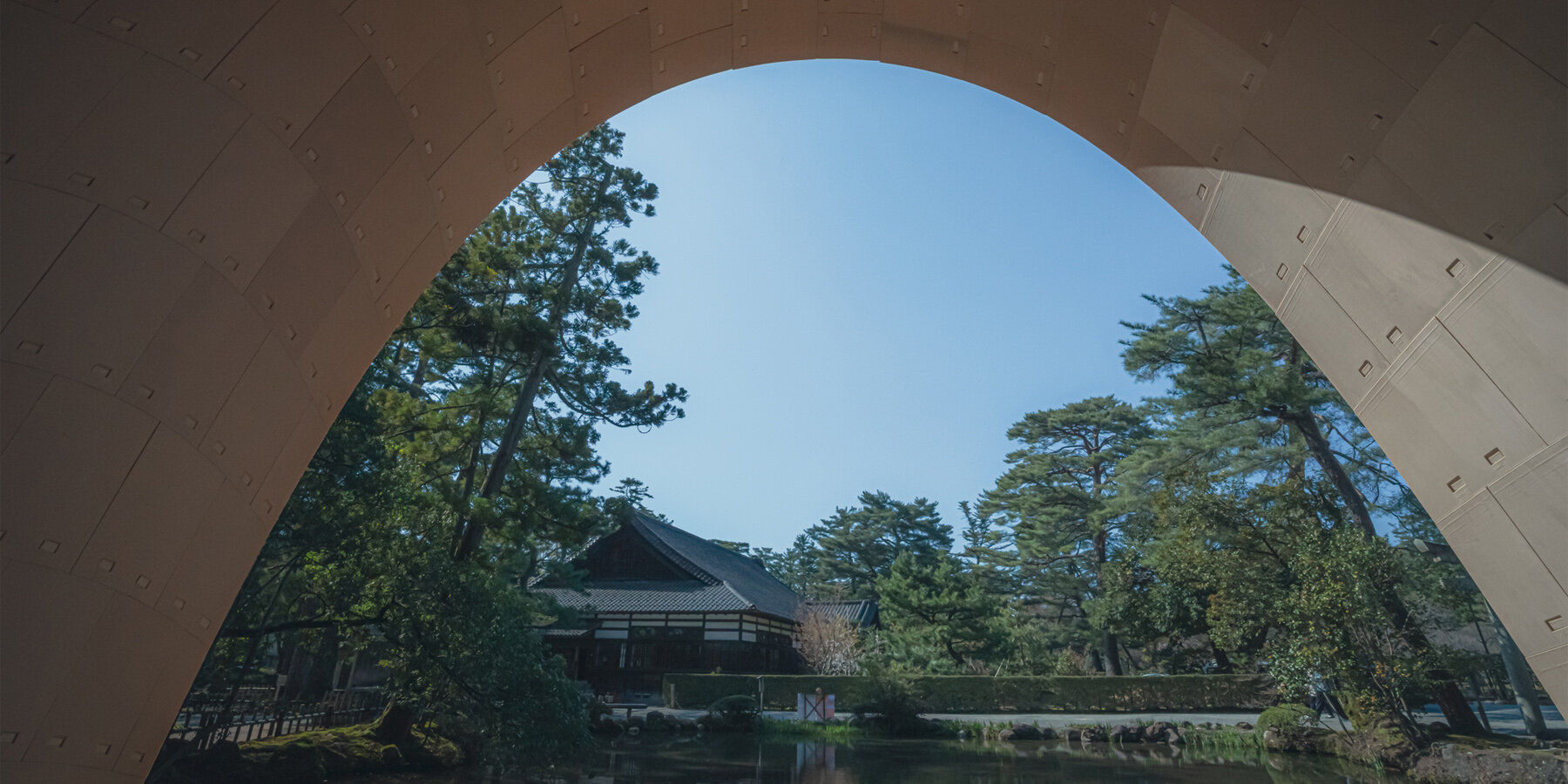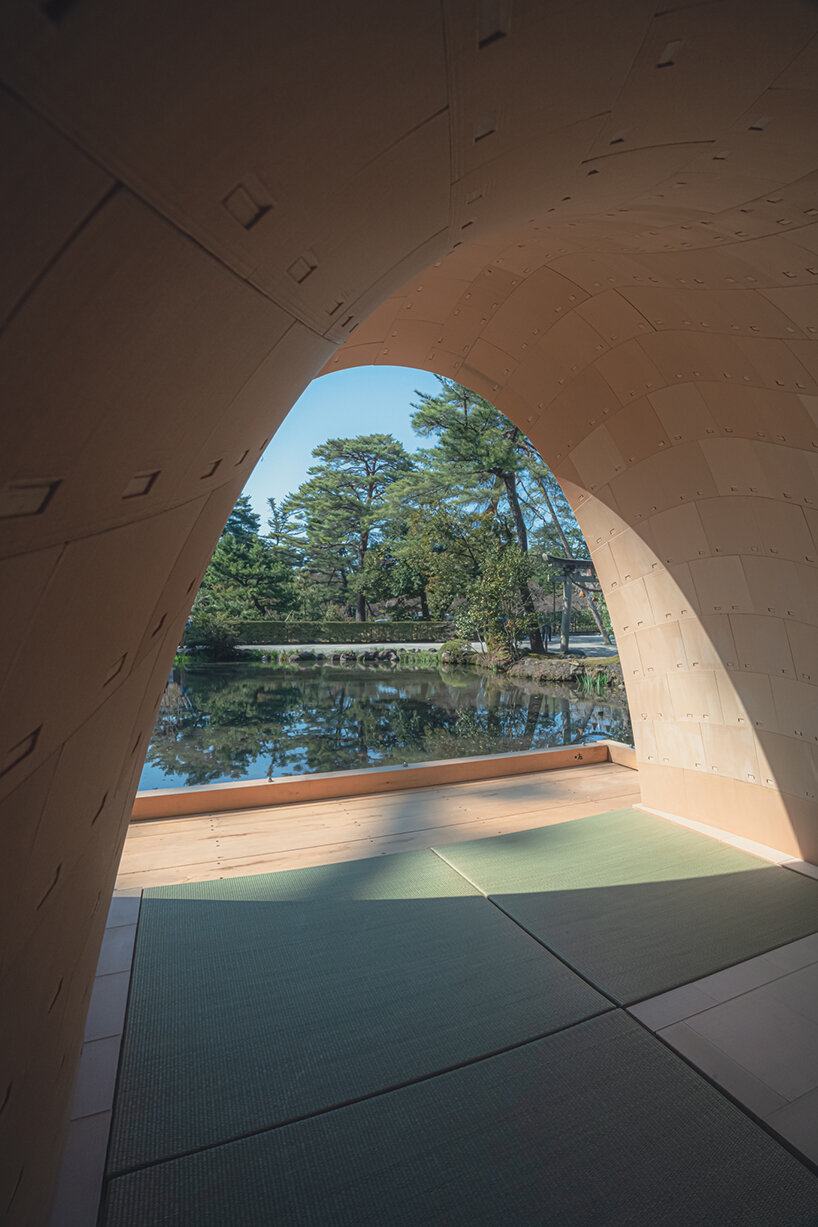 a meditative view over a lake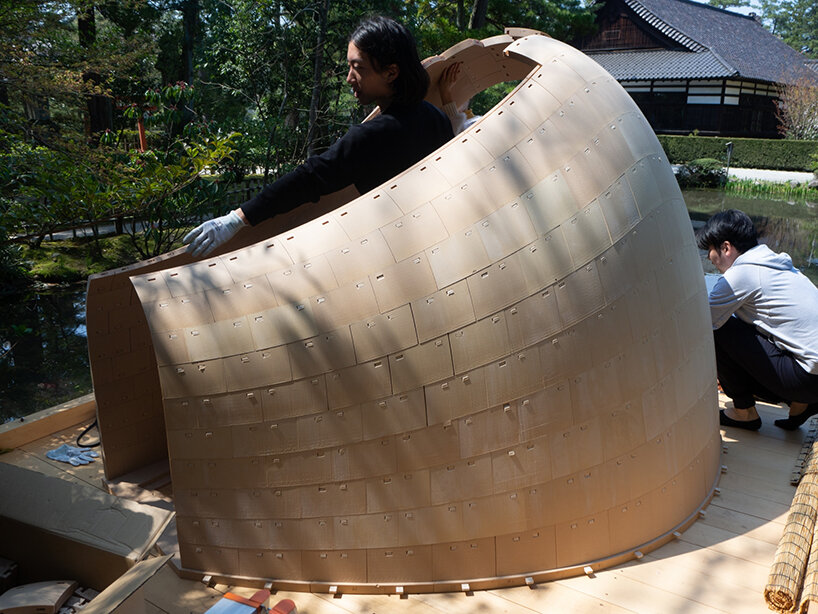 construction process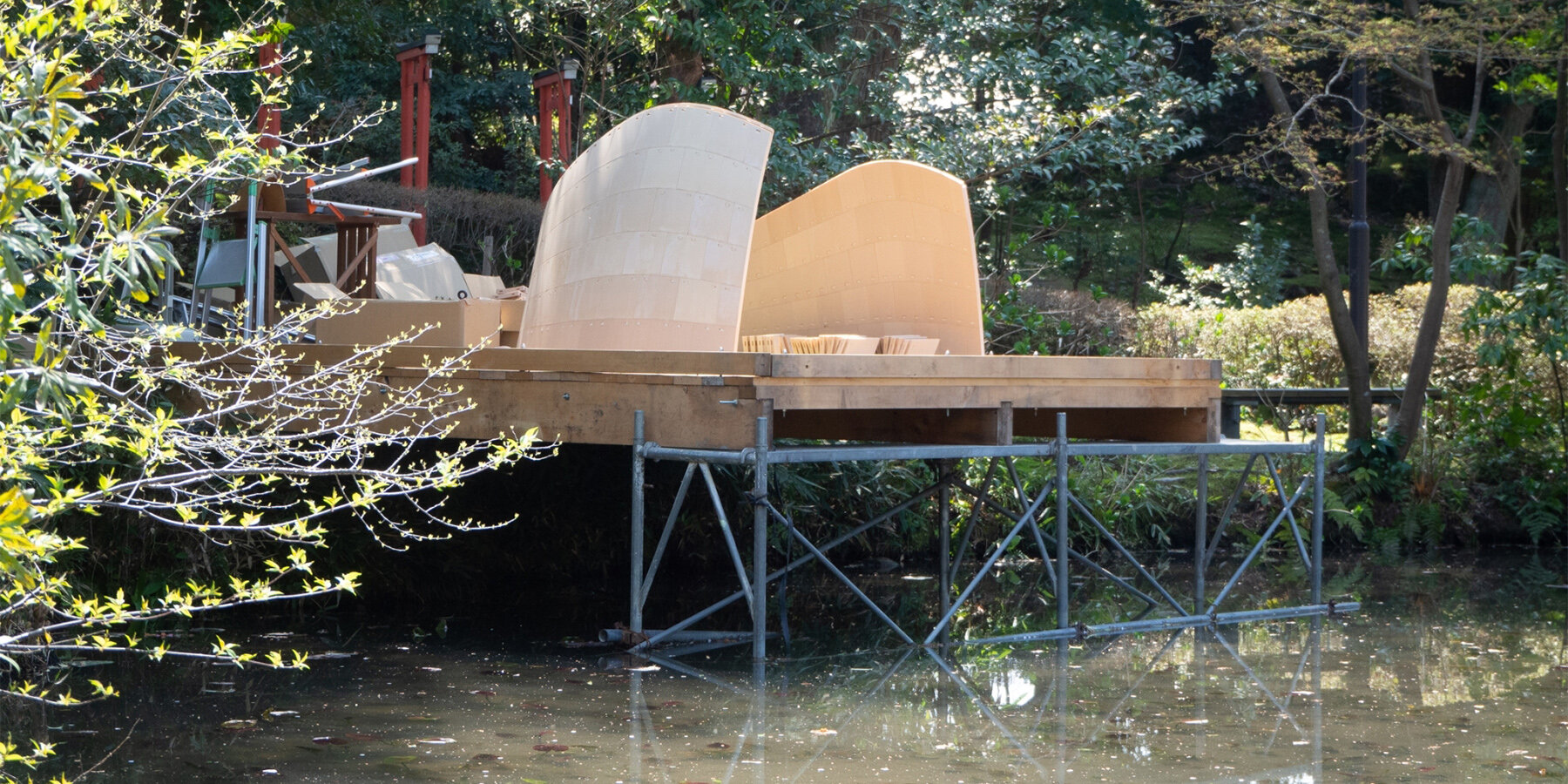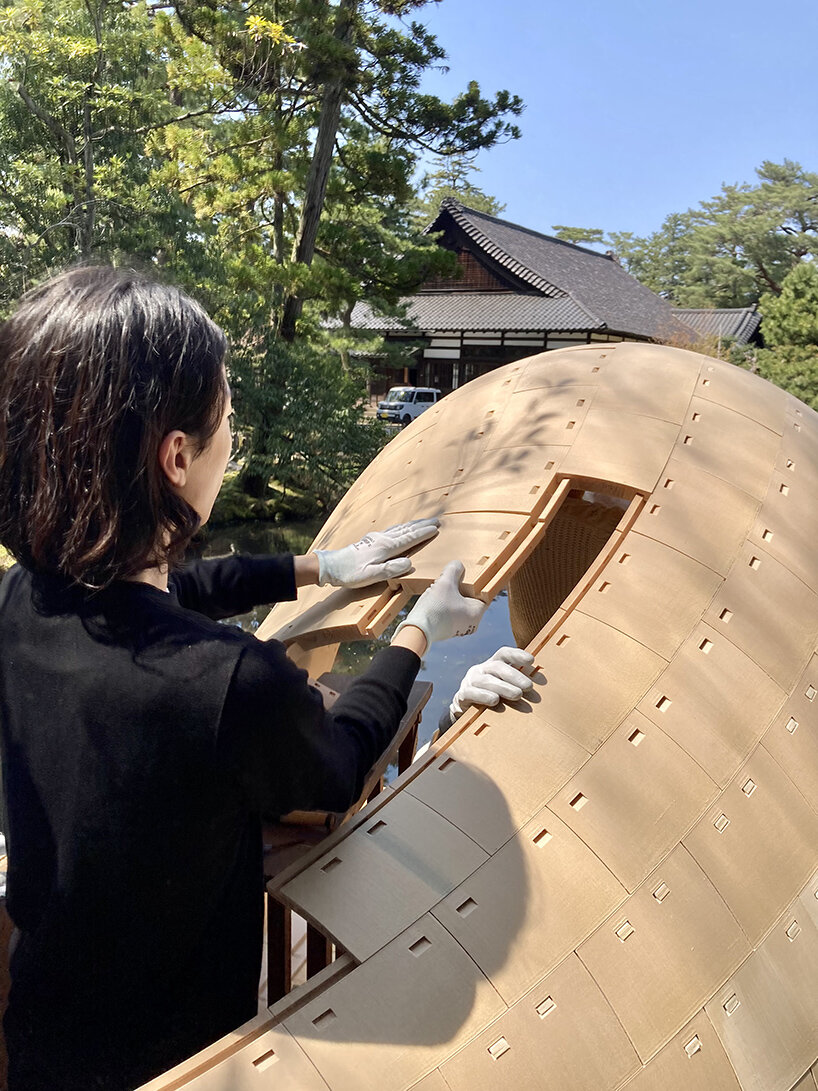 assembling the pieces manually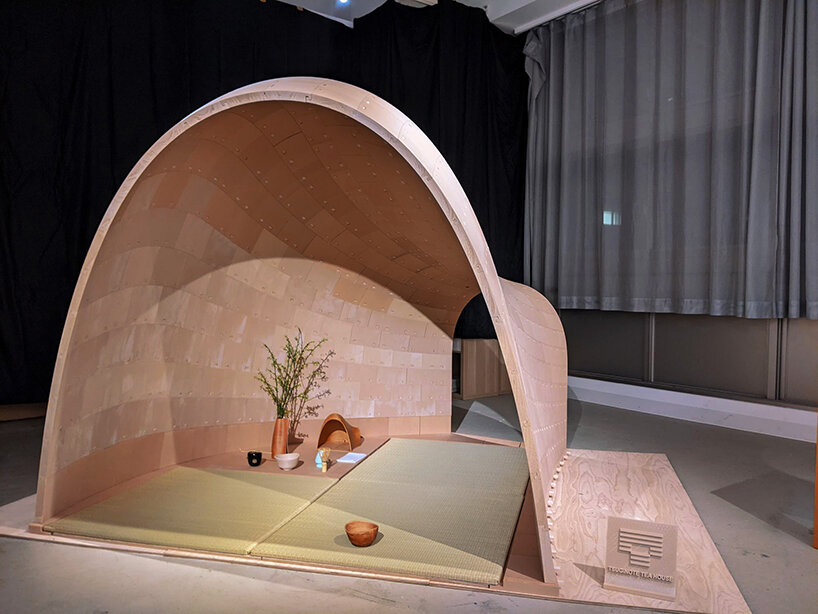 exhibiting the prototype of 'Tsuginote Tea House'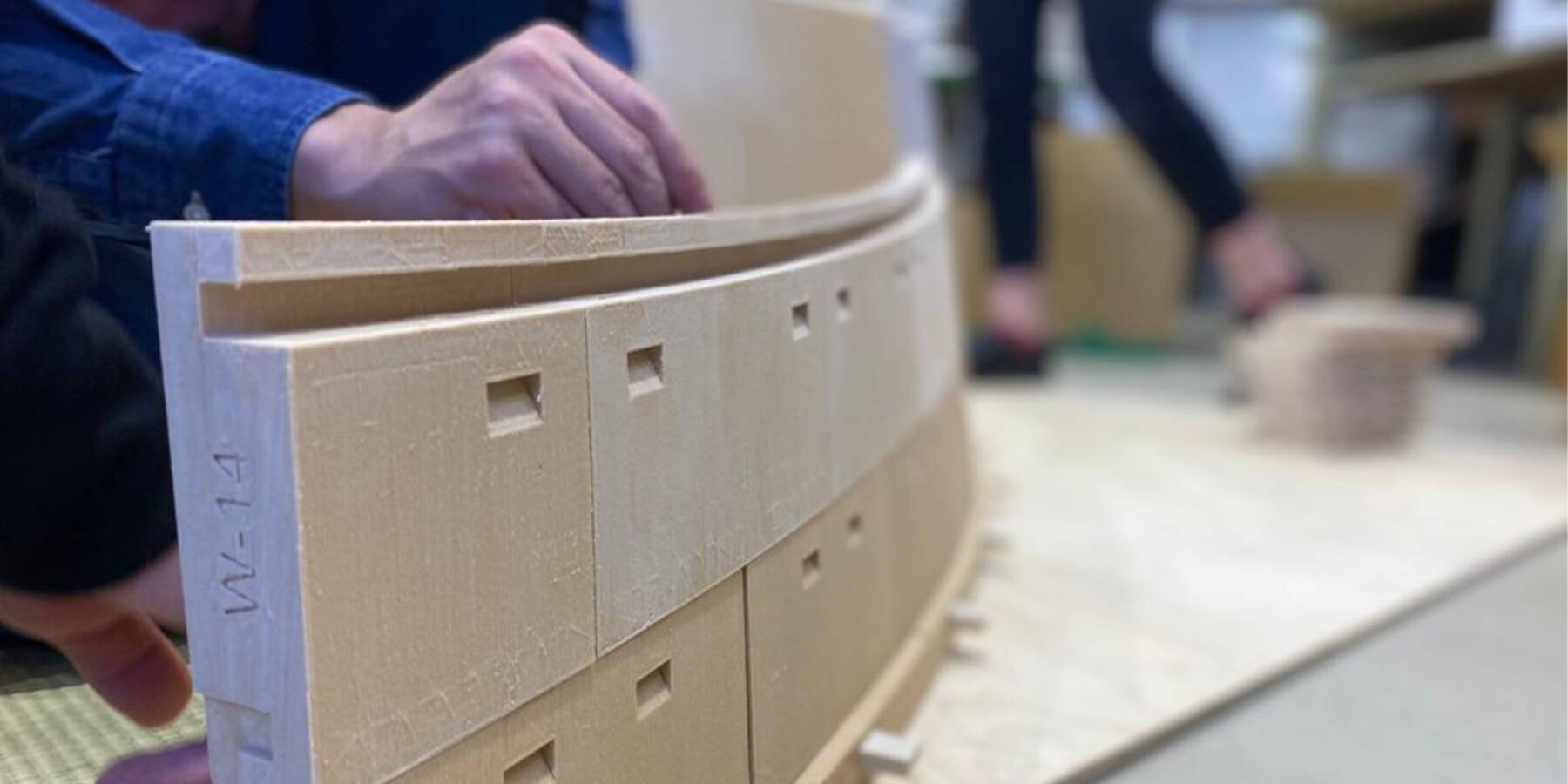 project info:
name: Tsuginote Tea House
location: Kanazawa Shrine, Kanazawa, Ishikawa, Japan
architecture: Nicholas Préaud | @nicholaspreaud, Kei Atsumi
photography: Eiichi Yoshioka | @tsukinoto
exhibited date: April 2023
This work was supported by JSPS KAKENHI; Grant Number JP21K12561.
a diverse digital database that acts as a valuable guide in gaining insight and information about a product directly from the manufacturer, and serves as a rich reference point in developing a project or scheme.
designboom will always be there for you
milan, new york, beijing, tokyo

,
since 1999