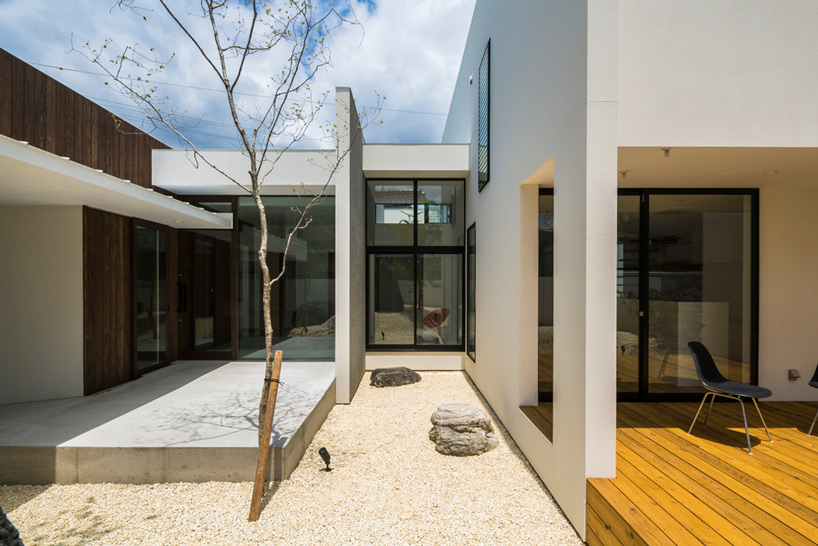 jul 15, 2014
keitaro muto architects realizes sunomata house in japan
keitaro muto architects realizes sunomata house in japan
photo by apertozero
all images courtesy of keitaro muto architects
designed by keitaro muto architects, 'sunomata' is a single family residence composed of stepped rectangular volumes, which rise sequentially to create a two-story structure. located on a corner lot adjacent to rice fields in the city of ōgaki, japan, the project replaces an existing house, doubling the size to accommodate the clients' extended family. the building is largely closed off facing the street, while opening toward its private garden on the interior of the site. this outdoor space is situated around large and sculptural existing stones, situated in a gravel landscape.
located on a corner lot, the building is largely closed off toward the street
photo by apertozero
the design's stepping movement of the overall building volumes is intended to rise from the rice fields to the west of the site. this arrangement serves to organize the interior spaces, which are all oriented toward the south side of the property, and open either visually or physically to the japanese garden.
a large void in the building along the street allows for a carport and covered entry walkway, the latter of which passes by the rock garden to approach the front door. on the ground floor, aligned door frames break through the primary walls to create a central circulation axis. the program includes two living, dining, and kitchen areas, with one designated for use by the parents. an open tread staircase accesses the upper level, which contains the residence's bedrooms and a small balcony.
white volumes rise to form the two-story residence
photo by apertozero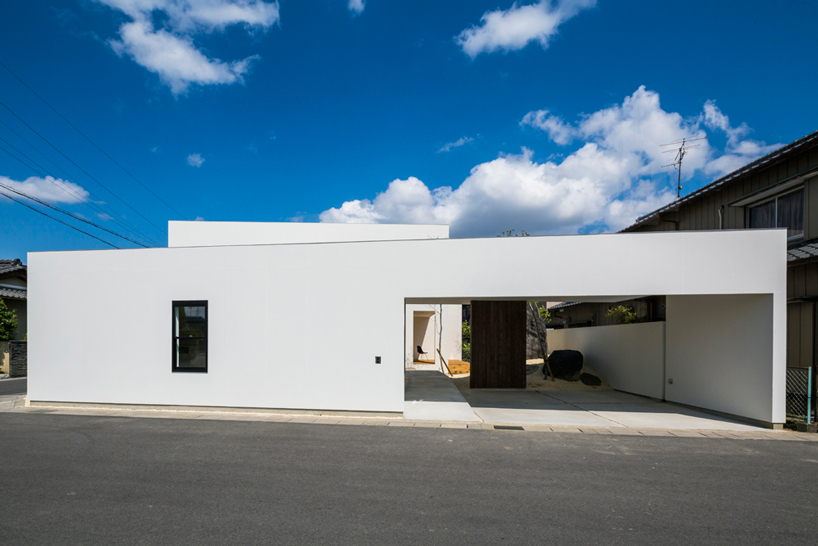 a large opening in the building form allows for a covered entry walkway and carport
photo by apertozero
the outdoor space is situated around a large and sculptural existing rock
photo by apertozero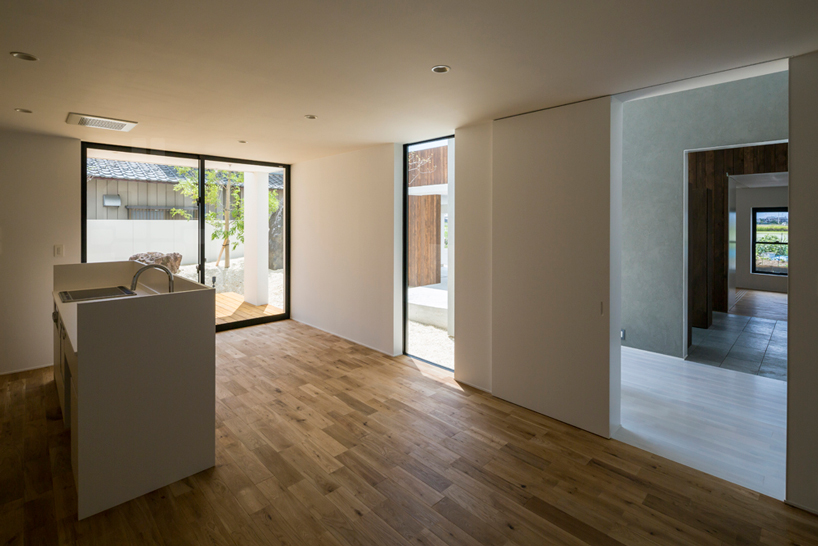 the building volumes are distinguished on the interior by diverse finishes
photo by apertozero
the main living room, dining, and kitchen are unified as one open space
photo by apertozero
a central axis breaks through the volumes' walls to connect the house's spaces
photo by apertozero
the entry space contains two large closets
photo by apertozero
(right): a small balcony is located on the roof
photos by apertozero
all of the ground floor interior spaces open, either visually or physically, onto the residence's stone garden
photo by apertozero
project info:
location: sunomata, ōgaki, japan
completed: 06/2014
site area: 280 sqm
total floor area: 186 sqm
design and supervision: keitaro muto architects / keitaro muto
structural design: fujio building construction design office / atushi fujio
construction: building shoji co., ltd. matsubara / matsubara kenchiku shoji
kitchen: primavera, inc.
landscaping: living design / hiroshi honda
photography: apertozero / teruaki yoshiike
aug 07, 2013
aug 07, 2013