dec 15, 2016
kengo kuma completes new artlab building for EPFL campus in lausanne
kengo kuma has completed a new campus building for EPFL in lausanne, switzerland. titled 'under one roof', the name addresses the vast pitched roof that stretches 235 meters to provide an oversized canopy over the three volumes hosting an arts & science pavilion, a technology & information gallery, and the montreux jazz café.

all images © michel denancé (unless stated)
the 'artlab' building will be another architectural addition to the campus of EPFL (swiss federal institute of technology in lausanne) where it already hosts the rolex learning center designed by SANAA. kengo kuma's scheme follows the incline of the typography, where between each box hosting the programs, there is an opening that generates two axes. this method will subtly guide people to the rest of the buildings on the university grounds.

the roof stretches a total of 235 meters
the exterior is defined by the combination of timber, steel and stone that has been used. the culmination of textures visualize with the wooden pillars sandwiched with steel plates on both sides, giving the building a textural and transparent quality. additionally, the roofing is made from stone and the method of construction taken from typical swiss houses, while the form itself folding like origami according to the function underneath.
'there is a japanese saying, "living under one roof," which means various and different individuals get together and team up, and artlab is exactly the architectural translation of this expression.' – kengo kuma architects

the envelope uses locally-sourced wood and is sandwiched with perforated steel plates

 underneath there are three programs: an arts & science pavilion, a technology & information gallery, and a café

large glazing on either side welcomes light into the spaces between

inside the arts & science pavilion
image © joel tettamanti

the architects chose timber that is commonly found in switzerland, in order to create a familiar warm space

gallery space

the roof embodies qualities taken from origami and  creates faces responding to light and shadow

the artlab building for EPFL in lausanne, switzerland
Save
Save
Save
Save
Save
Save
Save
Save
Save
Save
Save
Save
Save
Save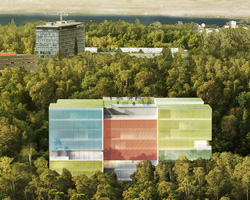 oct 31, 2017
oct 31, 2017
oct 31, 2017
oct 31, 2017
oct 23, 2017
oct 23, 2017
oct 03, 2017
oct 03, 2017
sep 21, 2017
sep 21, 2017
sep 19, 2017
sep 19, 2017
nov 02, 2017
nov 02, 2017
oct 18, 2017
oct 18, 2017
oct 09, 2017
oct 09, 2017