kengo kuma has completed a multi-purpose building on the site of the new campus of novartis in shanghai, china. adding to the expanding campus which already features an office building designed by alejandro aravena /elemental.

all images © eiichi kano
the purpose of kengo kuma's mixed-use building is to solely serve as a meeting, events and café space for the company's staff and guests. the low-rise building is topped with a folded green roof and illustrates a different approach in contrast to the neighboring box-typed buildings. during its design development, the architects interpreted the novartis building from a small 'house' because in the end, the scheme is a destination for gathering and socialization. in turn, the green and origami-influenced scheme uses V-shaped columns and lattice-formed beams in its construction. the interior continues the use of laminated douglas-fir illustrated in the exposed ceiling, rooms and spaces punctuated by furniture in various designs and layout to create an inviting atmosphere.

the roof wasi nfluenced by origami techniques

inside the large space continues the use of timber

the nature of the oversized roof allows sheltered outdoor seating to be created
Save
Save
Save
Save
Save
Save
nov 01, 2017
nov 01, 2017
oct 29, 2017
oct 29, 2017
oct 18, 2017
oct 18, 2017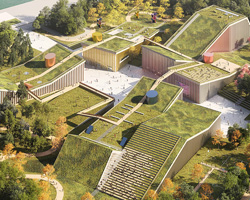 oct 17, 2017
oct 17, 2017
oct 17, 2017
oct 17, 2017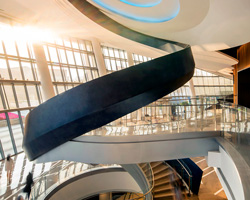 oct 14, 2017
oct 14, 2017
nov 02, 2017
nov 02, 2017
oct 18, 2017
oct 18, 2017
oct 09, 2017
oct 09, 2017
oct 06, 2017
oct 06, 2017
aug 20, 2017
aug 20, 2017
aug 01, 2017
aug 01, 2017