kengo kuma and associates has revealed their design for the odunpazari modern art museum in turkey where the privately-owned space will exhibit the client's collection of turkish modern art. located in the city of eskisehir –a city that is recognized for its young student population and lively atmosphere– the cultural scheme's ambition will aim to promote turkish art to the young audience and locals.

the stacked and interlocked boxes are designed in various sizes to create diverse scales of exhibition space inside
all images © kengo kuma and associates
the design is interpreted from the context's local architecture; the traditional ottoman houses made from wood all feature a cantilevered volume at the upper level and follows the meandering streets to form the characteristic scene the town is recognized for. with this, kengo kuma & associates' scheme is made up of stacked and interlocked boxes at various sizes. this will create the diverse scale of exhibition spaces inside and outside, the museum merge with urbanscape and become a new cultural landmark of the odunpazari area. 
'we aim to reflect this street scape quality into the new architectural design of the museum that stands in the urban scale.' comments yuki ikeguchi, partner in charge at kkaa. 'our design strategy is to make the volume in aggregation; stacking small boxes to create the urban scale architecture.'

inside, the exhibitions will host the owner's private art collection
the stacked nature of the volumes appear to increase in height towards the heart of the building. on the ground level, the program will offer opportunities for large scale art works and installation. meanwhile the boxes get smaller upstairs to exhibit more smaller, intimate scale works of art. lastly, the central atrium, composed with timber blocks ,provides the circulation to each level and invites the natural light from the large skylight above.

a skylight at the core will invite light into the space

the museum is planned in the city of eskisehir, turkey
Save
Save
Save
Save
Save
Save
Save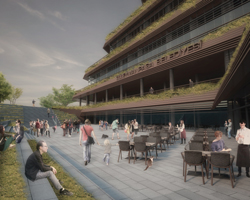 oct 22, 2017
oct 22, 2017
oct 18, 2017
oct 18, 2017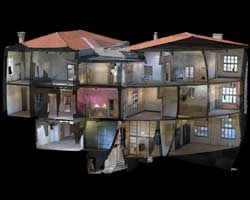 oct 06, 2017
oct 06, 2017
sep 24, 2017
sep 24, 2017
may 20, 2017
may 20, 2017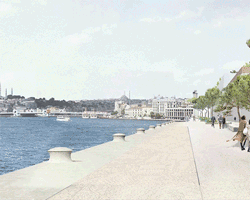 may 05, 2017
may 05, 2017
nov 02, 2017
nov 02, 2017
oct 18, 2017
oct 18, 2017
oct 09, 2017
oct 09, 2017
oct 06, 2017
oct 06, 2017
aug 20, 2017
aug 20, 2017
aug 01, 2017
aug 01, 2017