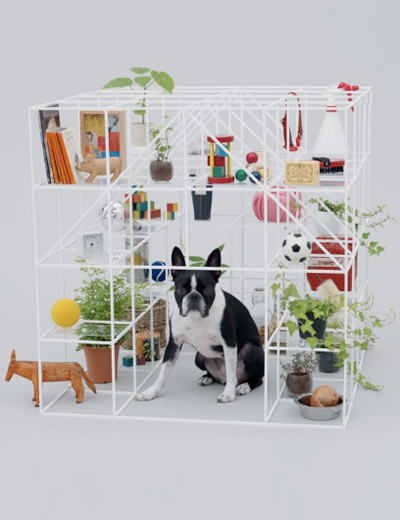 nov 18, 2012
architecture for dogs DIY canine structures by famed architects and designers
'D-tunnel' by kenya hara for the teacup poodle
'architecture for dogs' is a project curated by japanese art director and designer kenya hara in which he invited renowned architects and designers including the likes of kazuyo sejima, kengo kuma, toyo ito, sou fujimoto, torafu architects, shigeru ban, as well as hara himself, to develop various structures for man's best friend. the result is a collection of 13 architecture typologies for pooches, each one taking into consideration a different breed of dog.
the initiative's web-site has now officially gone live: http://architecturefordogs.com, where one is free to browse through the various constructions, which are available as downloadable blueprints, so if you see one that you like, you yourself can make it for your canine companion right in the comforts of your own home. the project will officially debut to the public at design miami/ 2012 in the miami design district.
see designboom's initial coverage of 'architecture for dogs' curated by kenya hara here.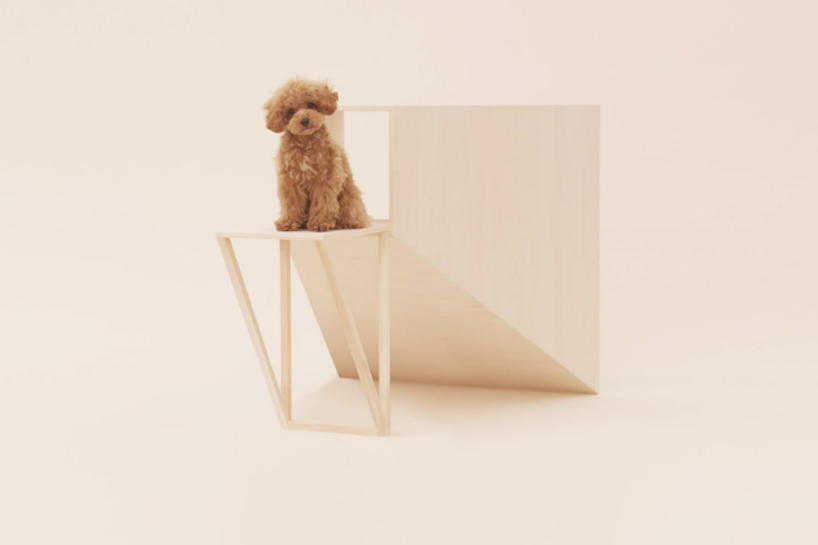 the structure has been built so that dogs may be at the proper height to see its owner eye-to-eye
'when the dog runs up the stairs, he ends up at just the right height to be face-to-face with a person. I thought up a device/installation that equalizes human scale and dog scale, or in other words, a scale modifier. as an exhibition planner, it may be in my infancy, but I felt it necessary to take the initiative in representing the viewpoint of this project. with this product, my focus was a scale that achieves equilibrium. people have designed their environments to their own scale. for instance, each step of a stairway is 15cm high, around the world. this came to be naturally because of the height of humans and the length of their feet. the same goes for the heights of chairs and tables, the existence and size of doors, in fact, the size of houses and cities are predicated on the human body. accordingly, dogs, who spend their lives at the side of humans, must accept human scale. this architecture is an apparatus for the purpose of naturally bringing dogs and humans eye to eye. as for those super-small dogs, who spend all their time looking up, definitely let them try it out!' – kenya hara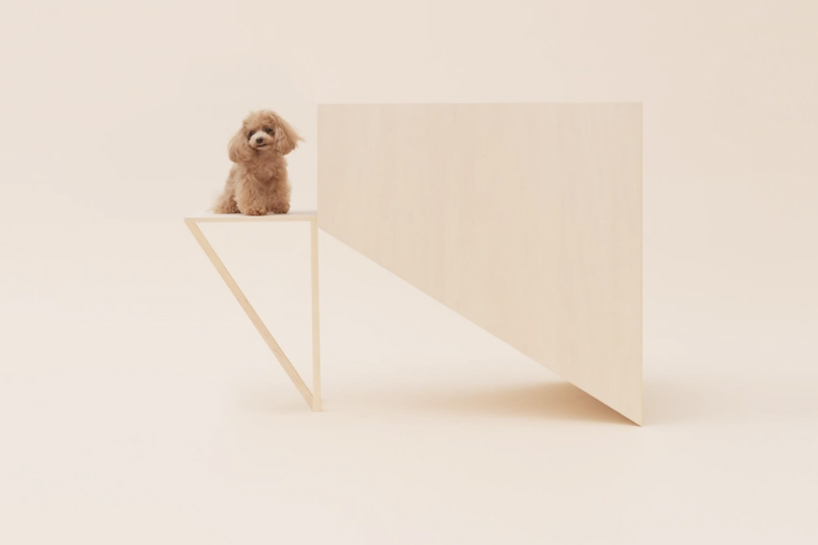 each stair is 15cm high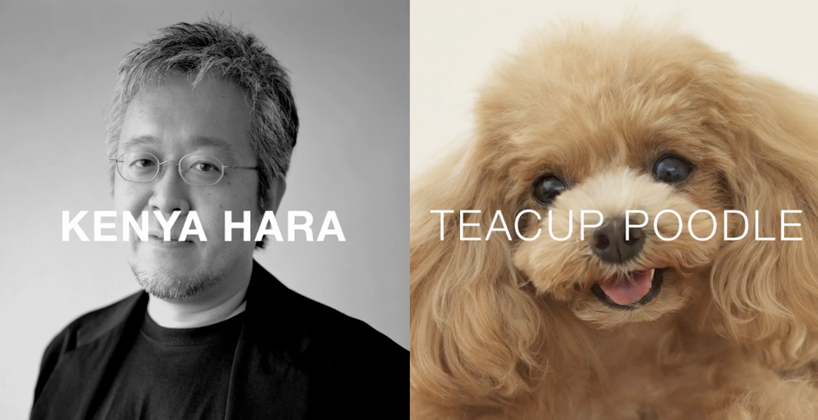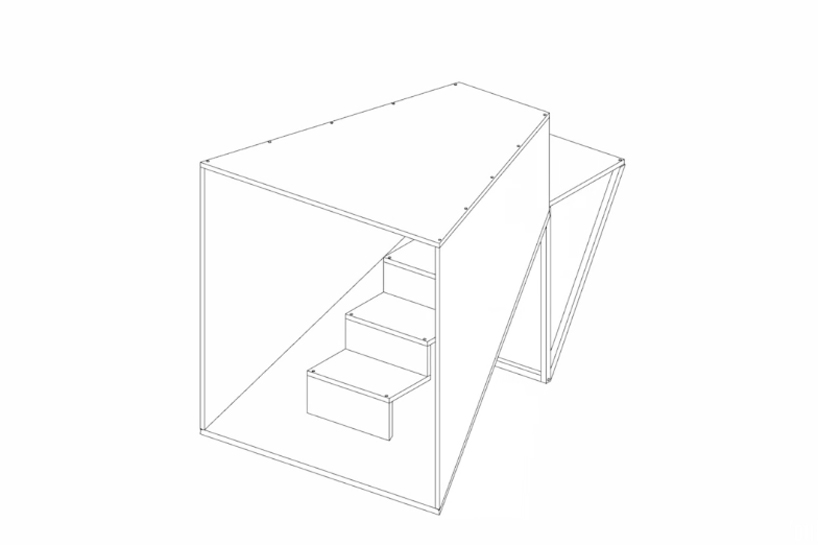 technical drawing of 'D-tunnel'W700 x D1000 x H700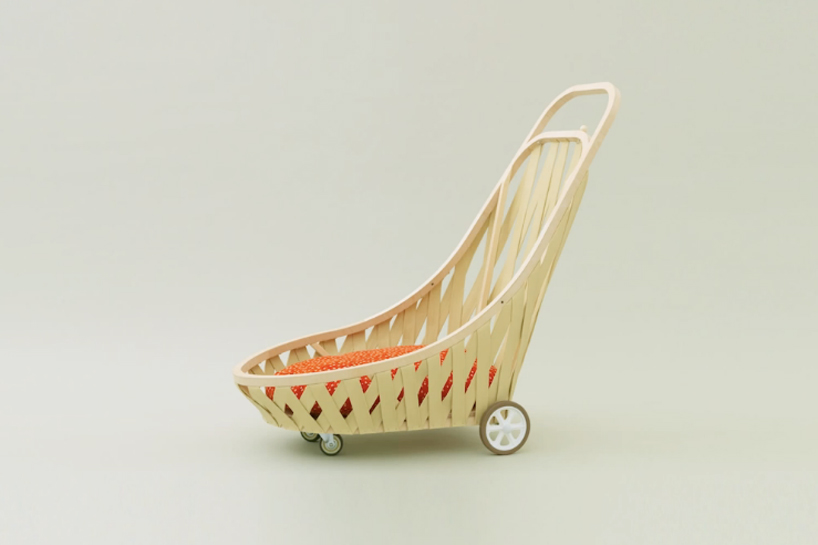 'mobile home for shiba' by toyo ito for the shiba
'whether it rains all day, or the asphalt is hot, whether the dog has aged and its legs and loins are sore, dogs want to go out for a walk with their owners everyday. I conceived of this 'doghouse for walks' as a way to at least slightly lighten the burden on dogs in these circumstances. I attached tires to a well-ventilated wooden basket; put in a soft, fluffy cushion; added an adjustable shade to lessen the effects of bright sunshine or rain, and created a place as comfortable as the shade of a tree. the crate floor is designed to be as close to the ground as possible so that the dog could board and disembark by itself. in addition, because it can act as a bed that fits in the entryway or inside the house, it is even more of a mobile doghouse. dogs will certainly look forward to a graceful walk with their owners, rocked in this swaying ship-shaped basket.' – toyo ito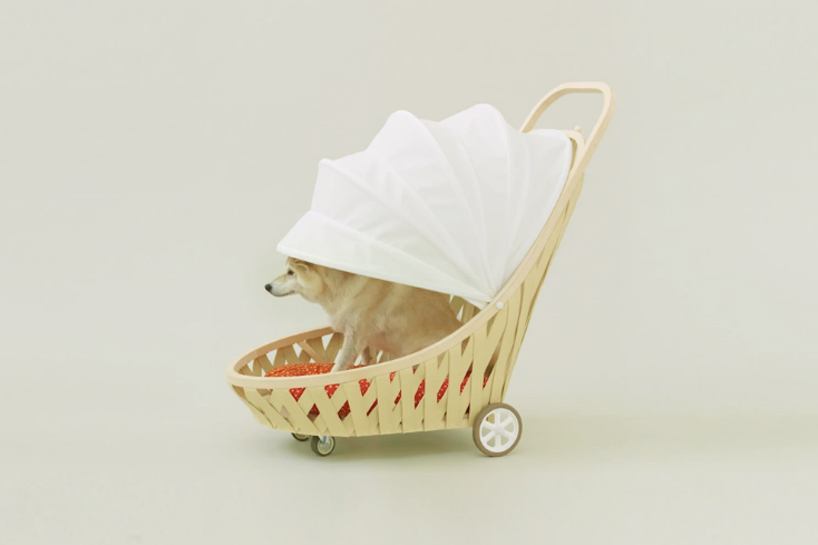 the design is a 'dog house for walks'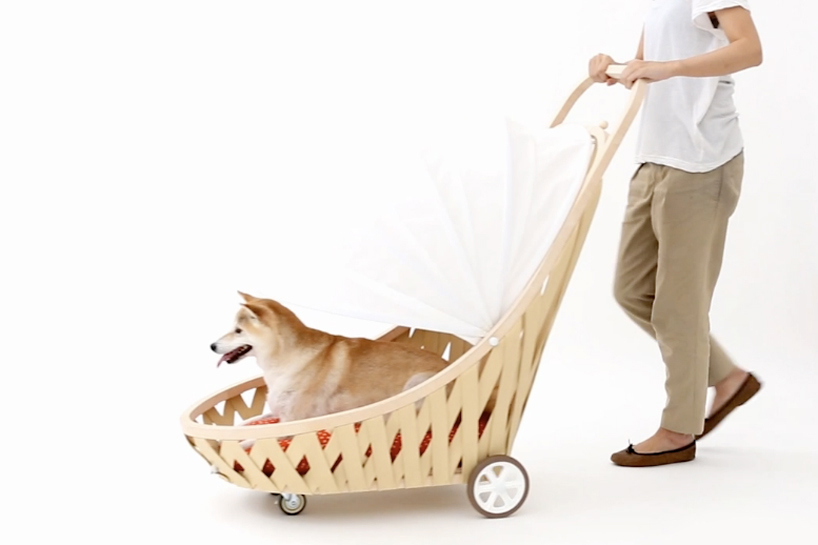 the cart is meant to lighten the burden on dogs during walks, particularly on hot sunny days or wet rainy ones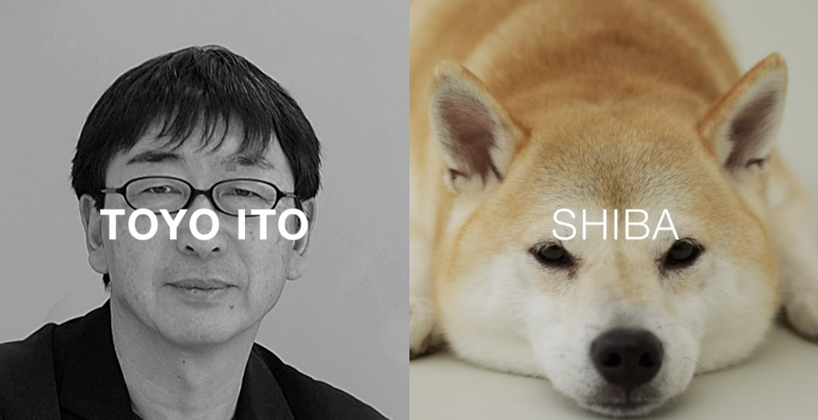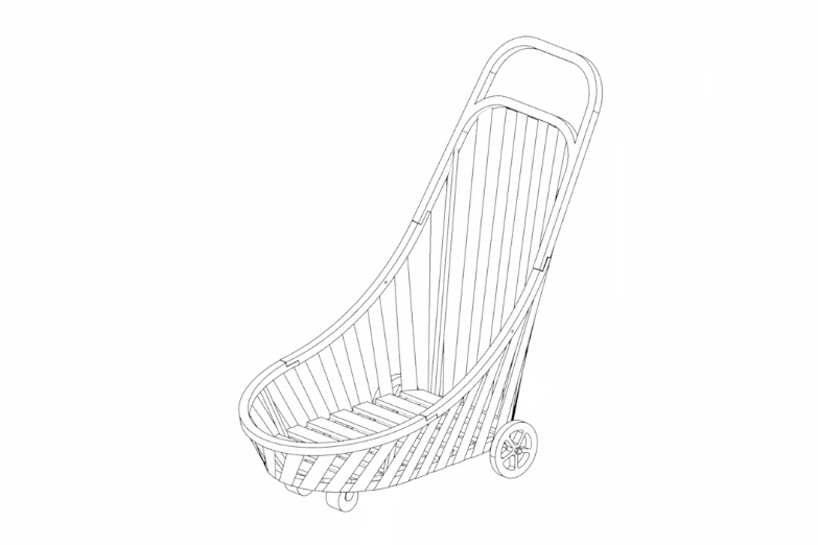 technical drawing for 'mobile home for shiba'W1073 x D540 x H1020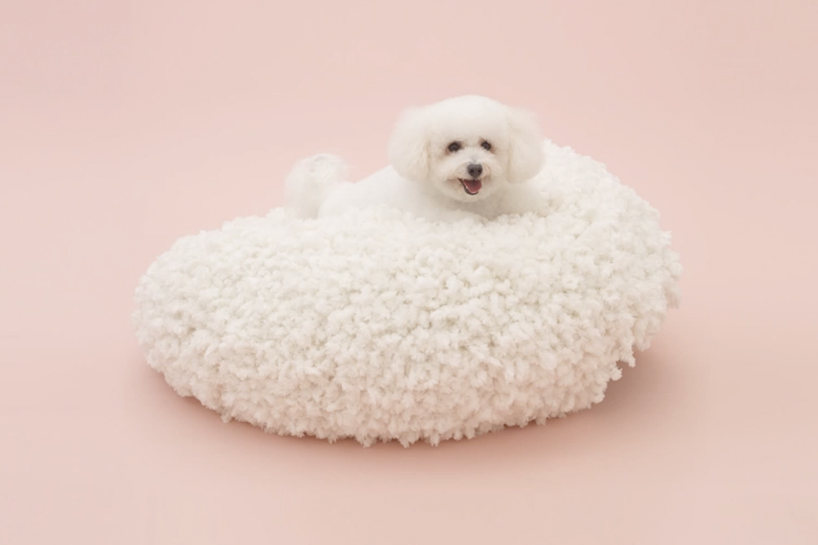 'architecture for the bichon frise' by kazuyo sejima for the bichon frise
'the fur of the bichon frise is distinct. extremely white, soft and fluffy, it's like cotton candy, or a whisp of cloud. this architecture resembles the bichon frise–with its fascinating fur, but one size larger. the overall shape is that of a slightly compacted sphere offering the ideal indentation, a space in which a bichon frise could be comfortably settled. our goal was to create a shape that would be completed by the reclining bichon frise. dog and architecture would become one. the structure is simple; we took mdf [medium-density fiberboard], cut it into a belt shape, and rounded it into a ring; by gradually changing the length of the radius of each ring, we laid out the rings in a radial pattern and bound each component with kite string. we then created the surface by using a knitting method that rendered a very fluffy appearance. there is a small hole in the back of the structure, through which the bichon frise can enter and leave.' – kazuyo sejima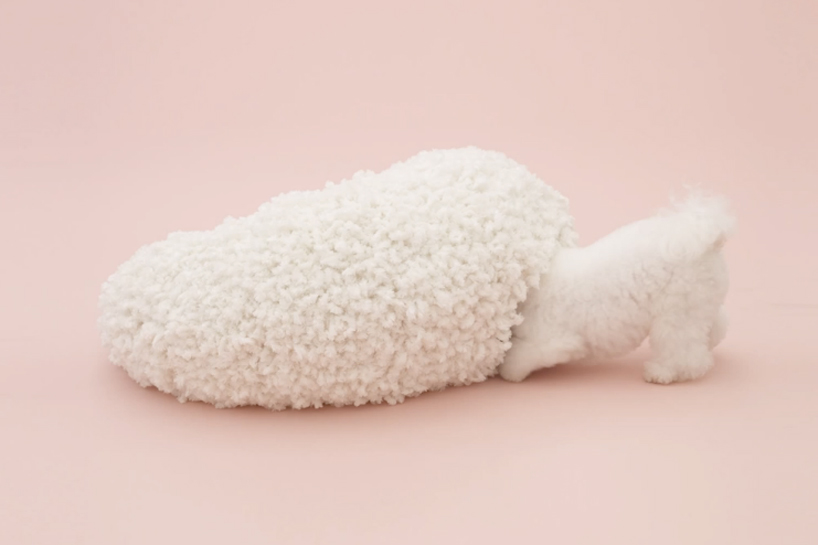 kazuyo sejima's design is meant to resemble that of the dog for which it has been created for, the bichon frise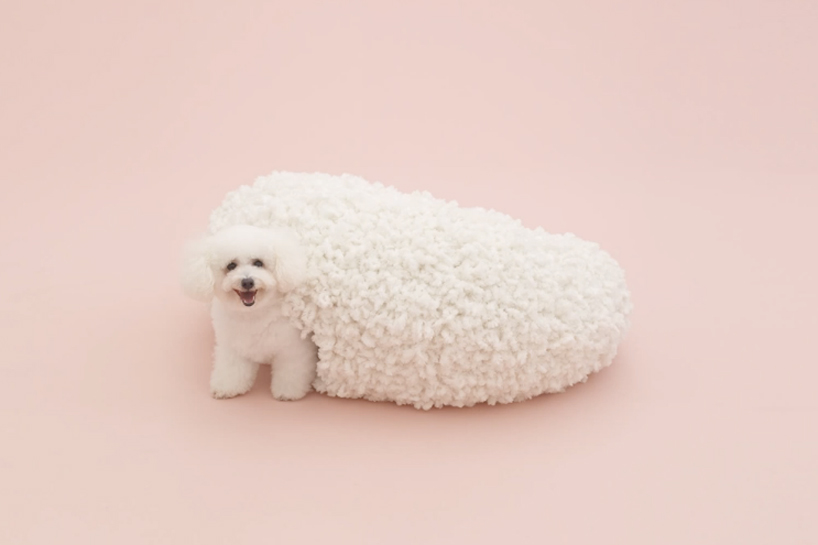 a small opening has been incorporated into the resting space for which a bichon frise can enter and exit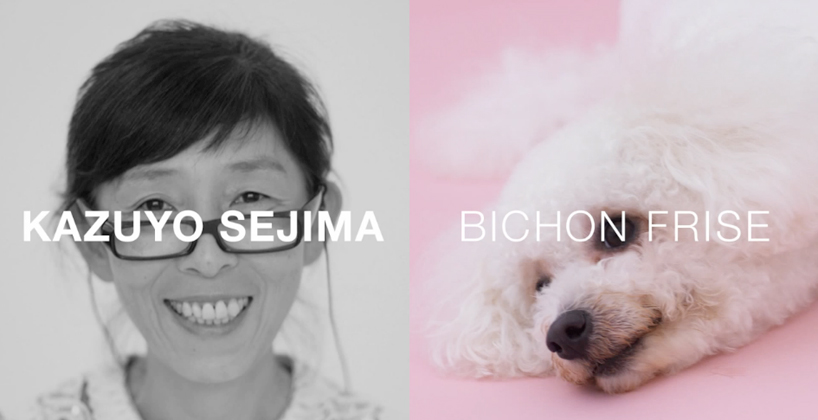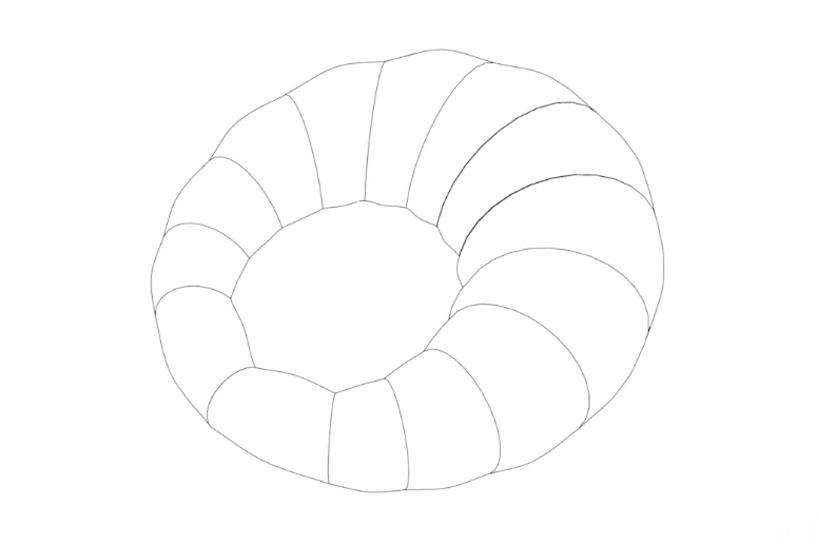 technical drawing for 'architecture for the 'bichon frise'W950 x D950 x H400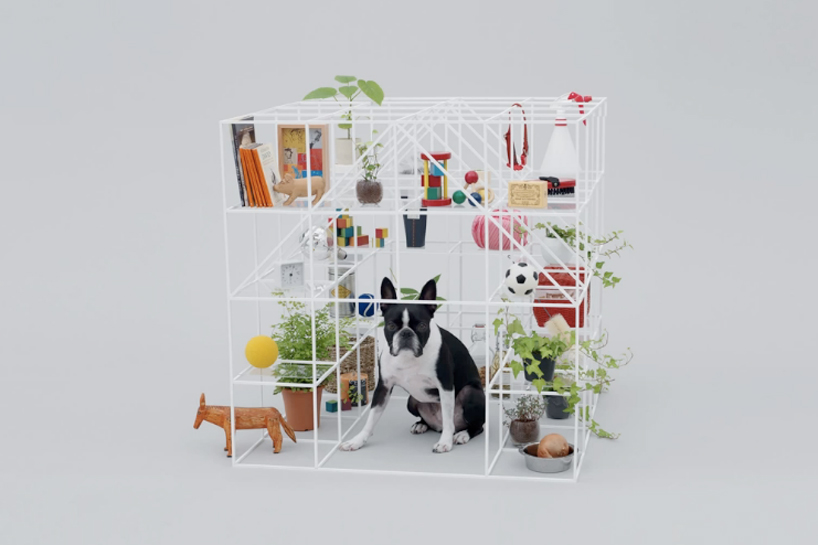 'no dog, no life!' by sou fujimoto for the boston terrier
'this is the house where the dog lives, inside the house where the people who own the dog live. this architecture is a living space for the dog, as well as furniture for the people, a garden within the house, as well as a gentle boundary between the people and the dog. our plan offers a house in which can be combined many different things that arise in the humans' and dog's living space, architecture for a space that holds a new abundance. we've taken small (7mm) square panels of hinoki [japanese cypress] to make a grid pattern in which each square is 200mm, to which we've attached 2mm-thick transparent acrylic board, in essence creating a structure that looks like a 800mm-cubed shelf. the hollowed out interior section of this lattice functions as the dog's residence, while on top of the clear shelf are stored various things for either dogs or humans: a collar; a dish; books; a plant…. this scenery, in which various things relating to daily life surround the dog, overflows with chances for the dog to proactively get involved in that daily life, and projects a new relationship between humans and dogs. humans artificially turned dogs into pets. dogs, as pets, therefore lose their animal understanding. no dog, no life! is a new architectural space meant to act as a framework within which humans and dogs can, as they live together, interact proactively.' – sou fujimoto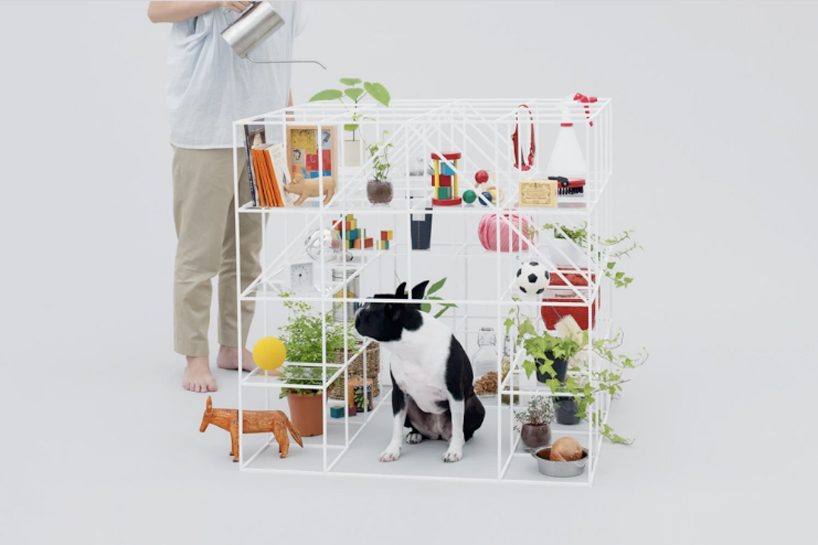 'no dog, no life!' is conceived as a furniture object which serves both dog and owner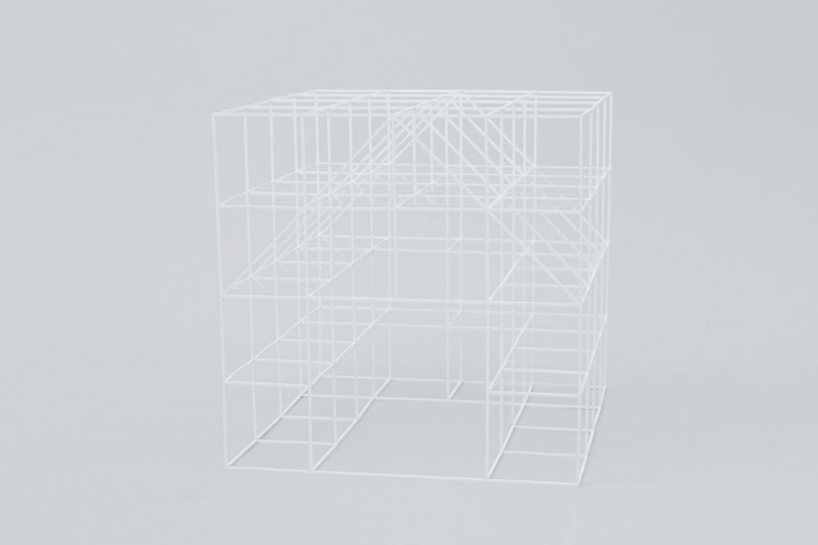 in its bare form, the structure looks like an 800 mm-cubed shelf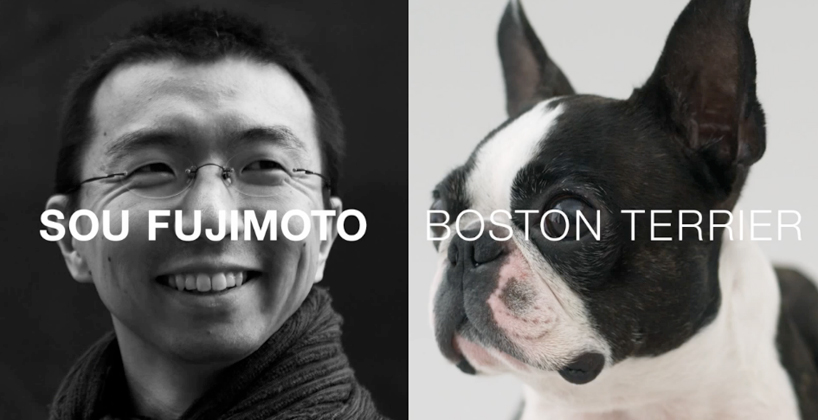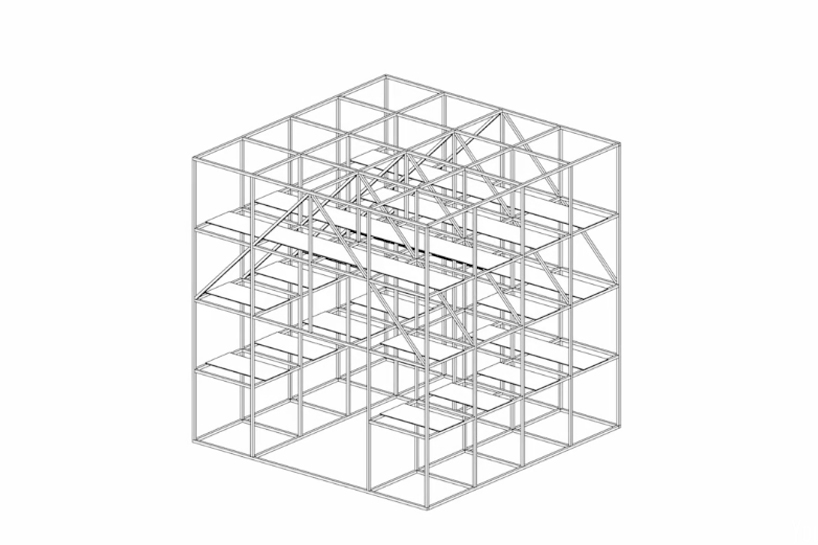 technical drawing of 'no dog. no life!'W800 x D800 x H800
'no dog, no life!' by sou fujimotovideo courtesy of architecture for dogs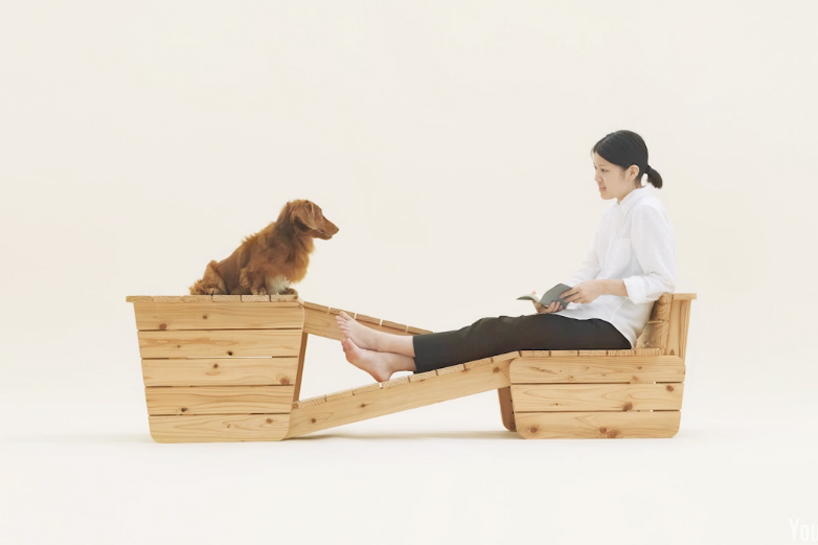 'architecture for long-bodied-short-legged dog' by atelier bow-wow for the dachshund smooth
'because of their short legs, it's hard for dachshunds to meet their masters' eyes. also because of their short legs, it's hard for them to get up on chairs. is there no good way to get closer to the eyes? stairs? with those long bodies, they may throw out their backs. how about something like a folded slope? this works. let's make it long enough so a person can lie down too. sunbathing with your dachshund on the veranda is good. the area under the slope is like a burrow for small animals. they can train there, digging down to catch their prey. if you connect several, they can go anywhere, and form any shape. multiple stacks in an atrium space make a ramp for the dogs to go upstairs.' atelier bow-wow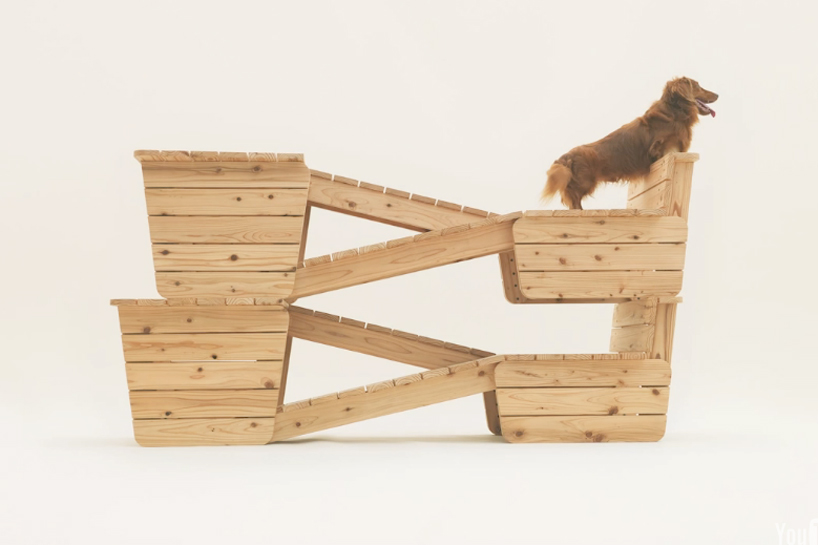 taking into consideration the physical build of the dashchund and their short legs, atelier bow-wow have designed a ramp system to make it easier for them to climb stairs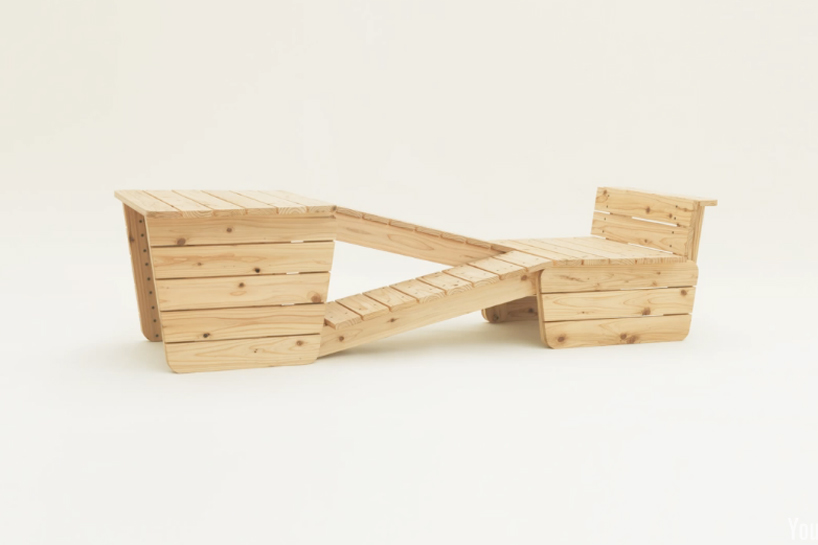 the sloping ramps also offer the owner a place to lounge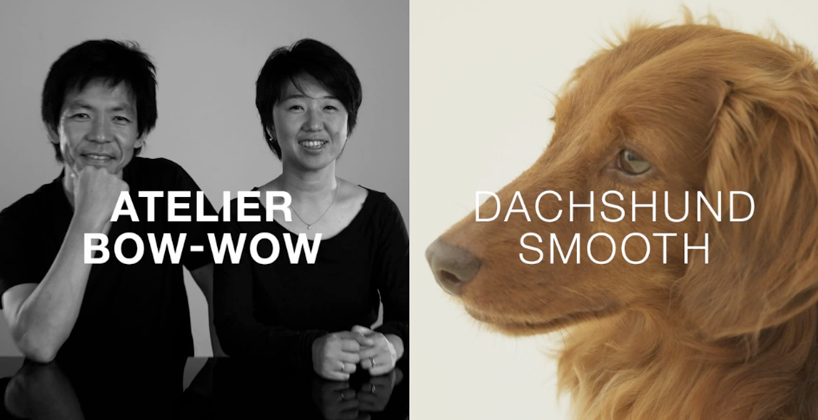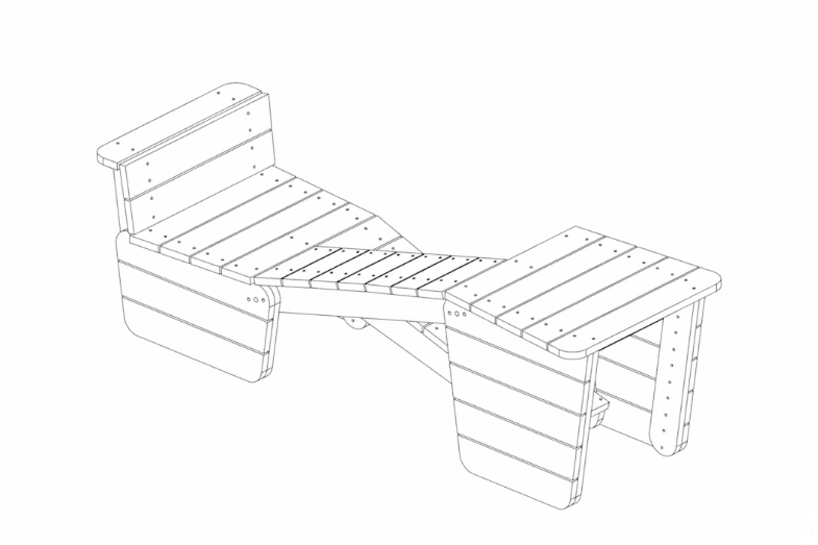 technical drawing of 'architecture for long-bodied-short-legged dog' by atelier bow-wowW1630 x D587 x H490
jan 04, 2013
jan 04, 2013
dec 16, 2012
dec 16, 2012
dec 16, 2012
dec 16, 2012
dec 15, 2012
dec 15, 2012
dec 15, 2012
dec 15, 2012
dec 11, 2012
dec 11, 2012
mar 25, 2020
mar 25, 2020
jan 31, 2020
jan 31, 2020
dec 24, 2019
dec 24, 2019
feb 28, 2020
feb 28, 2020
jan 31, 2020
jan 31, 2020
jan 10, 2020
jan 10, 2020
a diverse digital database that acts as a valuable guide in gaining insight and information about a product directly from the manufacturer, and serves as a rich reference point in developing a project or scheme.