atelier urban face — inspired by the story of wind — placed a village of small structures on mount royal, montreal. together, they read like bowing trees: wind-pushed and sensitive to surrounding environmental pressures. the little buildings are, as the designers phrase it, 'actors participating in the poetry of a place.'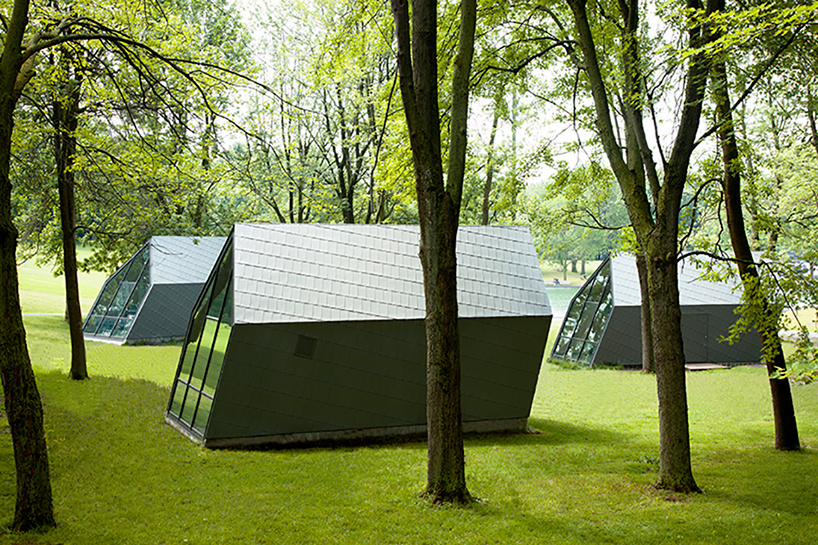 image by normand rajotte
the place (mount royal) is a true landmark of montreal: it's artistic landscapes such as these that balance stressful bouts for perfection in urban architecture, with simplicity. it's a landscape such as this that allows a moment of pause in the snow or grass, and within that pause, possibly, joy. these honest structures carefully try to grant us this joy; they bend to varying degrees with the trees; they don't alter the intrinsic qualities of the mountain; if they tell a story, they tell an old one.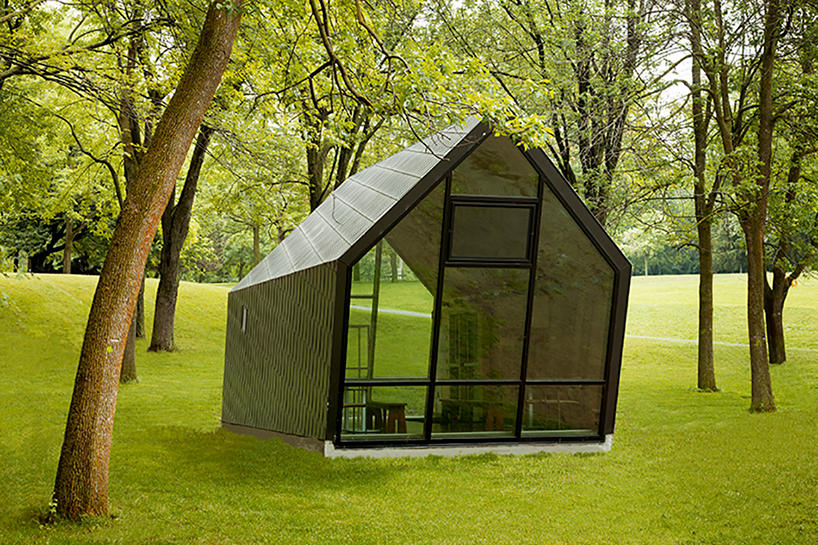 image by normand rajotte
there are three building models, each varying in size and direction, slightly. the first leans at ten degrees, another at twenty degrees, and the last, at thirty. the three kiosk types are scattered among each other, randomly, so that no one building or pavilion, or tree, or waterfall nearby leads a particular path of priority. instead, spontaneous positioning creates endless, meandering paths that are as unexpected as nature, and as intentional as roads. together, it all paints an impressionist village community that gathers together in difference and in likeness.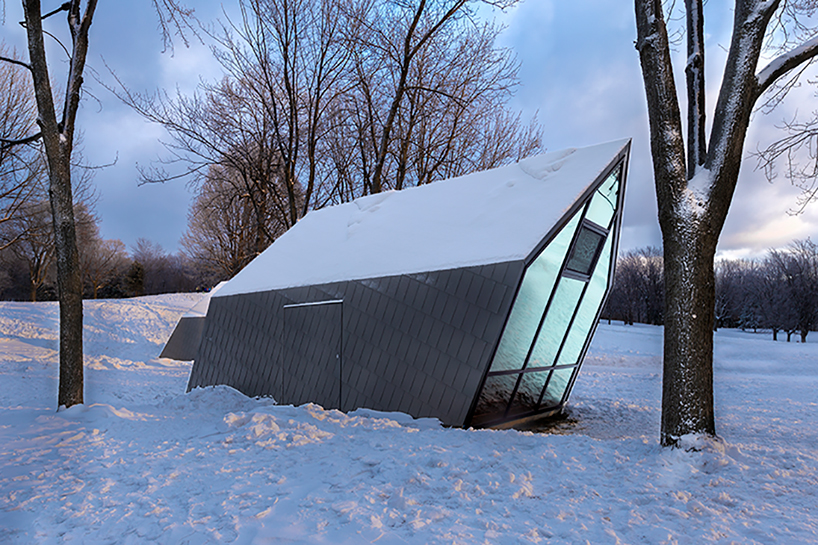 image by fany ducharme
the first kiosk, bowing ten degrees, can accommodate 30 people and offers several opportunities for activities. the second kiosk, twenty, integrates the little village's service equipment and first-aid station. the third, with 30 degrees of inclination, houses the ticket office and storage space for recreational equipment.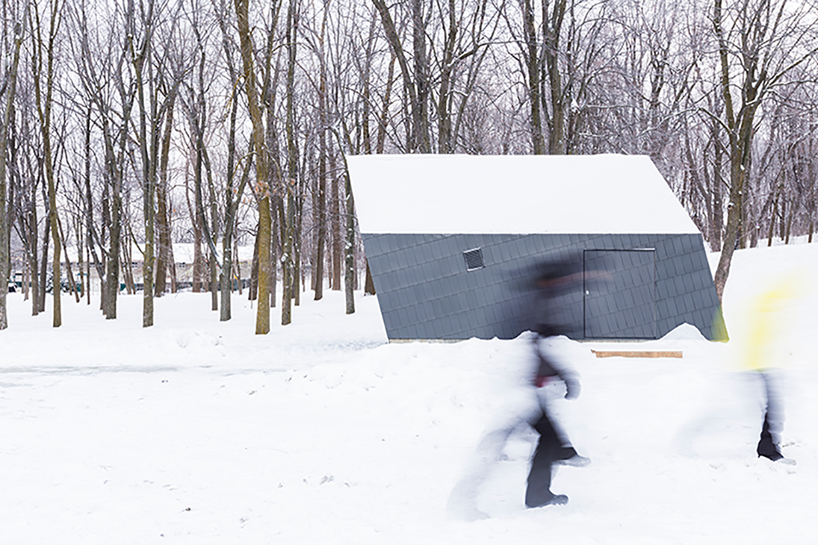 image by fany ducharme
through the woods, some cabins are visible, others are not. up close, they are simple, hollowed out, and punctuated by transparency at their ends. their neutral colors — dialogues of light and shadow — communicate back and forth on the mountain; roofs are covered with zinc tiles, each cut and arranged uniquely to respect the likeness of individual structures. at each hour of the day, the color of these tiles changes according to the brightness of the landscape, until the evening comes, when they strongly hold the light of their particular cabin in place like sideways lanterns.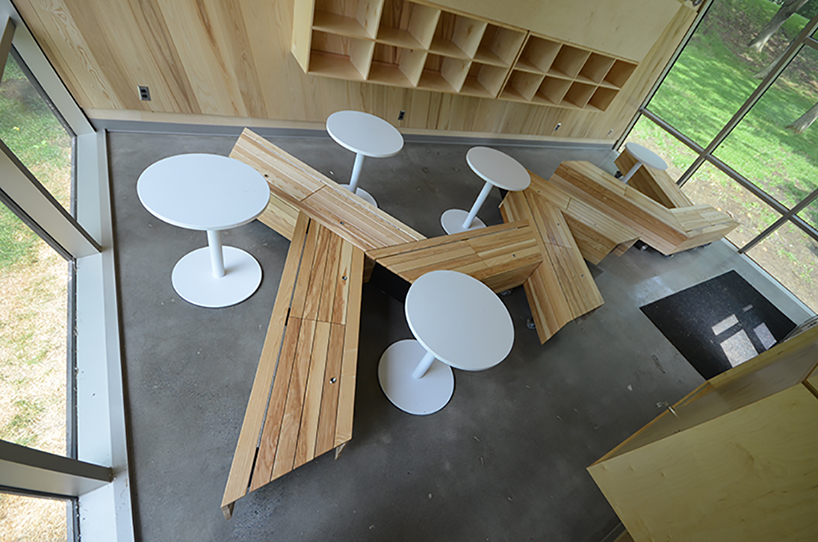 image by sylvain legault
beating sun, rocking wind, leaning buildings: on mount royal, atelier urban face has achieved synergy, and balance in a pretty catching way, but most importantly, they have designed structures to adapt to nature, instead of nature adapting to structures. they have highlighted the dynamic movement of the mountain. they have created a painting to get lost in.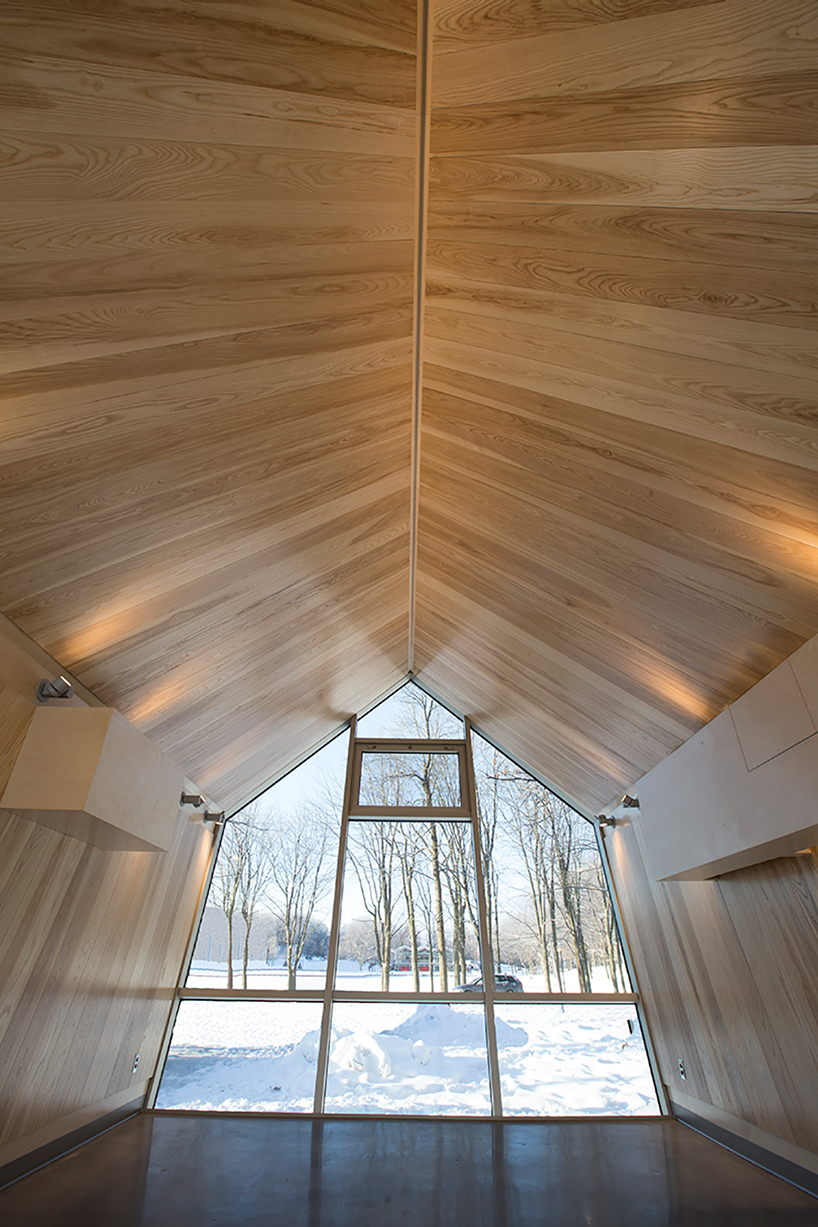 image by fany ducharme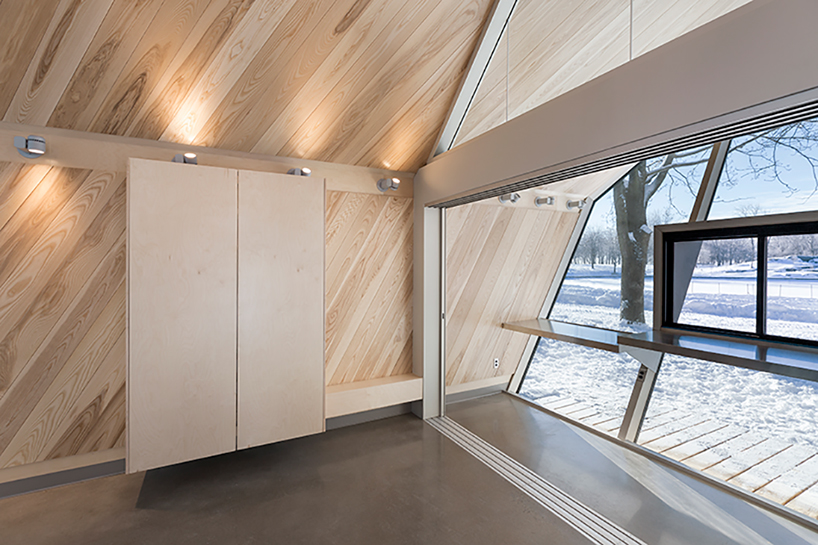 image by fany ducharme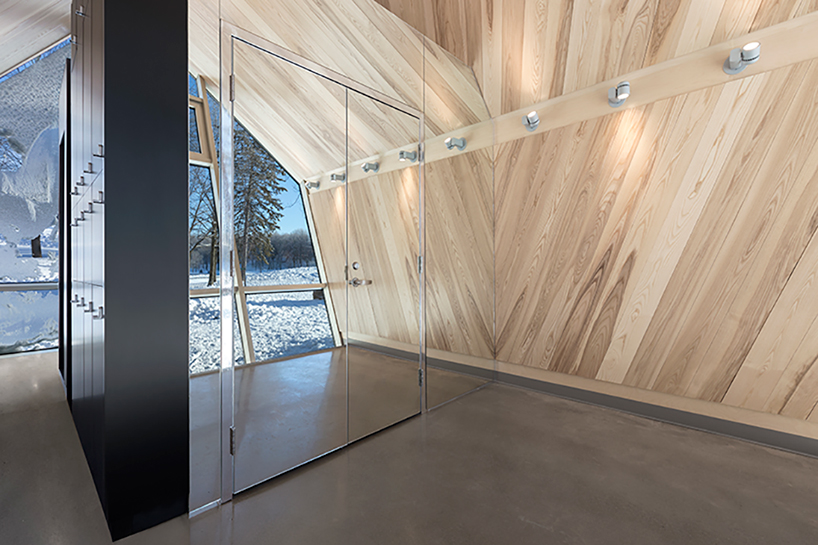 image by fany ducharme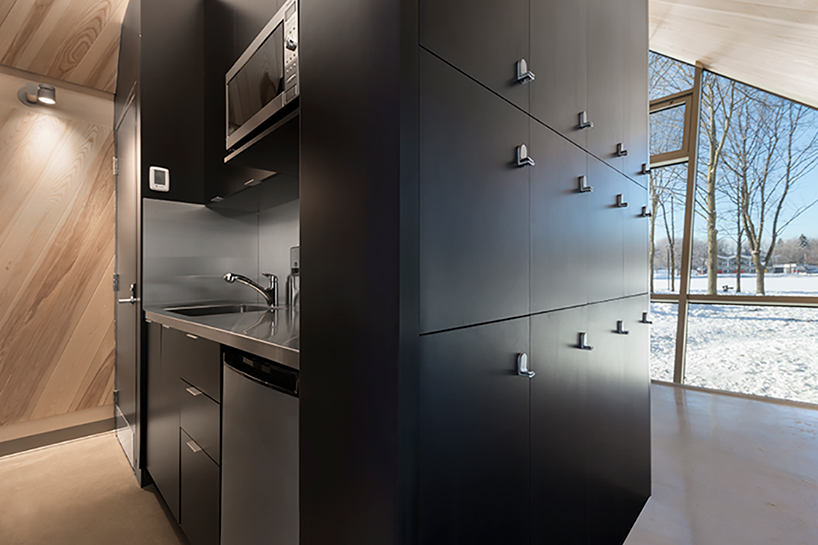 image by fany ducharme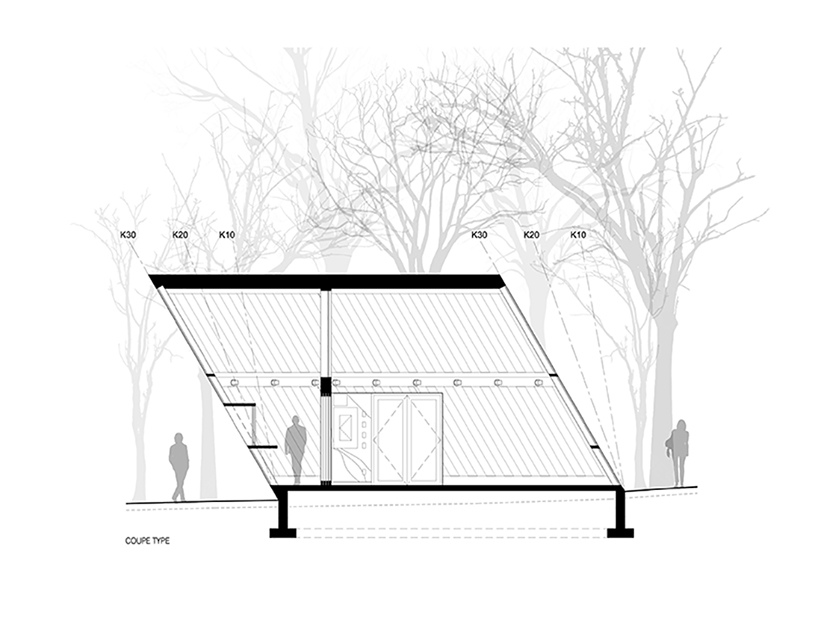 image courtesy of atelier urban face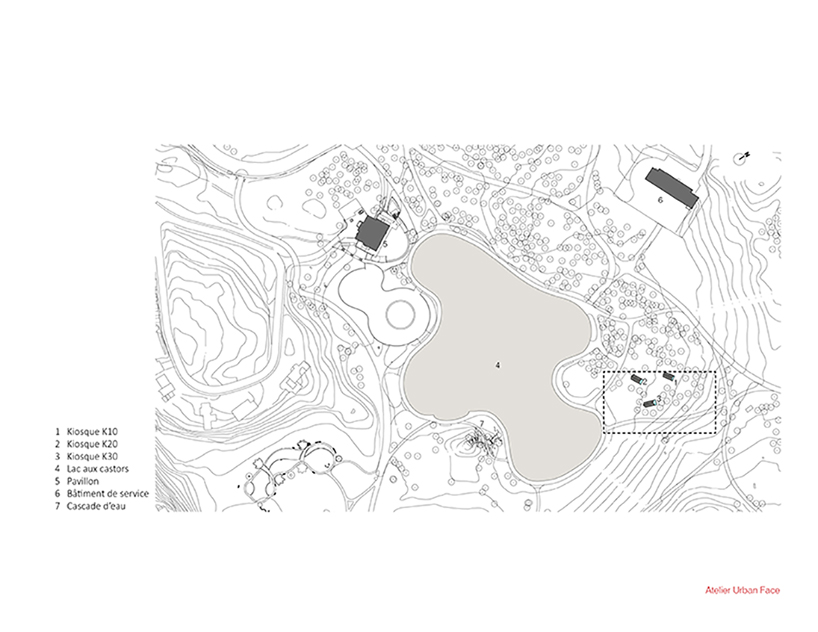 image courtesy of atelier urban face
project info:
location: mount royal park, montreal, canada
architect: atelier urban face
architecture team: sylvie perrault, pierre morency, genevieve bouthillier-martel, émilie fortier and éloize cotnoir.
other professionals: cpf groupe conseil; pascal fortin and patrick coutu. moise saban consultants; moise saban. hubert blanchette inc. hubert blanchette and suzanne brosseau
photographer: fany ducharme, normand rajotte, sylvain legault and sylvie perrault
apr 07, 2018
apr 07, 2018
mar 07, 2018
mar 07, 2018
feb 26, 2018
feb 26, 2018
feb 14, 2018
feb 14, 2018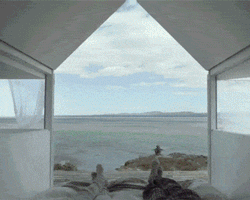 jan 22, 2018
jan 22, 2018
dec 11, 2017
dec 11, 2017
apr 14, 2018
apr 14, 2018
mar 15, 2018
mar 15, 2018
feb 09, 2018
feb 09, 2018
apr 02, 2018
apr 02, 2018
mar 15, 2018
mar 15, 2018
mar 05, 2018
mar 05, 2018
a diverse digital database that acts as a valuable guide in gaining insight and information about a product directly from the manufacturer, and serves as a rich reference point in developing a project or scheme.