krisna cheung architects has designed the 'cubby office' in north melbourne, a space designed to allow work and family to exist under the same roof. the firm — led by elisabet krisna and ray cheung — designed a structure that would allow them to work as professional architects while monitoring and engaging with their children, combining a sense of playfulness with a professional environment. 

the architects wanted to balance their lives as professionals and parents
all images © nic granleese
the core design component of krisna cheung architects' project is the use of a perforated metal sheet, which is used as the floor for the upper level. it serves as an element of surprise and playfulness and also inspired the 'cubby' concept behind the home. the metal sheet achieves both aesthetic and functional purpose: the translucent floor creates the feeling of a soaring high ceiling in the otherwise tight space.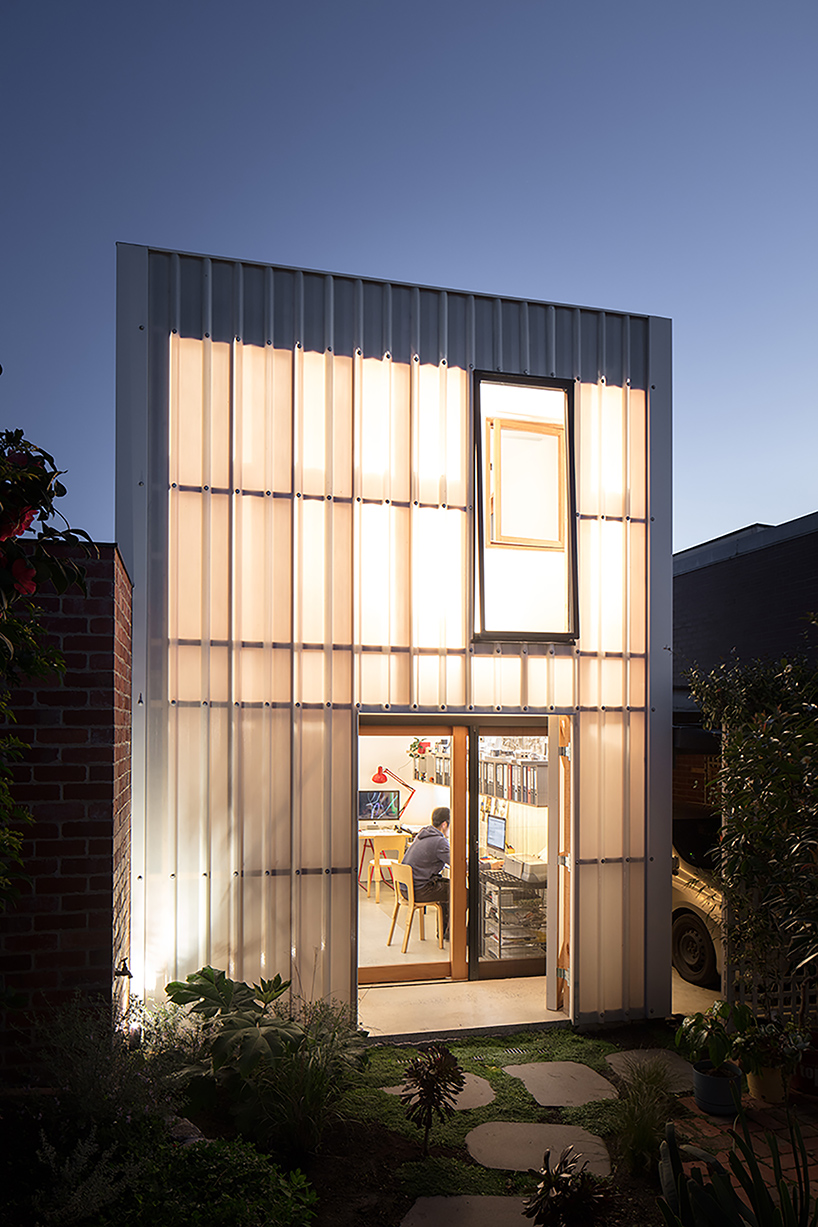 the translucent façade illuminates the home from the exterior
the permeable floor also enhances lighting and energy efficiency, as heat and air can circulate more effectively throughout the building. surprise and playfulness are integrated within the design as every nook and cranny has been maximized as storage. a 'secret' deck also provides the family with views of the city skyline. 

the firm is led by elisabet krisna and ray cheung

the transparent floor also causes the relatively small area to feel more spacious

the architects can focus on their work while maintaining close contact with their children

the perforated metal floor has both aesthetic and functional purposes

children can hear and see their parents below

the scheme allows for a mix of professionalism and play 

the small dwelling is enhanced by the use of efficient spatial arrangements

the double-story studio combines elements of surprise and playfulness

each nook and cranny has been maximized as storage

the skydeck provides views of the melbourne skyline
Save
Save
Save
Save
Save
nov 01, 2017
nov 01, 2017
oct 20, 2017
oct 20, 2017
oct 10, 2017
oct 10, 2017
oct 06, 2017
oct 06, 2017
oct 02, 2017
oct 02, 2017
sep 28, 2017
sep 28, 2017