jul 10, 2011
KUU: minus k house
minus k house' by KUU in nanhui, shanghai, china all images courtesy KUU image © jeremy san / stzernstudio
shanghai-based practice KUU (kok-meng tan, satoko saeki) has sent us images of their most recent project 'minus k house', a private dwelling adjacent to the client's slipper factory in nanhui, china. composed of two components – a weekend house and a residence for the worker – the design is a collection of 3m by 3m volumes that connect to one another to result in a flowing and porous circulation within.
looking in from the exterior image © jeremy san / stzernstudio
while the project was conceived as two separate residences, the design achieves a highly interconnected atmosphere for its inhabitants: a large table placed at the center of the layout acts as the anchor to the space with the rest of the house pinwheeling off of its point. the two kitchens and a pair of courtyards are placed at the table's four corners, enabling the clients' and the worker's families to cook facing one another through a diagonal opening.
facade image © jeremy san / stzernstudio
view of a courtyard image © jeremy san / stzernstudio
a series of intersection wall sections continue the language of the exterior to the interior, making transparent the design's box-like composition. passageways of each room seemingly spills on to each room, promoting a sense of free movement and openness. while largely connected, careful attention was paid to place the programs of the respective houses at an appropriate distance to promote a comfortable level of privacy. the project is an new type of structure that explores shared housing models at a small scale.
interior view image © jeremy san / stzernstudio
image © jeremy san / stzernstudio
image © jeremy san / stzernstudio
central table looking diagonally into other house image © jeremy san / stzernstudio
kitchen next to courtyard image © jeremy san / stzernstudio
image © jeremy san / stzernstudio
bedroom image © jeremy san / stzernstudio
schematic diagram
site plan
floor plan / level 0
floor plan / level +1
section a-a
section b-b
KUU
(3 articles)
sep 06, 2014
sep 06, 2014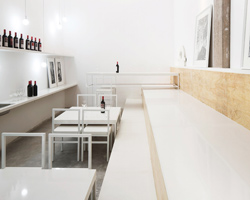 jul 09, 2011
jul 09, 2011