apr 18, 2013
museum of the history of polish jews by lahdelma & mahlamäki architects
museum of the history of polish jews by lahdelma & mahlamäki architectsimage © salminenall images courtesy of lahdelma & mahlamäki architects
the 'museum of the history of polish jews', designed by finnish firm lahdelma & mahlamäki architects in collaboration with local practice kurylowicz & assoc first began as a competition entry in 2005, and as of november 2014 is finally open to the public. the competition was won from amidst a panel of international participants that included studio daniel libeskind, kengo kuma, zvi hecker architects, peter eisenman, and david chipperfield.
glass facadeimage © salminen
the museum, titled 'yum suf' ('sea of reeds') is dedicated to the research and exhibition of the jewish heritage, education, and culture through a series of multi-functional programmatic elements in response to an increased public interest. the primary exhibition room is located under the main hall, with 5,000 square meters of open space loosely organized into different ambiances that aim to present the many facets that make up polish jewish culture and history. 
facade of silk-printed glass louversimage © salminen
the adjacent plaza that houses the ghetto uprising memorial became a fundamental starting point for the overall footprint of the concrete and steel structure, mirroring the proportions that led to a rectangular plan. the facade is a combination of vertical silk-printed glass louvers, expanses of curtain walls allowing views and sunlight into the building, and copper panels over their consequent seams. the most striking feature is the interior hall for which the project was titled. 
(left) detail of the vertical glass louvers(right) curtain wall detailimage © salminen
an enormous organic tunnel-like space, 'pure and silent', welcomes visitors to the museum and cuts through the orthogonal structure with its lightly textured concrete walls. soft gradient shadows and its constantly transforming sinuous nature finds roots in the old testament and at times abstractly references nature's phenomena. as of november 2014, the core exhibition of the museum is open to the public.
interior hall connection with facadeimage © salminen
image © salminen
entrance to exhibition spaceimage © salminen
undulating organic concrete walls of the main hallimage © salminen
detail of the main hallimage © markus wikar
image © markus wikar
project info:
project name: the museum of the history of polish jewsarchitects (firm): architects lahdelma & mahlamäki (finland) with local firm kuryłowicz & associates in warsawprincipal architects: finland/rainer mahlamäki with team riitta id ( – design phase), maritta kukkonen, miguel silva, jukka savolainen, markus wikar, mirja sillanpää -poland/stefan kuryłowicz (* passed), ewa kuryłowicz, paweł grodzicki (-design phase), marcin ferenc, tomasz kopec, michał gratkowskistructural engineering: arbo projekt, polandhvac engineering: pol-con consulting, polandcontractor: polimex – mostostal sa, polandcharacter of space: museum consisting of exhibition spaces, auditorium and officesclient: city of warsaw and ministry of culture, polandtenant: the museum of the history of polish jewstotal floor area: 18,300 sqmbuilding area: 4,400 sqmsite area: 12,442 sqmprincipal materials: silk printed glass, copper, concreteprincipal structure: concrete, steellocation: warsaw, park area surrounded be streets anielewicza, zamenthofa, lewartowskiego and karmelicka (belonged to the former jewish district)cost: 160 million pln (~39 million €, 48 million usd)
aug 15, 2017
aug 15, 2017
jul 06, 2017
jul 06, 2017
jun 02, 2017
jun 02, 2017
dec 10, 2014
dec 10, 2014
nov 10, 2014
nov 10, 2014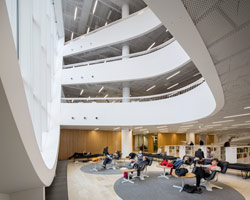 nov 08, 2013
nov 08, 2013
nov 10, 2014
nov 10, 2014
mar 25, 2011
mar 25, 2011