treehouse M designed by cambridge graduates andong lu and pingping dou of lanD studio is a weekend getaway home hoisted high into the tree canopies of mount qiyun, china. envisioned as an intimate space for couples, the tree house carefully negotiates full immersion into the natural park's landscape while maintaining a certain level of privacy for its guests. the project also incorporates some elements of traditional chinese design with a contemporary interpretation, as the floor plan is developed through a series of eight prefabricated modular frames that were elevated and opened into their final forms. using a timber and steel structure fabricated off-site, the project minimizes its construction impact on site and expedited the total build time while materials kept at their standard sizes further lends to the structure's recyclability.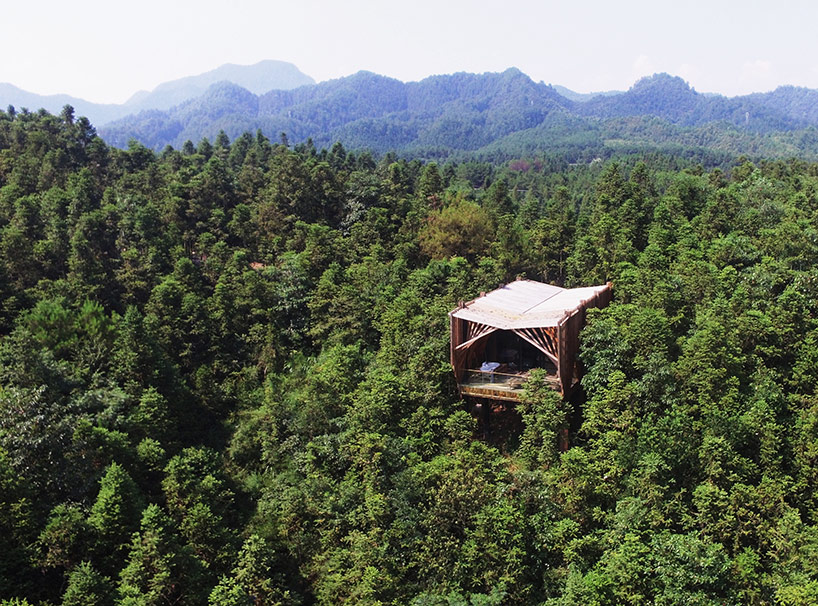 the tree house is located within a woodland resort, elevated high amid the treetops 
image © bowen hou (also first image)
a wooden walkway leads to the entry where spaced frames form a semi-covered portico with characteristic cross bracing that uses slightly offset positioning to form a more sinuous design element throughout the residence. upon entering, the dressing room and washroom flank a central hallway that leads to the main bedroom, conceived as a room within a room. linear windows along the wooden walls immerse the interior to the greenery outside, made private through the use of light curtains. at the far end, a glass wall with embedded door accentuates the M-shaped envelope, providing views down the lush valley and the mountains beyond. outside, the frame structure once again spaces out to form a semi-enclosed terrace with the shifting cross braces. a bathtub on the deck provides for an intimate space that fully immerses guests into the surrounding nature.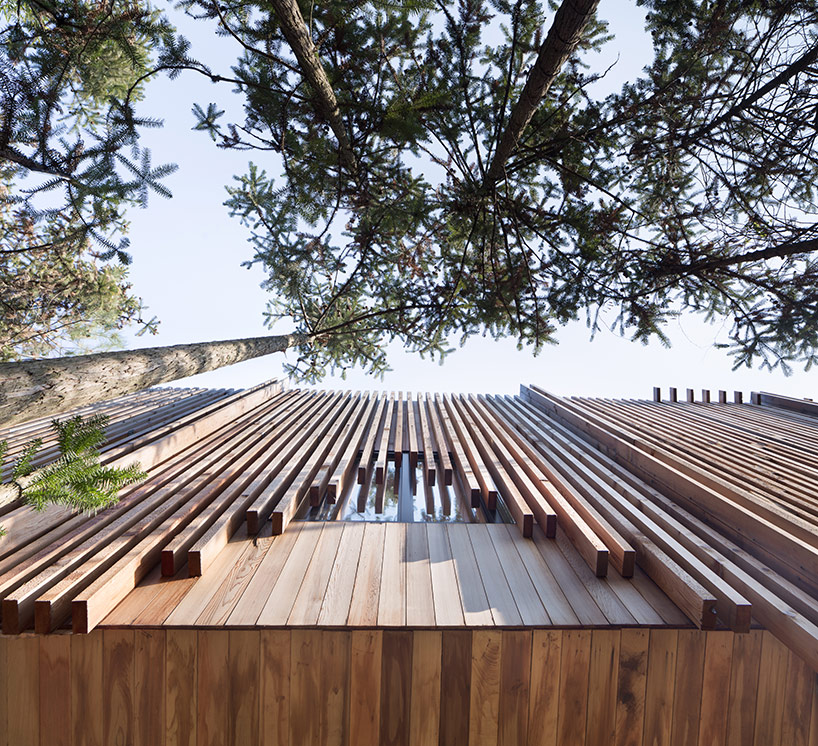 the primarily timber structure exhibits many functions, serving as the interior material and exterior cladding, with spaced planks that form louvers 
image © bowen hou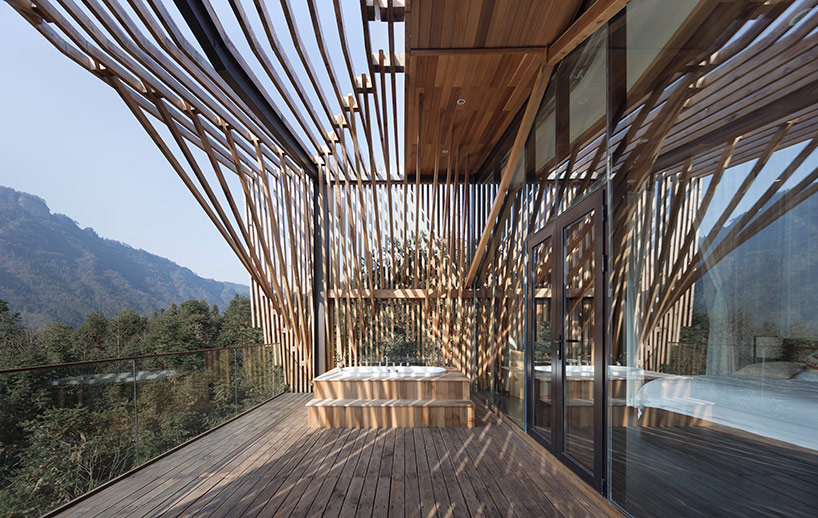 an exterior patio contains a bathtub enjoying views of the natural reserve, shaded and concealed by the wooden structure
image © bowen hou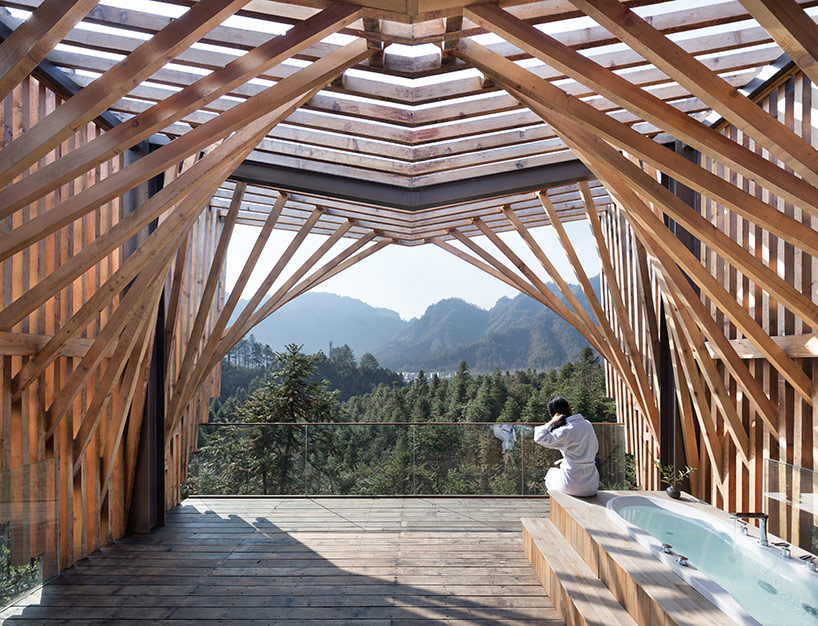 image © bowen hou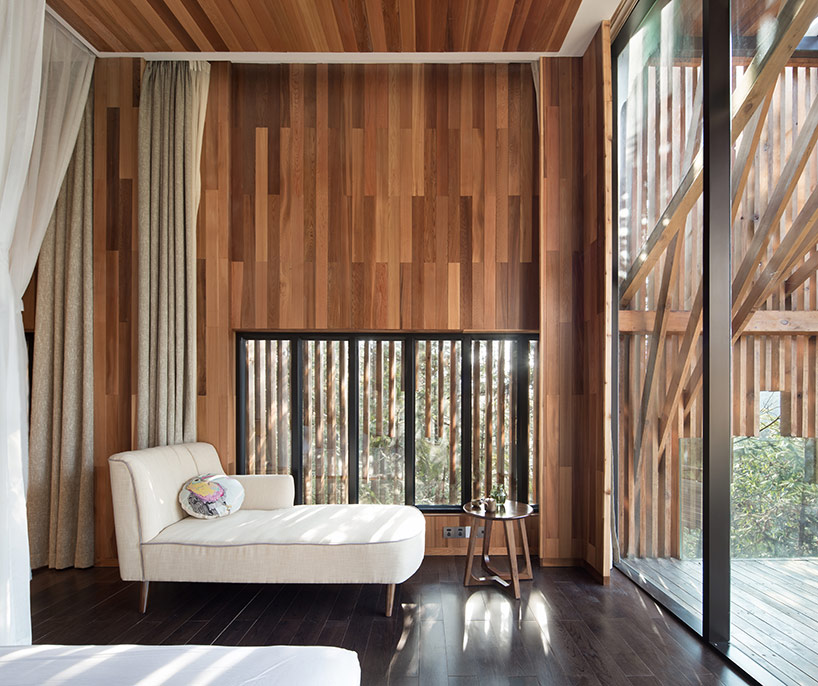 image © bowen hou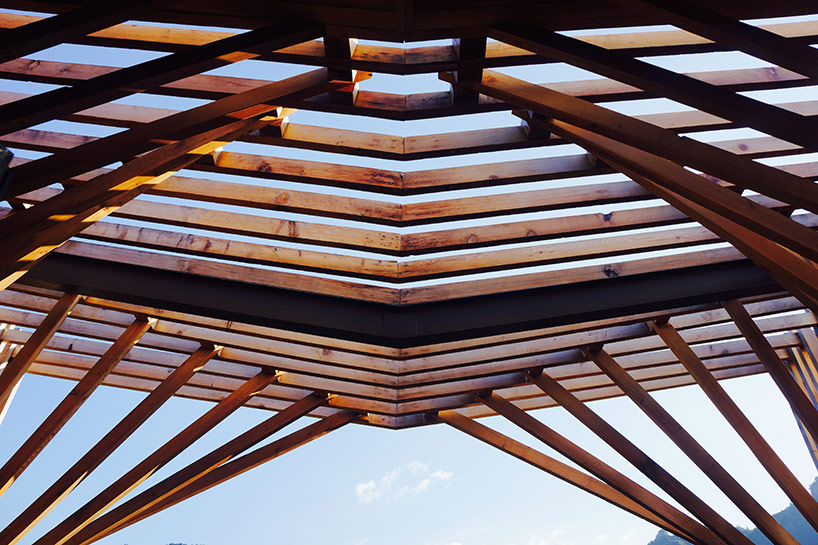 the playful wooden structure departs from traditional construction and accentuated the inverted roof structure forming a gentle M
image © bowen hou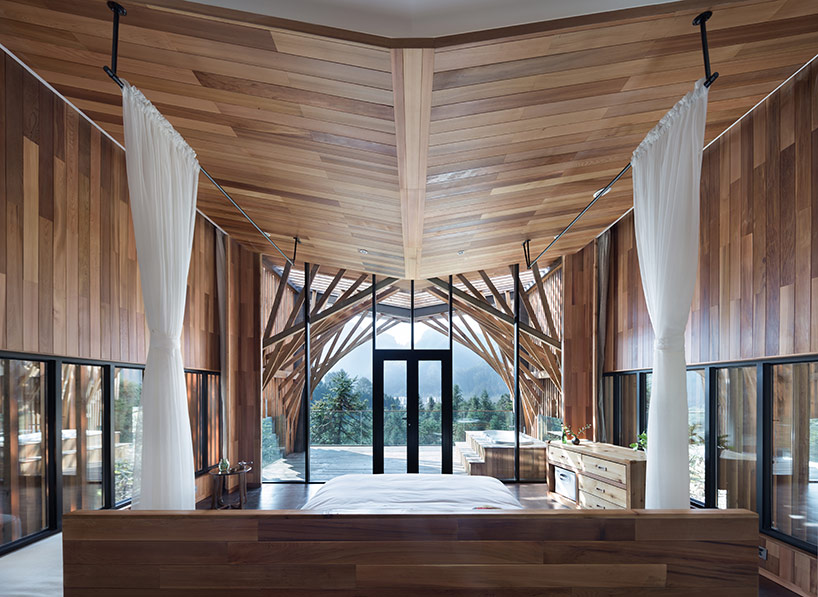 the main room contains two sets of curtains that can be pulled closed for various levels of light and privacy
image © bowen hou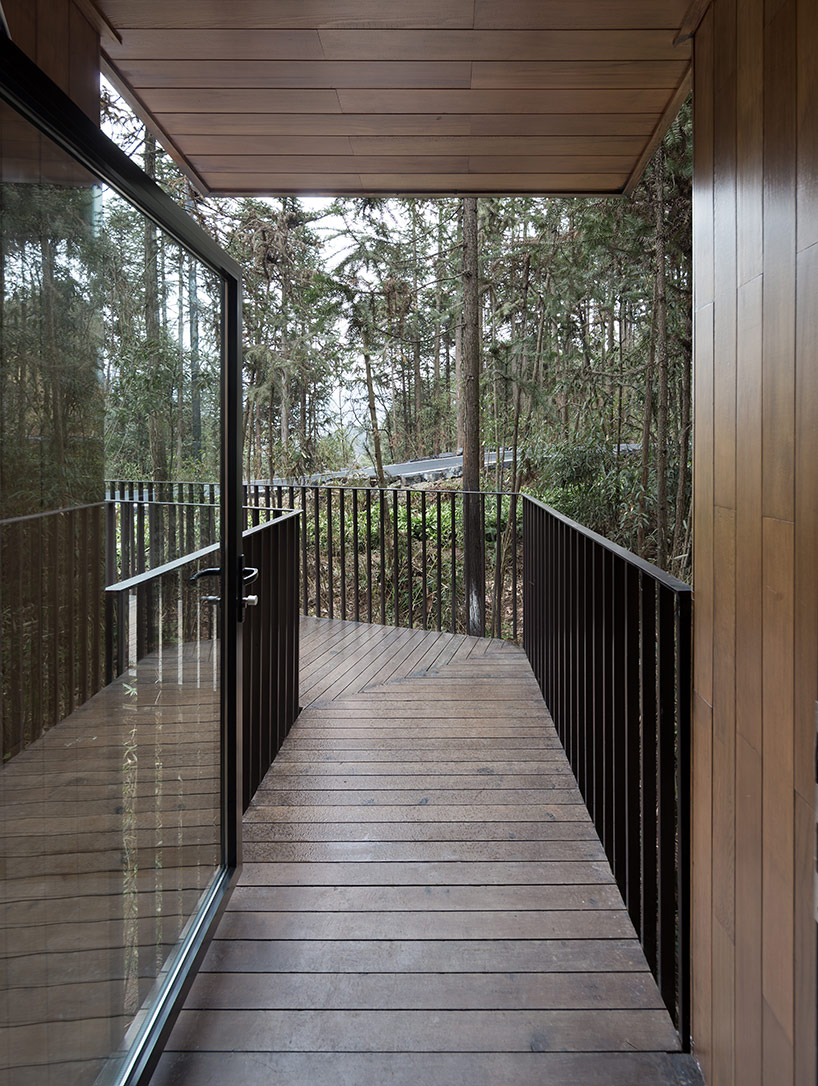 an elevated wooden walkway leads to the entry
image © bowen hou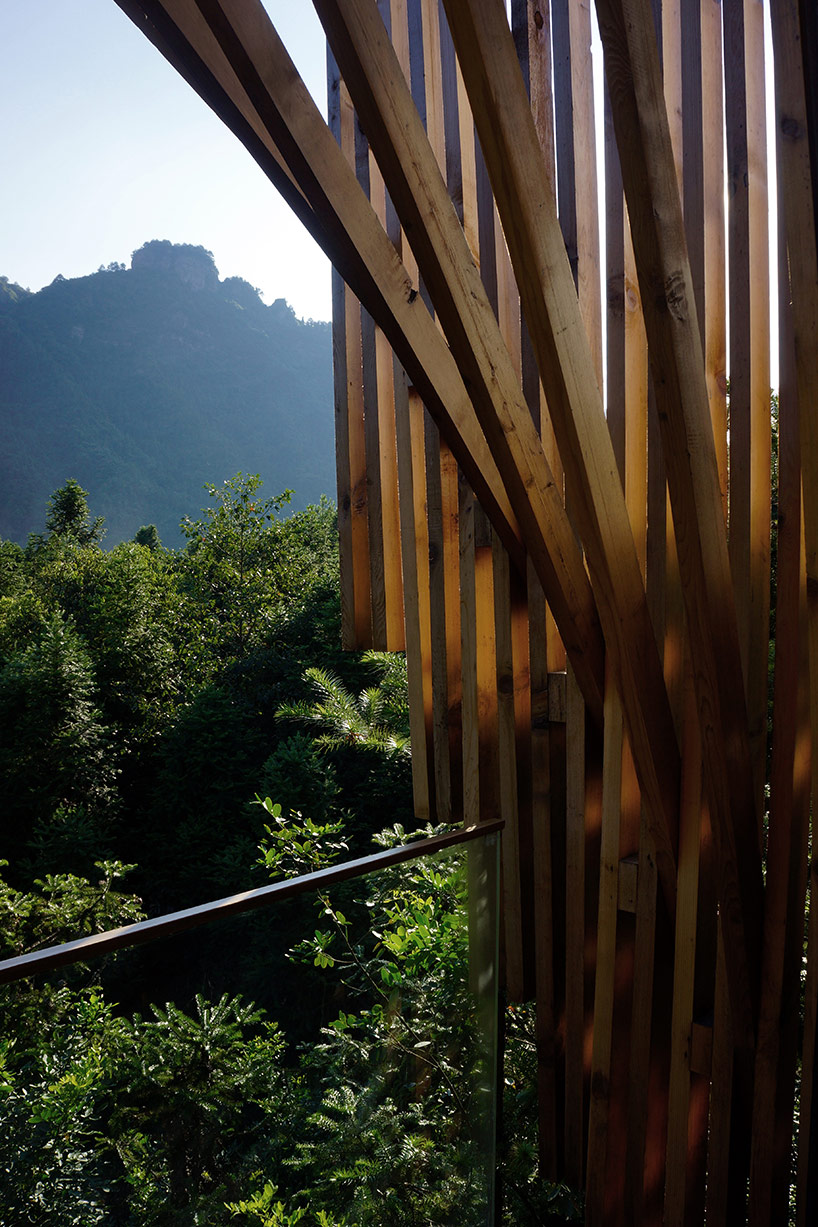 shifted cross braces make a parabolic curve within the exterior envelope
image © bowen hou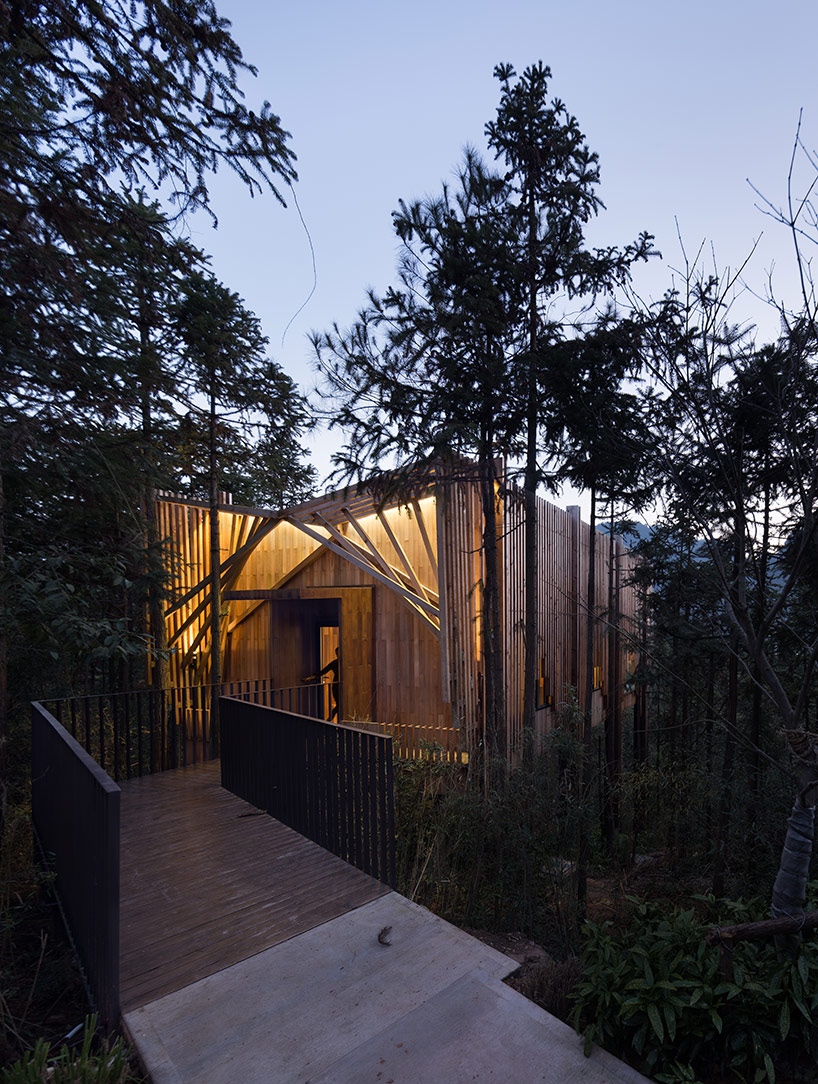 image © bowen hou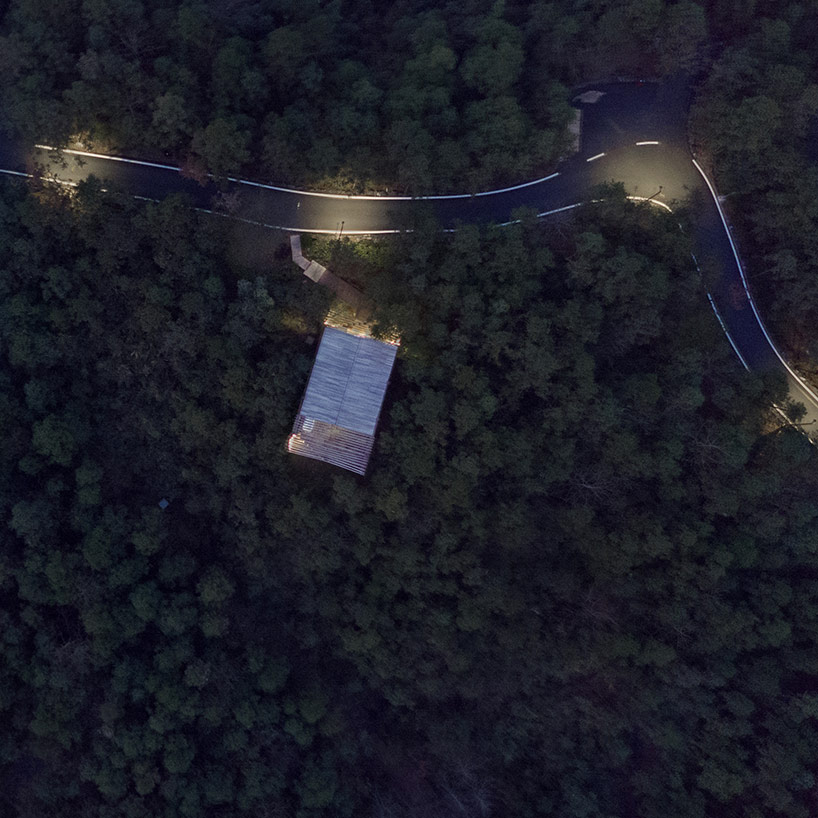 image © bowen hou
project info:
location: anhui, china
type: resort hotel
floor area: 40(interior) +30(veranda) sqm
construction: timber + steel
architectural design: land studio
architect in charge: pingping dou
design team: yue yang, fei fang, shuguang wang
design phase: 06.2015-10.2015
completion: 08.2016
photography: bowen hou
Save
Save
Save
Save
Save
Save
Save
Save
Save
jul 19, 2017
jul 19, 2017
jul 19, 2017
jul 19, 2017
jul 19, 2017
jul 19, 2017
jul 21, 2017
jul 21, 2017
may 12, 2017
may 12, 2017
may 01, 2017
may 01, 2017
mar 22, 2017
mar 22, 2017
jan 18, 2017
jan 18, 2017
oct 16, 2016
oct 16, 2016