nov 02, 2013
laurens & loustau construct ITEP le home in france
laurens & loustau construct ITEP le home in toulouse, france
image © stéphane chalmeau
all images courtesy of laurens & loustau architectes
in toulouse, france, laurens & loustau architectes have designed 'ITEP le home', a center which caters to children affected by mild disabilities.
the scheme has been created for APEAJ, an organization based in toulouse, who seek to provide accommodation, rehabilitation and education for the young people it looks after. the architects' brief was to design a form of 'containing' architecture which would provide a comforting and healing environment for the building's occupants, and that also reflected the familiar atmosphere of a home.

image © stéphane chalmeau
in order to continue the project's familiar nature, the scheme comprises three independent living spaces. each of these units include a living room with a kitchen, a private room and a study area with a desk. additional facilities consist of educational activity areas, technical workshops and a gymnasium. there are also on-site offices for psychiatrists and social workers, as well as administration areas and technical premises.

the design features a number of secluded internal and external spaces
image © stéphane chalmeau
the center is a series of distinct volumes and spaces, densely occupying the site, meaning that each specific area is readily identifiable. each unit features a playground, as well as a covered courtyard, which link together to complete the project as a whole. set within a mixed-use landscape, with a large automotive presence, 'ITEP le home' seeks to rediscover previous styles and building typologies that have existed within the area's diverse urban history.

the project is made up of a series of distinct volumes
image © stéphane chalmeau

the center is set in a diverse area where there is a large automotive presence
image © stéphane chalmeau

internal spaces have been designed to be intimate and familiar
image © stéphane chalmeau

the site shown in context

siteplan showing the various programs of the site
project info:
architects: laurens&loustau architectes
location: toulouse, france
project architects: marc laurens, pierre loustau
design team: laurent didier
area: 883 sq m
year: 2012
engineering : cbei ingénierie-technisphère
building contractor: apeaj toulouse
photographs: stéphane chalmeau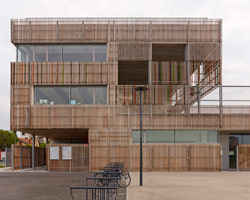 oct 17, 2013
oct 17, 2013