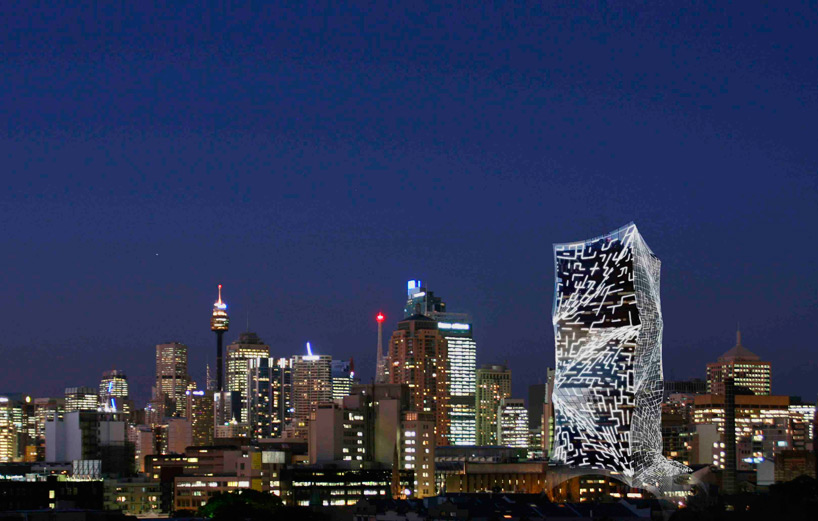 feb 09, 2010
LAVA: tower skin
international architectural firm LAVA has developed a simple, cost effective, easily constructed skin that promises to transforms aged 1960's buildings in sydney, into sustainable, iconic buildings.
'a speculative project, 'tower skin' for the university of technology (UTS) broadway tower in sydney, australia offers a unique opportunity to transform the identity, sustainability and interior comfort of the once state of the art building.' chris bosse australian director of LAVA.
close up of the UTS building with 'tower skin'
'tower skin' is a transparent cocoon that acts as a high performance 'micro climate'. it generates energy with photo voltaic cells, collects rain water, improves day lighting and uses available convective energy to power the towers' ventilation requirements. the tower is wrapped with three dimensional lightweight, high performance composite mesh textile. surface tension allows the membrane to freely stretch around walls and roof elements achieving maximum visual impact with minimal material effort.
illuminated in the evening
'the reskinning technology could be easily applied to other buildings in need of a facelift such as the colliers wood building and the barbican centre in london and the post industrial abandoned buildings across hong kong. we can quickly and cheaply enhance their performance and aesthetics through this minimal intervention.'
sustainability is at the heart of the project. innovations include: – existing solar energy used to off set energy requirements – water collected from the atmosphere – energy peaks removed via 'microclimate' in tower envelope – natural convection draws conditioned air through existing rooms, vent to the exterior to generate energy – localized user control of air and temperature – standard computer designed and generated components manufactured off site and cutting edge digital workflow mean cost effective fabrication and installation time – a solar powered light and media strategy embedded into the fabric
the UTS tower skin during the day
view from above
'reskinning' applied to goulburn st parking, in sydney
plans for 'tower skin' are on display at 'state.respond' exploring sustainable design object gallery, sydney now until 28th march, 2010
LAVA
(21 articles)
feb 10, 2017
feb 10, 2017
jun 16, 2016
jun 16, 2016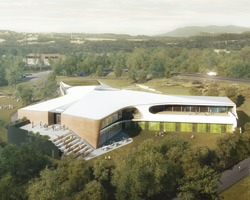 sep 29, 2014
sep 29, 2014