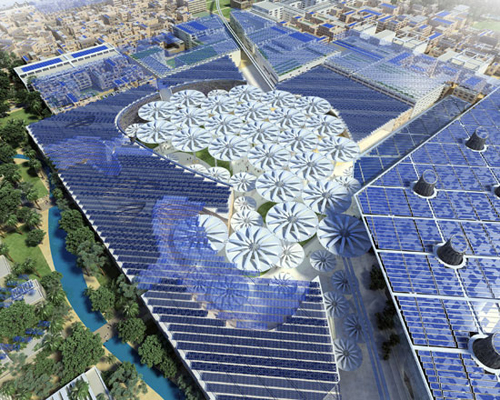 aug 28, 2009
LAVA wins first prize for masdar world's first sustainable city in UAE
'sunflower umbrellas,' madsar, UAE by LAVA image courtesy LAVA
giant umbrellas, with a design based on the principles of sunflowers, will provide moveable shade in the day, store heat, then close and release the heat at night in the plaza of a new eco-city in the united arab emirates.
the 'sunflower umbrellas' are one aspect of the winning design by the international practice laboratory for visionary architecture (LAVA) for the city centre for masdar in the UAE – the world's first zero carbon, zero waste city powered entirely by renewable energy sources.
masdar is a planned city located 17 kilometres from abu dhabi. a government initiative, the city is being constructed over seven phases and is due to be completed by 2016.
the city centre includes a plaza, five-star hotel, long stay hotel, a convention centre and entertainment complex and retail facilities.
'sunflower umbrellas,' madsar, UAE image courtesy LAVA
'sunflower umbrellas,' madsar, UAE image courtesy LAVA
madsar project UAE image courtesy LAVA
madsar project UAE image courtesy LAVA
madsar project UAE image courtesy LAVA
madsar project UAE image courtesy LAVA
madsar project UAE – hotel image courtesy LAVA
madsar project UAE at night image courtesy LAVA
'sunflower umbrellas,' at night image courtesy LAVA
'sunflower umbrellas,' at night image courtesy LAVA
'sunflower umbrellas,' at night image courtesy LAVA
'sunflower umbrellas,' – how they function image courtesy LAVA
'sunflower umbrellas,' – section image courtesy LAVA
'sunflower umbrellas,' – section image courtesy LAVA
aug 04, 2017
aug 04, 2017
feb 10, 2017
feb 10, 2017
jun 16, 2016
jun 16, 2016