li xiaodong is a beijing-based architect, university professor and researcher. he graduated in 1984 from beijing's tsinghua university and completed his PhD at the school of architecture, delft university of technology between 1989-1993. following his studies, he established li xiaodong atelier in 1997 where he has focused on small, and often self-initiated projects that suggest a new type of chinese architecture that brings together the old and the new in a contemporary expression.
at this year's edition of the world architecture festival in amsterdam, designboom sat down with li xiaodong who discussed the distinction between eastern and western thought, the current state of chinese architecture and the biggest challenges of working as an architect today.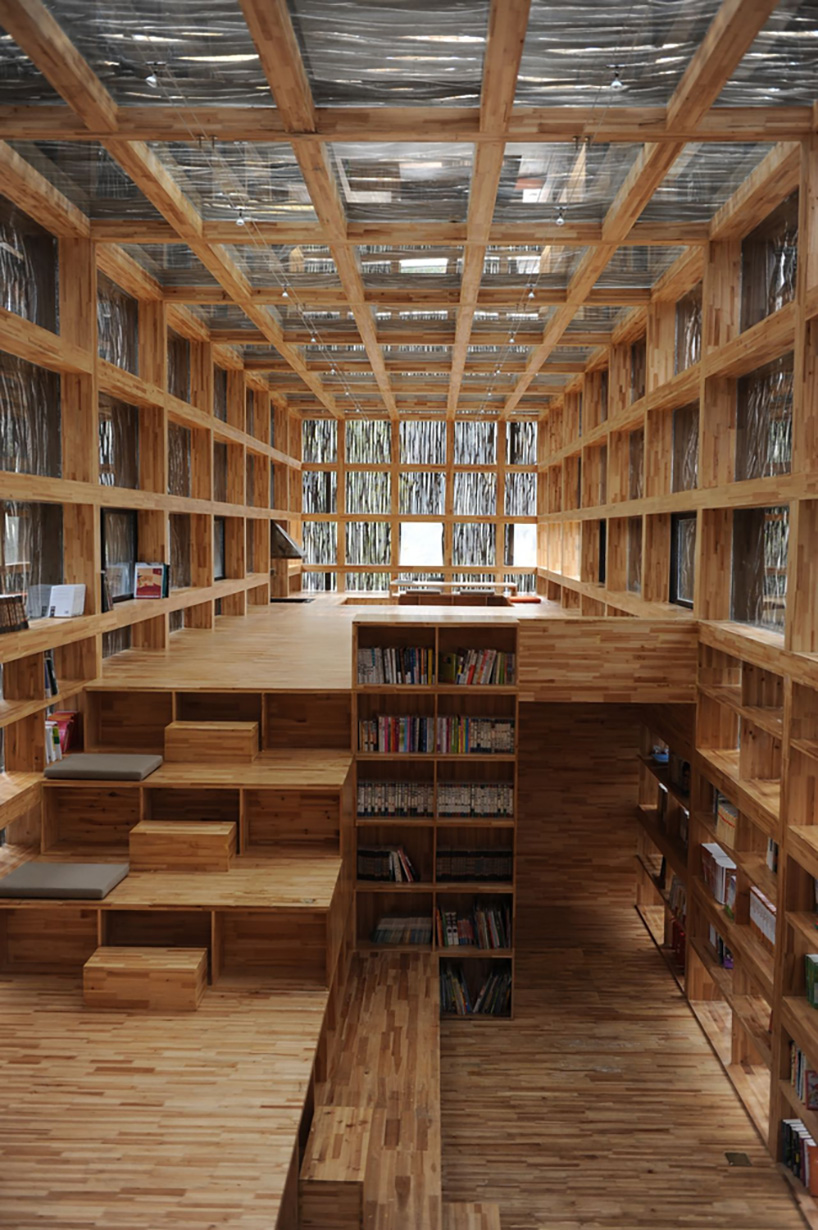 liyuan library in huairou, china
read more on this project on designboom here
all images courtesy of li xiaodong atelier
designboom (DB): your projects often involve materials such as wood and stone. what are the qualities and characteristics that these natural materials give to your work?
li xiaodong (LX): also steel, I also use steel. they are local materials to begin with. I don't want to use concrete because concrete is not recyclable and not environmentally friendly. timber, stone and steel are recyclable and you can easily get the materials from the local place. that is the principal reason. I don't discriminate materials as in where are they from, but rather only how local they are and if you can get them from the place you are at.

liyuan library in huairou, china
read more on this project on designboom here
DB: many of your projects are self-initiated. how important is this to you?
LX: it means 100% control of what I can do. I think that's the most important thing. you know, architecture is a very complicated operation. the involvement of the government, clients, contractors, construction teams etc. if you are commissioned by someone it means you don't have control of everything. so that's the main difference. I know in china it is very difficult if you want to execute a project according to your ideas, it's almost impossible to do it 100%. if you initiate the project yourself you don't provide just one service, you actually provide the whole package which means your own ideas.
DB: can you describe how do you approach each project?
LX: with my work everything is about identity so it is about how we define the identity for the project. so if the product is a school, I figure out the identity for a school in a particular location, in a particular climatic condition, in a particular culture, and then I synchronize everything together to give a clear identity to that particular project. if it's a library the identity of that library starts differently than the one from the school.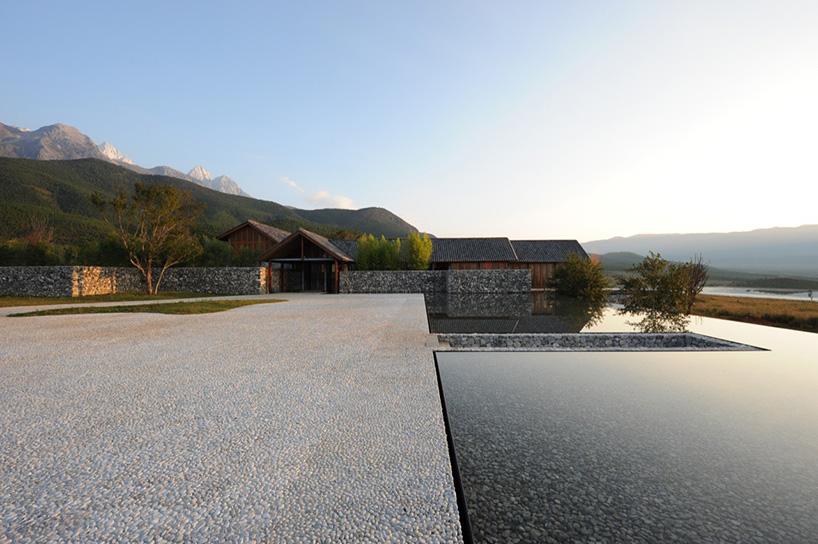 water house in lijiang, china
read more on this project on designboom here
DB: do you work holistically, not only the architecture but also the communication of the space and all the details?
LX: yes, it's about morphology, which is the form, and about operation: how you operate, who occupies the space and how you use the space. it is supposed to be the whole package.
DB: you studied both in china and in the netherlands. how do these two countries compare to each other?
LX: two different cultures. one is very typical western and the other is a very oriental culture. we are quite different, we look at the world differently. so in the western philosophy you have the subject and you have the object, and you look at the object through a particular method. but in china we don't distinguish from subject and object. in ancient chinese paintings we never do a eye-sight perspective, we always do bird's-eye view. if you look at chinese drawings, you see the wall after wall, building after building, but in western painting you'll never see that. you see the perspective of a building but never know what is beyond that building.
westerners see things from the human eye point of view. in china we always think that the tao is very important everything is about the method of how you evolve. in the western world it's about the chi, the object, you are trying to understand the object. if you don't understand the object you cut it into half, and if you don't understand it, then you cut it into half again. if you don't understand, you continue cutting until you get the smallest molecule. in china we would never do that, the chinese way is holistic, we never cut.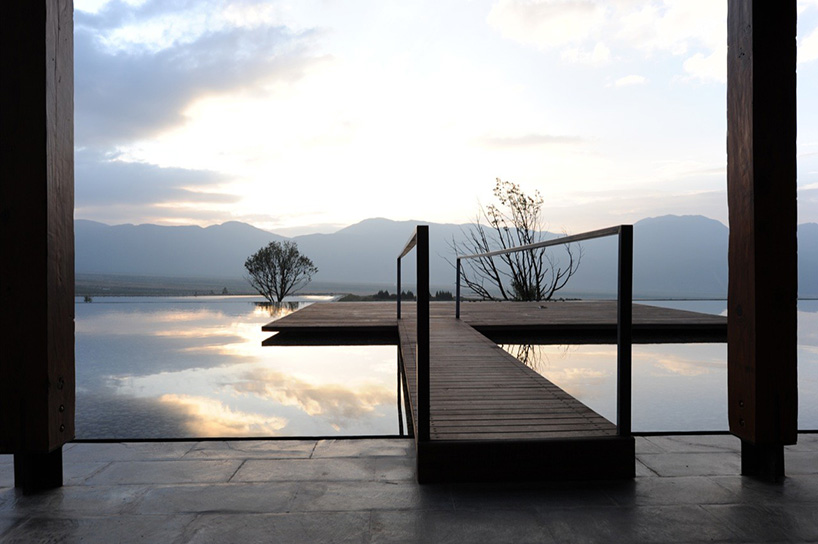 water house in lijiang, china
read more on this project on designboom here
DB: do you approach your projects in a more 'oriental' way?
LX: I try because spaces contain energy and the energy flow is very critical for human health. this is the chinese way, to take it into consideration. in the west you don't have this kind of energy flow, it is just a physical form.
DB: so you also design the flow of energy in your projects?
LX: yes. when I design a form it is to make you feel comfortable by being in that space. this comfortableness comes from the energy flow.
DB: can you tell us a little bit more about understanding the flow of energy of a space?
LX: it's all about meditation. you need to meditate to learn to make a dialogue with nature, with the environment, and to gradually understand the energy flow. you go and you test the textures, the materials, the shape, and what is the most comfortable thing based on the lighting, materials etc. I do it particularly in interior design, it is a whole package. the light, for example, is very important and where the windows are and ventilation and the material of the textiles — they are all important for you to feel comfortable.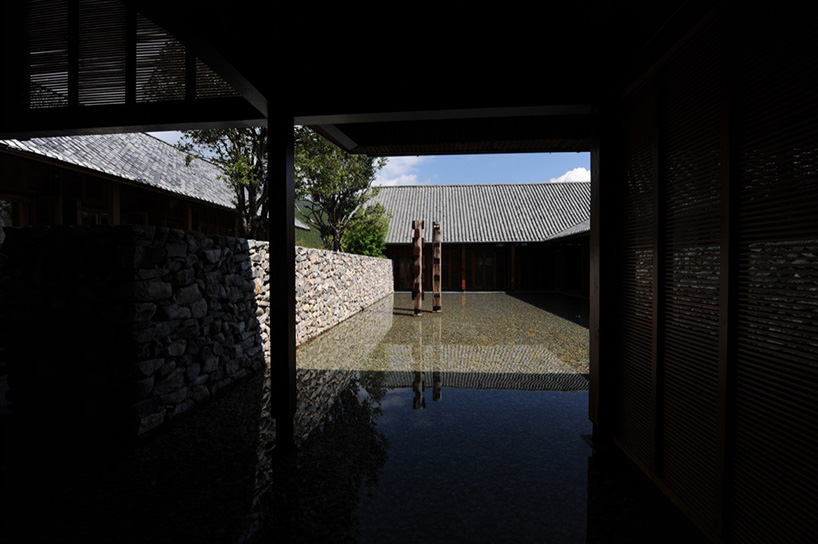 water house in lijiang, china
read more on this project on designboom here
DB: how do you assess the current state of architecture in china?
LX: it is taking off now. 10 years ago it was in its beginning stage. you see, architecture or the practice of architecture in china was basically about learning from copying from the west, but we are now getting more and more confident to draw inspiration from our own culture and understanding our regional conditions.
DB: do you think that cities are losing their identity and is it important for architecture to preserve heritage and culture?
LX: yes, I mentioned this during my keynote at WAF. many cities look the same because we build the same way now, you know? there is a particular case in singapore. in the very beginning of singapore, international architects were invited to design buildings and the city's skyline. after a while they found out that those buildings have nothing to do with singapore. those architects designed the buildings for singapore in the same way that they did it for their hometown. so then they realized that singapore shouldn't define its identity on these foreign visions and they started to think about the issues of singapore — which is about tropical living. in the tropics you need to solve the problem of ventilation, sun shading, and getting the rain away. then they started to design buildings that take this into consideration, so they added double skins and created more greenery. if you go to singapore now you recognize right away that it is a tropical city. they actually defined themselves very clearly and as long as they do independent thinking to design things based on the critical issues of the place — whether it is cultural or natural — it doesn't matter as long as they capture the essence of the issue.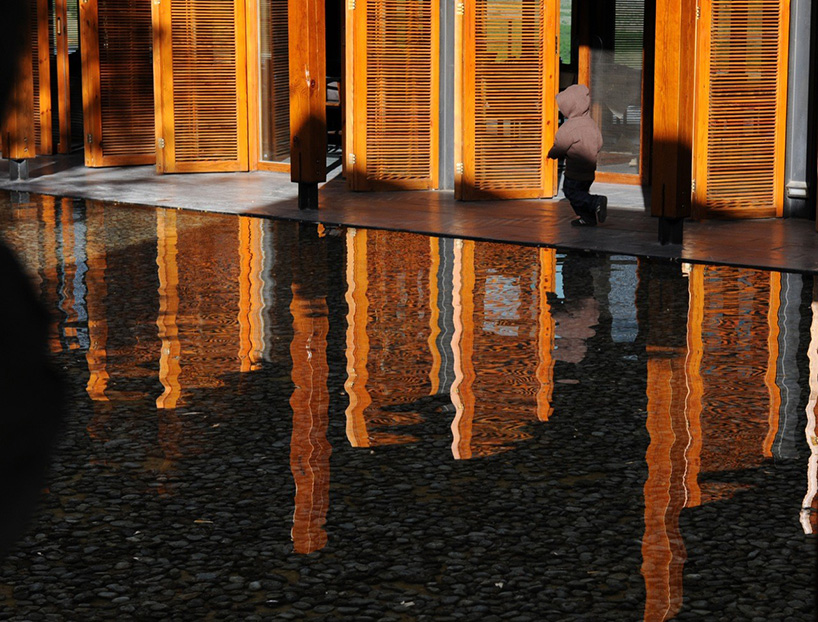 water house in lijiang, china
read more on this project on designboom here
DB: what do you feel are the biggest challenges for architects working today?
LX: we are at a stage of high-tech developments, the information stage — big data. the mobile phone is getting more and more thin if you compare it to ten years ago. right now it's just a screen and it is in the process of dematerialization. so architecturally, I think it goes the same way. material and mass are getting less and less critical. theory is not so important anymore, but rather big data is important, and the identity of the place is important. not like last century where architects tried to identify the identity through the architecture of architects. it was very personal you know? you see a building and you say 'this is zaha' or 'this is a frank gehry'. when you see the beauty you recognize right away the style. but I think in this century it's supposed to be less individual but more about operation. it's about technology, not about the form, and that's what I mean with dematerializing. so, if we want to sustain our society, we have to use the resources in a smart way, which means the architecture should not be too much into the aesthetic or about an architect's individual style, but rather in a way that's more about the program, about the place, about the community. dematerializing means you don't have much decoration anymore.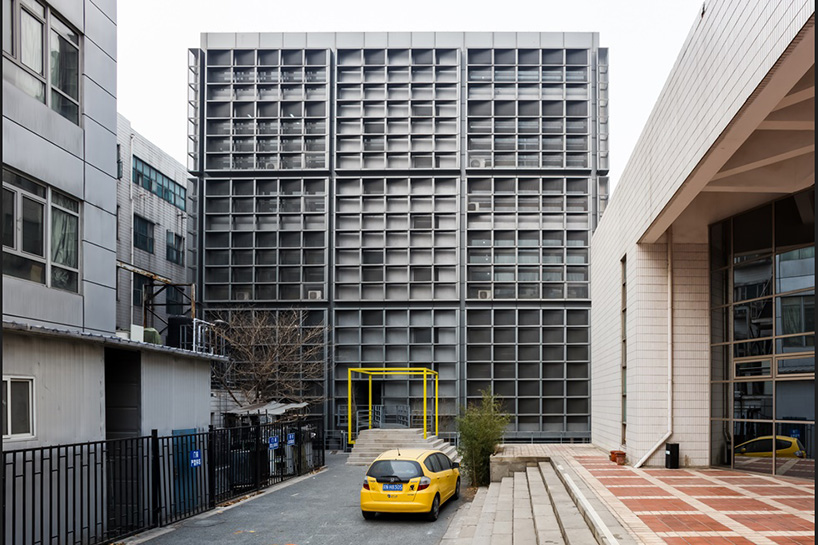 tsinghua architecture school extension in beijing
DB: what other projects are you particularly excited to be working on right now?
LX: anything that is fresh for me, any commission, any design that I have never done before or that would be a challenge for me. because designing a new type of project is kind of a learning process. I can continue designing schools or hotels as long as I have never done that type of design. not long ago I designed a factory. I had never done it before and it was very rewarding. so after which we learned many things about factories — about how to approach the design of a multicultural, multi-diversity type of factory. it was a big challenge and I was very happy and honored that this guy is willing to let me test all the ideas I have with his factory.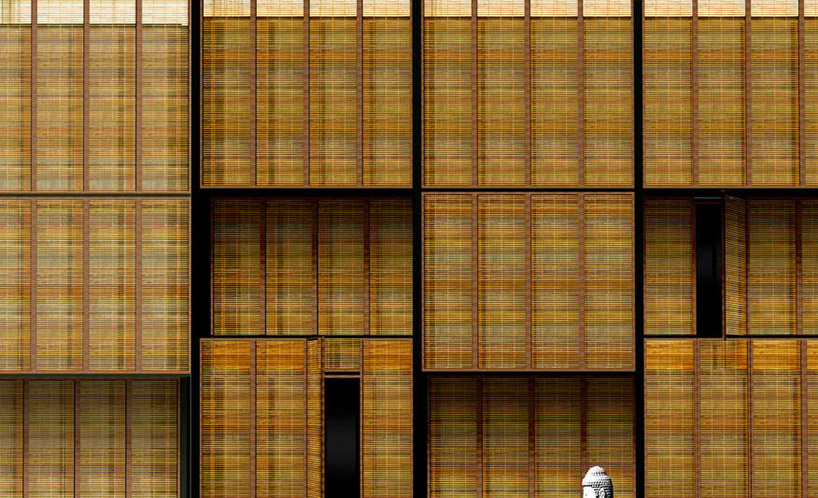 zen garden, china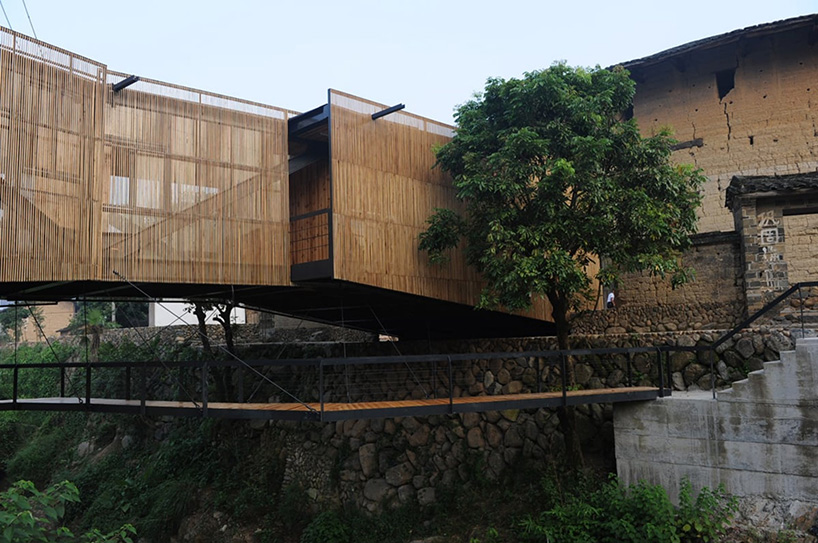 bridge school, xiaoshi village, fujian, china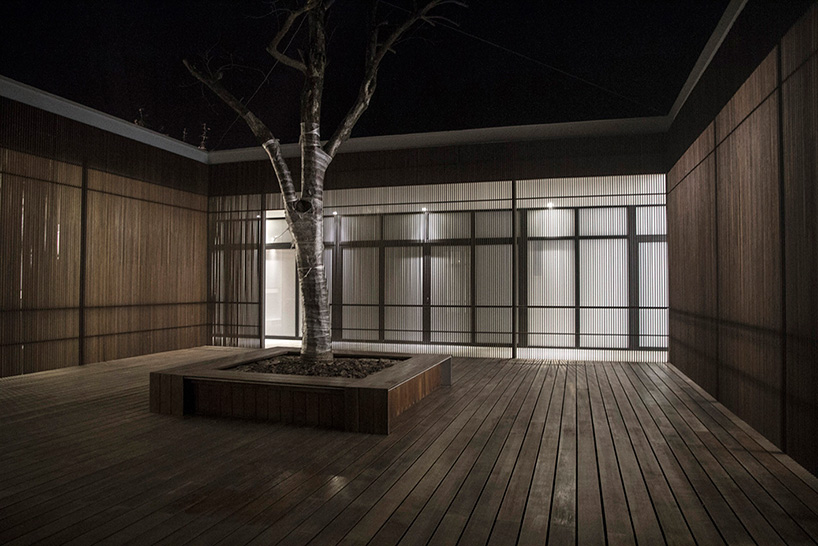 the screen, ningbo, zhejiang, china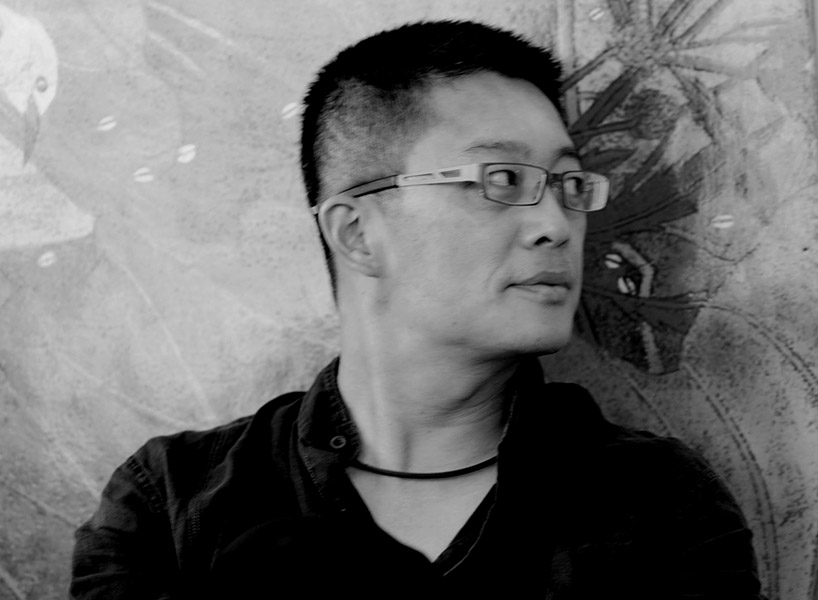 architect li xiaodong

world architecture festival (WAF) is the largest, annual, international, live architectural event. it includes the biggest architectural awards programme in the world, dedicated to celebrating excellence via live presentations to an audience of high-profile delegates and international juries. WAF is a three-day event for architects and interior design professionals to celebrate, learn, exchange, and be inspired. the 2018 world architecture festival is held in amsterdam and comprises 5 key elements: the WAF awards; a thematic conference programme; an exhibition of award entries; sponsor and exhibitor stands; a series of networking/social events, as well as WAF fringe activities. INSIDE world festival of interiors runs alongside WAF, with its own awards and conference programme.
juliana neira
I designboom
dec 18, 2018
a diverse digital database that acts as a valuable guide in gaining insight and information about a product directly from the manufacturer, and serves as a rich reference point in developing a project or scheme.
designboom will always be there for you
milan, new york, beijing, tokyo

,
since 1999