lisbon architecture triennale: johnston marklee, nuno brandão costa, and office KGDVS have created a series of 12 exhibition spaces to house content from the image database of socks studio, an online magazine of art, architecture, and culture. the exhibition comprises spaces taken from realized architectural projects by the three firms. however, these elements were not selected by their own creators, but rather by the other two firms — who were not necessarily so familiar with the work in question.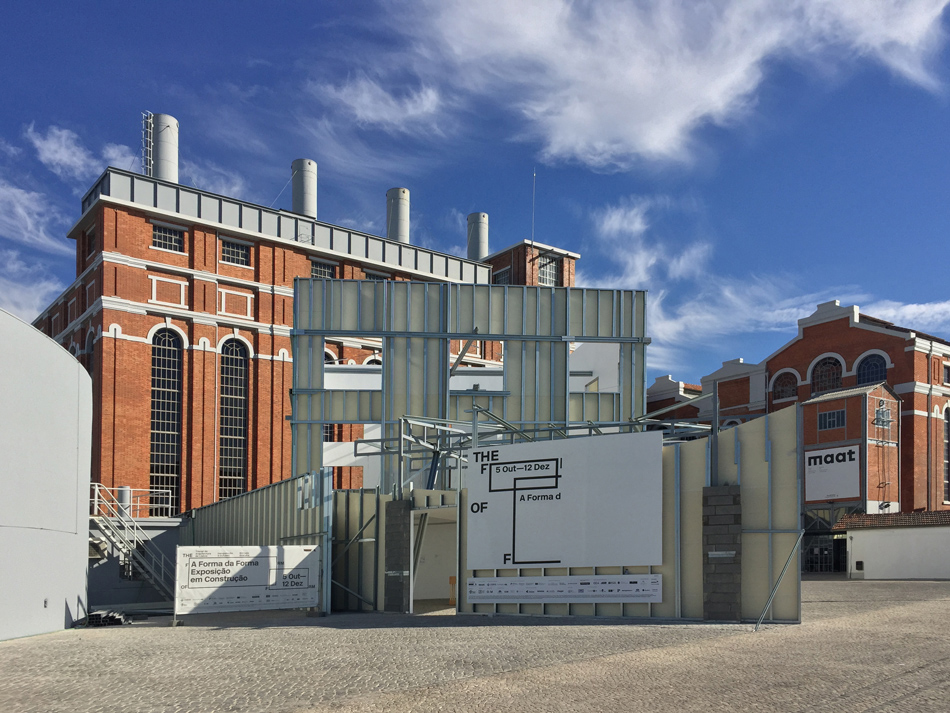 image © designboom
now in its 4th edition, this year's theme for the lisbon architecture triennale is 'the form of form'. the event's eponymous exhibition has been curated by the late diogo seixas lopes, who passed away earlier this year, and co-produced with MAAT — portugal's new museum of art, architecture and technology designed by british architect amanda levete.
to understand more about the exhibition, designboom spoke with portuguese architect nuno brandão costa and kersten geers of belgian practice office KGDVS.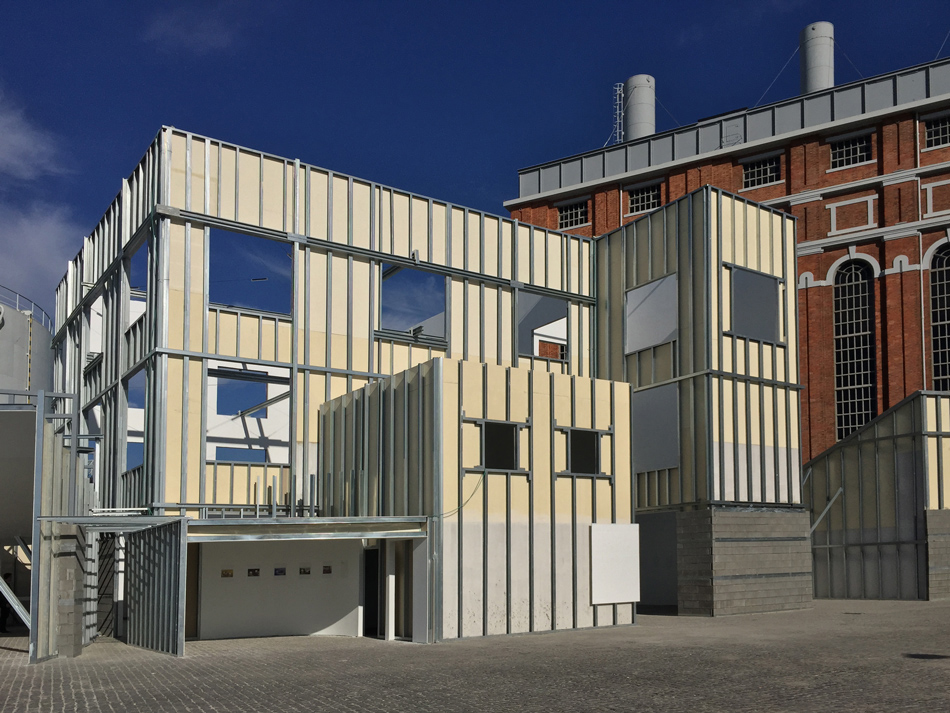 image © designboom
this year's lisbon architecture triennale — which runs from october 5 to december 2016 — examines how the world is transformed by architecture, while furthering the debate around a wide spectrum of contemporary approaches to design practice. in this exhibition, which comprises elements of different projects by johnston marklee, nuno brandão costa, and office KGDVS, participants sought to build a dialogue that challenges notions of authorship and the limits of form.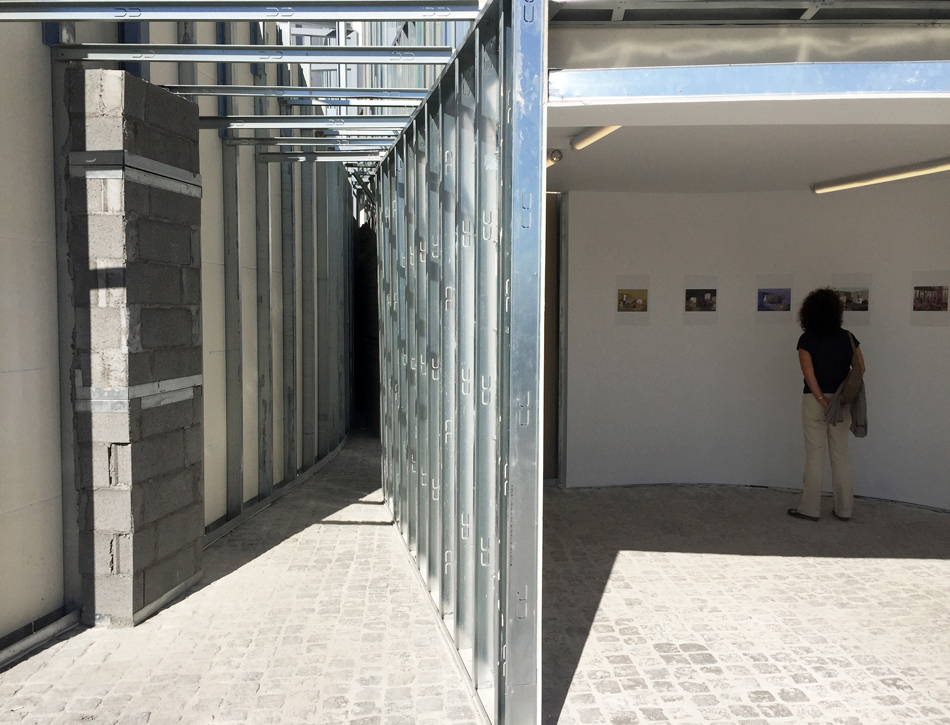 the pavilions are designed to house content from the extensive image database of socks studio
image © designboom
each of the spaces is designed to house content chosen from the extensive image database of socks studio. for their contribution, mariabruna fabrizi and fosco lucarelli of socks were invited to reflect upon a selection of examples taken from their own platform, which has evolved over the years from an online magazine to a stage for discussion.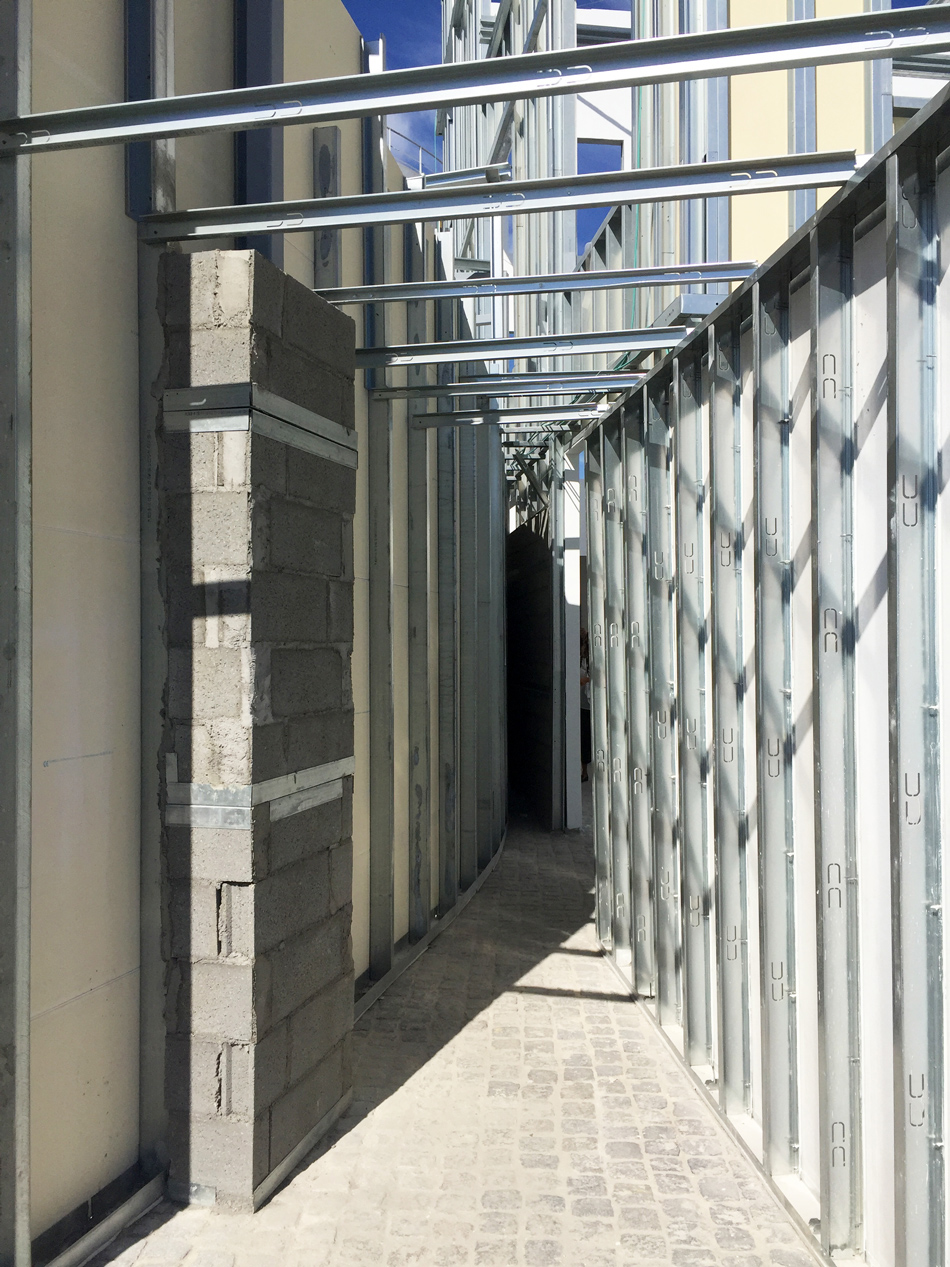 raw and industrial materials have been used in the project's completion
image © designboom
the selected images seek to highlight the permanence of form and its capacity to condense a set of values into any visible object. the language of architecture is explored through a sample of construction drawings, landscape interventions, urban plans, and artistic investigations. originating from different time periods and regions of the world, the content intends to shine a light on what remains constant and what changes, identifying analogies and affinities in the creation of the built environment.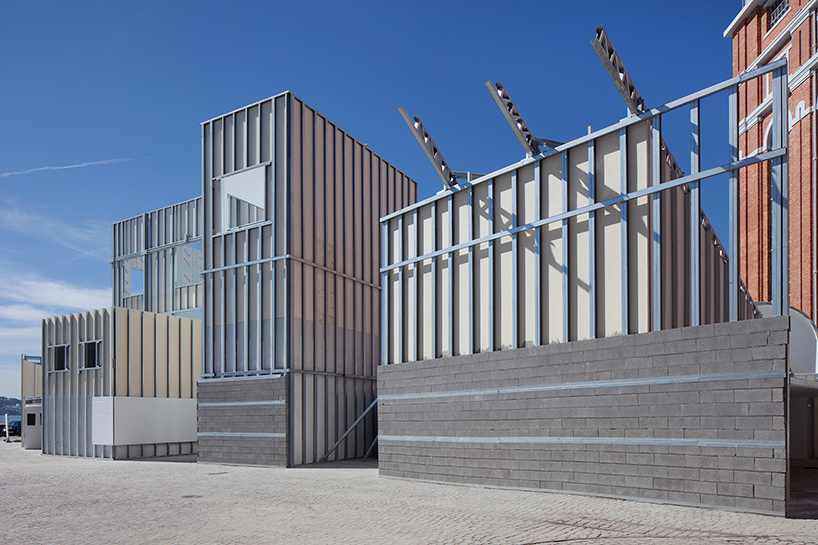 image by tiago casanova
at the exhibition's opening, designboom spoke with portuguese architect nuno brandão costa who explained the projects origins, its development, and the importance of scale.
designboom (DB): how did the project come together?
nuno brandão costa (NBC): it is very risky when you put together three architects that didn't know each other very well. or, they know each other in terms of profession, but they didn't know each other personally in terms of working together. andré tavares (curator) asked us, me, mark (lee) and kersten (geers) to do two very difficult things, to represent authorship, and to represent form. which are two very renowned things in architectural places, but then when somebody asks you to do that in a concrete way, then you really don't know what to do — you don't know how to represent this. so this was really one of the most incredible challenges I've had in my short professional life.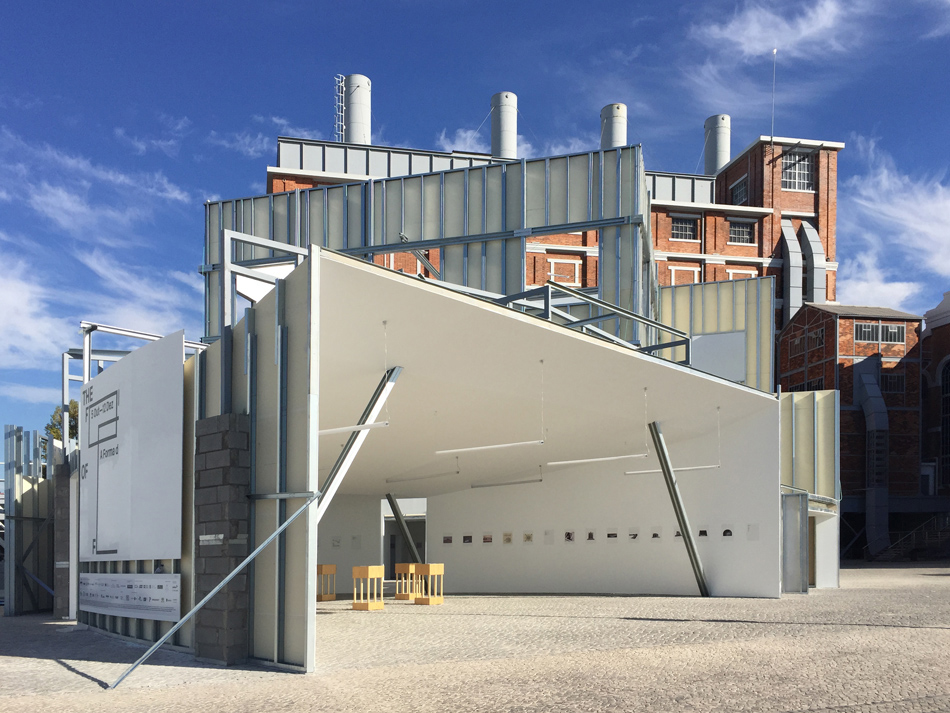 image © designboom
DB: how did the project develop as you were working on it?
NBC: when we started working together, me, mark (lee) and kersten (geers), and also with socks studio, it was a long process. we started in a very arbitrary way. designing shapes and forms and little buildings to put inside. of course it always seems to be something very arbitrary, something that I got from just an arbitrary gesture, and of course we were not happy, and then to put this together was always a problem.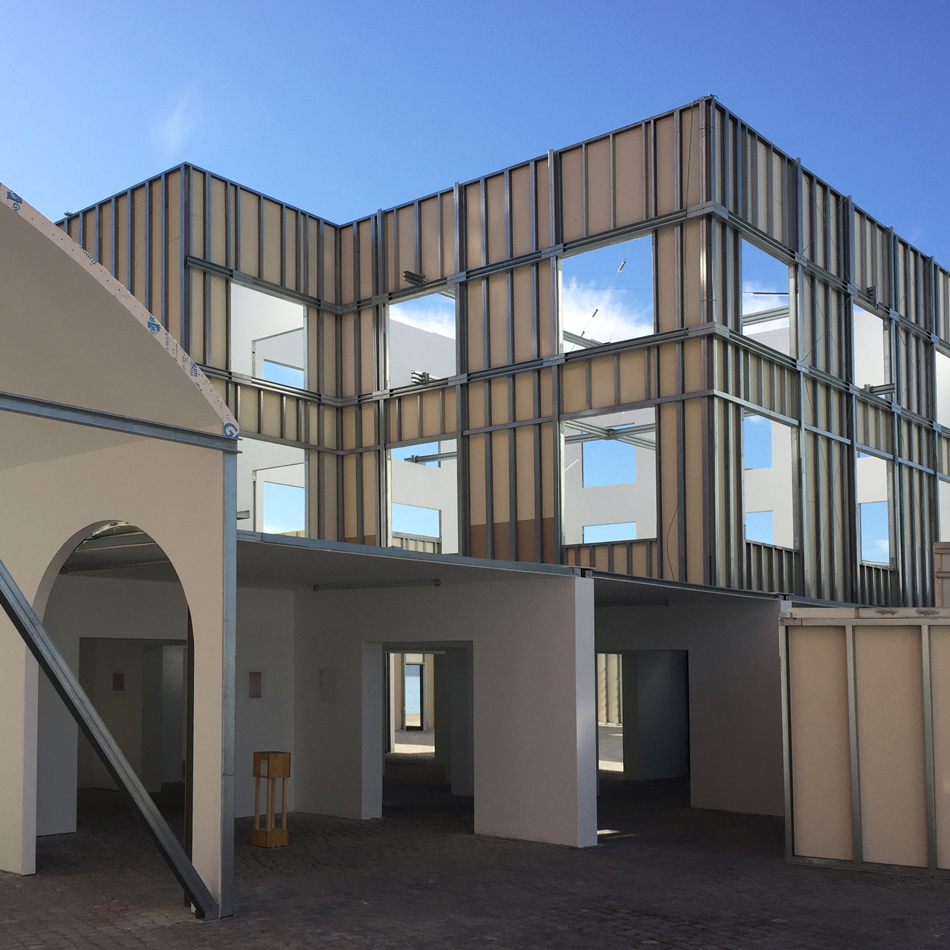 image © designboom
NBC (continued): suddenly we came up with this idea of each of us choosing from the other practices' projects (this means you have to study them) and made a composition to build up a new form made out of old forms that existed already. then somehow we had to put it here in a way that would be in good harmony with the adjacent building, and in good harmony with nature.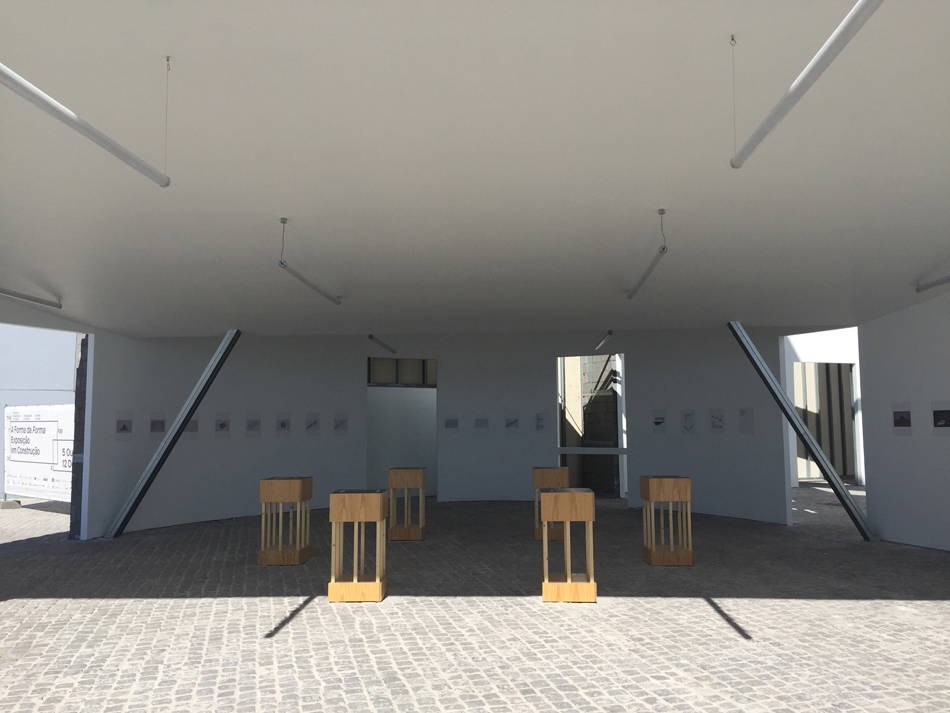 image © designboom
DB: how important is the scale of each space?
NBC: this project only makes sense if the spaces are built in a 1 to 1 scale. this brought the problem of dimension, because as you can see, there are spaces which are very huge, and there are other spaces which are small. we discovered this relationship between spaces that are linked with the same programs. for instance, this is a courtyard of a house — and that is a house in itself, an entire house.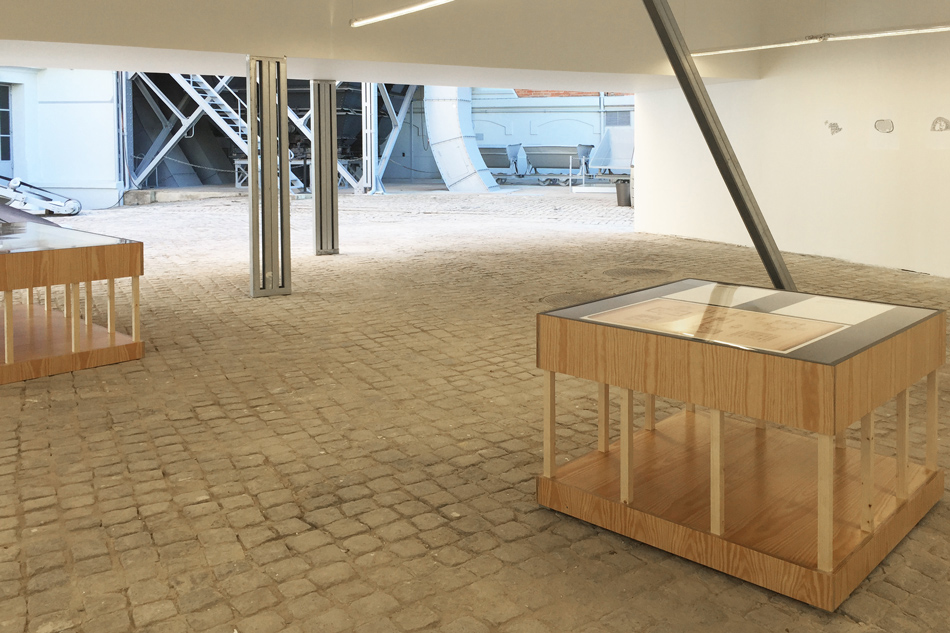 image material is presented in a variety of different ways
image © designboom
NBC (continued): we have space, we have form, and we have the technique that builds space and form. we have a continuos fluid space, but we also have fragmented space that you can read individually, or you can just read as fluid continuous space. and we also have authorship, but it's all melted, so you don't get who has done what.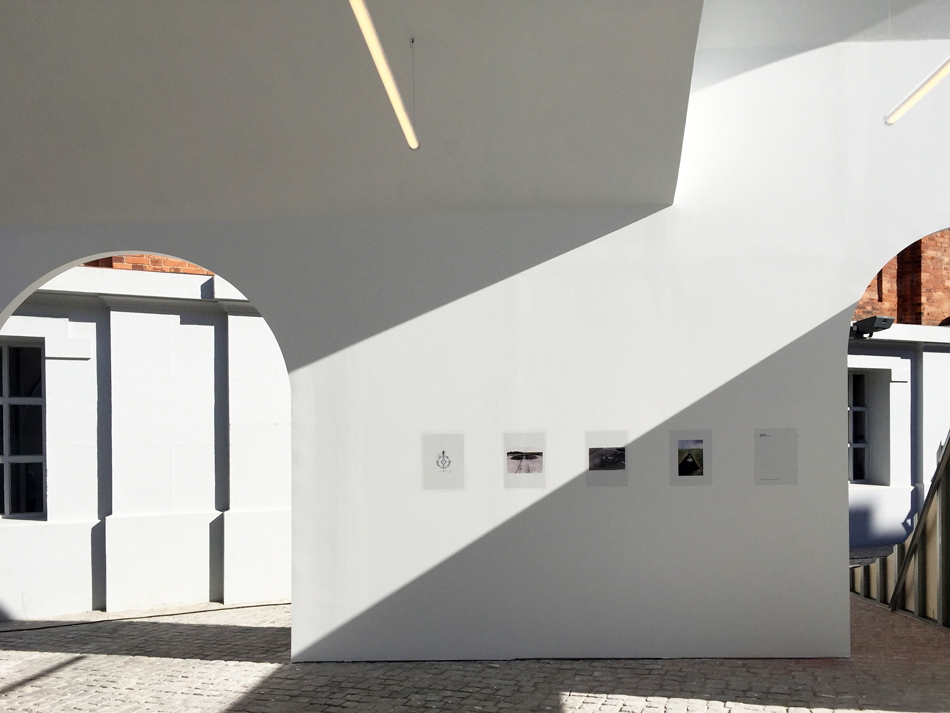 image © designboom
DB: it appears quite a complex installation — what were the project's main challenges?
NBC: the main challenge was technical, because this is a very windy space. if you come here at 6pm, it's like a wind tunnel. we realized that there was not enough weight, so we asked the engineer to re-do the calculations. we made a truss and we made these brick walls. in the end I think it works because this is about building, and architects have to deal with this.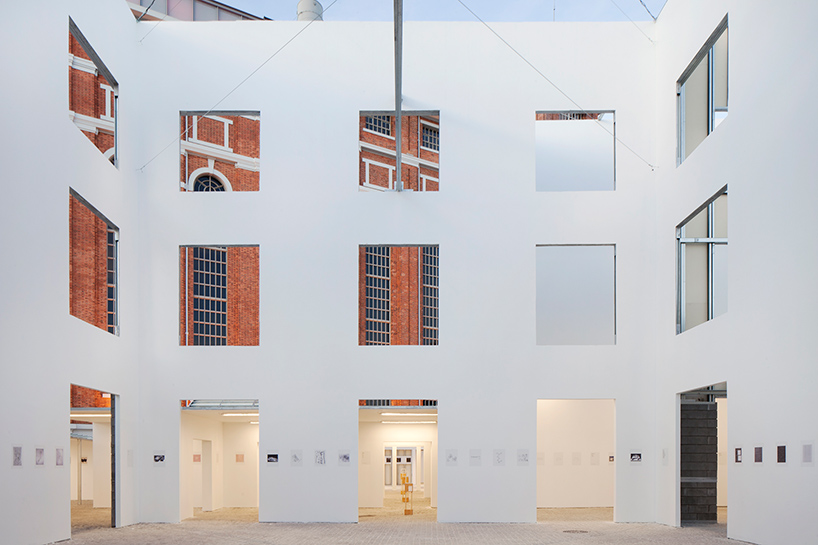 an open-air structure is positioned at the center of the scheme
image by tiago casanova
DB: at the very beginning, the installation was supposed to be inside the museum. had you already planned the same group of spaces?
NBC: yes, and it changes completely. we realized we could explore other kinds of relationships — the relationship with the river, with the landscape, the light, the views… inside the museum we had a structure with metallic pillars, that would have also been an interesting relationship with a new construction inside an existing construction.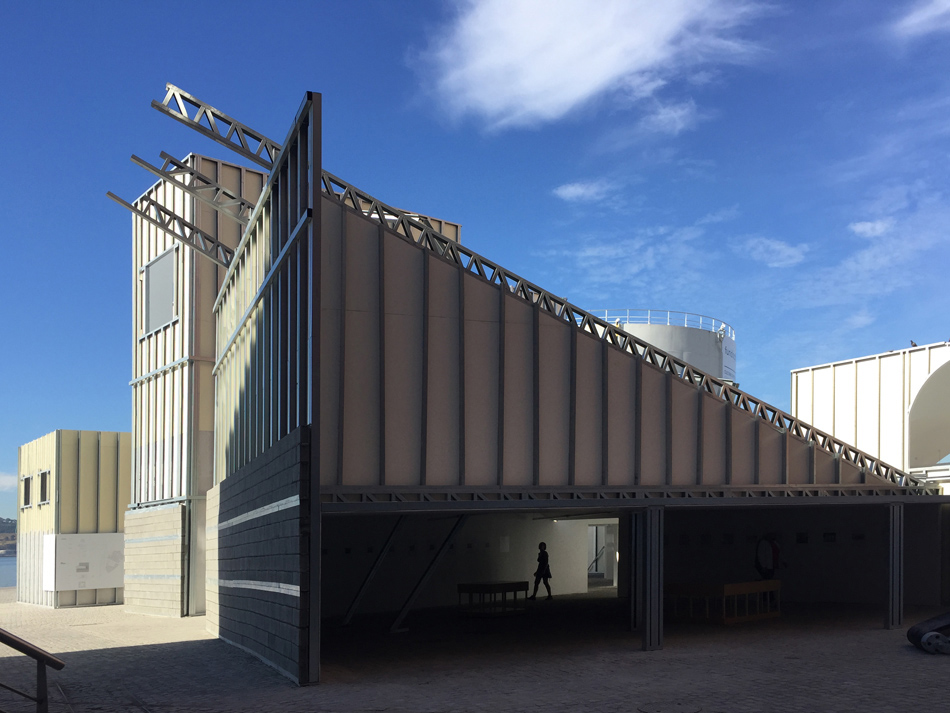 image © designboom
DB: is this an experiment on its own, or are you thinking of evolving it for different purposes?
NBC: I think in two months this will be destroyed. so we didn't think about anything else. I think every time you do a project, something stays. so, in the beginning the three of us, we thought, this is just an installation, we are going to do something sculptural. then learning the process, and now, we realized that this is really architecture — it's a building.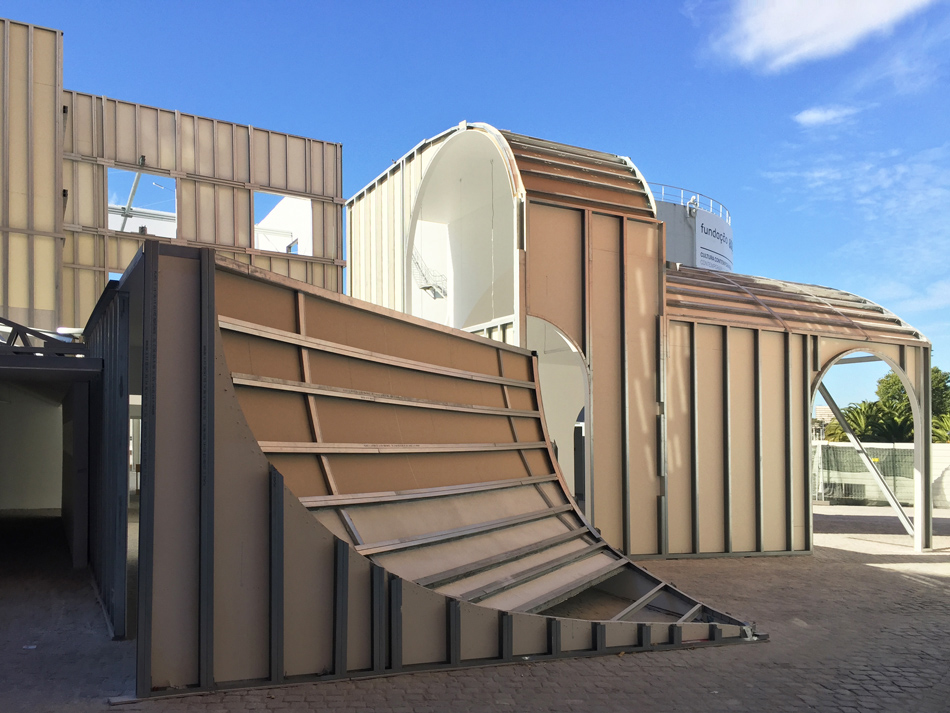 image © designboom
designboom also spoke with architect kersten geers, one half of belgian practice office KGDVS. geers also discussed the collaboration of the three architecture firms, and how the selection of each existing space was made.
designboom (DB): can you start by explaining how the various spaces were selected?
kersten geers (KG): the idea was that you chose a room, but of course, as you can see nuno (brandão costa) chose our huge courtyard — a lot more than a room! when nuno chose it I thought 'nuno are you serious?!' and then I realized he was supposed to build it so I told him okay — he must know it's possible, you know? I was super happy, I must say. each of the three offices gave a set of ten projects, with four chosen from each, 12 in total.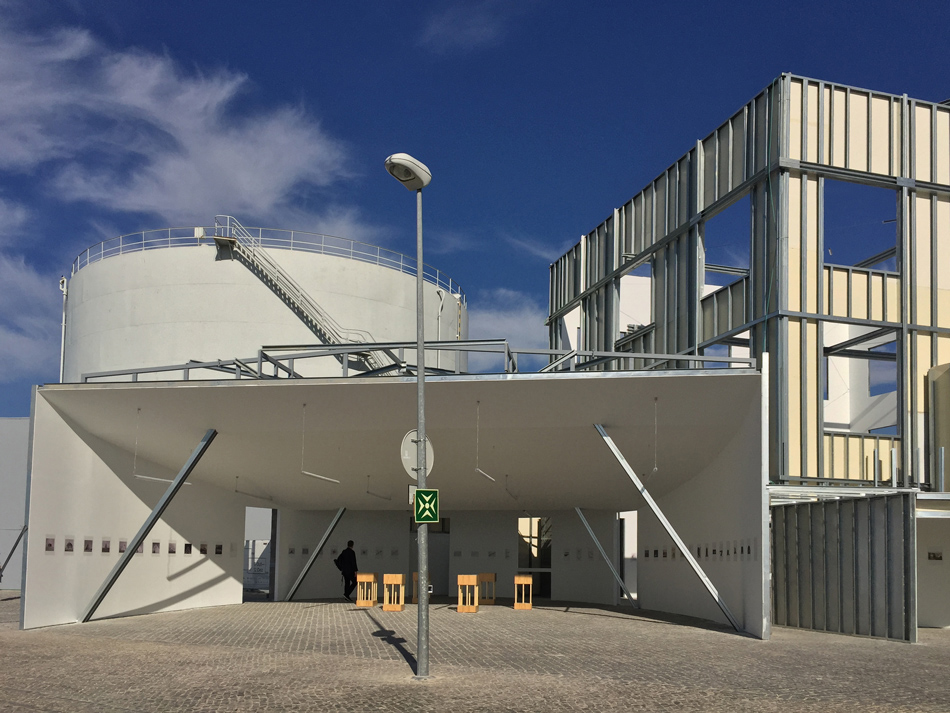 image © designboom
DB: how did the collaboration with the three firms come about?
KG: diogo (seixas lopes, curator) for some reason, decided that these partners could work together! I met nuno in porto academy maybe three years ago, but we spoke very shortly and I didn't really know his architecture. so in a weird way having that conversation was a reason to get to know his work. mark (lee) I know much better.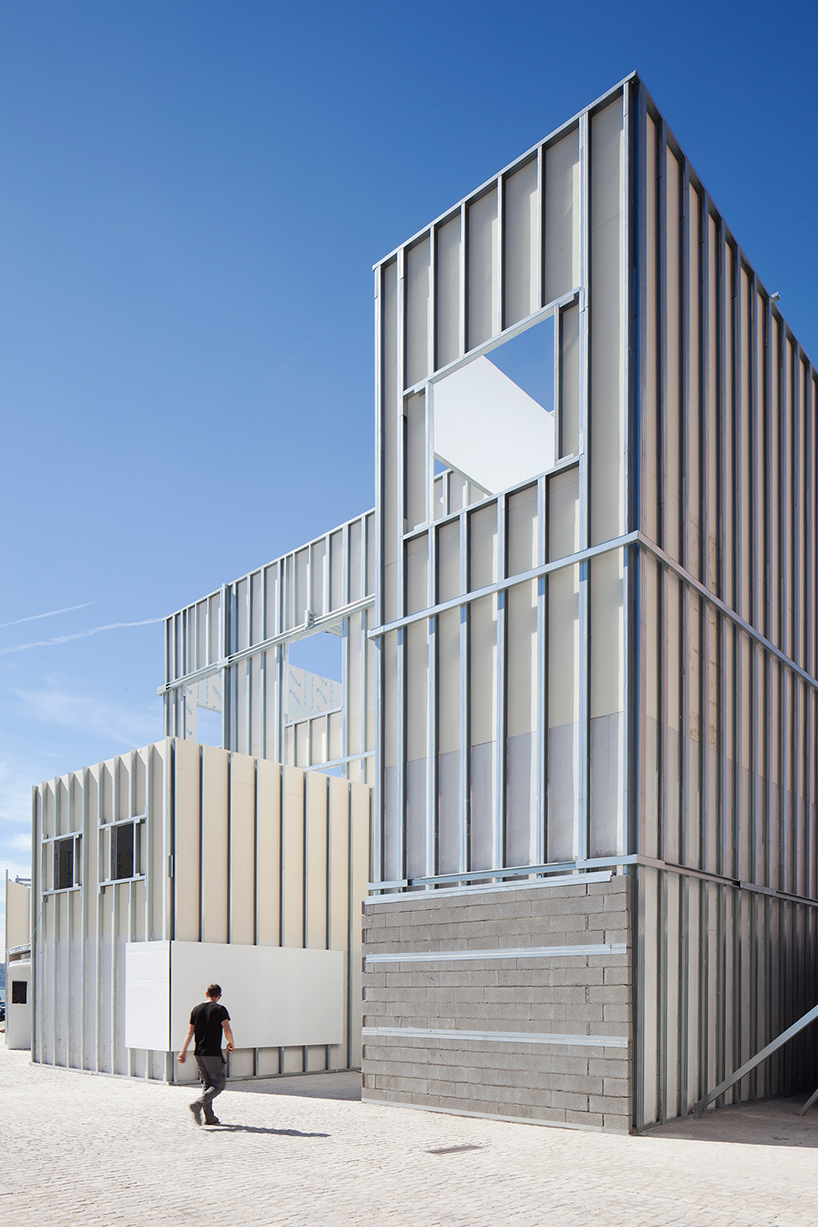 image by tiago casanova
KG (continued): it was interesting — and that was probably the hidden agenda of diogo — that three offices, at first glance, you would say they have nothing in common. our office has a specific way of doing things and spaces, and mark and sharon whose west coast american kind of delirium is very different again. and nuno's architecture is very precise.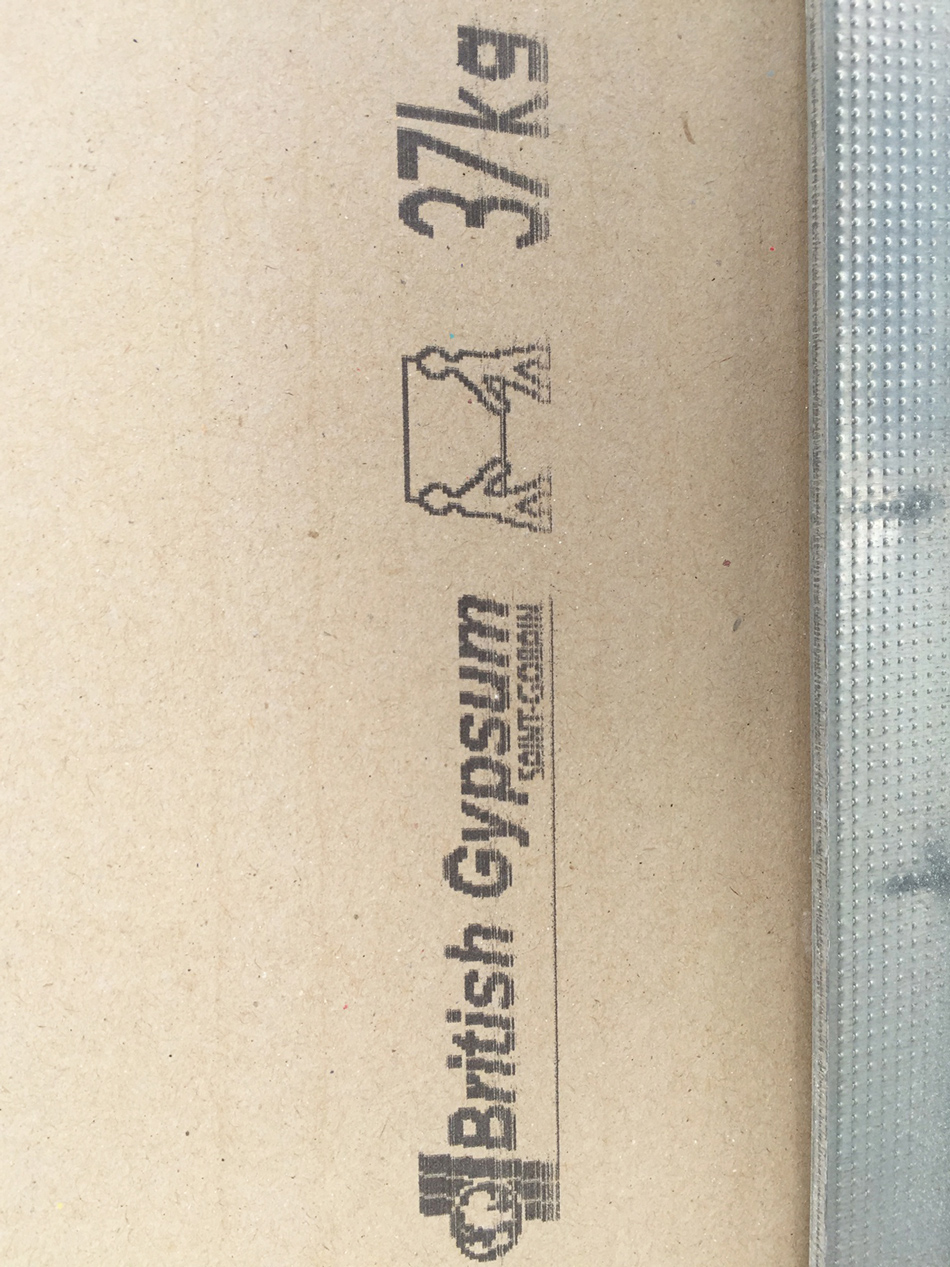 building material has been supplied by saint-gobain
image © designboom
KG (continued): first, diogo who sadly, of course, died, suggested to have three zones inside the building, one would be us, one would be johnston marklee, and one would be nuno brandão costa. in the beginning, we had to make this set of spaces (inside the museum) but the existing structure would always intervene — so then it moved outside.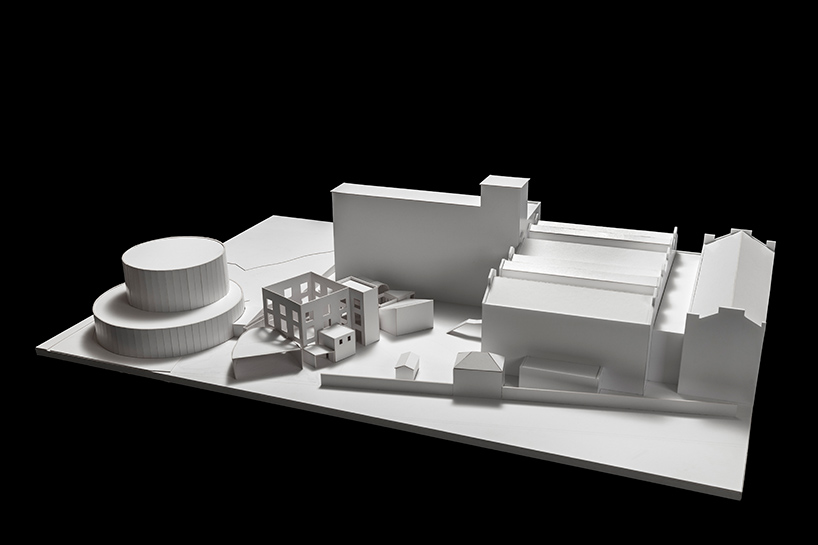 scale model indicating the installation's location in relation to the museum building
image © armenio teixeira
DB: you need to take a picture from above, so we can see how it is fully articulated.
KG: since the outside is not finished, and the inside is plaster, in a way it really is an argument about interior. you see parts that are leftover but it's of course because the interior is on the other side. nuno played a big role. there is a certain pragmatism, and if you're pragmatic you think you cannot build it like this. you build it up, you make a model — like out of cardboard — and you realize at a certain point that you have to negotiate the structure.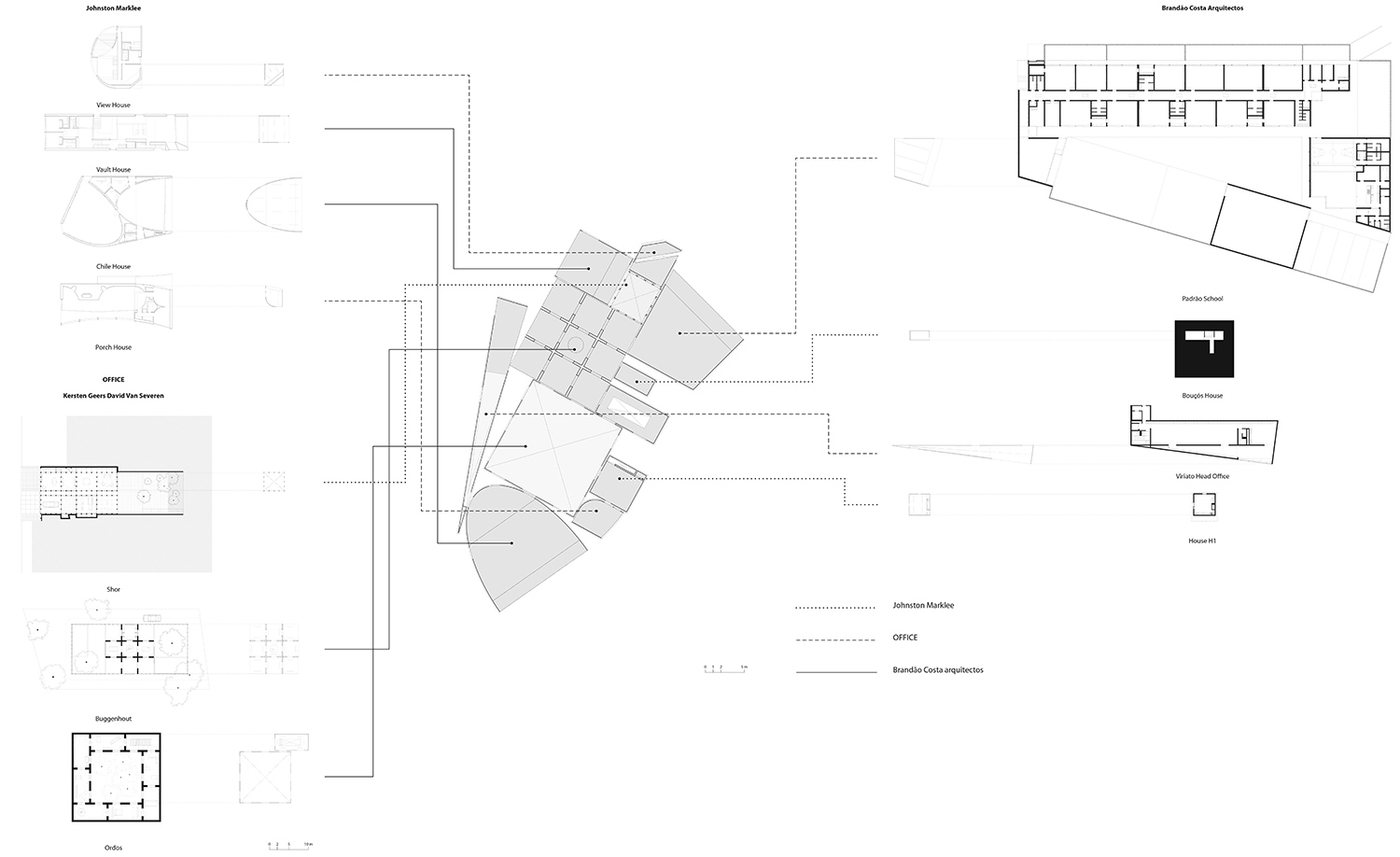 floor plan indicating the pavilion's individual components (click for larger version)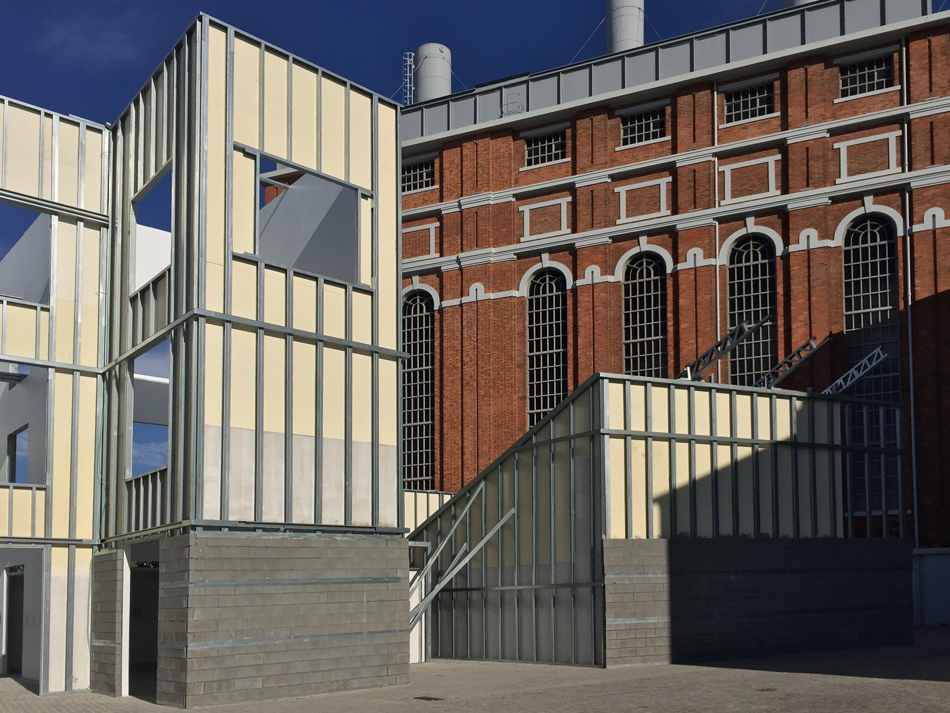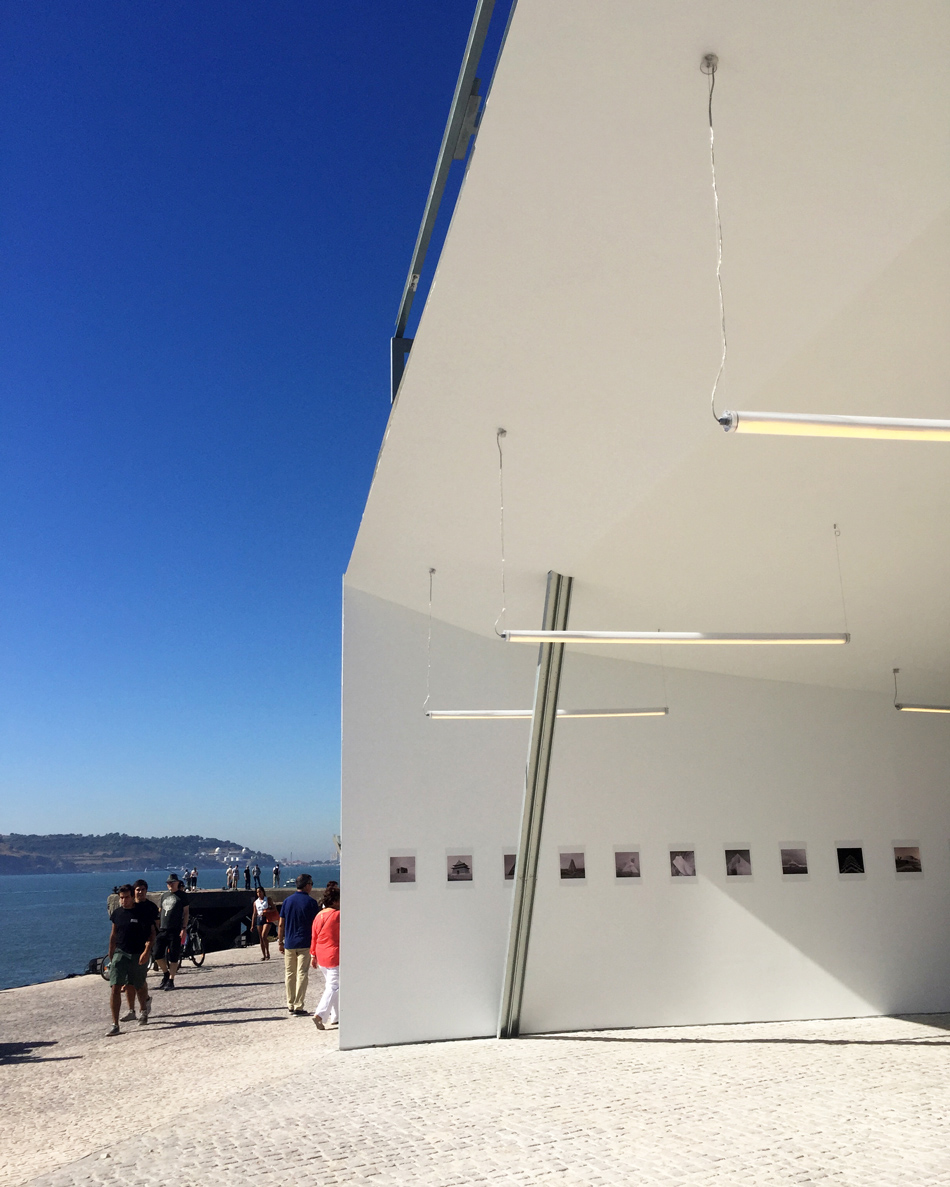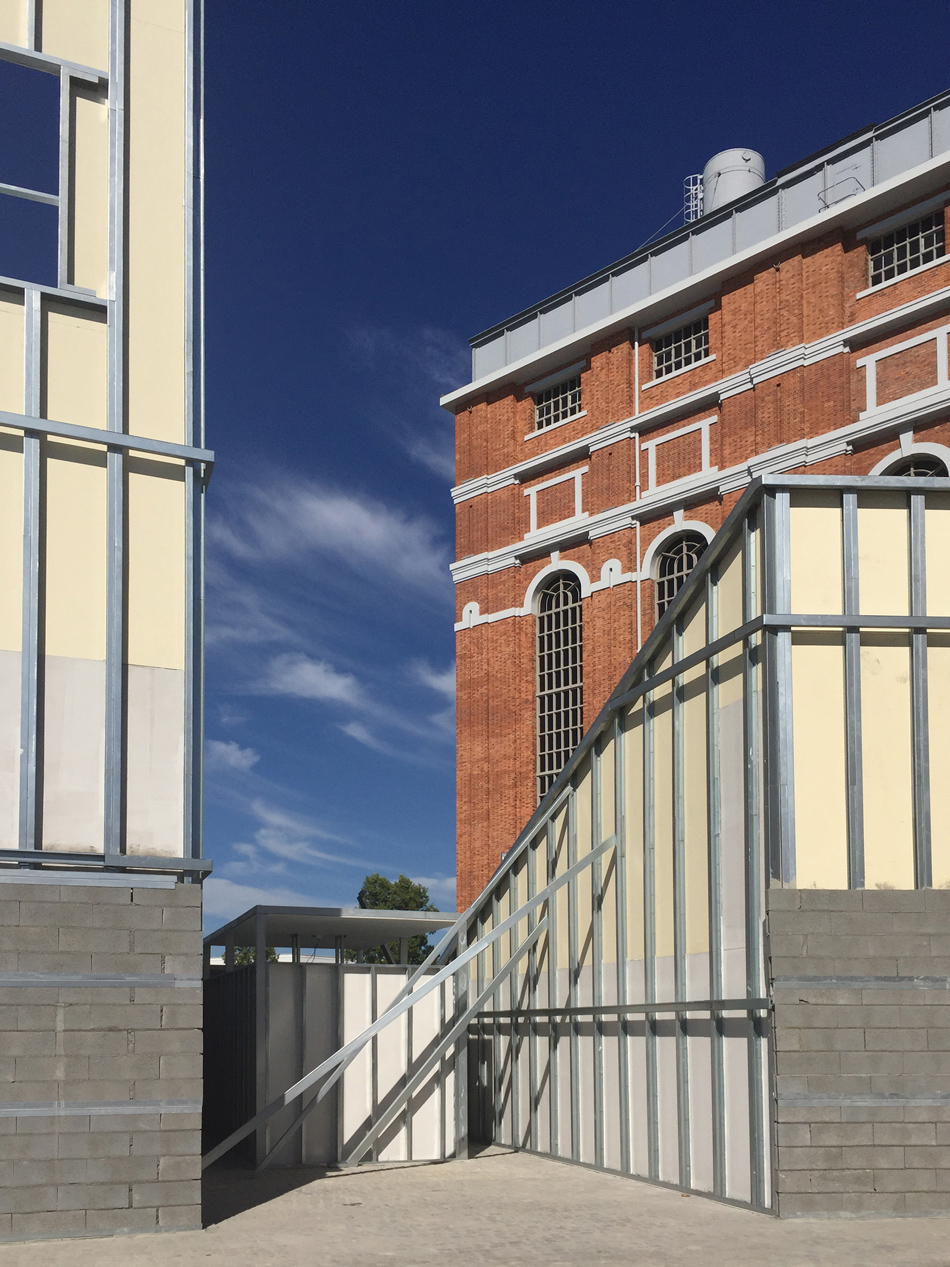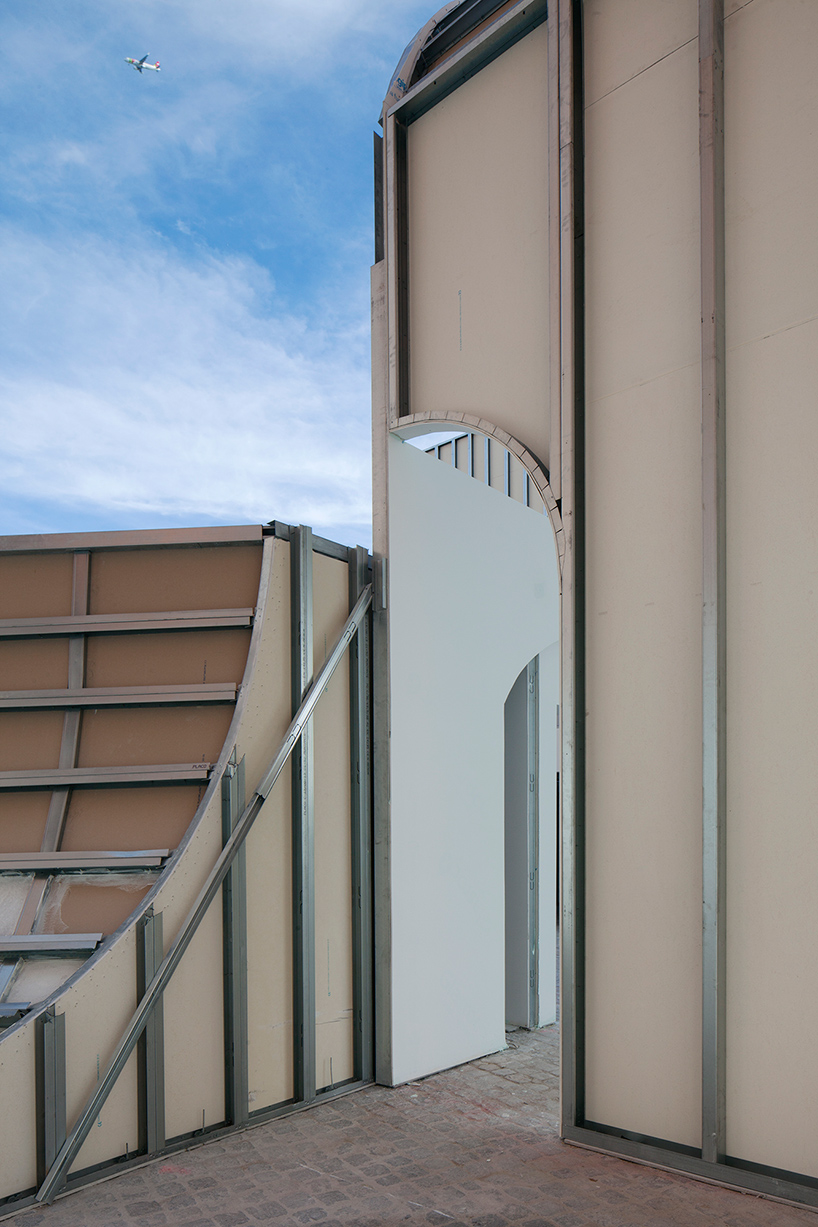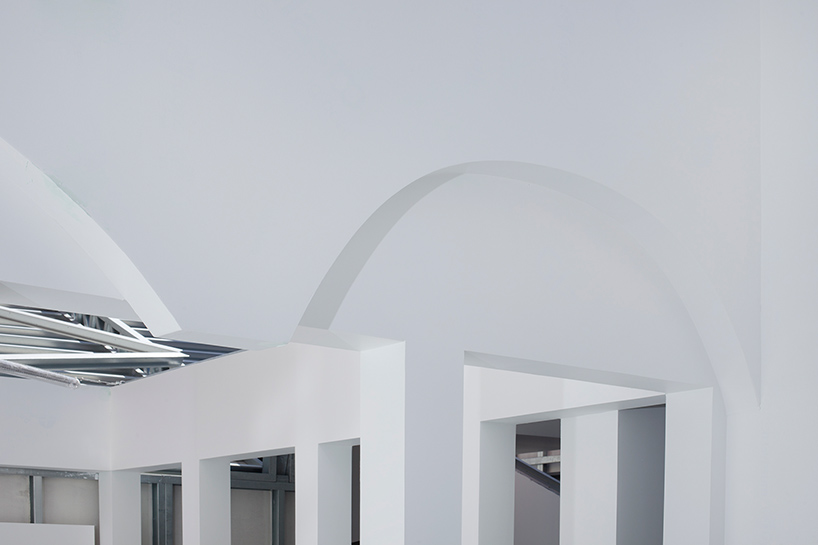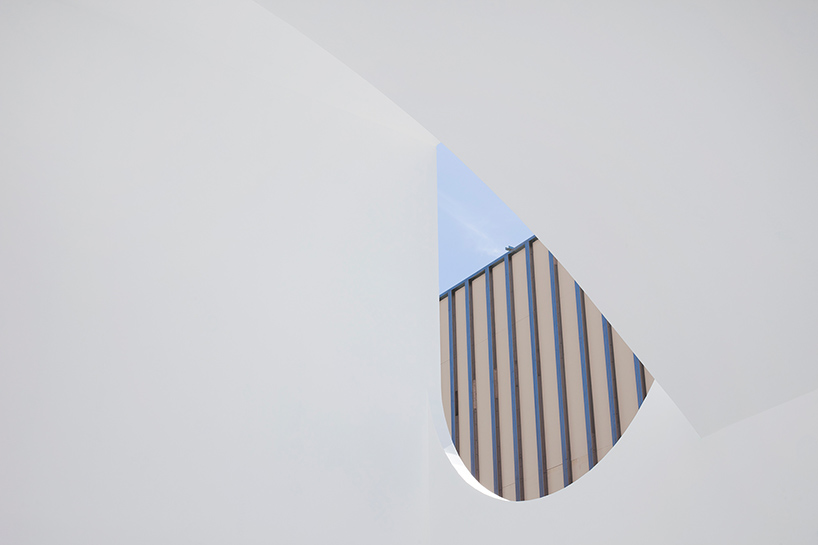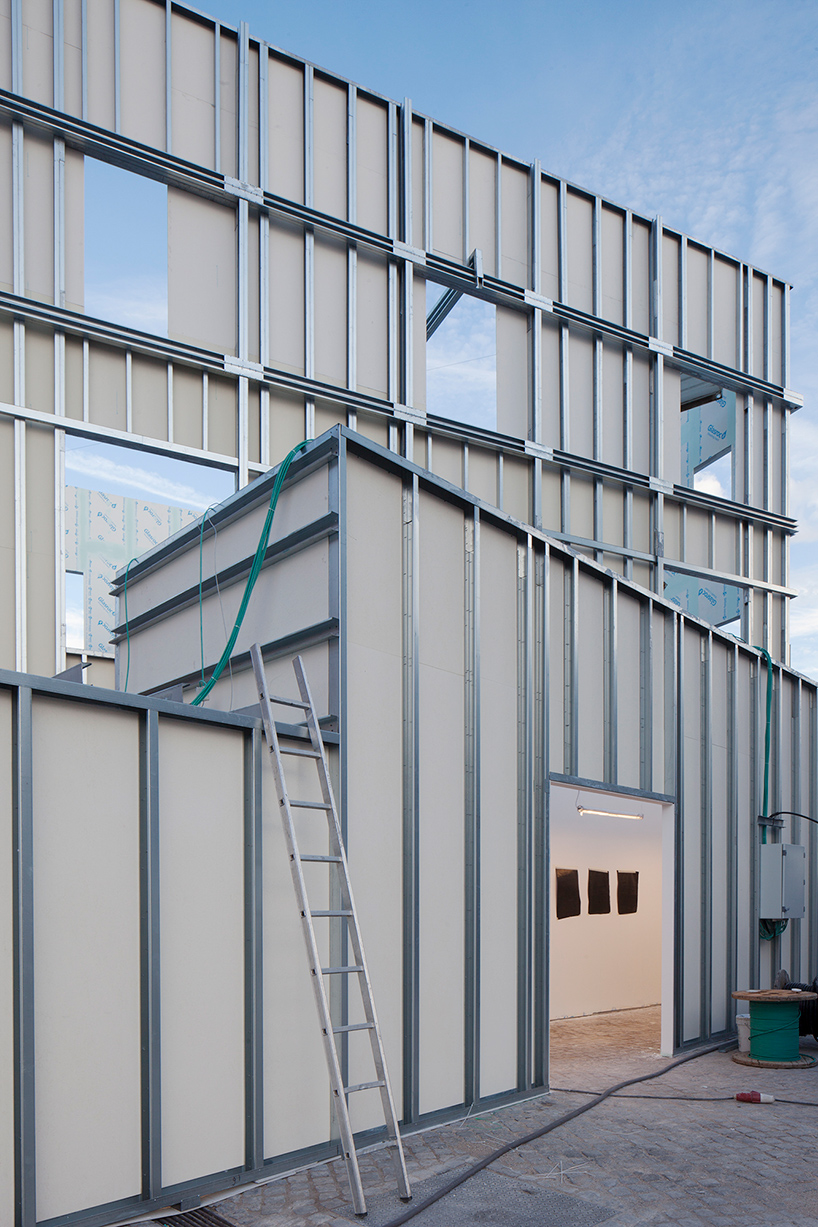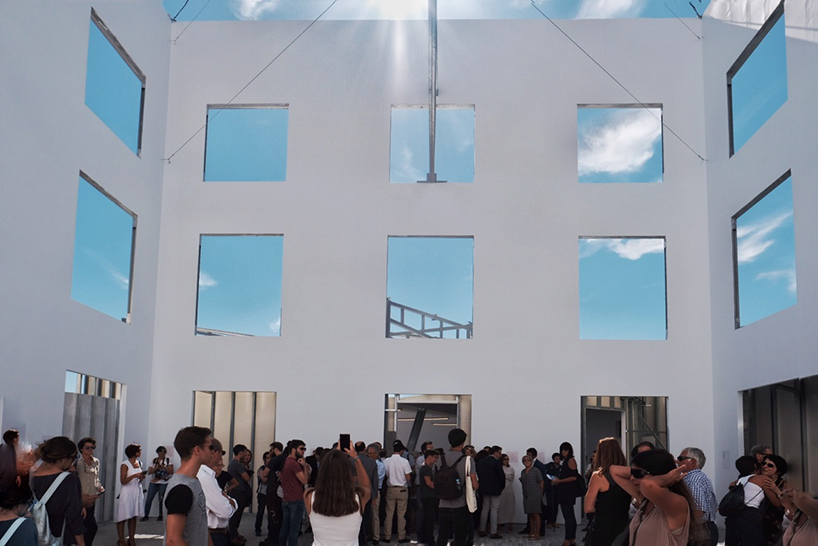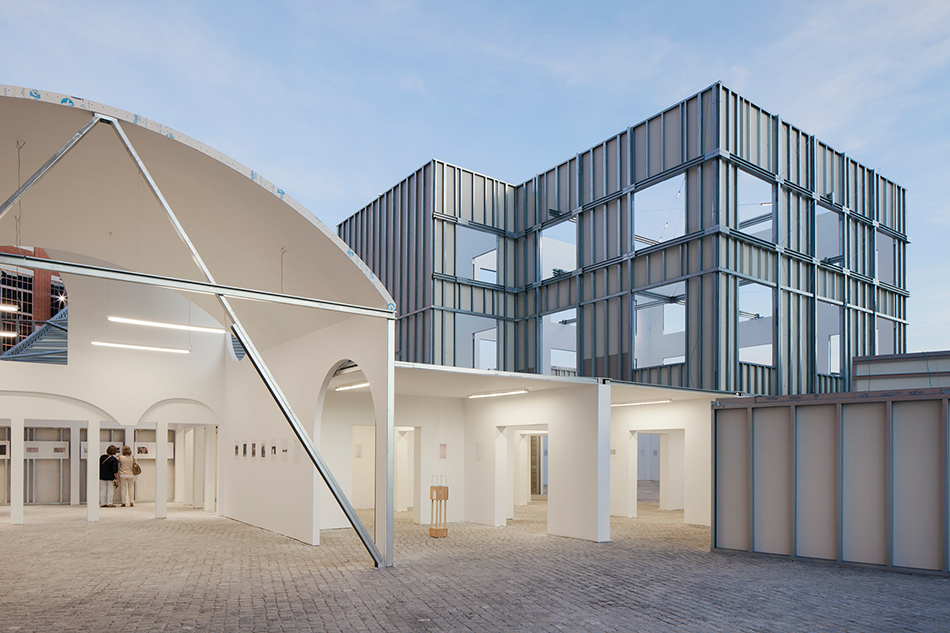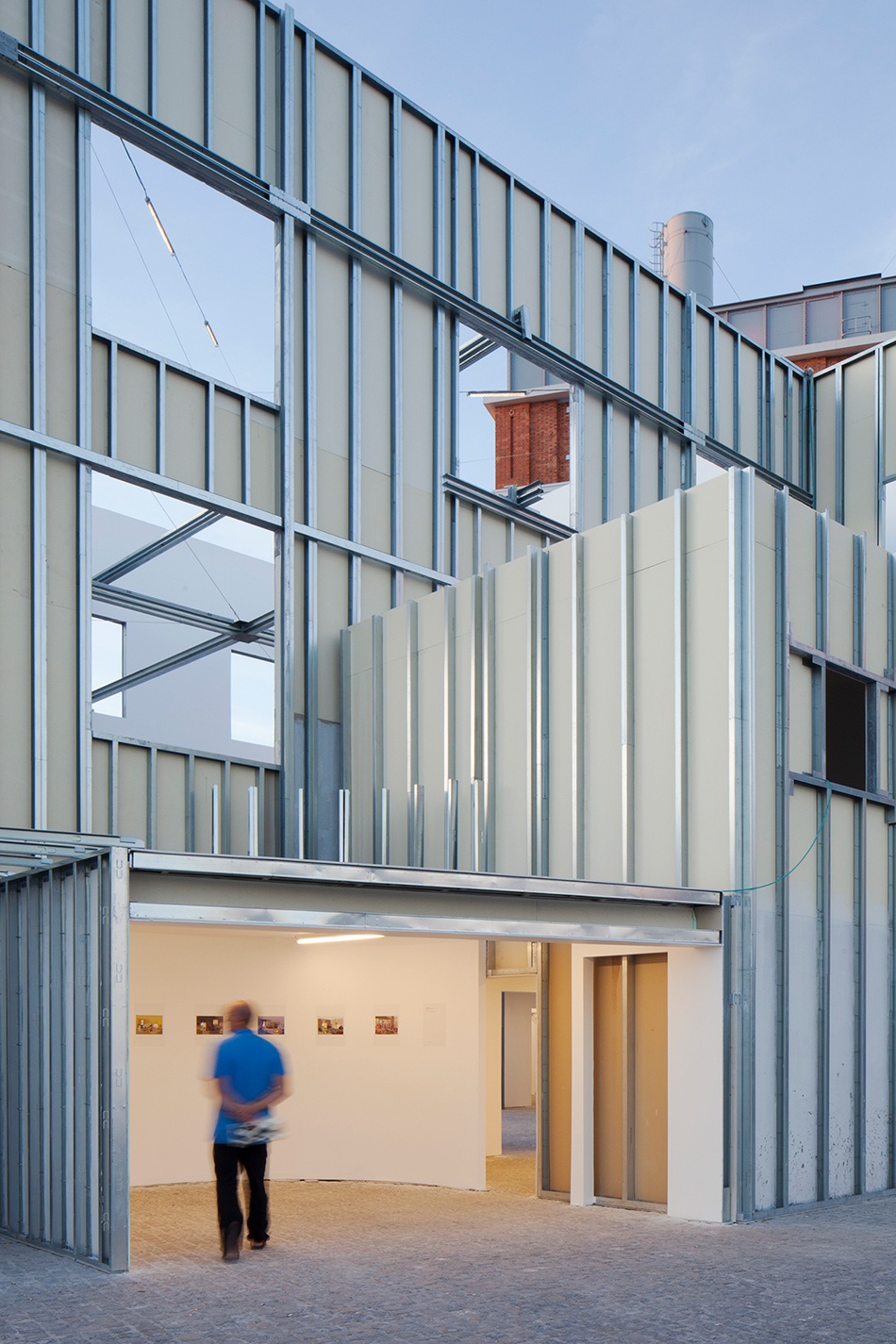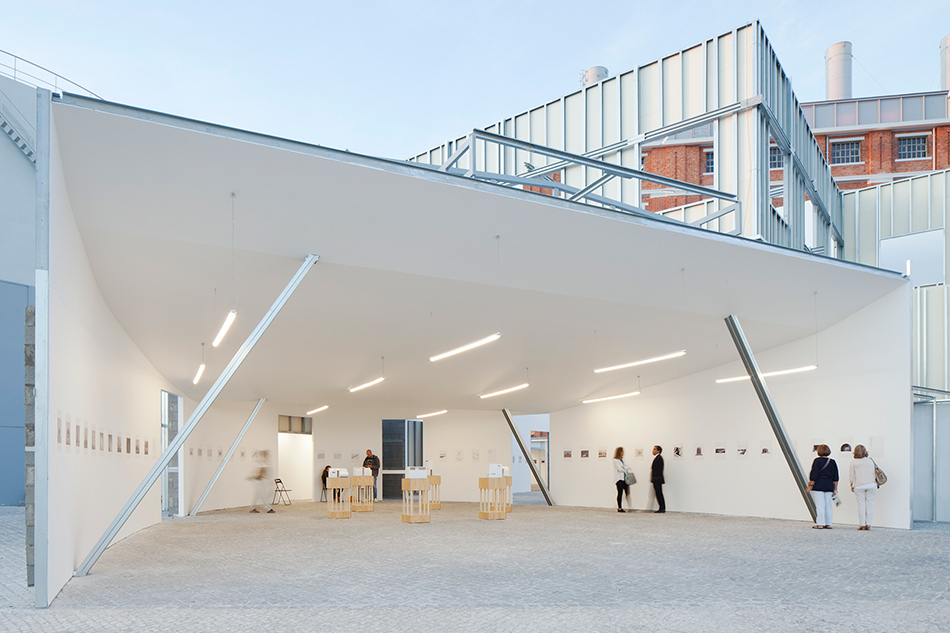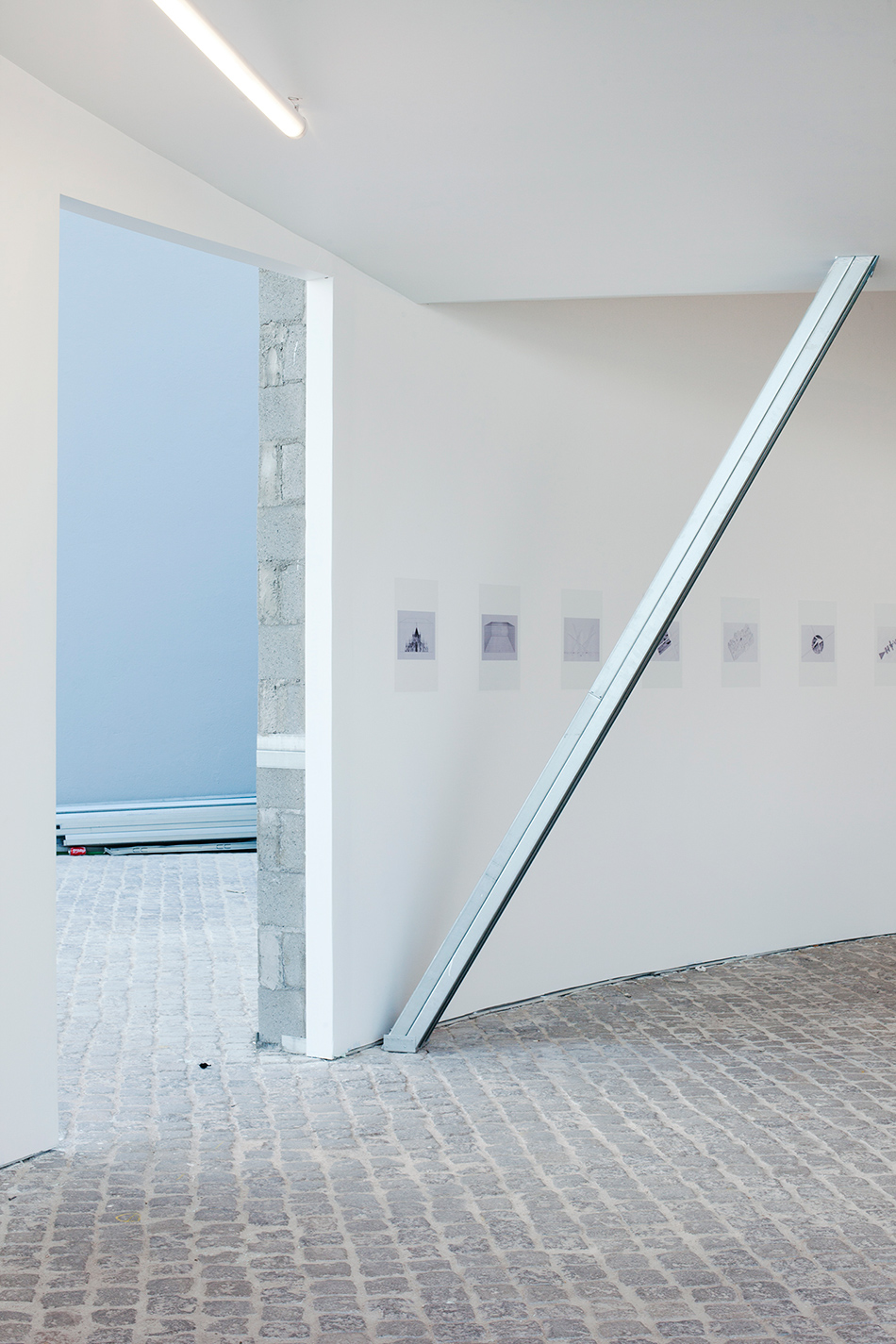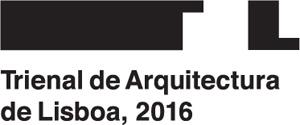 since its creation in 2007, the lisbon architecture triennale (LAT) has fostered knowledge and exchange about contemporary architecture by creating a dialogue open to professionals and the general public alike.
'the form of form', LAT's fourth edition curated by the late diogo seixas lopes and andré tavares, will take place from october 5th – december 11th, 2016. as the title suggests, 'FORM' itself will be a main object of exploration, understood both in its role as a universal means of communication within and outside the discipline of architecture, as well as in its power to radically influence the functioning and the development of cities. LAT will investigate interactions and struggles that materialize in the place where architecture is materially built, drawing attention to the role of technologies and rhetoric on the form architecture takes, and on the impact the built environment is able to have on society and in people's lives.
between the participants, renowned practitioners coming from architecture, design and the visual arts contribute to a multidisciplinary and critical discourse. LAT's programme – including 4 main exhibitions, 7 satellites, 3 awards, 1 competition, 1 international conference, 14 associated projects, and much more – will lead the audience in an in-depth exploration of lisbon's urban landscape, allowing visitors to experience unexpected places, tracing new paths in the city and its surroundings.
designboom is an official media partner of the 2016 lisbon architecture triennale. see our ongoing coverage of the event here.

Save
Save
Save
Save
Save
Save
Save
Save
Save
Save
Save
Save
Save
Save
Save
Save
Save
Save
Save
Save
Save
Save
Save
Save
Save
Save
Save
Save
Save
Save
Save
Save
Save
Save
Save
Save
Save
Save
Save
Save
Save
Save
Save
Save
Save
Save
Save
Save
Save
Save
philip stevens
I designboom
oct 06, 2016
KEEP UP WITH OUR DAILY AND WEEKLY NEWSLETTERS
a diverse digital database that acts as a valuable guide in gaining insight and information about a product directly from the manufacturer, and serves as a rich reference point in developing a project or scheme.
designboom will always be there for you
milan, new york, beijing, tokyo

,
since 1999