2019 proved to be a significant year for diller scofidio + renfro — from the completed renovation of MoMA, to the opening of the shed cultural center (where DS+R served as lead architect, and rockwell group as collaborating architect). since establishing the studio in 1981, the new-york based practice has become renowned for its work across the fields of art, architecture and urban design, and as one of the founding partners, american architect liz diller has played a key role in the studio's prominence.
on the occasion of the world architecture festival 2019, in which liz diller gave the keynote presentation, designboom caught up with the architect for an in-depth chat. from the changing role of the architect to the studio's future projects, diller gave an intriguing and personal insight into the workings behind her practice and the current issues in architecture.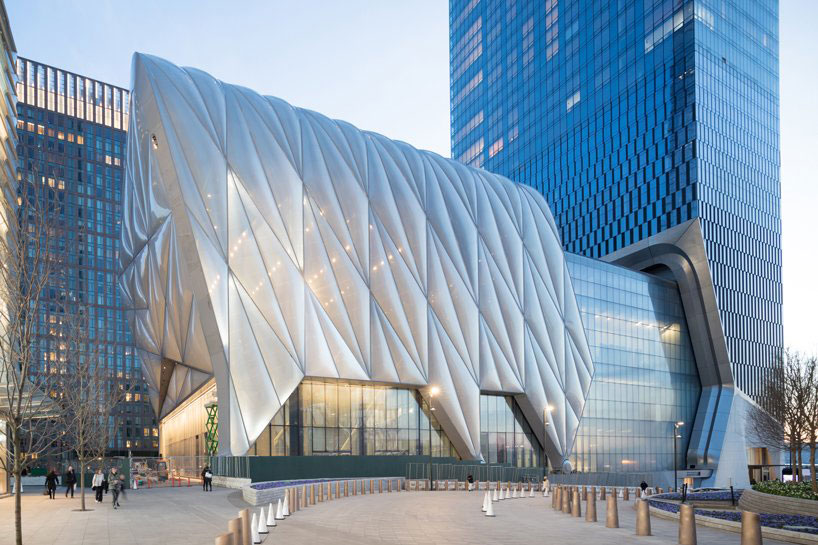 the shed by diller scofidio + renfro (lead architect) and rockwell group (collaborating architect)
image by iwan baan, courtesy of the shed
designboom (DB): you're working on projects all over the world, what challenges do different locations pose?
liz diller (LD): that's a good question. i'm so familiar with my city because i've done so much work there, and in new york i'm basically working for myself as the client because i'm the one that's going to be seeing it and using those facilities. I think that when I come to a new place, I don't assume I know anything. you can't parachute in. one has to really learn as much as possible about a place and it takes a lifetime frankly, but you don't get that. so, it's a combination of intuition, analysis, research and thinking a lot, and sort of second guessing yourself, because it's really tough. location is so much of the equation.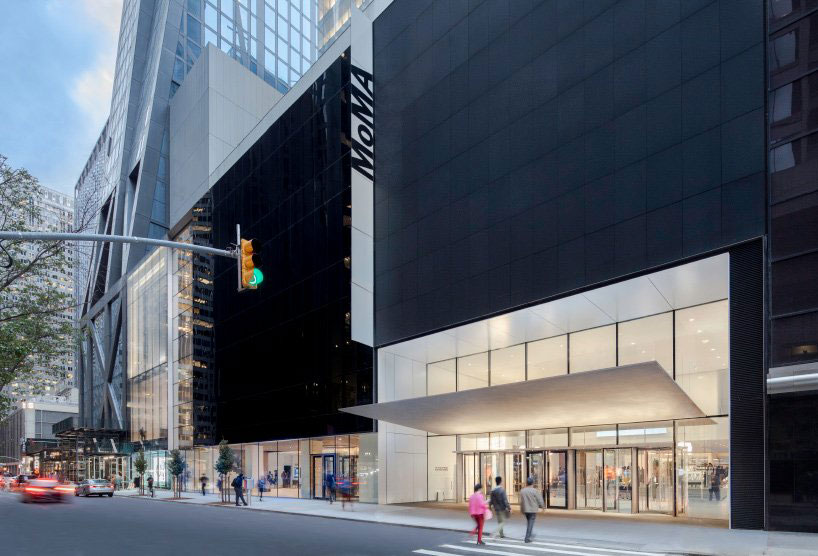 53rd street elevation of MoMA
image by brett beyer, courtesy of diller scofidio + renfro
DB: considering current issues such as climate change and sustainability, how do you see the traditional role of the architect changing?
LD: I think architecture has a danger of becoming obsolete. we're always going to need shelter, but do we need architects? and I think the challenge and the concern is when architecture turns into a service, and it's only using other people's old logics and repeating them, just twisting them for aesthetic interest. that doesn't really interest me… because our society is moving so fast, and architecture is so slow – it's really the big paradox. by the time we realize something that we think is relevant today, it may not be by the time it's built. so how do we guard against obsolescence in physical structures, and still produce architecture with distinction, not generic architecture that can be re-purposed all the time. that's one side of the response.
the other side of the response is that architects need to be at the table in the planning process. architects are also urbanists, it's not two separate professions. we need to be speaking with cities about large strategic planning. about new institutions. about how we change and grow, and it's inevitable that populations are increasing, cities are getting bigger, problems are getting nastier, infrastructure is getting older. there are so many inherent issues and I think that if an architect maintains this sort of isolated status of waiting for a great contract, it's simply not enough. that's where the discipline goes into extinction.
I just think that architects have something to offer and, in trying to make a better future, it sounds a little corny, but I really do believe that. we need all the best thinkers from every discipline possible, and space-making is one of those. so, to a large extent our interest is in civic, cultural spaces, urban spaces, cities – that's the large focus. and the more we can get involved quickly with decision makers, the better. I think that's it. it's about asking the right questions, rather than trying to answer bad ones.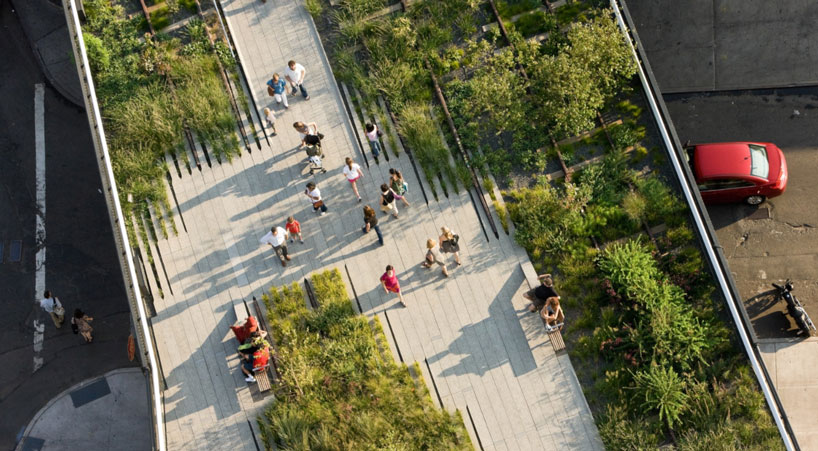 the high line
image courtesy of diller scofidio + renfro
DB: as you're also involved in architectural education, do you see a shift in attitudes from 10-20 years ago to the students you're now teaching?
LD: I do. I think there's a really healthy anxiety. there was a kind of status quo and I'm in an academic environment so academics are theorizing but not necessarily practising. I like to really have a foot in both sides. and I think that students now, it's not enough to just speculate and theorize, they are more action oriented, and I see a wave of activism in students, which I'm trying to help bring out. I don't know exactly how it will manifest itself but I hope that students will continue to decide to be architects, or some version of what the discipline can produce.
there's a danger that students will be lost because there are other ways to go. if you go into politics, policy-making, you can get faster to some of the bigger, more problematic issues. but I'm trying to keep people in the discipline through the lens of the discipline, but thinking about contemporary problems, and finding the architectural agency to pull it off. I think it's important to see architecture as not an autonomous discipline but a very integrated discipline that crosses over politics, policy, economics, culture and cultural concerns.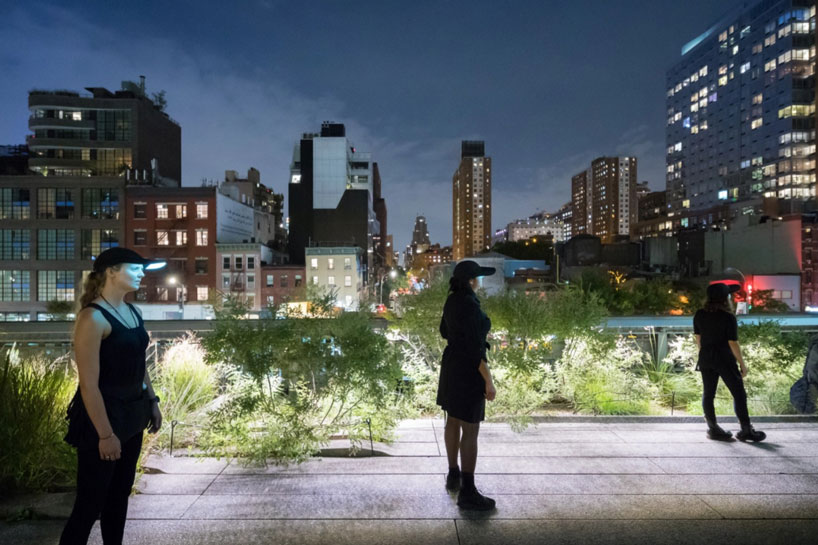 mile long opera
image courtesy of diller scofidio + renfro
DB: do you have any particular project from your career that you're the most proud of or that has given you the most satisfaction?
LD: it's always the last one… really it's like asking for a favorite child. I think there are a lot of them that i'm really really proud of. i'm very proud of the mile long opera, which I started on my own and ended on my own. there are also projects that were important in the studio's history, like the blur building, or slow house. or buildings that I see as fundamental milestones that shifted the orientation of the studio and had a major effect back on us.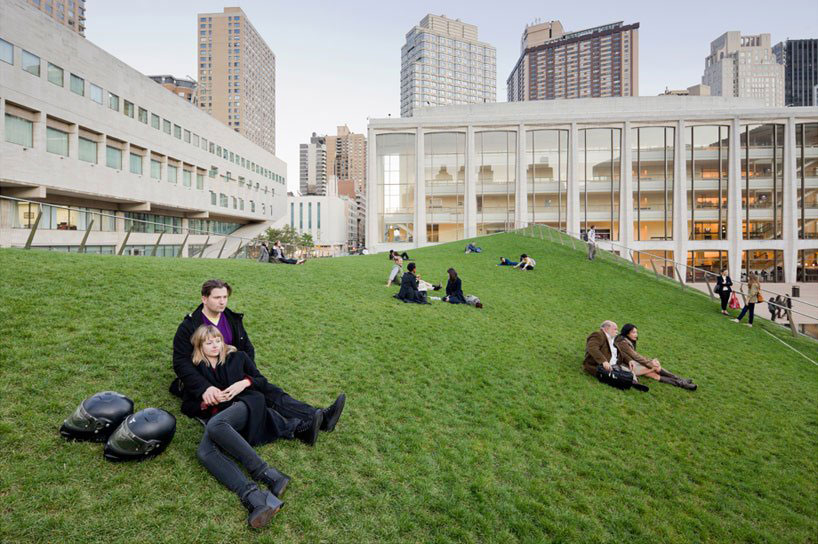 the lincoln center
image courtesy of diller scofidio + renfro
DB: is there any dream project or brief that you would still love to take on in new york?
LD: i've done so much in new york, because we've done two cultural projects, one huge campus with lincoln center, the high line, and we've done a couple of buildings for the columbia medical, education and business school. and regrading different typologies, we've done a lot. I think maybe a really progressive residential low income building, but. we need to make the opportunity for that to happen.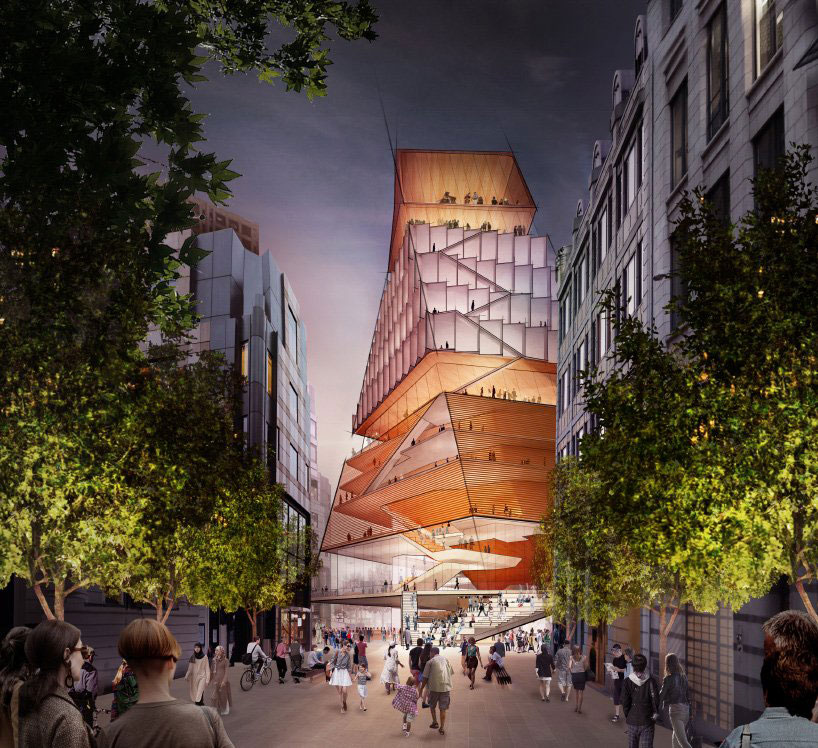 london symphony orchestra
image courtesy of diller scofidio + renfro
DB: can you describe your initial design process?
LD: it's probably multiple things happening at the same time. one is to sort of read between the lines. forget the lines and just figure out what is it really. then it's a sort of right brain-left brain process. one is more analytical, and trying to understand how to mass and stack, and produce just really what's on paper. the other side is to challenge everything. and to also, I guess there are three things. so the sort of dissident part is like, why? I don't take anything for granted, and neither do my partners. and the last thing is intuition. it's about getting stimulated by whatever, and sketching and then somehow these three things come together. I don't know how… it's mysterious.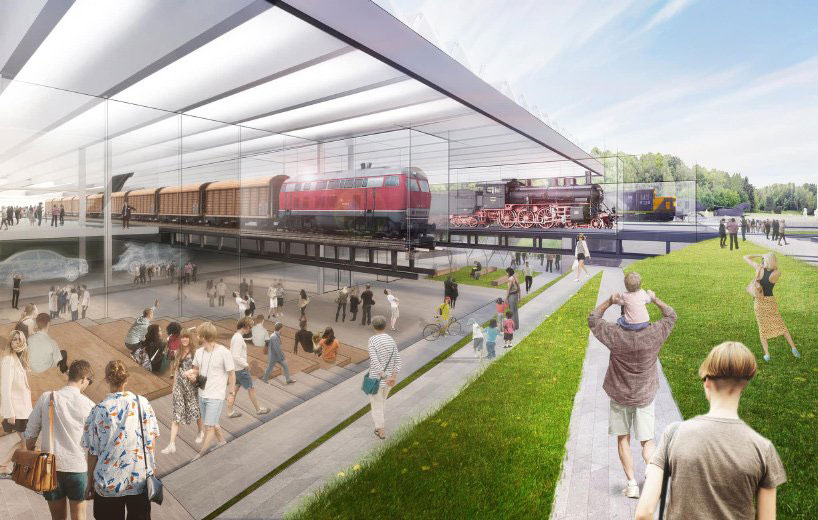 transportation museum in budapest
image © diller scofidio + renfro
DB: how has your office changed over the past 10 years?
LD: 10 years ago, we were maybe 75 or 120 people or so, and we've stayed that way over the last five years, and I think that's a threshold I don't want to go beyond. we're still very primitive in many ways, because we behave like a small office, but we're actually a large- medium office. it's like the partners want to do everything on every project, all the time, and it's massively inefficient. it really doesn't make any sense. I don't know how we stay alive, but it's kind of how we insist on doing it. we can always get smaller or be better, but we have to have that many people to execute the projects that we have. but we very much relish an office where there is discourse, where everyone knows what everybody's doing, this great exchange, partners are all involved. there's a lot of arguments. that's really what it's about. it's not about just doing things efficiently and getting it done. it's messy, there's bloodshed.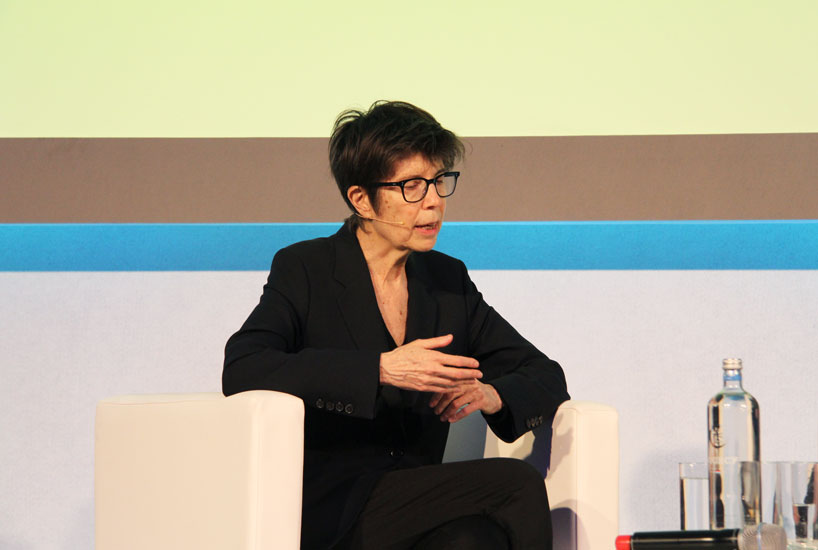 liz diller speaking at the world architecture festival 2019
image © designboom
DB: can you tell us a little bit about the projects you're currently working on?
LD: well, we're working on the final stages of the victoria and albert museum, it's the collections and research center. and it's an outward facing, storage facility that really is publicly accessed, so it's a new paradigm. all of the V&A's collections are now moving to this one place. it's in an existing shell in queen elizabeth park, it's a building that was used for broadcast in the olympics, and so that's a really interesting project.
we're working a little bit more slowly on the centre for music, which is london symphony orchestra. we're working through all the urban issues and through all the commercial and adjacent issues and giving the whole new program a kind of foundation and also we're somewhere in between concept and schematics on the design of it. so that's pretty exciting. we're just starting the transportation museum in budapest. and we do quite a few university projects. so we're doing one for MIT now for the new school of architecture and planning. so that's a real challenge for an architect, but it's also really interesting. it was also an adaptive reuse of a storage facility actually. it had really thick walls and tiny, tiny windows. so it's a challenge. it was good for books and pianos, but it's not good for humans. now we have to figure out how to get humans in there. so, that's fun. things like that.

world architecture festival (WAF) is the world's largest, annual, international, live architectural event. it includes the biggest architectural awards programme in the world, dedicated to celebrating excellence via live presentations to an audience of high-profile delegates and international juries. WAF is a three-day event for architects and interior design professionals to celebrate, learn, exchange, and be inspired. INSIDE world festival of interiors runs alongside WAF, with its own awards and conference programme.
a diverse digital database that acts as a valuable guide in gaining insight and information about a product directly from the manufacturer, and serves as a rich reference point in developing a project or scheme.
designboom will always be there for you
milan, new york, beijing, tokyo

,
since 1999