jun 19, 2013
LOT-EK: taichung terrace triangulates city, park and culture
as a gateway to the taichung park, LOT-EK's 'taichung terrace' finds balance among the opposing characteristics of its natural and built context. the form itself is in geometric equilibrium, composed of two identical triangular volumes rotated and fit together in one dynamic parallelogram. each half of the design houses a separate program and tectonic function. the museum is grounded on the site, providing a boundary between park and city. the library is elevated to create an entryway to the landscape and a shaded 'day plaza', or outdoor extension of the cultural center. the difference in height serves as a wall for display or projection viewed from the 'night plaza' on the roof.

all images courtesy of LOT-EK
composed of shipping containers, growing facades, daylighting apertures, and water recycling systems, the project balances nature and the constructed environment with sustainable in mind. up-cycled modular components constituting the facade and structure are arranged to create windows in which vertical gardens grow. elevations with high sun exposure have deeper openings to allow for larger green areas and shading and cooling for the interior. the roof is also covered in vegetation, which serves as part of the stormwater recycling system. rain gardens and swales filter water held in retention and recreational pools that contribute to 100% on-site re-use. the connection between 'taichung terrace' and the gateway park is enhanced by a combination of soft and hardscapes at the ground level, and complimentary living walls.
'taichung terrace' embodies dichotomy, connecting to the landscape and city beyond
inside the museum, galleries step up to a central skylight. the lobby can then be used for monumental installations. the intended circulation path begins with the elevator to the top floor, and a gentle descent through exhibit halls and across bridges that protrude into the atrium. the adjacent library inverts this formal gesture with a series of floors composed around a central atrium that expands as it ascends, arriving at a skylight that illuminates the whole space. each level consists of a long desk overlooking the void above a study room. these quiet areas are separated by stacks pushed toward the center, leaving the perimeter free for supporting services. 'reading bridges' intersect the opening, creating places for interaction and shared activity — the heart of culture.

from the lobby, galleries step up to a central oculus — like a roman dome

library stacks are pushed toward the interior atrium, leaving space for services at the facade
cutaway drawing of the library and museum showing the inverse relationship of their sections
ground floor plan
 plan – museum level 7, library level 2
plan – library level 4
plan – library level 8
project info:
project name:  taichung city cultural center (competition entry)
building type:  public library/fine arts museum
design:  LOT-EK: ada tolla + giuseppe lignano, principals; marcelo ertorteguy, architect
location:  taichung city, taiwan
size: 200,000 sf (library) + 200,000 sf (museum)
design year:  2013
landscape design:  surfacedesign
mep/sustainability:  arup
structural engineer:  robert silman associates
Save
LOT-EK
(11 articles)
oct 10, 2017
oct 10, 2017
jun 21, 2017
jun 21, 2017
sep 26, 2016
sep 26, 2016
dec 30, 2012
dec 30, 2012
dec 18, 2012
dec 18, 2012
jun 28, 2010
jun 28, 2010
oct 15, 2017
oct 15, 2017
oct 10, 2017
oct 10, 2017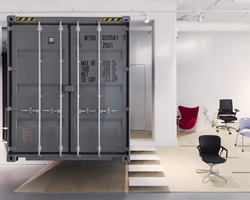 oct 03, 2017
oct 03, 2017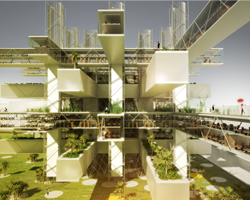 mar 22, 2014
mar 22, 2014
sep 11, 2013
sep 11, 2013
sep 11, 2013
sep 11, 2013