dec 30, 2012
LOT-EK: whitney studio shipping container installation
designed by LOT-EK, the whitney studio is a two-storey loft space measuring 600-square feet. the volume functions as both a gallery as well as an education space for conducting public programs — including art classes for people of all ages and informal lectures — for new york's whitney museum of american art. designed to fit within the institution's open moat, on the south side of the entry bridge, the black cubic volume is comprised of six shipping containers which have been stacked in two rows of three.
all images courtesy of LOT-EK
a continuous diagonal band of fenestration highlighted by a bright yellow, runs along two sides and the roof, visually extending the enclosed area to the museum's ground floor sculpture court, offering glimpses out to the activities of visitors. the windows can also be opened to circulate airflow throughout (as a supplement to HVAC – heating, ventilation and air conditioning). the temporary space has been realized in preparation for the whitney's move to the meat packing district in 2015, and will be removed at that time.
the black cubic volume is highlighted by diagonal fenestration
interior space
view of the whitney studio in the context of the museum's marcel breuer building
general installation view
installation progressimage by tiffany oelfke
interior of the shipping container studio before receiving a coat of white paint
the construction of the studio in new jersey
the construction of the studio in new jersey
animation of the 'whitney studio' by LOT-EKvideo courtesy of LOT-EK
Save
LOT-EK
(10 articles)
jun 21, 2017
jun 21, 2017
sep 26, 2016
sep 26, 2016
jun 19, 2013
jun 19, 2013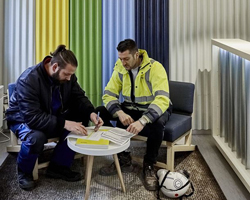 jul 13, 2017
jul 13, 2017
may 13, 2017
may 13, 2017
may 10, 2017
may 10, 2017