ten years ago, the united arab emirates and france signed an intergovernmental agreement to develop the first 'universal' museum in the arab world. the alliance would establish louvre abu dhabi as an independent institution, and includes the use of musée du louvre's name for the next 30 years. now, a decade later, the much anticipated jean nouvel-designed museum is opening its doors to the public for the first time.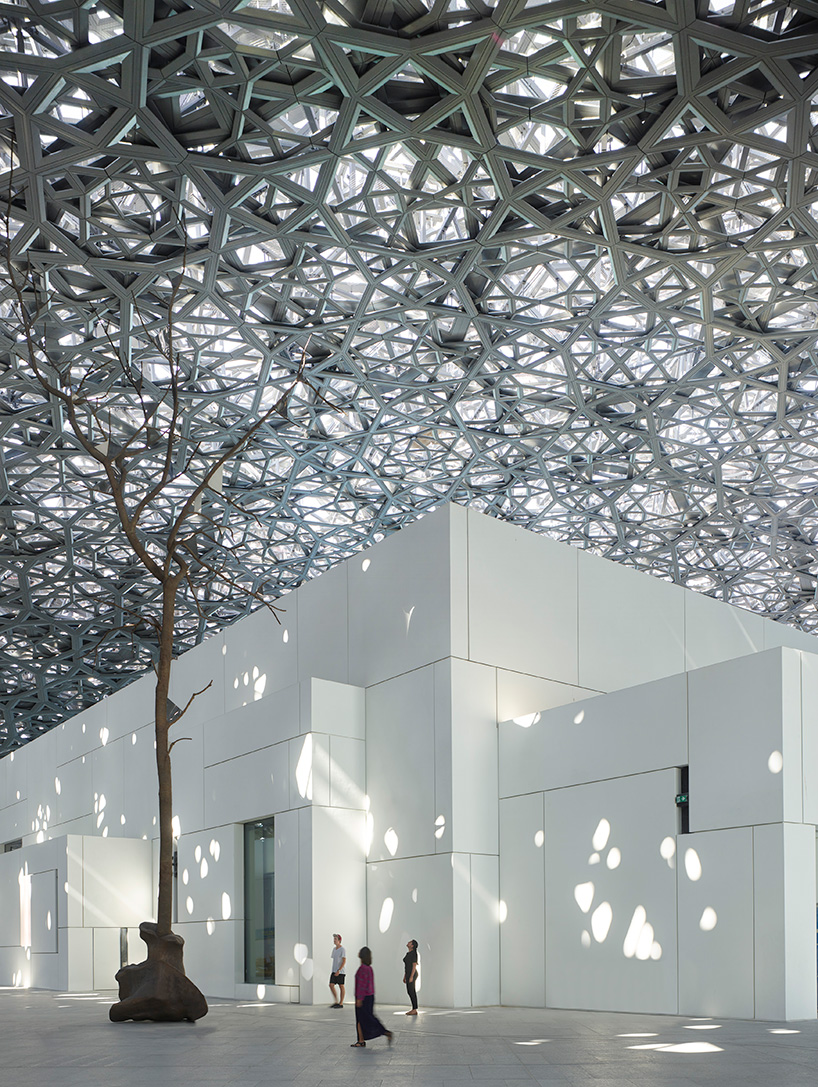 'germination' is an art installation by giuseppe penone
image by roland halbe (also main image) / all images © louvre abu dhabi
referencing traditional emirati architecture, louvre abu dhabi appears as a series of 55 white structures that mimic the low-lying settlements common to the region. the centerpiece of the ambitious scheme is a huge dome — 180 meters in diameter — that appears to float above the entire museum. this complex geometric structure comprises 7,850 'stars', repeated at various sizes and angles in eight different layers. as the hot sun passes above, light filters through the perforations to create an effect referred to as the 'rain of light'. in developing the project, jean nouvel worked closely with international consultancy buro happold engineering.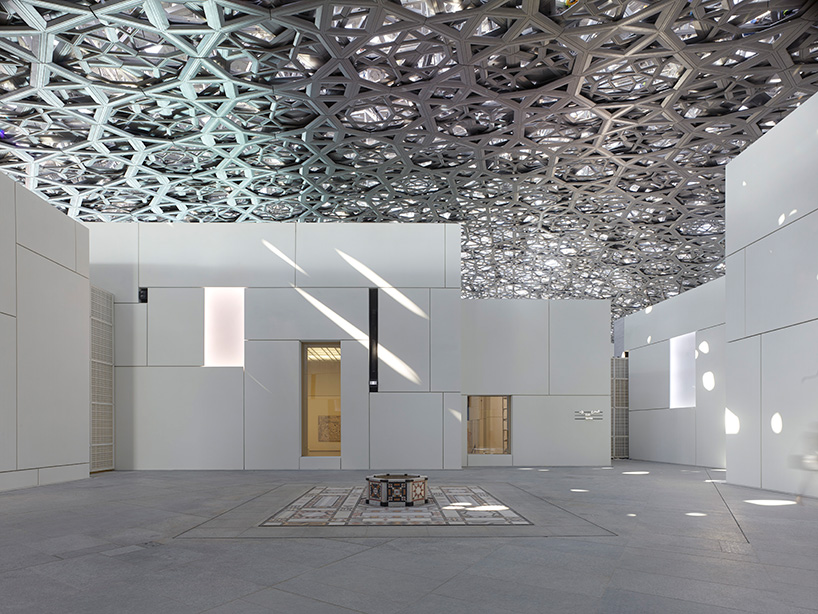 ottoman mosaic pavement inside louvre abu dhabi
image by roland halbe
'it is a project founded on a major symbol of arab architecture: the dome,' explains nouvel. 'but here, with its evident shift from tradition, the dome is a modern proposal. a double dome 180 metres in diameter, offering horizontal, perfectly radiating geometry, a randomly perforated woven material, providing shade punctuated by bursts of sun. the dome gleams in the abu dhabi sunshine. at night, this protected landscape is an oasis of light under a starry dome.'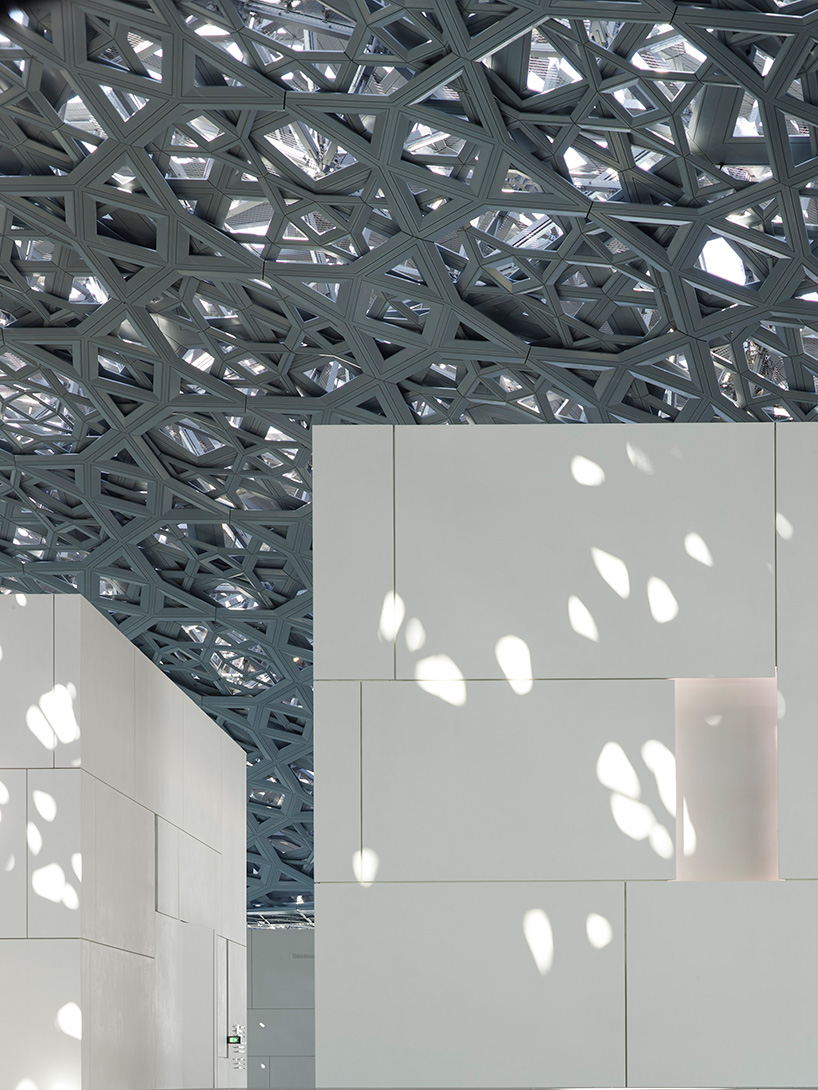 a series of white structures mimics the low-lying settlements common to the region
image by roland halbe
the structure is supported by four permanent, yet invisible, piers, each 110 meters apart. the interior elevation is 29 meters from the ground floor to the underside of the cladding, while the highest point of the dome is 40 metres above sea level and 36 metres above ground floor level. at night, the canopy forms thousands of stars, which remain visible from both inside and out. visitors, who can arrive either by land or sea, are able to explore the museum by navigating its narrow streets and detached buildings.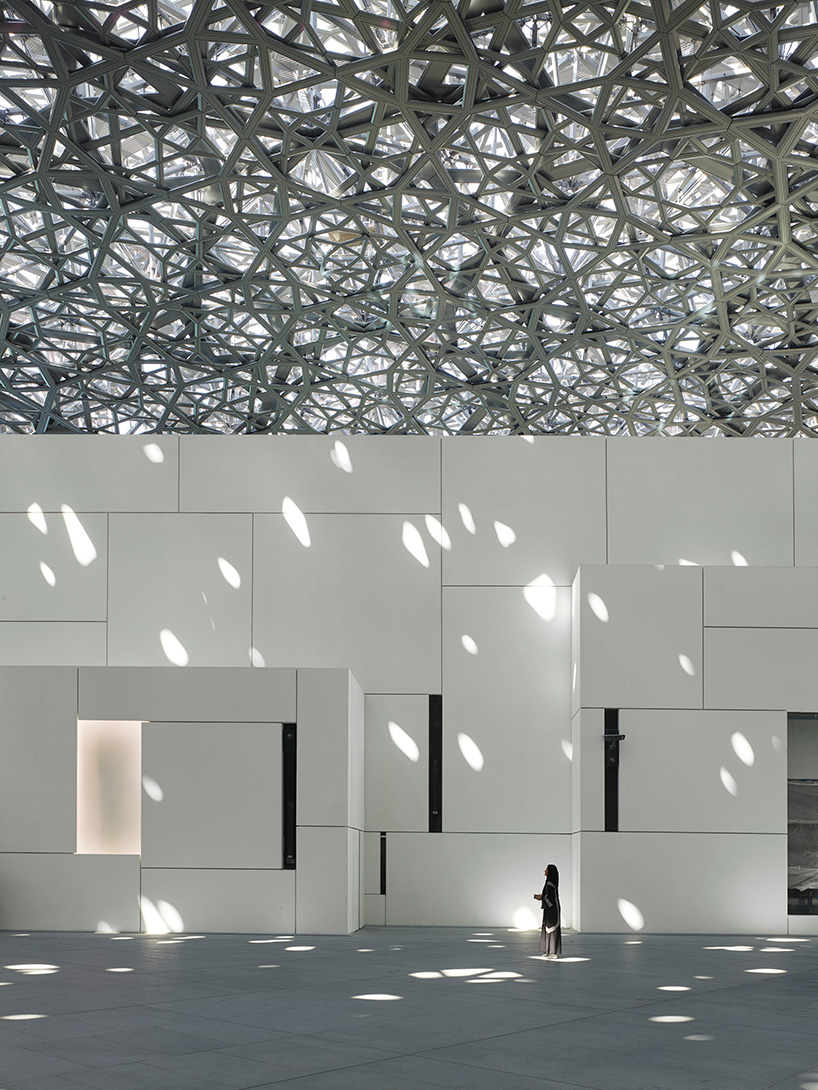 the centerpiece of jean nouvel's ambitious scheme is a huge dome
image by roland halbe
the dome also serves a number of environmental purposes. importantly, it acts as a shading canopy that protects the outdoor plaza and the buildings below from the heat of the sun. in turn, this ensures a comfortable experience for visitors, allowing them to wander between the galleries, exhibitions, children's museum, auditorium, and restaurant. the shade also reduces the energy consumption of each of the covered buildings.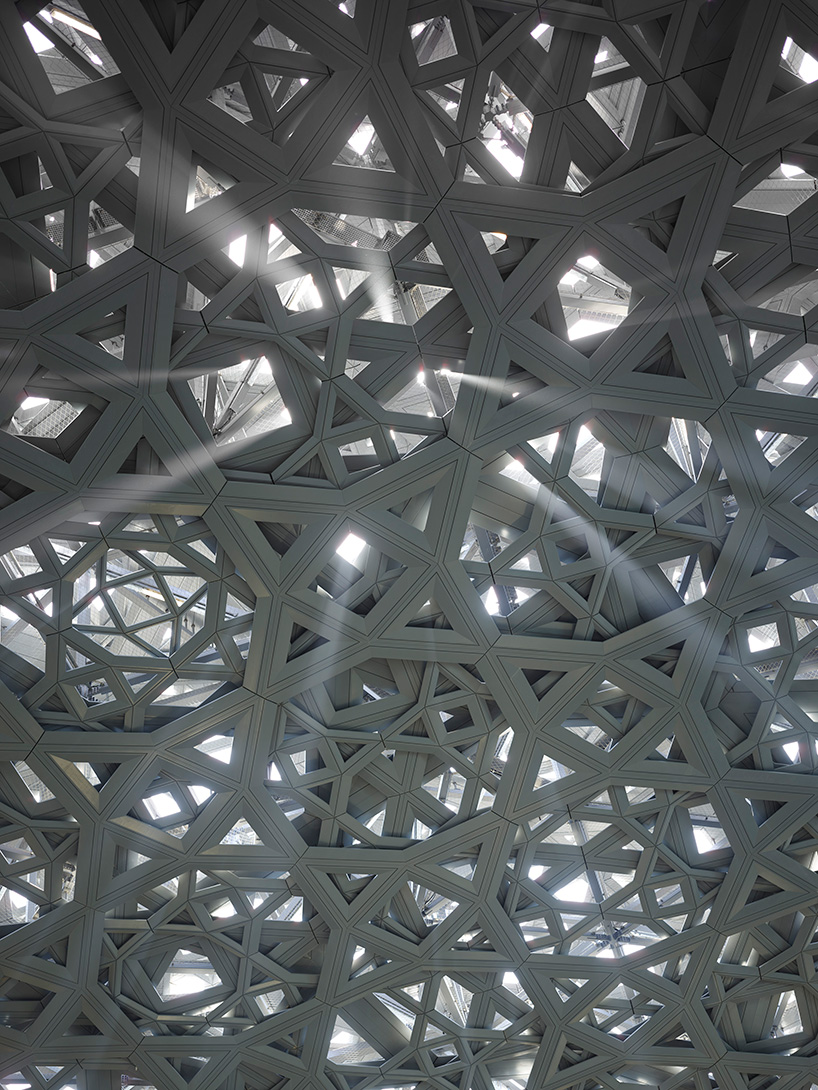 the complex geometric canopy comprises 7,850 'stars'
image by roland halbe
'it is rather unusual to find a built archipelago in the sea,' continues nouvel, addressing the project's unique location. 'it is even more uncommon to see that it is protected by a parasol creating a rain of light. the possibility of accessing the museum by boat or finding a pontoon to reach it by foot from the shore is equally extraordinary, before being welcomed like a much-awaited visitor willing to see unique collections, linger in tempting bookstores, or taste local teas, coffees and delicacies.'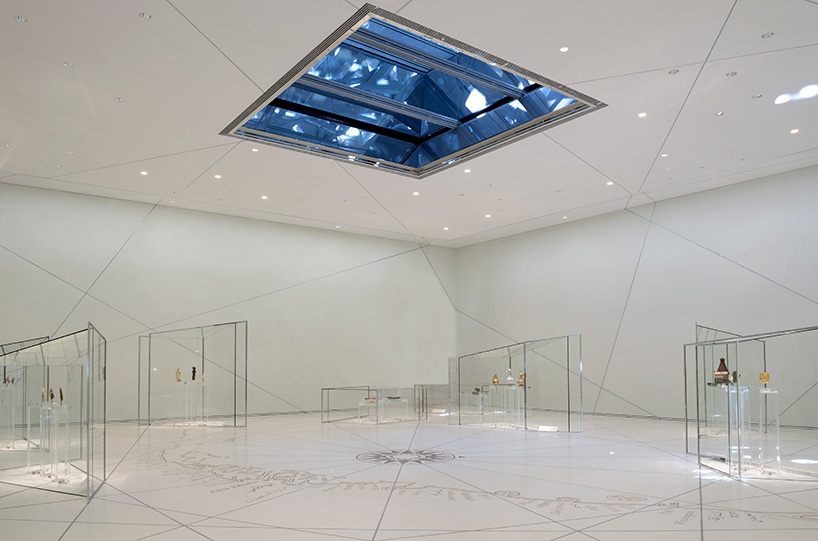 the 'great vestibule' presents universal themes that highlight similarities between early civilizations
image by marc domage
louvre abu dhabi began acquiring works in 2009, with some works already displayed as loans in cultural institutions such as centre pompidou metz, musée d'orsay, and the national gallery of art in washington DC. presented across 6,400 square metres of galleries, the museum's growing collection of treasures includes more than 620 important artworks and artifacts spanning the entirety of human history. it includes ancient archaeological finds, decorative arts, neoclassical sculptures, paintings by modern masters and contemporary installations.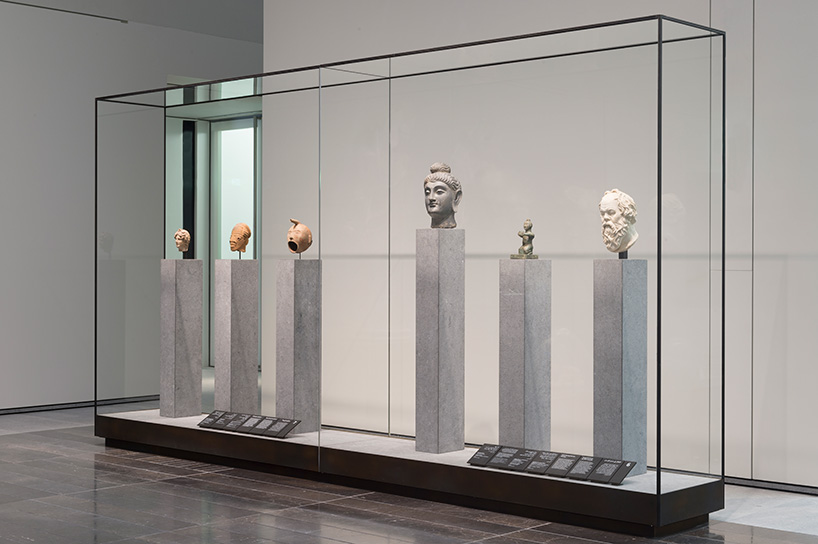 gallery 3 contains and exhibit titled 'civilisations and empires'
image by marc domage
'this is very powerful architecture requiring strong, cutting-edge engineering and a huge team of engineers working as one to understand the clients' desired outcomes and the architects' response,' explains stephen jolly, partner and global cultural sector lead at buro happold engineering.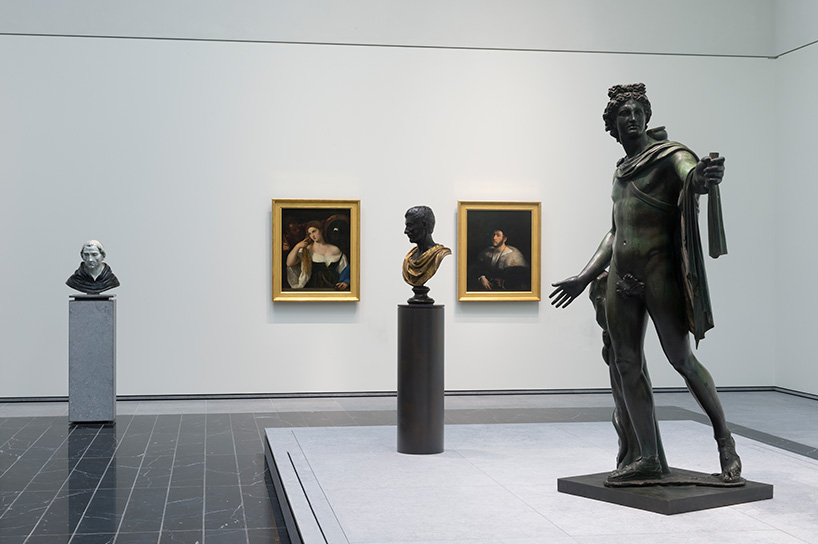 'a modern world?' considers the industrial revolution's impact on art
image by marc domage
artists giuseppe penone and jenny holzer have worked closely with louvre abu dhabi's team and jean nouvel to develop sculptures and installations that integrate into the architecture and reflect the universal stories of the building. in total, at the time of the museum's opening, 235 works from louvre abu dhabi's own collection are displayed in the galleries. louvre abu dhabi opens to the public on november 11, 2017. see designboom's previous coverage of the project here.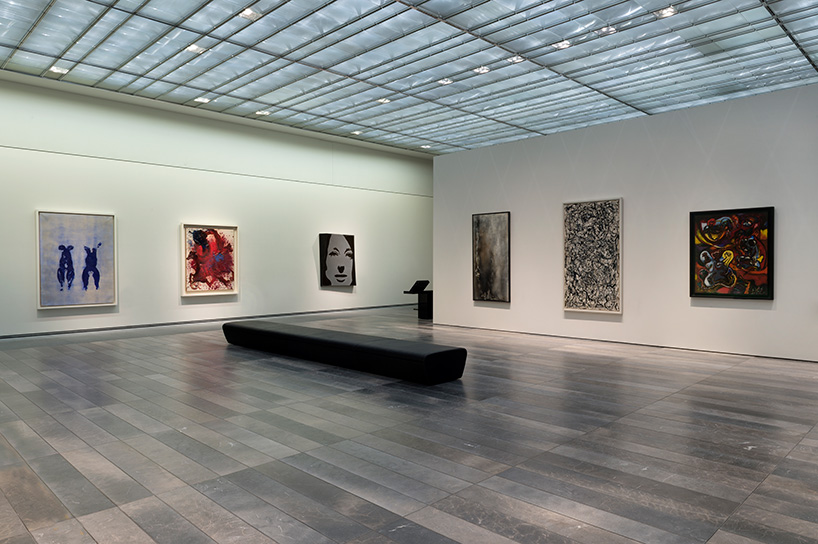 'challenging modernity' examines the notions of modernity and progress
image by marc domage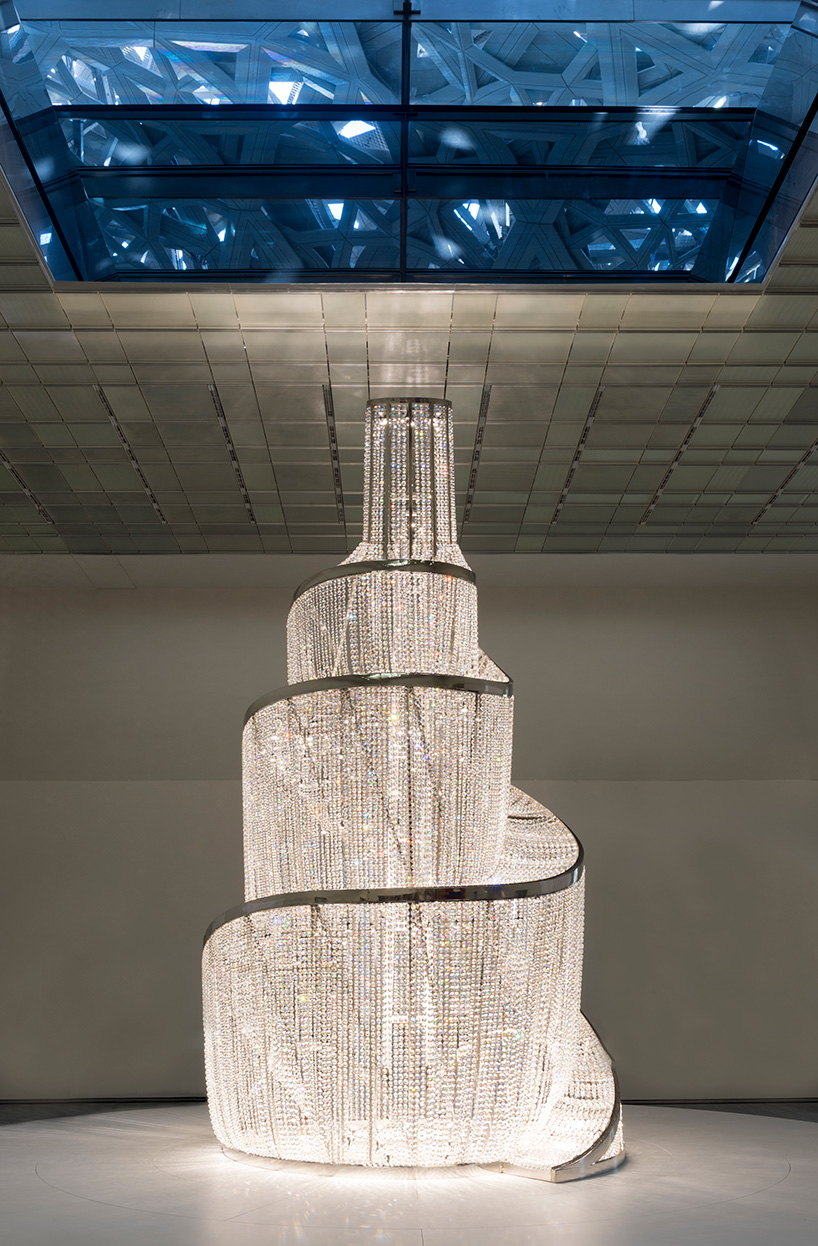 ai weiwei's 'fountain of light' (2016) forms part of the display
image by marc domage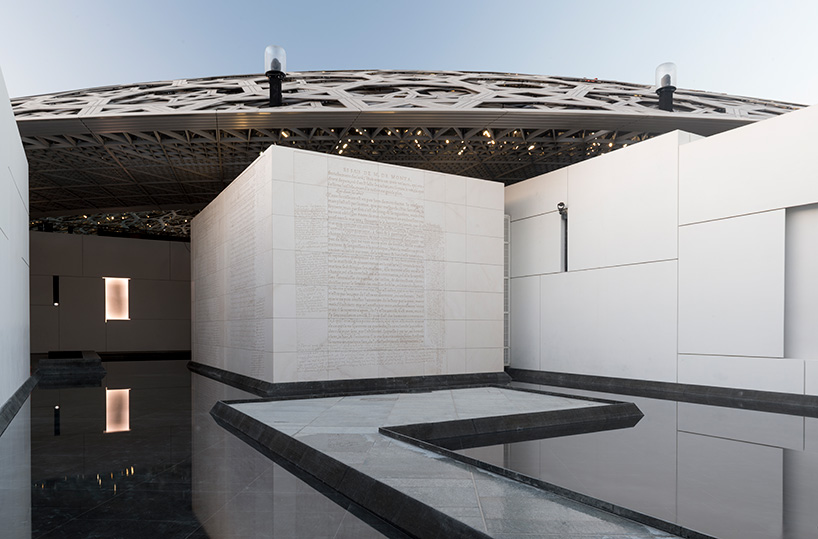 'for louvre abu dhabi' (2017) by american artist jenny holzer
image by marc domage
Save
Save
Save
Save
Save
Save
Save
Save
Save
Save
Save
Save
Save
Save
may 19, 2020
may 19, 2020
may 19, 2020
may 19, 2020
may 06, 2020
may 06, 2020
apr 07, 2020
apr 07, 2020
feb 10, 2020
feb 10, 2020
jan 04, 2020
jan 04, 2020
jun 08, 2020
jun 08, 2020
feb 23, 2020
feb 23, 2020
aug 23, 2019
aug 23, 2019
jun 26, 2020
jun 26, 2020
jun 26, 2020
jun 26, 2020
jun 25, 2020
jun 25, 2020
a diverse digital database that acts as a valuable guide in gaining insight and information about a product directly from the manufacturer, and serves as a rich reference point in developing a project or scheme.