may 25, 2011
mA style: riverbank house/ kawabe no sumika
'riverbank house / kawabe no sumika' by mA-style design of architecture + planning, shizuoka prefecture, japan images © kai nakamura
japanese practice mA-style design of architecture + planning have created 'riverbank house/ kawabe no sumika', a single family home in shizuoka prefecture, japan. located on a confined strip of land, sandwiched between a quiet riverbank and a residential neighborhood, the home is a response to both the contrasting surrounding environment and the site which it sits upon.
dominant and symmetrical in form, the dwelling features two distinctly different facades, altering the overall perception of space and dimensionality. the street side facade, solid and impermeable in its massing refers to its position and immediate context, a busy and noisy environment full of car and pedestrian traffic. smooth and minimal in its expression, the surface aims to conceal any evidence of life and activity taking place within the home. on the opposite side of the structure, a complex set of shapes and openings develop a drastically different sense of space. a collection of terraces extend from each void, integrating the minimal interior rooms with the exterior environment.
concealed front facade
the bedrooms and private quarters are dispersed throughout the ground floor, each with a large window that looks to establish a constant connection with the land and vegetation. public spaces – the open kitchen, living and dining room – are situated on the second floor, where they have uninterrupted views of the river and lush marshland.
street side facade
entrance
entrance
view into bedroom and living room
side elevation
(left) terraces on ground and second floor (right) bedroom on ground floor
bedroom
(left) bedroom (right) stairway to second floor
staircase
kitchen and stairway
kitchen
view of kitchen from living room
kitchen and living room
terrace off living room
night view
view of surrounding landscape
(left) floor plan / level 0 (right) floor plan / level 1
sep 23, 2013
sep 23, 2013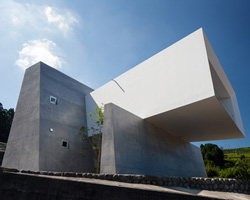 feb 12, 2013
feb 12, 2013
jun 18, 2012
jun 18, 2012
jun 11, 2012
jun 11, 2012
sep 12, 2011
sep 12, 2011
may 30, 2011
may 30, 2011