sep 12, 2011
mA style: zigzag house
'zigzag house' by mA-style architects, yaizu, japan image © kai nakamura
japanese practice mA-style architects have completed 'zigzag house' a single family residence located in yaizu, japan. a singular wall which has been zigzagged at varying widths and distances forms the dwelling's interior arrangement and organization. the exterior wall planes are shifted parallel to each other and generated spaces are linked with a perpendicular corridor. each successive room borders a different courtyard introducing light and allowing views of the plantings through glass facades.
street approach image © kai nakamura
smooth concrete surfaces the outside and occasionally passes through the interior accentuating the continuously bending and shifting core. warm wood outlines the track mounted windows and becomes used for the floor material, built in storage and furnishings. courtyard gardens placed within the voids become incorporated into the inhabitant's daily activities providing a tranquil landscape within the densely developed neighborhood.
front elevation image © kai nakamura
parking image © kai nakamura
layered exterior walls image © kai nakamura
terrace leading to living space image © kai nakamura
large sliding door opens living space to the terrace image © kai nakamura
view of living space from bedroom image © kai nakamura
corridor leading to living space image © kai nakamura
(left) corridor to living space (right) kitchen and dining area images © kai nakamura
courtyard garden image © kai nakamura
floor plan / level 0 image courtesy of mA-style architects
conceptual diagram image courtesy of mA-style architects
diagram image courtesy of mA-style architects
sep 23, 2013
sep 23, 2013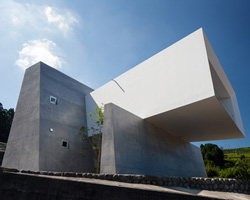 feb 12, 2013
feb 12, 2013
jun 18, 2012
jun 18, 2012