MAD architects has begun construction of its 700,000 square meter sports campus in quzhou, a city in china's eastern coastal province of zhejiang. the design combines the functions of a sports park with natural, organic forms, resulting in a poetic landscape that falls somewhere between earth and mars. 'we dream not only of creating an urban space about sports and ecology, but also turning it into a unique land art park for the world, establishing a relationship between the city's heritage and history of shanshui culture,' explains ma yansong, founder and principal partner of MAD.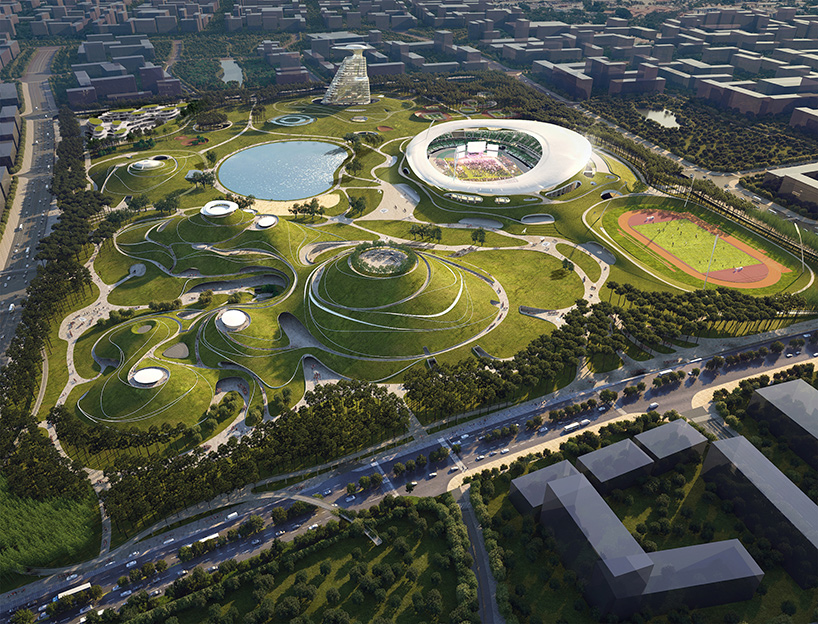 all images courtesy of MAD architects
the first and second phase of MAD's sports campus have a total construction area of approximately 340,000 square meters, and include: a stadium (30,000 seats), gymnasium (10,000 seats), natatorium (2,000 seats), national sports complex, outdoor sports venue, science & technology museum, hotel accommodations, youth center and retail programs. located in quzhou, a forest city with thousands of years of history, culture and philosophical ideas, the project expands as a surreal, ethereal and tranquil landscape, 'like a mirage, that has the potential to become a place of spiritual belonging for the future of the city.'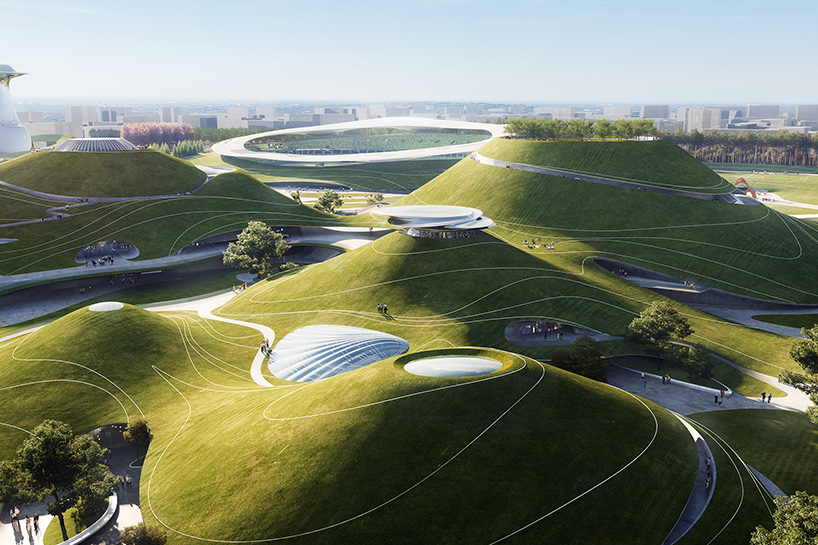 surrounded by a dense forest of tall trees that seclude the site from the city, the campus takes the form of an extraterrestrial landscape, featuring a series of mountains and a lake conceived as a sunken garden. visitors move through the park drifting, climbing, and traversing the terrain, which culminates in the crater-shaped stadium. crowned by a translucent 'halo' that gently hovers above the ground like a floating cloud, the stadium stands as a spiritual metaphor, inviting people to engage in a dialogue between earth and sky. the adjacent rolling 'hills' on the northeast side form the gymnasium, natatorium, and training center, above which are public spaces and natural scenery that attract people to look up and pause in a moment of contemplation.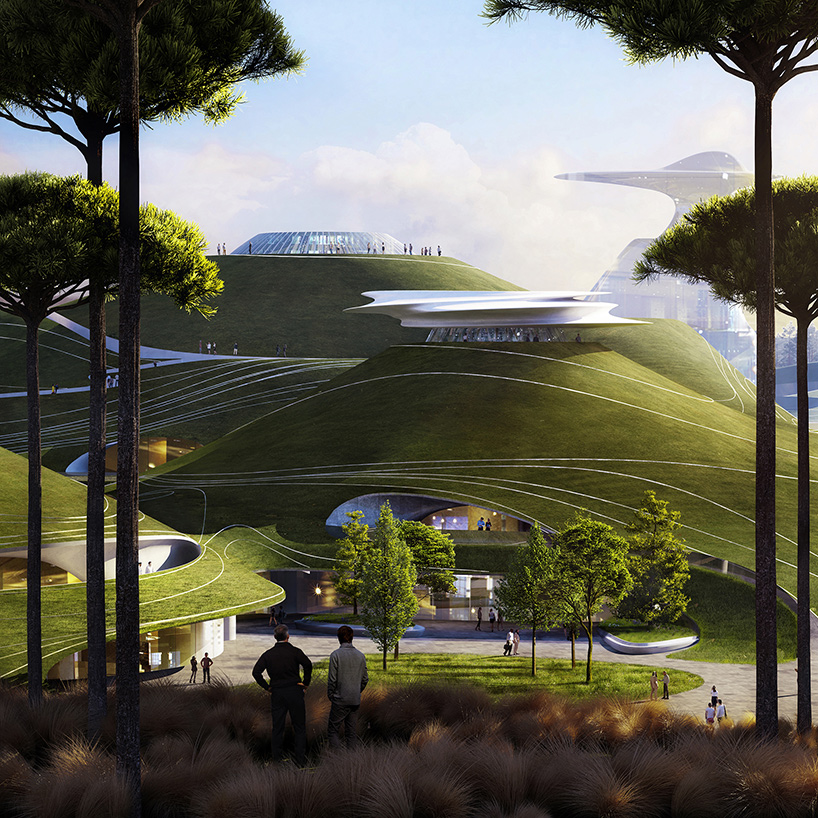 the interiors and exteriors of the buildings are connected to nature, providing an openness towards the landscape. pathways between the mountains and the lake encourage people to slowly walk around the park, run along the trails, or just enjoy a seat on the lawn to take in the scenery. natural light enters the buildings' interior spaces through platforms or skylights, which also provide natural ventilation. the mountain-like exterior forms are covered in greenery, which while being energy-saving, are also human-scale and accessible.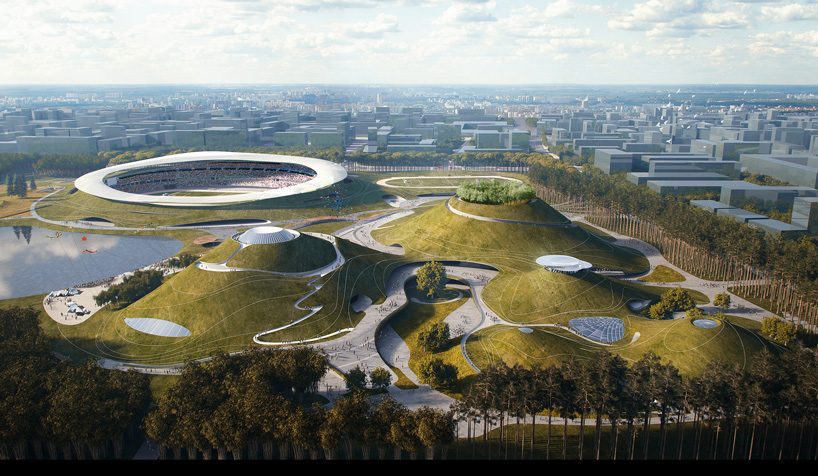 the quzhou sports campus offers a unique outtake on the urban construction model of conventional large square landmarks, advocating a future where the harmonious relationship between man and nature takes center stage. 'the relationship between man and nature is not only about ecology and sustainability, but it is also about spirit and mood,' ma yansong points out, 'this is the culture and philosophy that has long existed in the history of this land and needs to be applied in the development of our future cities.'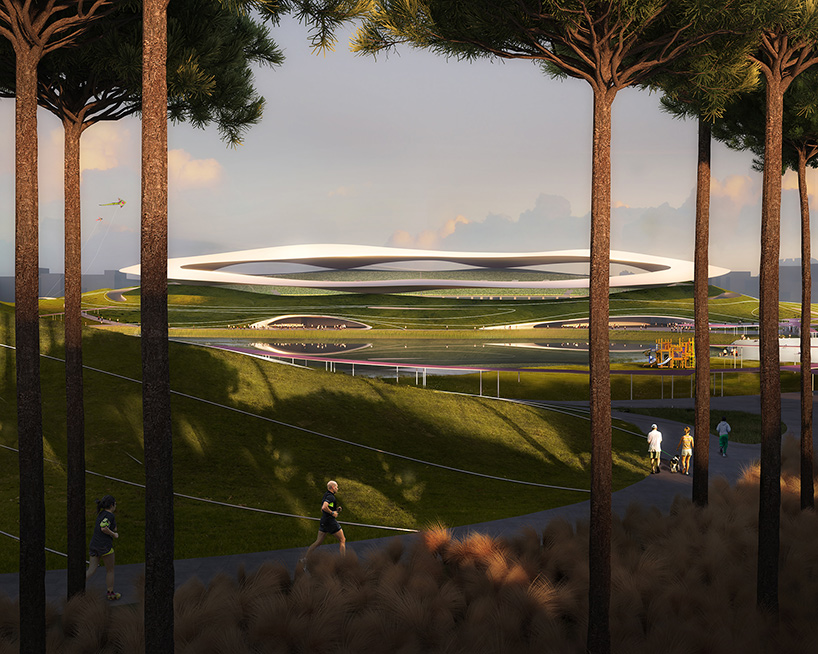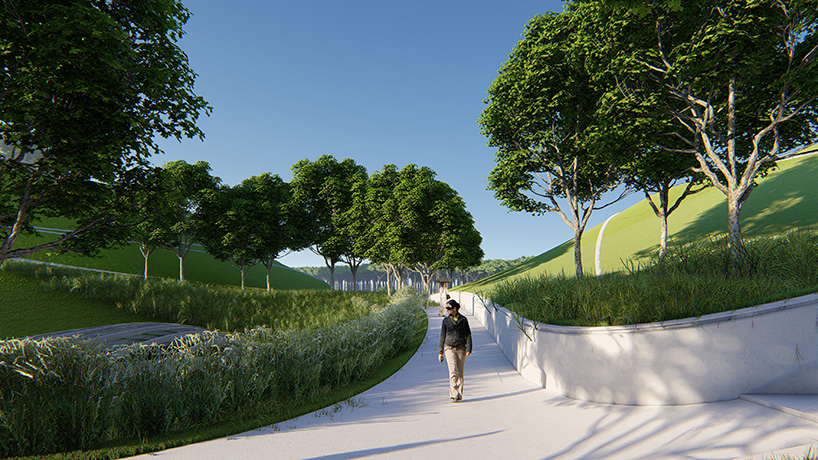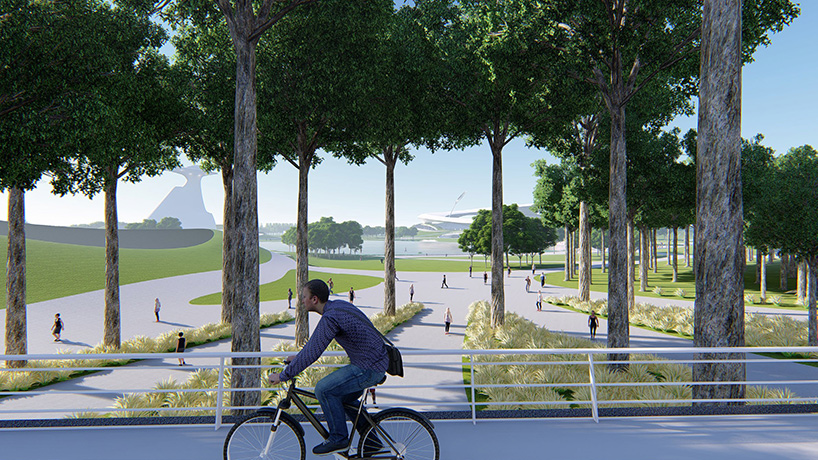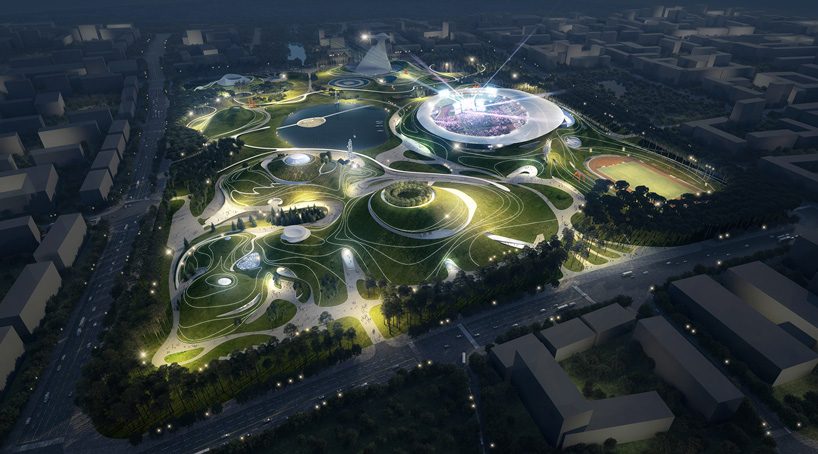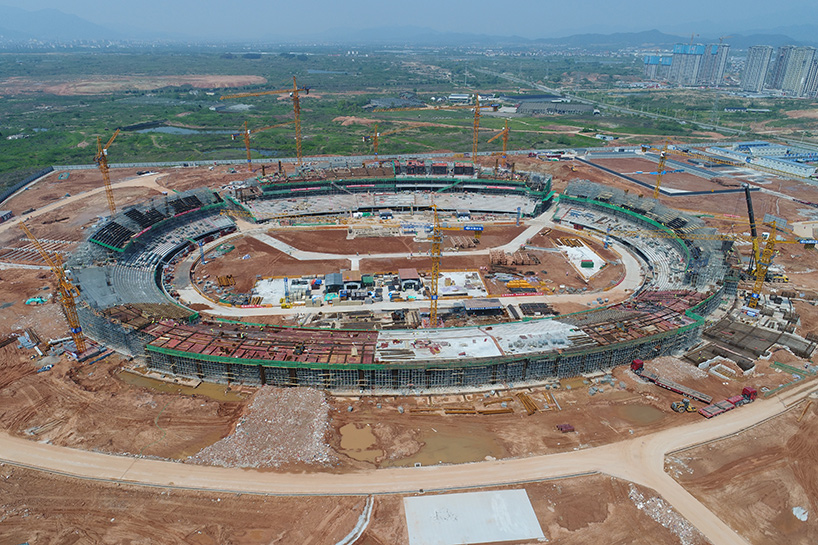 the stadium under construction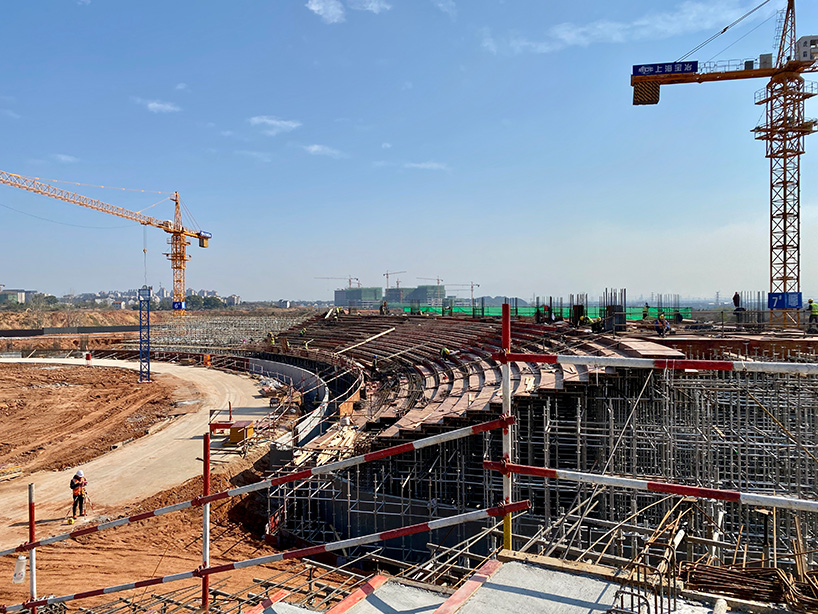 the stadium under construction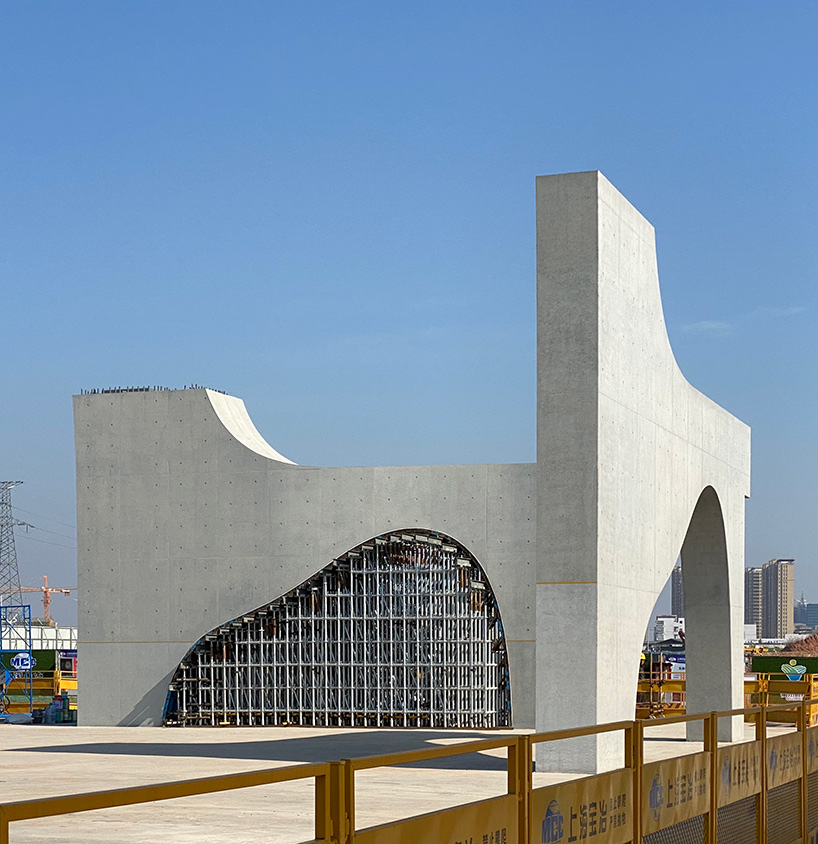 mockup
project info:
name: quzhou sports park
location: quzhou, china
dates: 2018-2021
base area: 574,931 square meters (phase one: 327,370 square meters; phase two: 247,561 square meters)
construction area: 390,074 square meters (phase one: 269,474 square meters; phase two: 120,600 square meters)
architect: MAD architects
partners in-charge: ma yansong, dang qun, yosuke hayano
associate partners in-charge: liu huiying, kin li, fu changrui
design team: kin li, xu chen, li cunhao, iting lien, kyung eun na, thoufeeq ahmed, alessandro fisalli, li hui, ma yin, tian jin, melanie weitz, ma yue, zhou haimeng, xiao yuhan, li gang, yuki ishigami, luis torres, su le, kang wenzhao, zhang kai, pittayapa suriyapee, yu lin, neeraj mahajan, connor hymes, zhang yufei, zhang bo, li guangchong, wang qi, song minzhe, cao xi, liu hailun, zhang xiaomei, zheng kangcheng
owner: quzhou west district development and construction management committee class A
design institute: sidi international design consultant (shenzhen) co., ltd.
landscape planning designer: PWP landscape architecture, EADG
structural consultant: schlaich bergermann partner
mechanical and electrical consultant: SC consultant limited
curtain wall consultant: RFR asia
lighting consultant: beijing ningzhijing lighting design co., ltd.
logo design: kenya hara (japan design center)
digital media support: SAN
aug 10, 2020
aug 10, 2020
aug 10, 2020
aug 10, 2020
aug 07, 2020
aug 07, 2020
aug 07, 2020
aug 07, 2020
aug 05, 2020
aug 05, 2020
aug 04, 2020
aug 04, 2020
aug 10, 2020
aug 10, 2020
jul 20, 2020
jul 20, 2020
jun 25, 2020
jun 25, 2020
aug 05, 2020
aug 05, 2020
jul 23, 2020
jul 23, 2020
jul 09, 2020
jul 09, 2020
a diverse digital database that acts as a valuable guide in gaining insight and information about a product directly from the manufacturer, and serves as a rich reference point in developing a project or scheme.