spanish architect miguel quismondo has led the design and conversion of a farmyard building in cold spring, new york into a warehouse of italian art. the 18,000 square foot exhibition space houses 'magazzino italian art,' an institution dedicated to exhibiting post-war and contemporary italian works in the united states. a large number of the displayed pieces originate from the archives of olnick spanu — husband-and-wife art collectors nancy olnick and giorgio spanu. 

miguel quismondo, lead architect, expanded and redesigned the existing structure to house the art collection
all images by marco anelli © 2017, courtesy of magazzino italian art
the site's existing structure has undergone transformations in the past. initially a famer's storehouse, the structure was converted into a dairy distribution center and later a computer factory. miguel quismondo's design marked the largest of these transformations as the architect doubled the square footage by integrating the original L-shaped structure into a larger rectangle with a central courtyard for magazzino italian art.

the venue aims to support italian arts and international contemporary artists in the united states
'the project pays tribute to magazzino's name — magazzino means 'warehouse' in italian — by reiterating its integrity as an industrial warehouse,' explains the architect. 'the existing building has been stripped to its basic components, while the addition is built with structural cast-in-place concrete and metal girders, creating a modulated repetition. the balance of natural light, the contrasting shell and versatile height of the new component establishes a harmonious dialogue between the existing and the addition.'

the olnick spanu collection remains as the venue's focal point
the art warehouse opened to the public in july 2017 with an exhibit titled 'margherita stein: rebel with a cause'. the display highlighted the life of stein as the leading pioneer of the arte povera movement with a specific focus on the works from the olnick spanu collection. throughout the construction process, photographer marco anelli documented the progress and workers on the site for his book titled 'building magazzino' — highlighting the transformation of the site and the otherwise forgotten characters responsible for its creation.

the new building contains 18,000 square feet of exhibition space

there is a distinct dialogue between the existing and the new addition

the design completes the original L-shaped structure into a rectangle

a courtyard sits at the center of the rectangular structure 

giulio paolini, saffo,1981, photographs and plexiglass (center)
giovanni anselmo, senza titolo, 1990, granite slab, gunnysack, steel cable, and slipknot (left)
alighiero boetti, clino, 1966, enamel on wood (right);alighiero boetti, mazzo di tubi, 1966, PVC pipes (far right)

gilberto zorio, stella, 1978, mixed media on paper (left)
gilberto zorio, stella, 1991, aluminum, javelin, iron, lamp (right)

giulio paolini, mimesi, 1976-1988, plaster casts on wood bases (center)
giulio paolini, l'exil du cygne,1984, pencil and collage on prepared canvas, plaster casts, feathers, and collage (left)
giulio paolini, appunti per la descrizione di un quadro datato, 1972, graphite on prepared canvas (right)
mario merz, senza titolo,1982, taxidermic reindeer head and neon (far right)

the space also contains a library with over 5,000 publications on italian art

magazzino is a private warehouse art space in new york's hudson valley
Save
Save
Save
oct 30, 2017
oct 30, 2017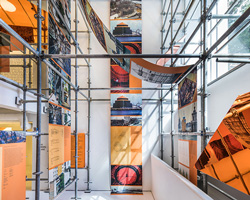 oct 27, 2017
oct 27, 2017
oct 22, 2017
oct 22, 2017
oct 21, 2017
oct 21, 2017
oct 19, 2017
oct 19, 2017
oct 17, 2017
oct 17, 2017
oct 30, 2017
oct 30, 2017
oct 30, 2017
oct 30, 2017
oct 30, 2017
oct 30, 2017