mar 02, 2010
map office: black twister
contemplating the void: interventions in the guggenheim museum solomon r. guggenheim museum, new york on now until april 28th, 2010
black twister, 2009 felt-tip pen on digital print 27.9 x 22.9 cm edition of 4, 1 A.P. artwork © map office
hong kong-based architectural firm map office's 'black twister' is a tropical depression that intrudes the guggenheim museum. it is a strong wind that imposes a dynamic pressure on frank lloyd wright's architecture. using the principles of climatic techniques, 'black twister' proposes an environment capable of generating new spatial poetics, but also giving a moment of fragility inside the museum.
'black twister' funnels down through the roof of the guggenheim museum artwork © map office
black twister, 2009 (detail) felt-tip pen on digital print 27.9 x 22.9 cm edition of 4, 1 A.P. artwork © map office
we're not sure how map office imagines executing a tornado within the guggenheim, but we've found some DIYers who have made their very own tornado machines at home:
potential force of an at-home tornado machine
if you're really interested in trying it out yourself, there are detailed instructions on how to build a tornado machine here.
mar 13, 2010
mar 13, 2010
mar 09, 2010
mar 09, 2010
mar 07, 2010
mar 07, 2010
jun 21, 2016
jun 21, 2016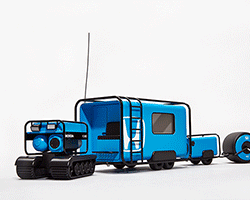 apr 27, 2016
apr 27, 2016
aug 23, 2010
aug 23, 2010