marcio kogan, founder and principal of studio MK27portrait © designboom
—
designboom met with brazilian architect marcio kogan of studio MK27 in his office on march 7th, 2013 in sao paulo, brazil.
—
what is the best moment of the day:
I very much like the night. unfortunately I need to arrive early to the office, because I like to be awake until two or three in the morning.
what kind of music do you listen to at the moment?
I very much like brazilian music, but I also like american music, the american songbook, jazz, the classic american music. of course I love brazilian music, from gilberto gil (joão gilberto) to marisa monte, the music here is very good. I only listen to music in the office when I work on the weekends when there's no one here.
do you listen to the radio?
in the car I listen to the news. I prefer it over listening to music or from a CD, and I very much like internet radio.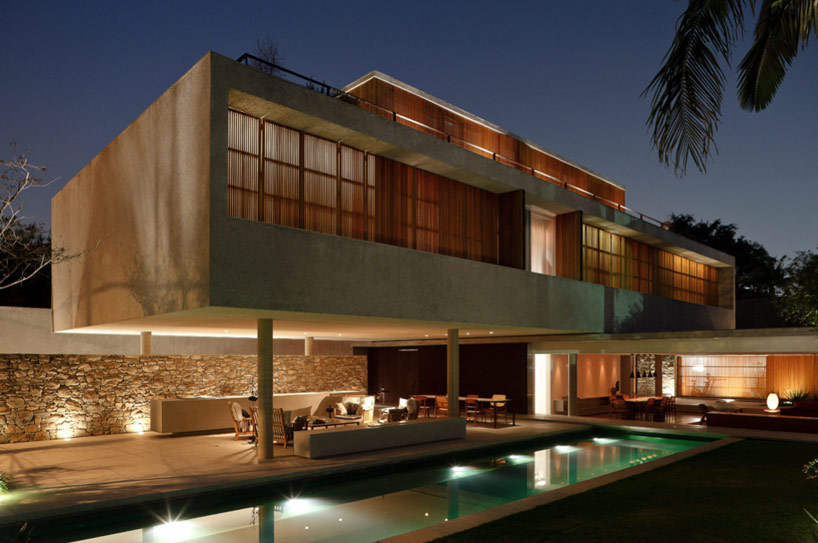 'house 6' by studio MK27 in são paulo, brazil – 2010image © pedro kok, rômulo fialdinisee designboom's full coverage of this project here
what books do you have on your bedside table?
I just finished a book called 'freedom' by jonathan franzen. I like american literature–from the beatniks, like bukowsky, till now; I'm a very big fan of philip roth, and jonathan franzen. I like to read a lot. I also like amos oz from israel very much.
do you read design / architecture / fashion magazines?
yes, a lot. we usually read the dutch MARK magazine in the (english) class, and also the american architectural records magazine. MARK is very, very good.
'decameron' by studio MK27, são paulo, brazil image © pedro vannucchisee designboom's full coverage of this project here
where do you get your news from?
I have been reading the newspaper since I was 8 years old. it was funny for the adults because I knew everything about politics at that age; I began with sports (I'm a fan of soccer), and after that I began to read politics. but now with the internet, it's true that you can read two newspapers in the morning and all the news is almost old, but I like it. we subscribe to 42 architecture magazines.I like the internet very much – I spend a lot of time surfing the internet. we read a lot of online magazines like designboom or architecture blogs, but we love print magazines too. I'm old fashioned let's say.
I assume you notice how women dress. do you have any preferences?
I like the design of hussein chalayan, and also of the japanese issey miyake. it is constructed – or deconstructed in a way. there are a lot of nice things in their collections.
what kind of clothes do you avoid wearing?
I don't like very sophisticated ways of dressing. I don't wear suits or a tie to work, maybe because here in sao paulo you don't see people do it becauseit's very hot–when I'm in europe I like it, but not here. maybe you need to tailor your behavior to the city.
do you have any pets?
no.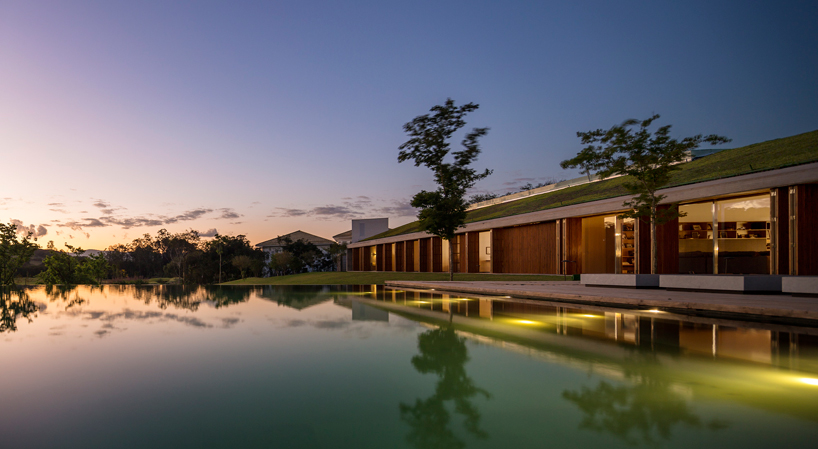 'MM house' by studio MK27, sao paulo, brazilimage © fernando guerrasee designboom's full coverage of this project here
where do you work on your projects?
mostly in the office with my staff. now I have things like the computer and it's more difficult to work at home.it's difficult to work outside the office now, but a few years ago I worked a lot at night. I leave the office around 8 or 9 to go home and rest.
do you discuss work with other designers and architects?
I usually do a charrette in the office, even this last week on monday we divided the team for a competition, they had two hours to do a project and presented what they did in one hour. we do this not to have a winner but just to discuss possibilities, and it's very important. I'm a teacher at the scuola universidade in sao paulo and among us professors and students we are always debating on what's happening in sao paulo or brazil in general… with some urban plans that are usually very bad.
when you approach a new project, do you find you must redefine priorities?
we do that all the time. not only the because of the clients but city hall also tries to destroy your work so you have to protect it – not only in the question of money, but all kinds of other complications.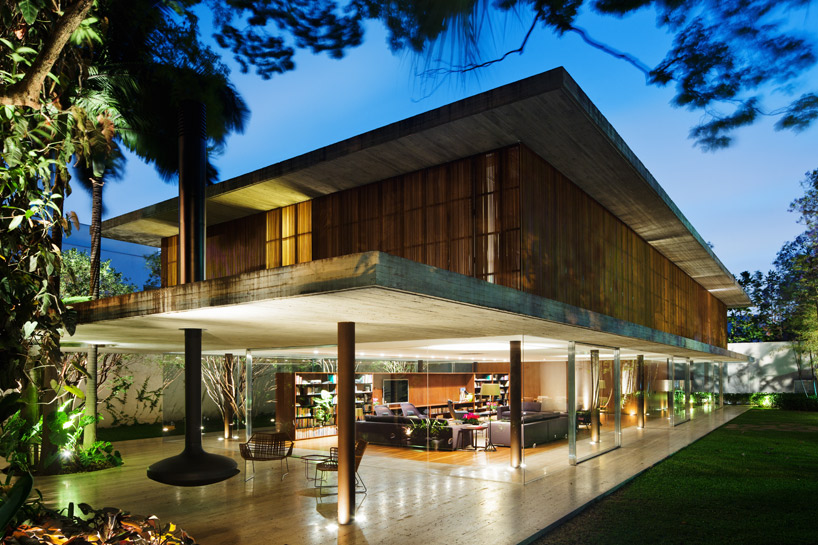 'toblerone house' by studio MK27, sao paulo, brazil image © nelson konsee designboom's full coverage of this project here
did you always want to become an architect?
I think I did since I was a child. my father was a modernist architect engineer in sao paulo in the fifties and I used to go with him to the construction sites. he died when I was around 8 years old, very young, and this has remained in my soul. around 18 I began working in cinema and made 13 short films. in 1988 I directed a long feature film and it was at that moment that I doubted if I would be an architect or a filmmaker. after the feature film I was completely broke, came back to my office and began my career again in architecture. at that moment when I began to work in movies – after ten years that I had graduated – I had some clients, but after that film did not do well I lost everything. our film had a reasonable amount of success in brazil, but the movie industry was very much in the beginning phases, not very professional, and I felt a lot of pressure and lost a lot of money. I had stayed out of the office almost a year and a half and I decided at that moment to begin my life again – this time as an architect.
did you always want to become an architect?video © designboom
describe your style, like a good friend of yours would describe it.
there are a lot of elements from film that I have transferred into architecture. the proportions are very connected to the way you look through the viewfinder, the scene; lighting, not only the artificial lighting but the importance of light. even the element of bringing some surprise or emotion. one thing that was almost impossible is that films are mostly comedy, and architecture is completely devoid of humor. sometimes in a lecture at school they ask me 'where's your sense of humor?' and I never know how to answer this. architecture and comedy don't match, they cannot match, only when it's a very, very strange architecture.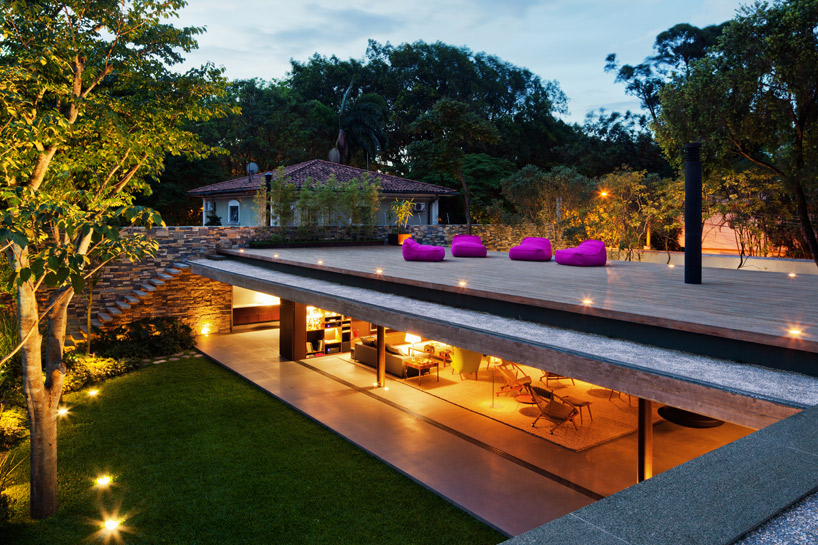 'V4 house' by studio MK27, sao paulo, brazil image © nelson konsee designboom's full coverage of this project here
how important is the site when approaching a new project?
our design is always site specific. sometimes we have the most beautiful site in the world, sometimes not. recently we were called to design – they call it a 'show factory' – where the south ballet city school builds all the sets and costumes for the municipal theater of rio de janeiro. it is a project between the 'teatro municipal of rio de janerio' and 'la scala' in milan, a big technical school for upcoming theater- and tv technicians. the milanese opera house 'la scala' is not only training the teachers, but providing the feedback and the technology for this project.
they asked me if I prefer to have a new site in rio de janeiro (to do a completely new building) or an old warehouse in front of the sea that was completely destroyed. not only is the warehouse very beautiful, but for me it's also the pleasure of bringing something back to life. it was a chance for the office to contribute to preserving our memory, because the country is very bad in keeping and maintaining those beautiful things.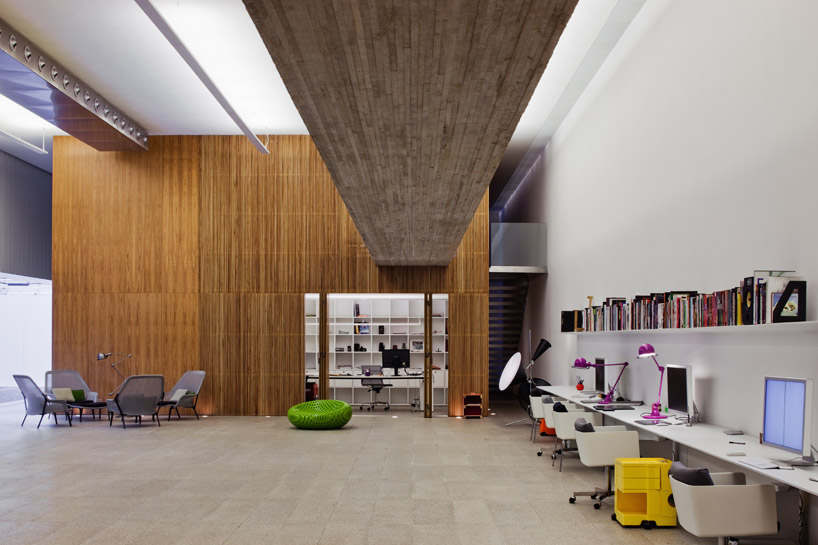 'studio sc' by studio MK27 in são paulo, brazil image © nelson konsee designboom's full coverage of this project here
please describe an evolution of your work, from your first project to your most recent
in terms of capacity, now we're reaching 50% of what we as an office of our size can do. the first moments in architecture are very difficult, I can remember those days. the were very traumatic for me. now it's easier, the clients know what they want, and they now know our previous work. internally speaking, my interests change all the time. for me there is a huge open question between architecture and maturity. the result of our work is delayed a lot because you design something now that will be ready in five years, and when I see it I'm very critical of myself. I never like too much what I do, I'm a kind of perfectionist in the bad sense. all the time I am analyzing this, and I can do that better, and next time I'll change this and the size of that thing, … and maybe I should change the steps here?
is there a kind of project you have always wanted to design?
no, I don't have this desire. the office is not big, I have 20 people working here and they have a great sense of passion in the things they do, taking care, having a good relationship with the clients. in the sense of comfort of doing something well, the size doesn't matter. sometimes I feel better designing a cradle for a client that we love than designing a huge skyscraper on east avenue. we have a strong sense of doing architecture with love, I usually say that I'm a kind of prostitute because [the clients] pay me to give pleasure to them.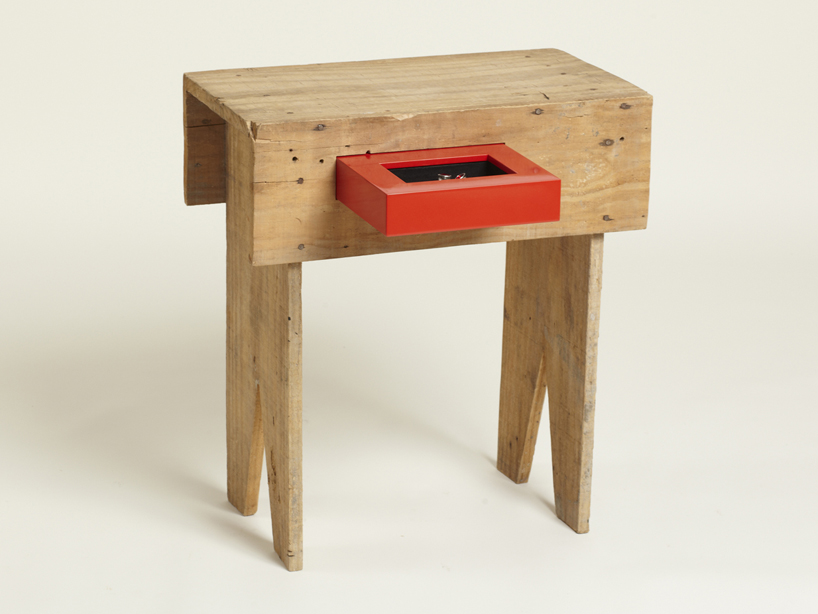 'prostheses and innesti' by marcio kogan for gallery fumi, london 2012 images courtesy gallery fumisee designboom's full coverage of this project here
what project has given you the most satisfaction?
we have some projects that are very important but the answer is: it involves personal relationships. it is difficult every time. the importance of the client in defining the quality of project is very big; I think they decide if you have a 9 (from a scale of 1 – 10) or a 6 – it's in their hands. I like this, I don't want to just to work with a white paper, a blank canvas, where I can do what I want. no restrictions, no input,…in the office we do 40-50% private houses, working on residential projects is very connected to the clients.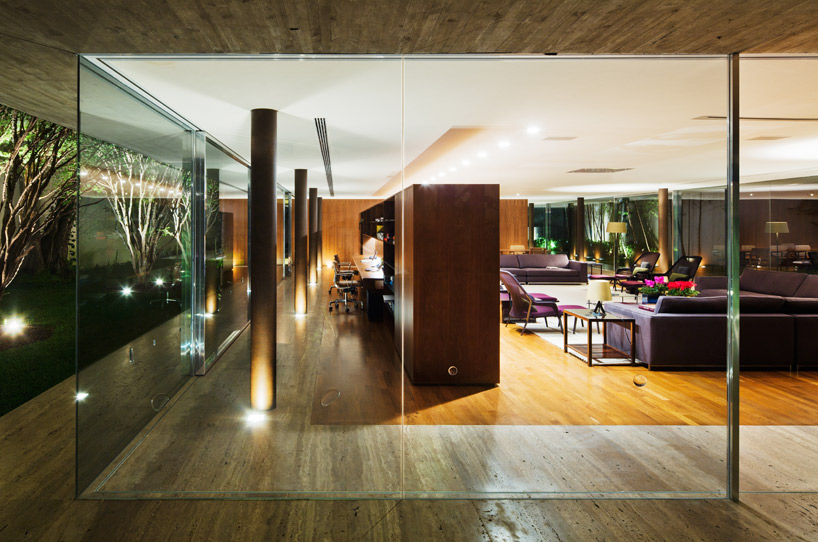 'toblerone house' living room and retractable glass walls image © nelson konsee designboom's full coverage of this project here
is there any designer and/or architect from the past that you appreciate?
outside brazil, mies van der rohe. I very much like the proportions of his projects. in my opinion the barcelona pavilion is THE masterpiece of architecture history.oscar niemeyer and the brazilian modernists vilanova artigas, lucio costa, …the very best is lina bo bardi, she deserved more notoriety than she got.
and those still working/ contemporary architects?
in sao paulo — paulo mendes da rocha.the portuguese architects souto de moura and siza, they created a very interesting architecture, maybe a little bit connected with the brazilian language, very simple and rationalist and very elegant. there are absolutely fantastic japanese architects : toyo ito, sou fujimoto and SANAA, …this week kengo kuma visited my office — he came on monday. I like his work very much. I met him before in an american institute association where I won a prize and he also won one so now we're becoming a little bit more connected.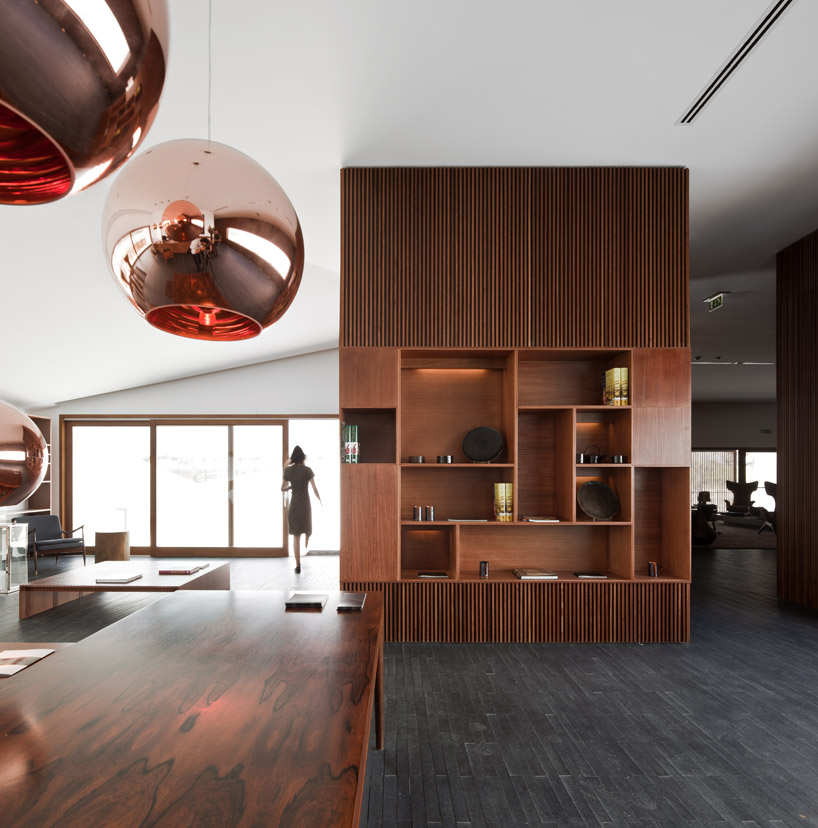 'l'and vineyards interior design' by studio MK27, montemor, portugalimage © fernando guerrasee designboom's full coverage of this project here
what advice would you give to young designers?
to study a lot. its the moment that you can go deeply in some subjects, after that you don't have time to do this. it's very difficult to begin your career, sometimes I almost gave up on mine. you have the feeling of desperation because you can do much more than you're doing, but you don't have the client. here in brazil, we don't have much public competitions, everything is very private. architecture for me is a question of investing a lot of time.
what are your fears regarding the future?
sao paulo is a good place to be worried (laughs).the administration spends a lot of money in a bad way and it's a pity in this sense. you can see when they put asphalt in the street it's not of good quality, and the public transportation here is not good at all.politicians still love to put money in bridges and roads, maybe it is a heritage of the 'american dream' from the 50's. in sao paulo we have maybe 100 kilometers of subway which for the size of the city is absolutely nothing and they are putting 1000 cars a day on the market only in this city. we are the detroit of south america. it will probably be a catastrophic future.
politicians don't usually call architects to design new things, new infrastructures – this is a big problem. now we're doing a project proposal here that is very similar to the high line in new york. we'll see what happens.
on a more private scale, in our street, we tried to put a traffic light in this corner here, because we've seen two accidents at the intersection where a car hit a person. we've seen two in a row in a month and we tried to do something.we talked with everyone, got their signatures, but nothing happened. it's not so easy to understand, maybe it's different from europe and the US, it's very difficult to cross the barrier with the politicians.
—studio MK27marcio kogan, a filmmaker and architect and founder of studio MK27 as it was renamed in 2001 (originally founded in 1980), is considered one of the most important contemporary architects of brazil. recipient of over 50 national and international awards, the studio is a collaborative effort where each of the 20 architects takes equal part in every phase of the project, and whose work involves industrial design apart from elements of cinematography and traditional architecture. the result is a highly personal client-architect relationship with an intense attention to detail whereby each designer functions as a craftsman.
danny hudson
I designboom
apr 22, 2013
a diverse digital database that acts as a valuable guide in gaining insight and information about a product directly from the manufacturer, and serves as a rich reference point in developing a project or scheme.
designboom will always be there for you
milan, new york, beijing, tokyo

,
since 1999