nov 05, 2016
marco casagrande's villa muurame is an all-white timber residence in finland
soaring on a landscaped site in jyväskylä, finland, "villa muurame' is an all-timber private residence conceived by marco casagrande. the stark white construction uses a combination of high-quality pine and spruce woods; the spatial elements were pre-fabricated during the winter in the finnish lapland then transported to site. the three-storey scheme sits by a lake, with each floor containing its own terrace to embrace its surroundings.

image (above) © tiina salminen / all other images © jenni moilanen
marco casagrande planned the property with elongated sections of vertical and horizontal forms which connect the home in a dramatic but restrained fashion. internally, the bright and airy atmosphere is promoted by the large windows which invite natural light, whilst leading the eye towards the property's expansive garden. a succession of multi-connected spaces influence a sense of movement. the private rooms are located on the upper levels, meanwhile the communal areas are grouped together on the ground floor.  

the spatial elements of the house were pre-fabricated during the winter 
the sloping roof canopy extends outwards to provide shelter for each balcony of all the floors and the outdoor patio. the overall result is a naturally lit, spacious and thermally comfortable house powered by geothermal energy that can be inhabited year round without excessive artificial heating, cooling and lighting.

the ground floor is planned as an open space with collective functions

large windows invite natural light, while leading the eye towards the property's expansive garden

a succession of multi-connected spaces influence a sense of movement

the bedrooms are on the second floor and on the third floor

each space has its own terrace and balcony

 geothermal heating, which also cools down the house during summers is utilized

the home sits on a large landscaped site near to a lake

the entrance / the timber used is extremely slow grown and high quality lappish spruce and pine
project info:
location: jyväskylä, finland
function: private house
client: muurametalot
size: 350 m2
materials: pine, spruce
construction principle: pre-fabricated spatial elements
completed: 2014
Save
Save
Save
Save
jul 24, 2017
jul 24, 2017
jun 05, 2017
jun 05, 2017
feb 02, 2017
feb 02, 2017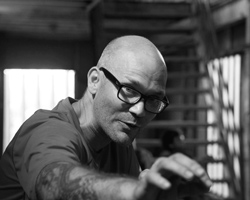 oct 14, 2014
oct 14, 2014
oct 02, 2014
oct 02, 2014
aug 31, 2014
aug 31, 2014