marco piva's creative practice can be characterized by an exciting, fluid, and functional language. working across the fields master planning to interior and industrial design, the italian architect is deeply interested in material research and technology, and how to apply these elements in a way that informs the interaction people have with his spatial volumes. educated in rational approaches, piva conceives three-dimensional solutions that are pervaded by stylistic freedom and compositional sobriety.
designboom interviewed marco piva at his milan office where he talked about his most recent projects, how his studio has evolved over the last 10 years, and what advice he would give to young architects just starting out in the field.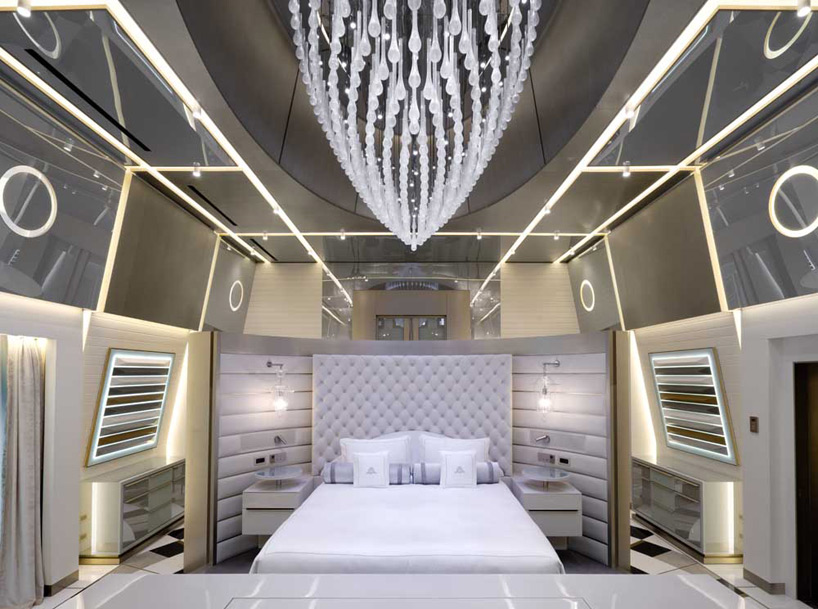 'katara suite' at the excelsior hotel gallia, milan
image courtesy of studio marco piva
DESIGNBOOM: what originally made you want to go into architecture and design?
MARCO PIVA: since I was a child, I have been attracted to architecture as a result of having travelled a lot with my parents. my father was crazy about monuments, so he would always say 'look at this building… this is the history of it. it's been designed by this architect', and so on. I was also very fond of art. I remember as a young child, my father introduced me to the famous architect gio pionti, and I remember looking at this guy with glasses, and I immediately liking him as a person. he asked me 'do you like art?' and I responded 'yes', and he told me that I could become an architect. I was impressed by this meeting and when I finished upper school, I decided to go into architecture. now I feel it is something in my blood.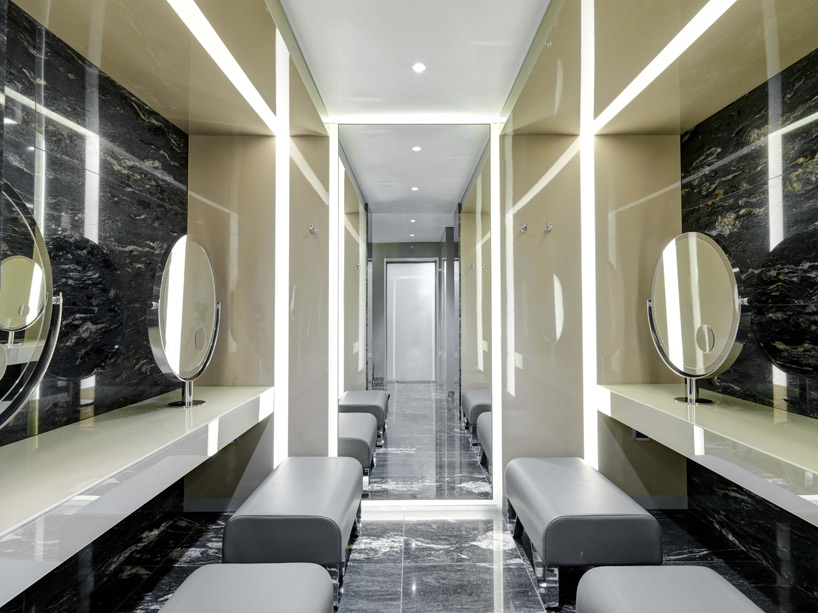 women's basement bathroom at the excelsior hotel gallia, milan
image courtesy of studio marco piva
DB: how would you say your studio has evolved over the last 10 years?
MP: I've always been attracted by big and experimental projects abroad, because I wanted to understand the methodology, the different kind of approaches to architecture and design out there in the world. I've been working in many different countries – the middle east, japan. I try to bring this knowledge and expertise I gain from these international experiences into my office. what is important to me is that even though one person might be involved in the architecture, another on the interior, we are always working together to achieve one vision. maybe this is the distinguishing element of our office — that we are able to relate to clients, relate to engineers… so, if I would say something about this: I think our expertise is to be able to be part of big things, but always keep within the capacity of being able to manage the project so that it comes out as exactly as we like.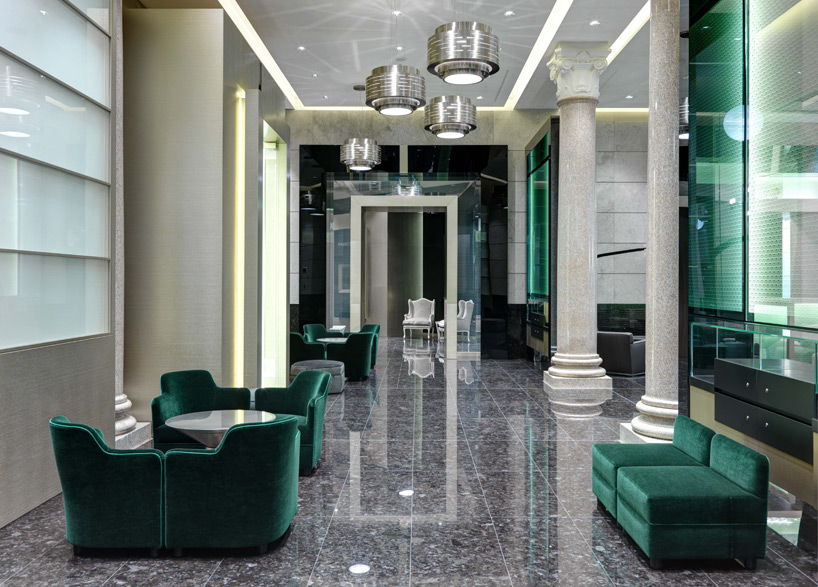 ground floor lounge corridor at the excelsior hotel gallia, milan
image courtesy of studio marco piva
DB: how would you describe your approach to architecture?
MP: my approach to architecture is double-sided. on the one hand, I always like to think about spaces and where people live. for example, if we're designing a residential building or a hotel, we always first think about how people will behave within the space; how will they move inside the volume, what they need, what different procedures need to be addressed… for instance, with a hotel: how do you get inside? usually it seems to be the other way around, but I prefer to start from the functional aspects related to people using the space; and then go onto defining the shapes and volumes. on the contrary, obviously we think about volumes and for us, architecture is a combination of the two. it's not just about designing forms and leaving people to use them. it's thinking about volumes and what can happen inside of them.
DB: so how would you define architecture then?
MP: for me architecture is quite a complicated matter because I always relate it to material. architecture is material and light. I always try to understand how this architecture could be solved through materials. let's say you're working in a middle eastern country, you are working in milan or china — you cannot repeat the same thing in each place? obviously you will use glass, but the quantity, the proportion, the dimension and the quality of it should vary from space to space, and the location for which it is being designed this research about materials is very important in order to create the proper blending of elements to express architecture.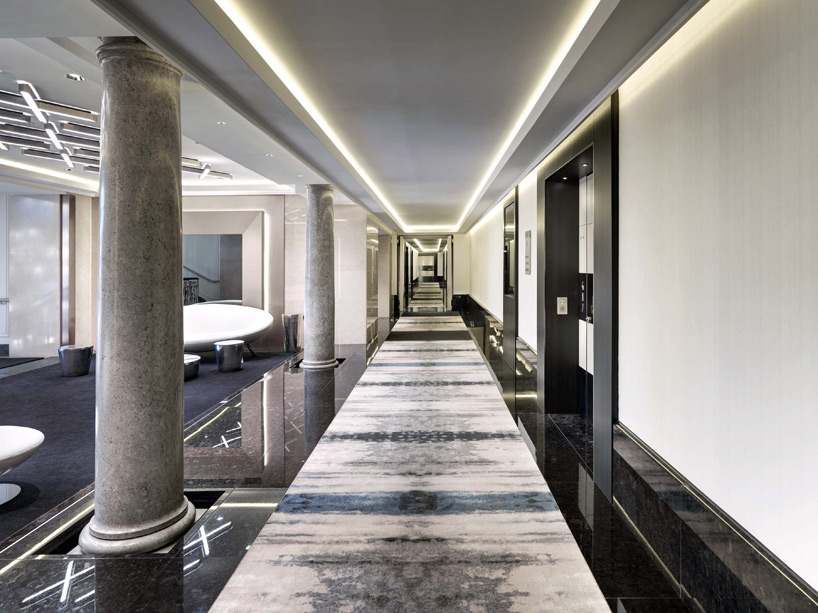 fourth floor corridor at the excelsior hotel gallia, milan
image courtesy of studio marco piva

DB: so for example, the hotel excelsior gallia that you just completed here in milan — you were initially involved in the architecture, but then you also ended up doing the interior. could you elaborate on that process and how it developed?
MP: I have to say that it was the closest project that we did to our office, but in someway, it was one of the most complicated because we were involved in everything there — from the renovation of a historical building, to the restoration of art pieces (because the building itself carried artworks such as sculptures and statues). we had to work on the structural shell that was realized in concrete.
the building was dated nearly 100 years old, so the concrete needed to renewed and refurbished, so we had to investigate the structure, the artworks and the relationship between the building and the city. there's a relation between the city and the building because this property meant a lot for the milanese community, and now 100 years later it is being recognized as one of the main hotels in the city. along with the construction of a new building, there were many other different tasks to achieve, and in the end I think it's quite complete project. we had to work for an investment fund from qatar, so it's not an italian owner. together with him, we guided the selection of possible branding, and they decided it would be starwood. from there starwood decided to make it a luxury collection hotel. so, the process was quite complicated, but interesting. we had one of the most famous civil engineers — MEP engineering — on board, we had a company managing the cost control…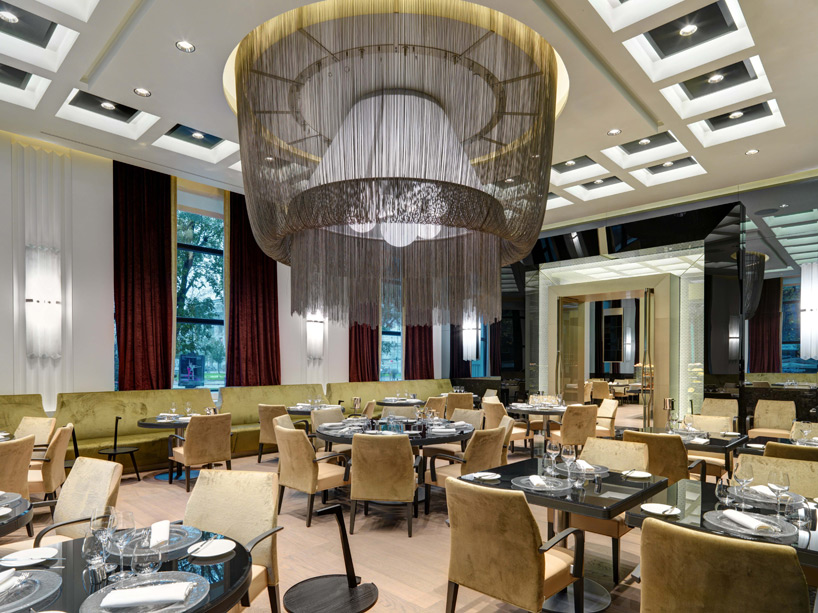 ground floor 'gallia' restaurant at the excelsior hotel gallia, milan
image courtesy of studio marco piva
DB: and how did the scheme for the hotel's interior design evolve?
MP: the interior design is the inner skin of architecture. so in architecture, you have the outside skin, but you have an inside skin, and there should be a relationship between the two, you know. I hate the idea of furnishing spaces. I hate it. interior design is a different story. obviously you need chairs, you need tables etc., but interior design is part of the architecture. mainly the fit out. there are elements that are permanently linked to the building, so you cannot solve, in my opinion, the architectural side and leave the interior unsolved (or uncoordinated with the exterior). we tried to find a mood, and the proper materials that could marry the old building with the contemporary building. we used black marble, and included these black mirrors that suddenly become TV screens; and then we applied some texturized glass so that light filters through the space in different ways. we tried to create different kinds of moods, and I believe that it is a very elegant place in milan. the project was about developing a space that was not linked to the fashion of one period, but something that could last in time.


approach to the excelsior hotel gallia, milan
image courtesy of studio marco piva
DB: so physically it was the project closest to home, but you're also working on projects around the globe. how does the design process differ from country to country for you?
MP: our design process remains almost the same. we like to investigate the location because you cannot place something in china or the USA that is coming from the moon. you have to marry that project with the location, you have to feel the place and understand its strong elements and how they could give life to the building you're designing. even if it's a small villa, or a huge hotel, you need to feel this because those are the projects that will remain there and have a relationship with the people living here. it is a question of design obviously, of the architecture, it's a question of materials, of how to create a harmonious relationship between a new building, or a renovated building, with its surroundings. this is the general approach.
then, obviously there are local conditions that are pretty different from one to another, and these are putting more questions out there to be answered. like, the climate, is it private, is it public, is it a hotel, is it an office building. there are many things that should be taken into consideration. so, the process is like this: location, architecture, material, spaces and functions… and light. half the time a building is in sunlight, and half the time it's in moonlight. it cannot just be an object there, it should create a dialogue with the city, with the landscape. so, light is very important for me. light should be something magic. there's a relationship with local conditions in terms of use of energy, sustainability and so on.

rawdhat residential buildings, abu dhabi
image courtesy of studio marco piva
DB: now that computer generated visualizations are quite commonplace, what role does hand drawn sketches and model making still have in your practice?
MP: it's very very very important. I believe that 50% of people are not really very good at sketching, but that doesn't mean you don't know anything about architecture. I always do it. you succeed in transmitting to paper, the idea of lightness and thickness, transparency, in very few gestures; and this is the way to dominate an idea. the starting point of a project, and surprisingly for me when you finish the project, sees the sketches corresponding perfectly to what we realized even after 3 or 4 years.
we don't like to go 3D without knowing what materials we are going to put inside or outside the building. there is a lot of work that we do on the volumes, spaces, textures, colours and so on, beforehand. models are also very important. we like to work with the material in front of us: stone, glass, marble, fabric… you have to play with these like in a mosaic to understand if there is a relation. what is soft? what is hard? what is reflective? what is absorbing light? it's an alchemic process, but it's very interesting, and clients go crazy for it. it's such a pleasure to have somebody that's beside you — some of them are investing quite large numbers in terms of money you know — to go through the project with, and have them engage in the process of execution.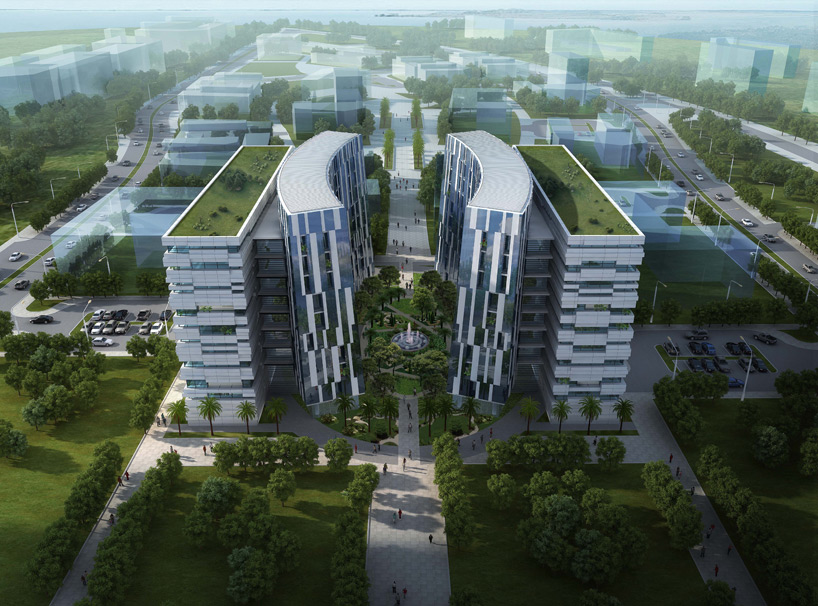 rawdhat residential buildings, abu dhabi
image courtesy of studio marco piva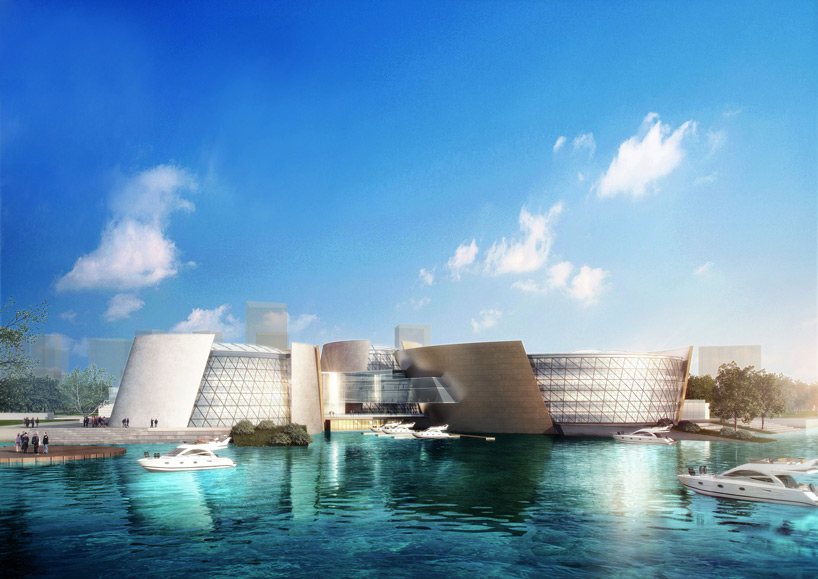 yuhang cultural and art center, china
image courtesy of studio marco piva
DB: what is currently influencing your work?
MP: I am travelling a lot. whether I am in china, or in india… I like to walk around if it's possible, because if you walk around, you see people in the space, and you perceive the atmosphere. this is very important for me because our relationship with people is a main element for us. I am also very curious about art, because art is an expression, generally speaking, free of any restraints. through art you can perceive a vision of the world that is different, that is advanced — maybe scientifically advanced… so I like art very much.
I am also very interested in fashion. I recently worked with some very famous fashion brands, and that is a space that I like because in a way it's a little bit crazy. they are generating ideas, burning ideas, cycling ideas. it's very interesting to make relations for me between these different worlds.


yuhang cultural and art center, china
image courtesy of studio marco piva
DB: is there one project that has given you a particular amount of satisfaction that you are proud of?
MP: I am very in love with everything that I do. some projects are more successful obviously because of the dimensions, because of the investment, because they are right in the centre of the city. I like the idea of these hotels that I have designed in front and nearby the central train station in rome, in front of the central train station in bologna, in front of the central train station in milano. this is very fascinating because this is a place where people are moving from one city to another. this kind of dynamic movement is very important. but the latest project for sure, 'excelsior hotel gallia', is sort of a different experience, coordinated in one. but we have some new projects coming up. we are now designing, as you saw before, some private houses in LA with a sort of european touch, and I think we will be doing some very interesting things for in that project.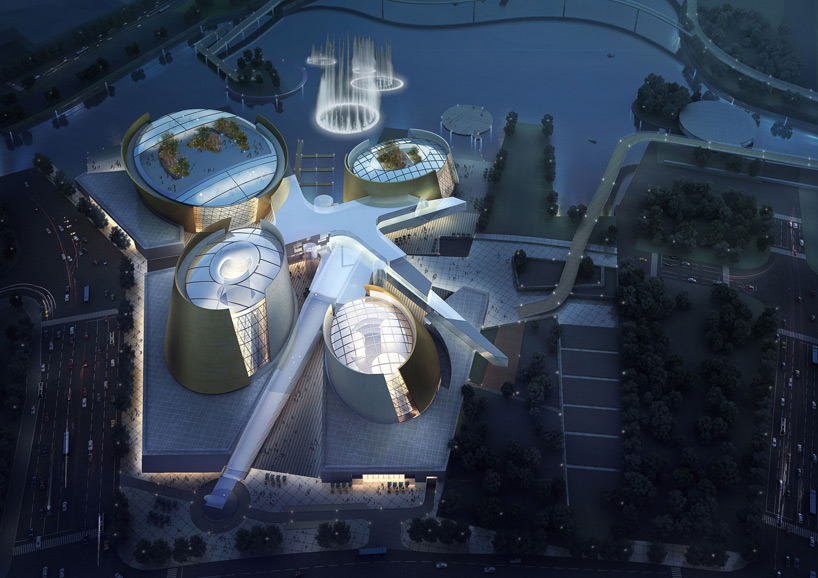 yuhang cultural and art center, china
image courtesy of studio marco piva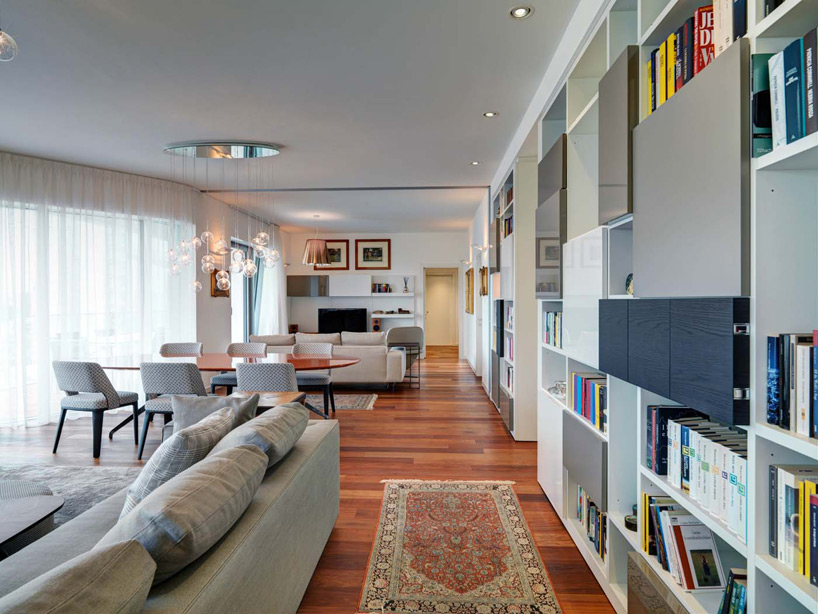 interior design of private residential apartment in zaha hadid's city life building, milan
image courtesy of studio marco piva
see more about this project on designboom here
DB: are there any particular artists or designers that you admire from the past? also contemporary?
MP: after leonardo da vinci you mean? (smiles)
DB: you can go as far back as you want!
MP: I'm talking about leonardo, not only because he is leonardo, and he is italian, but because he was able to try to understand. he was able to investigate all the different areas of the knowledge you know? from art to architecture to engineering to medicine… this is an approach that I like — to be open minded, to be curious about everything you know? and obviously, you have your main activity, but if you are open minded, you can bring your work a lot of richness and guide it into other areas. well, I like big names, but with different approaches, like le corbusier. one architect that I admire a lot is mies van der rohe, and between the contemporary ones, renzo piano and frank gehry. I like gehry so much because he's so free in thinking about spaces and volumes. renzo piano is always very free, and not repeating himself. another contemporary I admire a lot is norman foster, because I believe he was the first one to gave architecture structure, responsibility. he built up the idea of an architecture office that is not only a little space where you can create shapes, but has been able to open a new way of thinking about architecture in a very substantial way. these are major figures for me — the characters of architecture that I like the most.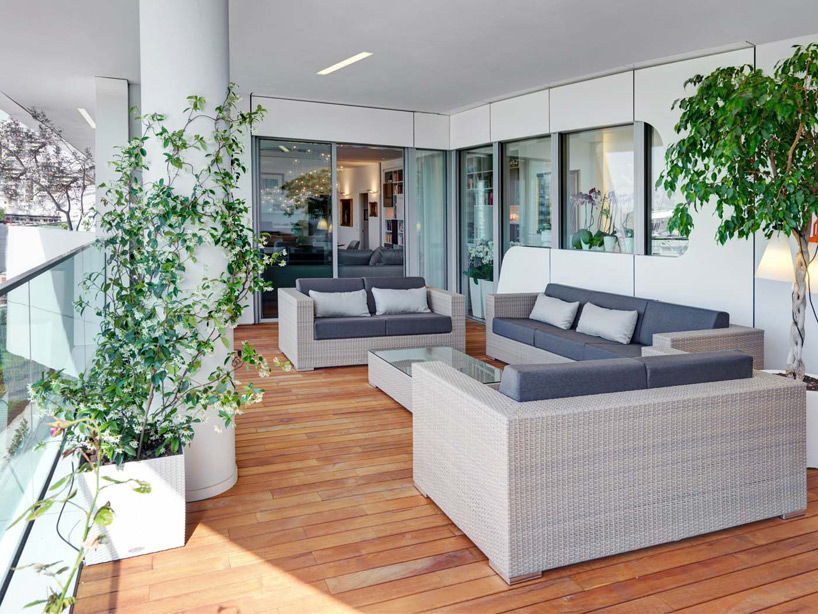 interior design of private residential apartment in zaha hadid's city life building, milan
image courtesy of studio marco piva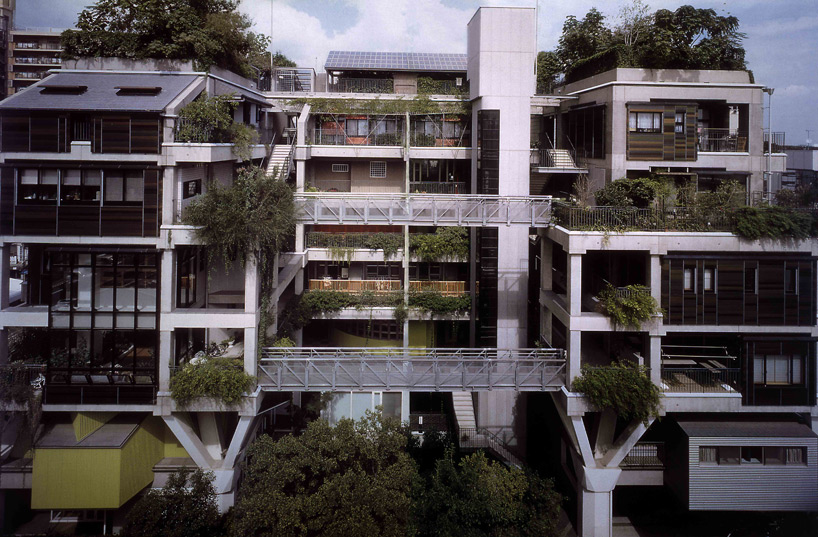 'NEXT 21' aparment block, osaka, japan
image courtesy of studio marco piva
DB: what advice do you have for young architects who are just entering the field?
MP: well, first of all, don't think about being a design star because you need to investigate and explore a lot beforehand. everything is happening at the same time, everywhere you know? while you are at university, try to be very serious in your efforts to learn. then, travel a lot so you see what is happening around you. don't think that the place that you live in is the centre of the world because it's not. there are many centres today. then you need to be able to relate these realities with your own tasks, your own attitude. try to understand how to relate to the other people to exchange information and be part of the team. maybe you will be leader later on, but first you need to experiment and see what team work is like, and work a lot. you have to suffer. if you don't suffer, you won't achieve anything. suffering doesn't mean you have to be on the floor, but more in the sense of dedicating time and effort, trying to avoid getting easy answers. this is very important because everything that you will discover, that you will understand, will become a part of you and you can use that knowledge later as your own tools, and create your own architecture.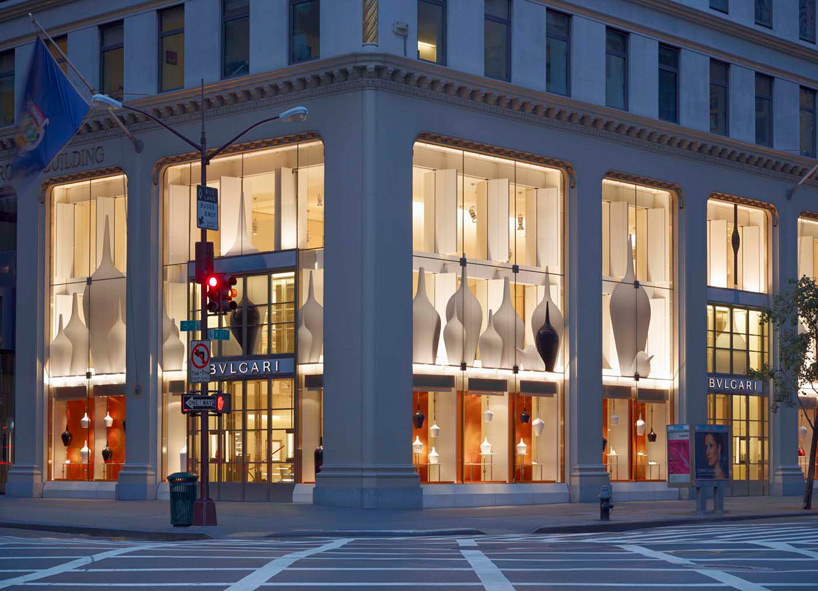 bulgari store, new york
image courtesy of studio marco piva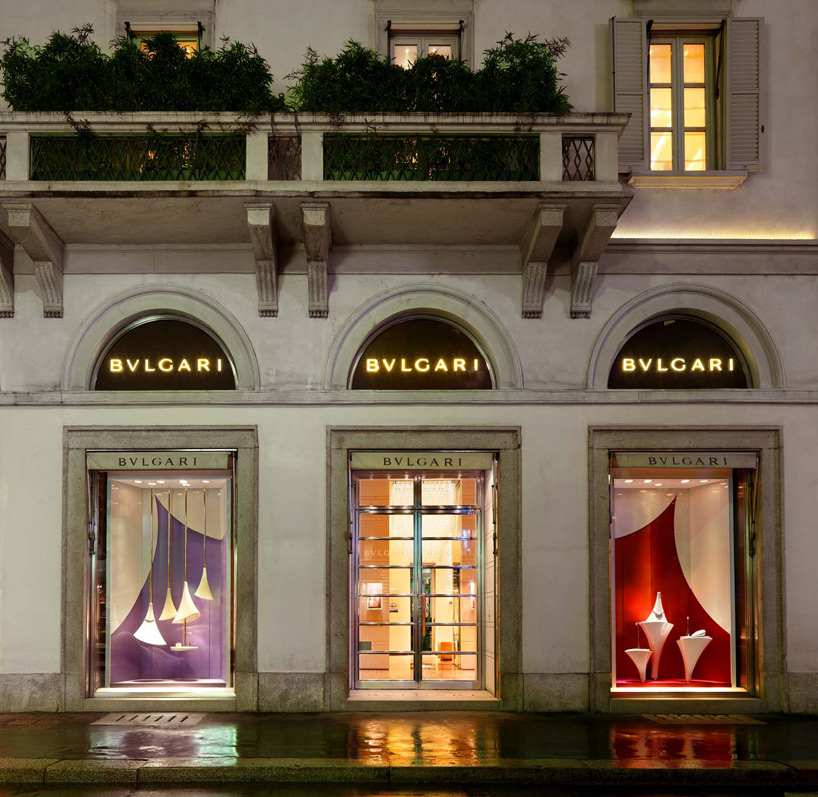 bulgari store, milan
image courtesy of studio marco piva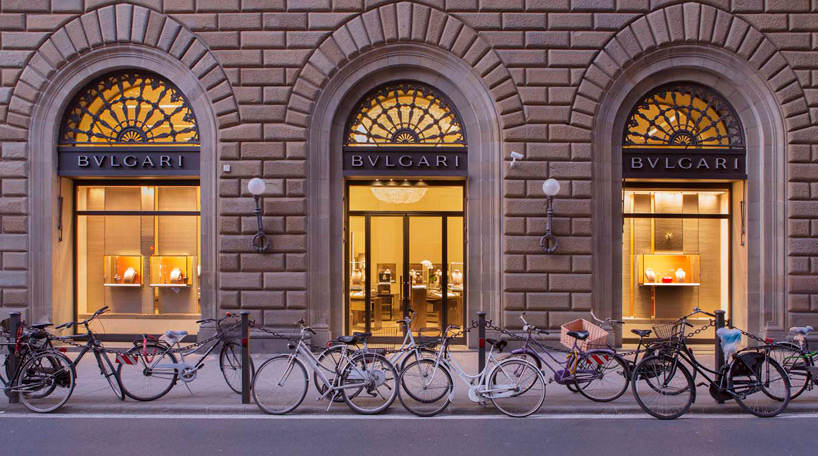 bulgari store, florence
image courtesy of studio marco piva
DB: is there a motto that you live by?
MP: I don't really have one. I am quite flexible, so the only thing is that I would think into the future. I take care of the past, but I always think about the future and I tend to envision the future as a better place, a better world, with better living conditions, and this is the reason what I always try to contribute. so again, for me, research, experimentation can be the main words. investigation, understanding, experimentation, testing and so on… and creating is something that is based on these steps.
a diverse digital database that acts as a valuable guide in gaining insight and information about a product directly from the manufacturer, and serves as a rich reference point in developing a project or scheme.
designboom will always be there for you
milan, new york, beijing, tokyo

,
since 1999