jan 23, 2013
massimiliano + doriana fuksas: french national archives in paris
italian architects massimiliano + doriana fuksas have just shared with us images of the new 'french national archives' located in pierrefitte sur-seine just south of paris — updating the construct originally built during the french revolution to record and store some of the most valued documents throughout french history. based on the idea of discovery, research, and participation – three pillars that are so closely married with the rich history stored within the premises – the structure is conceived as two contrasting volumes, one light and airy suspended mass extending horizontally towards the city, anchored by its counterpart reaching vertically into the sky.
horizontal glass structures 'float' above a reflecting poolimage © studio fuksas (main image © yves bellier)
cantilevered 'satellites' off of the floating element contain the offices, conference room and exhibition space oriented towards the cityscape as they hover over a reflecting pool, wrapped in a transparent glass skin. the imposing monolithic component contains the actual archive stock rooms over 10 levels that house the reading rooms, clad in aluminum panels to emphasize its strong established presence. walkways connect the two parts in several points, symbolic bridges rooted in the past but leading to the future. the site and context also play an important role, as they introduce the visitor to the structure and include several artworks and sculptures by artists such as antony gormley, susanna fritscher, florence mercier, and pascal convert.
space between the archive structure and the offices, connected by walkwaysimage © yves bellier
sculptural installations by antony gormleyimage © yves bellier
view from the officesimage © studio fuksas
image © studio fuksas
conference room/ auditoriumimage © poltrona frau
image © poltrona frau
project info:
site: pierrefitte sur seine-saint denis, paris, franceperiod: 2005 – 2013client: french ministry of culture and communication represented by daf – direction des archives de francedelegate client: oppic – opérateur du patrimoine et des projets immobiliers de la culturearchitects: massimiliano and doriana fuksasinterior design: fuksas designarea: 108,136 square metres general contractor: bouygues constructionengineering: betom ingégnierieacoustics: altia landscape design: florence merciercontrol department: socotecartistic interventions: antony gormley, pascal convert, susanna fritscherarchives: height 40 metres, length 163 metres, width 48 metres; 220 stock rooms on 10 levels; reading room 160 seats;materials of the facades: opaque glass and aluminiumsatellite volumes: 6 communicating satellite volumes; materials of the facades: glass, light colour lacquered aluminium conference room: 300 seats, seat "carla" for poltrona frau design by doriana and massimiliano fuksasparking: 5,000 square metres; 161 underground places, 46 above ground
Save
Save
Save
aug 09, 2017
aug 09, 2017
aug 06, 2017
aug 06, 2017
aug 03, 2017
aug 03, 2017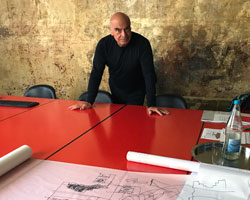 jul 10, 2017
jul 10, 2017
mar 26, 2017
mar 26, 2017
mar 05, 2017
mar 05, 2017